There may be a crazy snowstorm raging in New York City this morning, but the weather is no match for the power of a Mezco Toys Pre-Toy Fair event! And this year, for the first time ever, Mezco Toyz had a special treat for collectors (and bums like me who weren't willing to fight the snow to go into New York City this morning): they live-streamed coverage of the event online! Sure, the camera was a little wobbly and the figures were out of focus, but who cares, because we got our very first look at Mezco ONE:12 Collective Wolverine, Iron Man, Doctor Strange and Netflix Daredevil!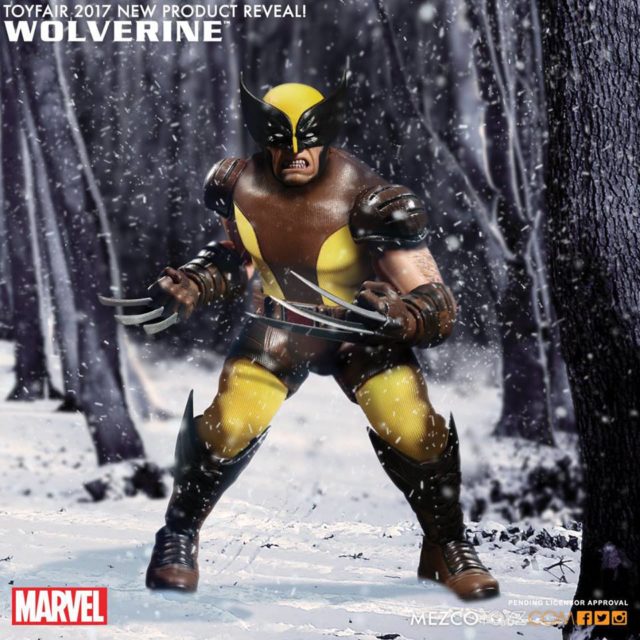 Okay, first off, before folks complain: I took these screenshots from a low-res live feed that was rather blurry and out of focus to begin with, and which had no capabilities for rewinding or pausing. I apologize for the quality. I'll replace these screenshots with hi-res photos once they're available, but this is the best I got right now.
UPDATE: Mezco Toys has now stepped in and saved the day with gorgeous official photos of all four new reveals, which I've now interspersed into the article. Thanks, Mezco!

The biggest reveal at the show is likely the ONE:12 Collective Wolverine figure, marking the first member of the X-Men (Deadpool absolutely does not count) to arrive in glorious Mezco 6″ form!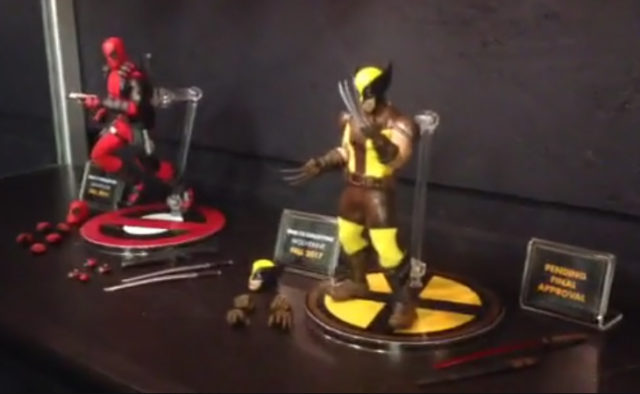 The brown shorts on the Brown Costume Wolverine figure look a little weird to me, but overall I think ONE:12 Collective Wolverine is off to a promising start!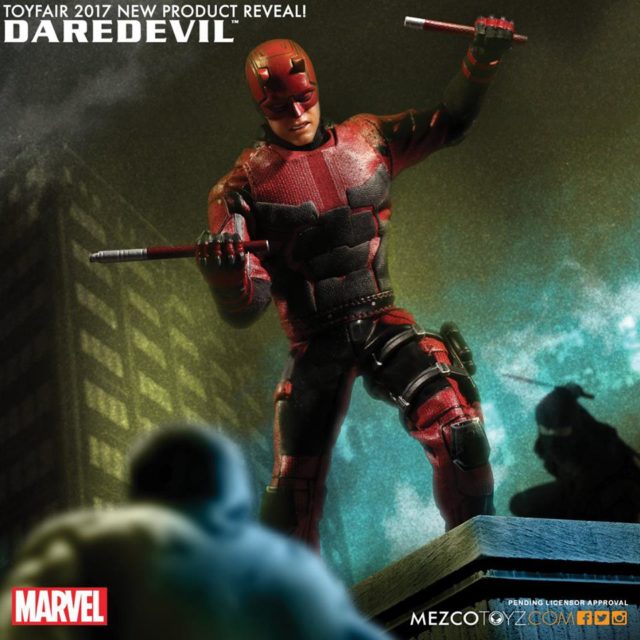 Meanwhile, it looks like three good Daredevils deserve another, because a ONE:12 Collective Netflix Daredevil was revealed at the Pre Toy Fair Mezco event today!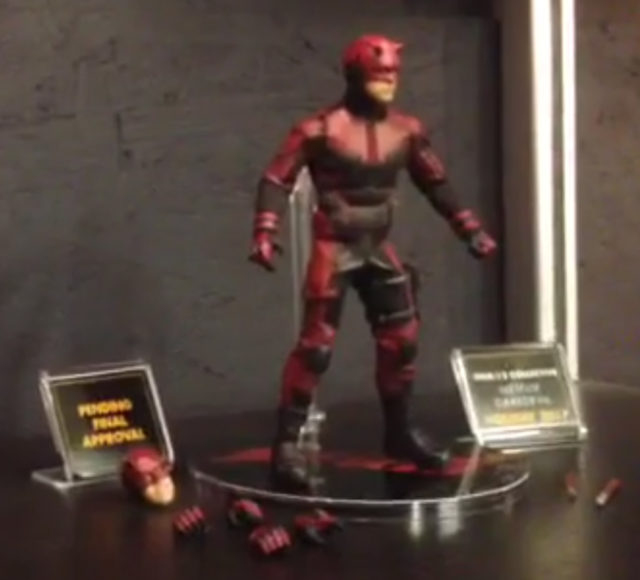 I love the heck out of my NYCC Exclusive Shadowland Daredevil figure, and this will be my second Mezco Daredevil in my collection. Love it!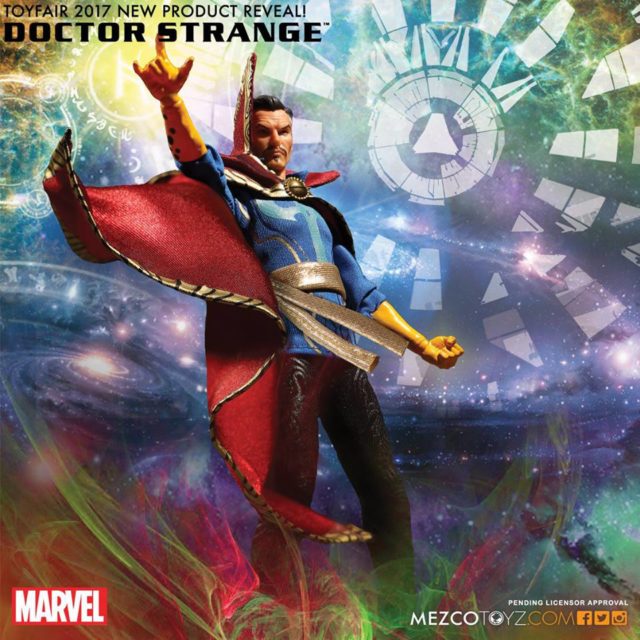 The enormous amount of love Doctor Strange has been getting from toy companies since last year continues with the ONE:12 Collective Doctor Strange!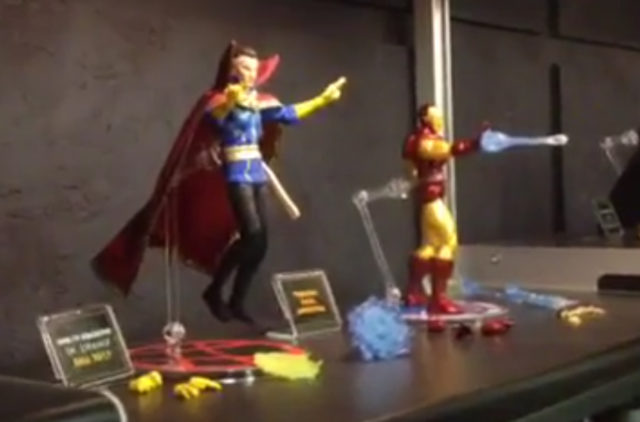 I'm not sure what the blue translucent "rock" he comes with is meant to be (an extra stand, maybe?), but I dig that beautifully-sculpted magic effects piece.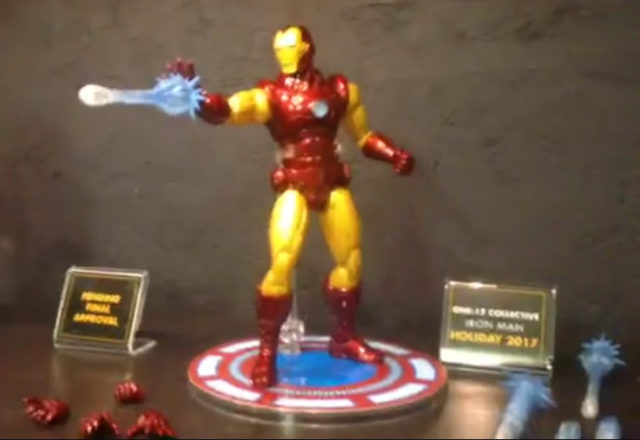 Last but not least, we've got the most popular character in the Marvel Cinematic Universe (in classic comic book form): Iron Man! Iron Man comes with a variety of energy effects pieces, which are always a key to winning my heart!
ONE:12 Collective Iron Man looks to be a first for Mezco, as he's entirely made of plastic with no mixed media to speak of. He looks really nice, but I'll have to see him in person before I decide if he's worth quadruple the cost of a Marvel Legends Iron Man in the same scale.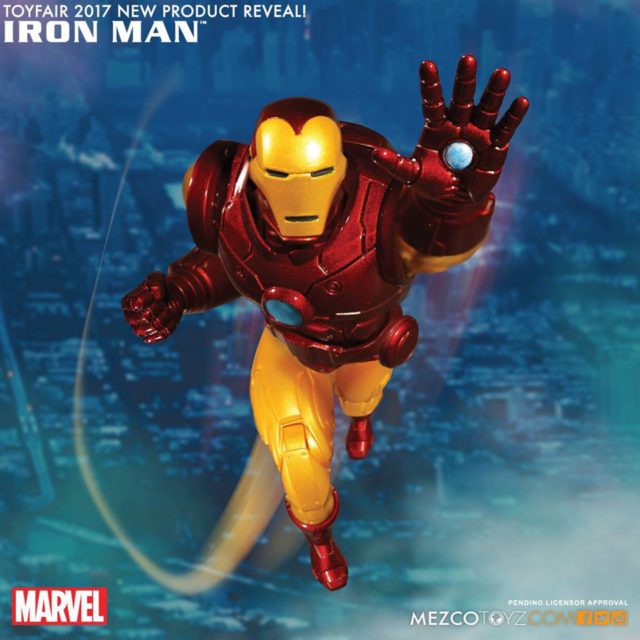 I'm sure we'll be seeing everything on display at this event next week at the New York Toy Fair 2017, where I'll be reporting from live next weekend here and on the Marvel Toy News Twitter and Facebook Pages. Be sure to follow our social media pages for our fastest photo uploads from the event!
What do you think of the four newest reveals in the Marvel ONE:12 Collective lineup, Marvel collectors? Which of these figures impress you enough to earn a spot on your wish list, and what alternate costumes are you hoping to see released for the new characters?