If there was one Marvel collectibles-producing manufacturer whose New York Comic-Con 2015 showing came perilously close to disappointing me, it was Kotobukiya. With the exception of some Spider-Gwen Bishoujo concept art, there were zero new Marvel products on display at the Kotobukiya booth. But it turns out Koto was actually just holding out on us until their Sunday panel, where they revealed new statues of Thanos, Beast and Spider-Gwen!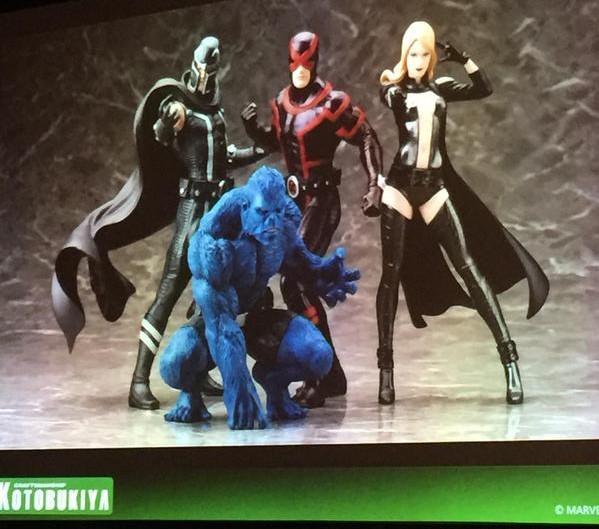 Okay, so when Kotobukiya posted a teaser image of Beast's knee on their Facebook page early last week, I would have bet money that they were going to be displaying the new Marvel Now X-Men Beast ARTFX+ statue at their NYCC 2015 booth. And I would have lost that money.
As it turns out, Kotobukiya didn't have any new statue sculpts on display at the booth, including Beast. In fact, they only had an unpainted prototype of the Magik ARTFX+ statue which has been shown painted and up for order for many weeks!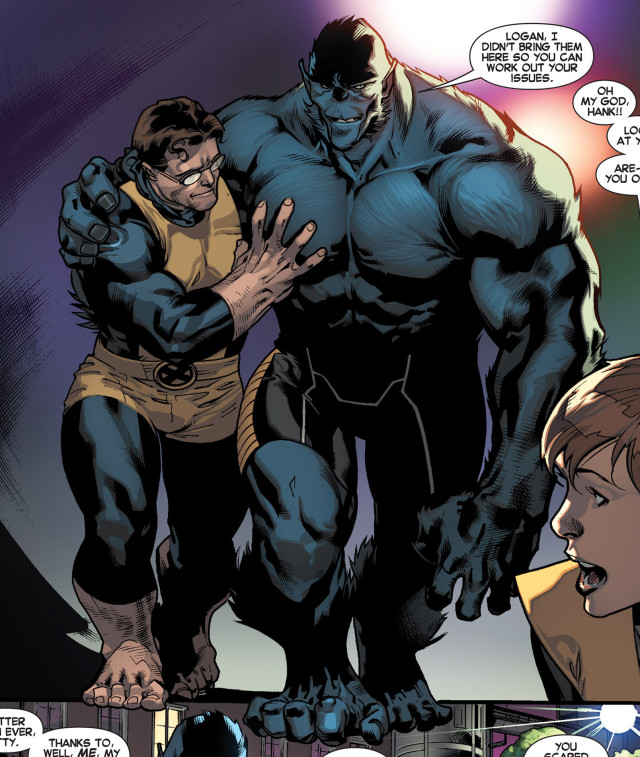 But in the end, Koto did not let fans down–they just made them wait. Beast appeared (in PowerPoint slide form) at the Sunday afternoon Kotobukiya panel.
Like the rest of the ARTFX+ X-Men, Beast is in his modern ape-like appearance. It's not my favorite look for Beast, but it is accurate and adds a lot of (blue) color to an otherwise very black-heavy lineup.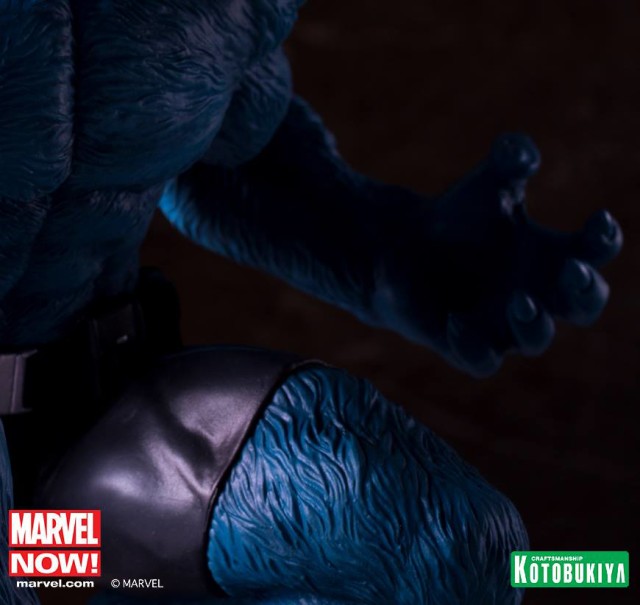 It's very tough to tell from the slide photo of the ARTFX+ Beast from New York Comic-Con, but we know from the previously-posted teaser image that Beast is sporting shiny purple shorts, not black.
It doesn't appear that the yellow stripe Beast's shorts are often depicted with in Marvel NOW! comic books are present on this 1/10th scale statue, but it's possible that we just can't see that detail from the images that Koto has made available thus far. We'll find out soon enough, as this Beast statue should be going up for pre-order within the next week.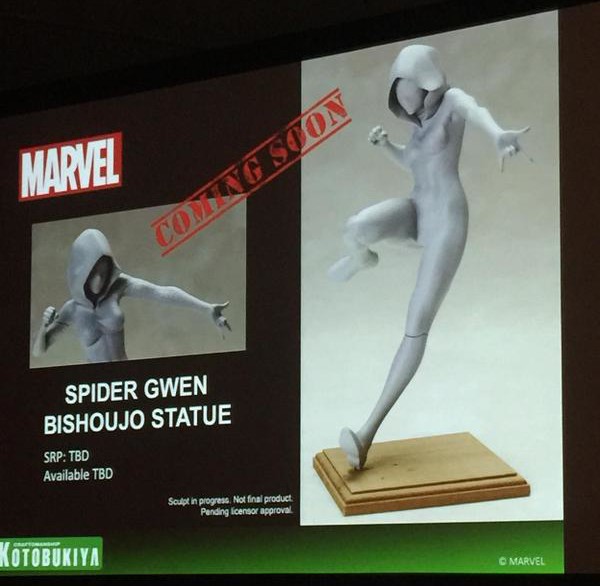 In addition to Beast, Kotobukiya showed off the actual in-progress Bishoujo Spider-Gwen sculpt! While the sculpt is still for early and rough-looking, I like the dynamic and not hookerish pose that Koto has Gwen Stacy in. This statue is gonna sell like wildfire.
Finally, there was one last item on display at the panel–and it was a major shocker: an Erick Sosa Thanos Fine Arts Statue! The statue features Thanos flexing menacingly over a base covered in enemy skulls, and includes interchangeable fierce and grinning Thanos heads.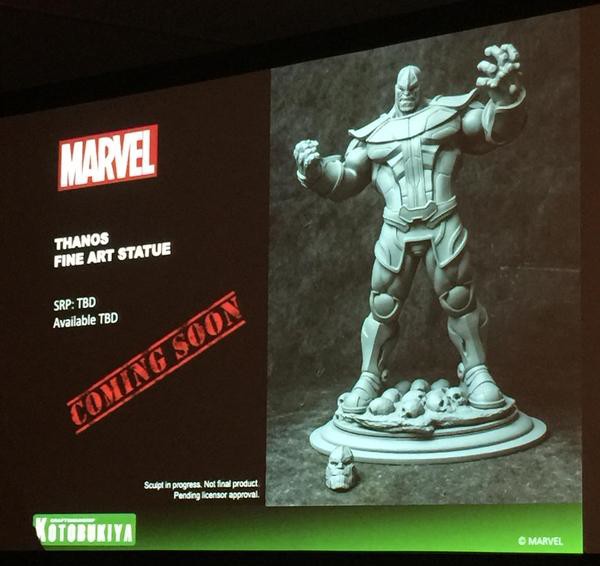 Thanos is ridiculously popular with statue collectors, and the several different Bowen Designs Thanos statues have all exploded in price. And now to get a Kotobukiya Thanos statue sculpted by the beloved Erick Sosa…? Yeah–this is gonna be another big hit.
The Kotobukiya Beast ARTFX+ statue should be up for order later this week, and will be released in spring 2016. Meanwhile, look for updates on the the Koto Thanos and Spider-Gwen statues during our New York Toy Fair 2016 coverage in February.
What do you think of Kotobukiya's triad of big NYCC reveals, Marvel collectors? They're three-for-three here with statues that they're successfully going to be selling me–how about you?