Unlike past years, Kotobukiya didn't bring any never-before-seen Marvel statues prototypes to New York Comic Con 2016 this week. But while we didnt get to see anything totally unannounced at NYCC 2016, we did get to see several updated sculptures in person for the very first time at the event–including the Bishoujo Squirrel Girl and painted versions of the Super Deadpool ARTFX and Vision Fine Arts statues!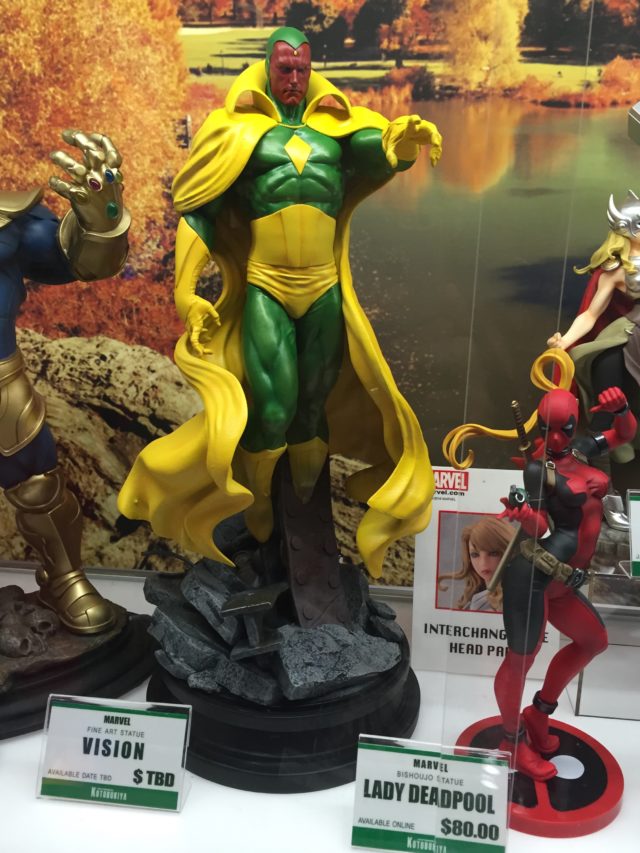 One of the first booths that I made a beeline for at the 2016 NYCC this morning was a perennial favorite: Kotobukiya! I hadn't heard any rumors regarding unannounced pieces appearing, so I wasn't too let down to discover so surprises on display at the booth.
But that was no big deal, because the three exact pieces I had been wanting to see on display and photograph were present and accounted for–headlined by the Vision!
I've never had a particular fondness for the Vision until this past year, when the synthezoid captured my heart with his ongoing comic book series by Tom King. I've been wanting a new Vision statue ever since, and Koto just happens to have created exactly what I'm looking for!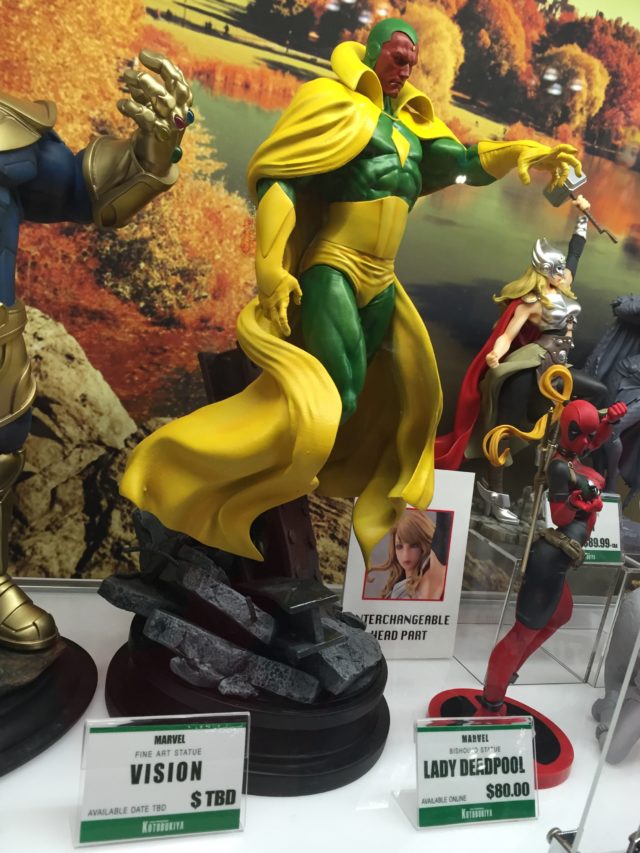 The Vision Kotobukiya Fine Arts statue is classic all the way, with Vision in his most iconic costume, phasing through the debris that makes up his base.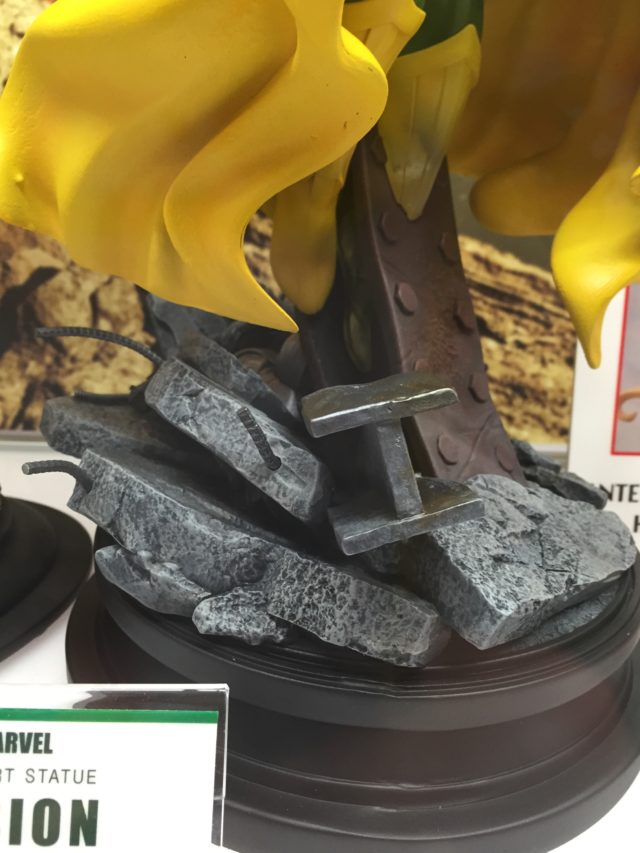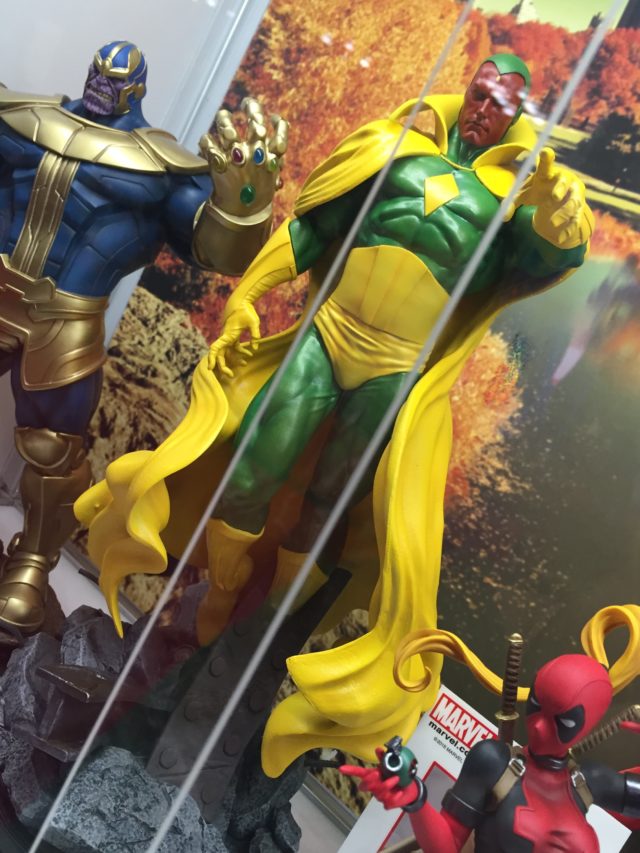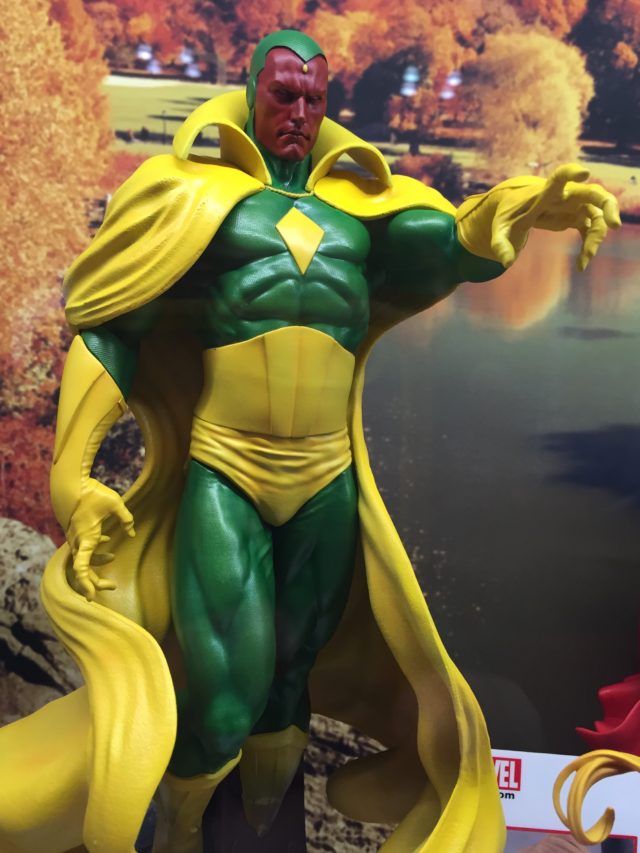 I don't know if this statue will sell out at lightning speed like this year's Black Panther Fine Arts Statue, but Koto is guaranteed at least one sale to me.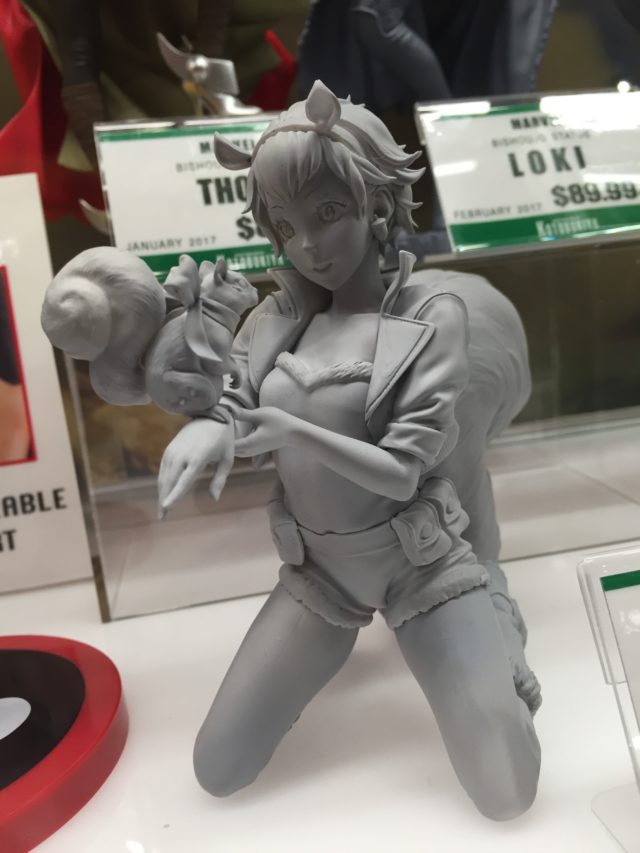 The Squirrel Girl Bishoujo also made its first appearance in physical sculpted form at the booth today. This is thankfully a classic Squirrel Girl design and not the freakish (IMO) modern interpretation of the character.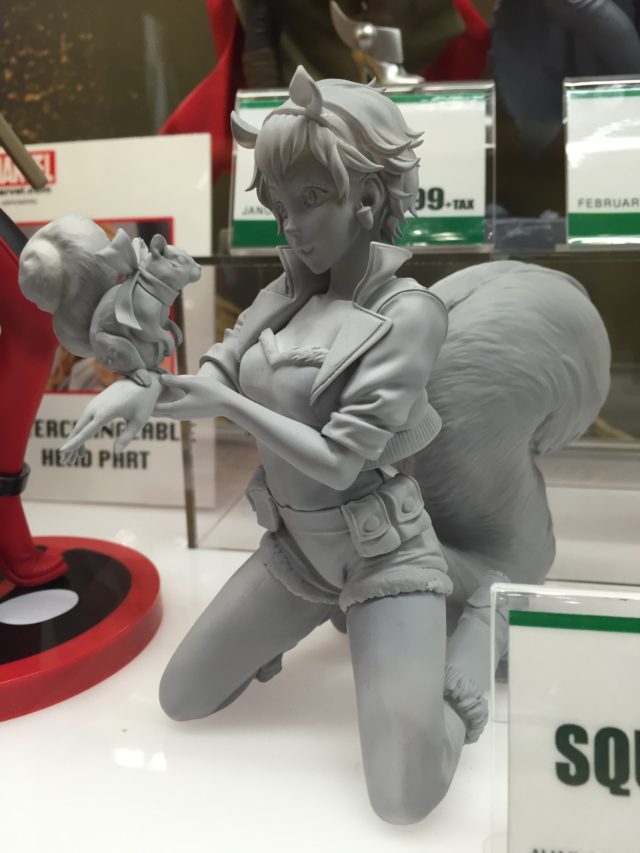 Tippy-Toe the squirrel is, of course, also present and accounted for.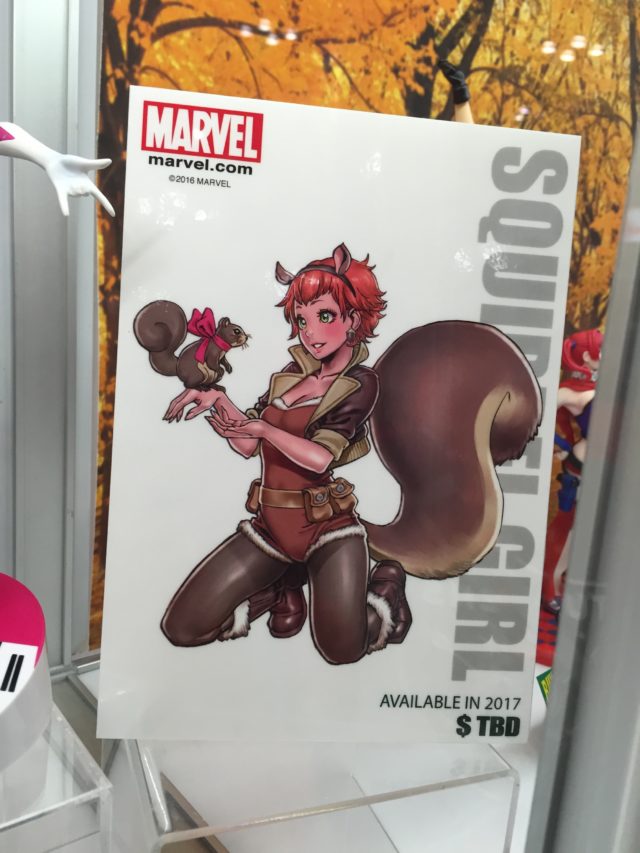 Squirrel Girl makes for a rather cute Marvel Bishoujo statue that isn't slutty at all.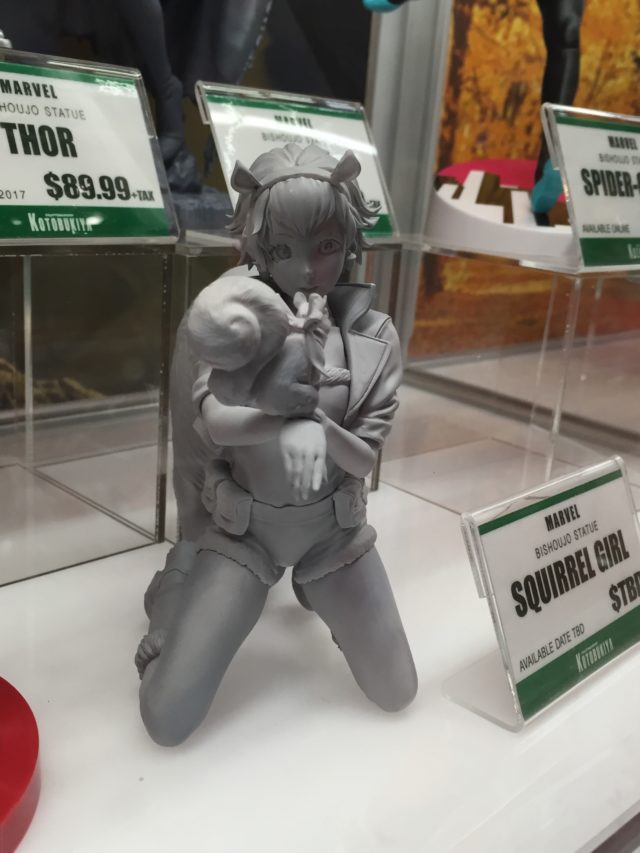 Although she's not a character I connect with–at all–I know this Squirrel Girl statue is on a lot of folks' radar.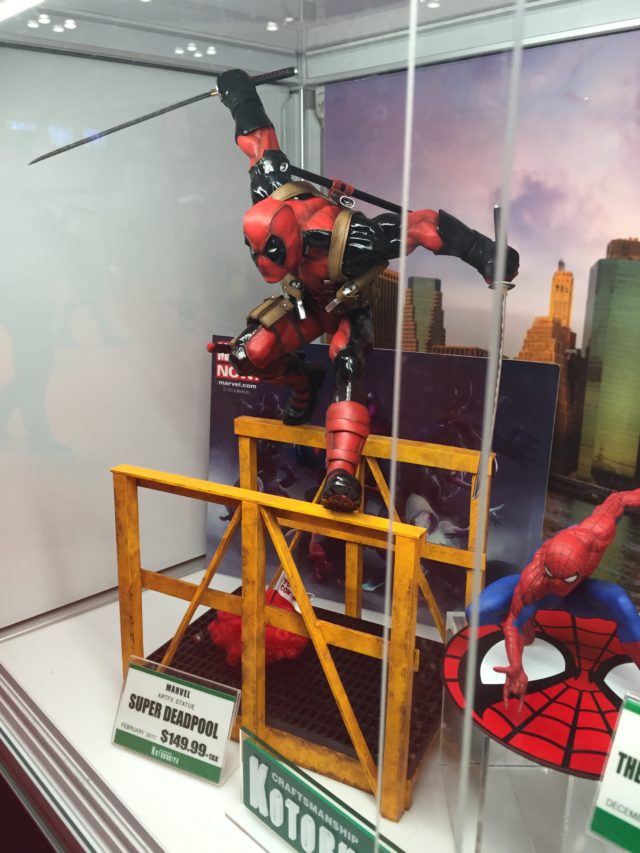 Finally, we've got the wild and crazy Super Deadpool ARTFX statue that was teased at SDCC 2016 and put up for sale last month.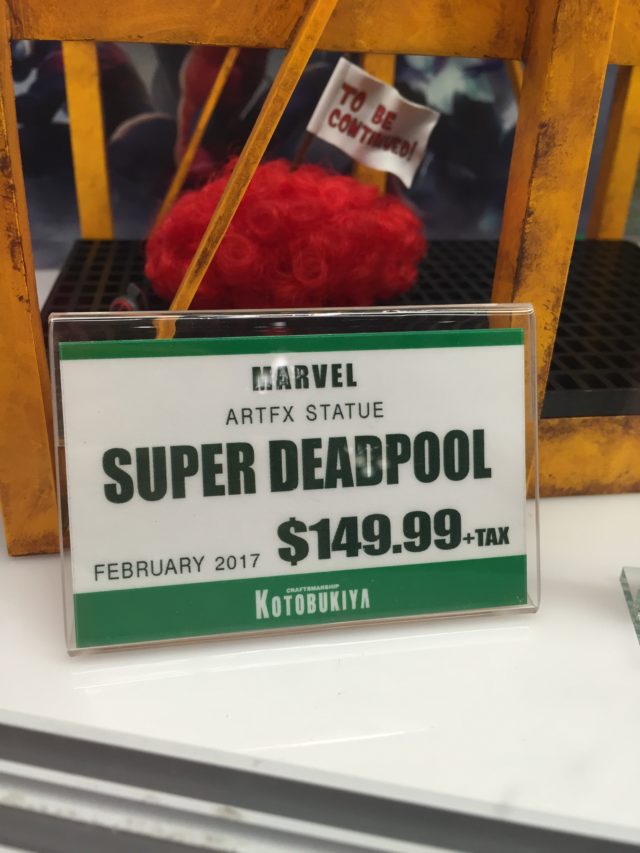 I believe that this is the first time the little sign that says "To Be Continued…" has been displayed with the Deadpool statue. Hilarious stuff.
Above is my favorite shot of the ARTFX Super Deadpool statue, as it's the first time we've ever gotten to see the statue alongside ARTFX+ statues. It's pretty clear that this 1/6 statue is a
lot
bigger than the 1/10 scale that initial erroneous solicitations for the Super Deadpool ARTFX statue proclaimed it to be!
This Kotobukiya Deadpool statue looks dynamic and awesome, and frankly I think it's going to be a sales blockbuster for Koto. Don't sleep on this one–it's a great and large piece for its price.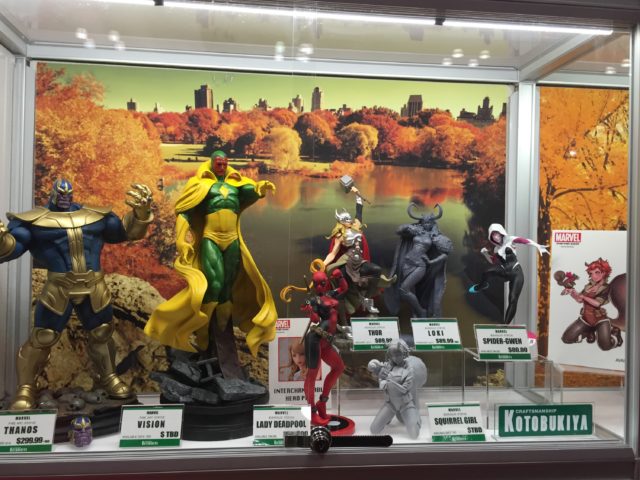 The Kotobukiya ARTFX Super Deadpool statue is now available for order, and the Squirrel Girl and Vision statues are expected to go up for sale later on this fall. I'll send out alerts via the Marvel Toy News Facebook Page and Twitter Feed when they're up for order, so stay tuned if you're interested in them.
Having seen the latest updates to the Kotobukiya Vision, Super Deadpool and Squirrel Girl statues, what's your verdict on these pieces, Marvel collectors? Will Kotobukiya be earning any of your dollars with these upcoming items?