Kotobukiya's Marvel ARTFX+ line has grown over the past half decade to be a real low-priced statue juggernaut, with lineups from the X-Men, Avengers, Spider-Verse and soon Defenders all represented in 1:10 scale. But there's one sub-series I was hoping to see end, and despite Inverse Deadpool being blown out at half price this week at the B&N 50% Off Sale, it's back: the series of Deadpool ARTFX+ statue repaints continues with… Cook Deadpool?! If King Shark was a Marvel character, he'd be getting jumped over right now…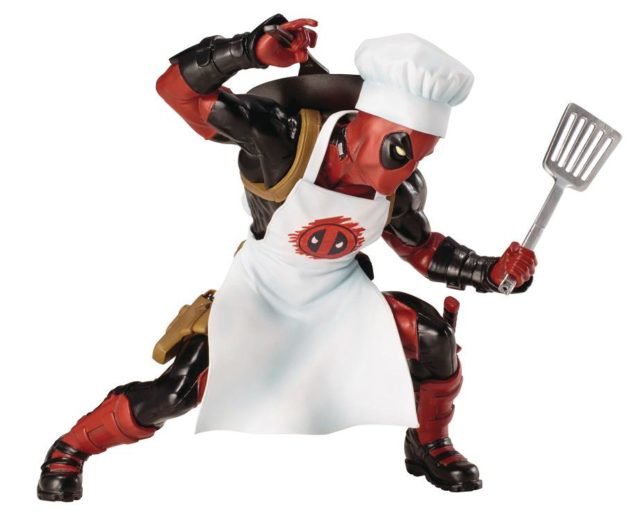 When Kotobukiya released their first ARTFX+ Deadpool figure back in 2015, it was an exciting instant purchase for me. Of course, that was before the tsunami of Deadpool merch flooded the world.
Since that first release, Koto has re-released that Deadpool in his X-Force costume, in his black Weapon X costume as a Barnes and Noble exclusive (that bombed and is down to half price and free shipping online now), and even with his mask half up so he can eat a chimichanga (honest, that was a real variant). I believe I heard an X-Men costume variant was on the way as well in the near future (because why not, right?).
And now, it's time for the Chef Deadpool ARTFX+ statue to take the stage! (This figure actually debuted at SDCC 2017, but I was trying to ignore it at the time and pretend it was a joke and not something Kotobukiya actually intended to sell).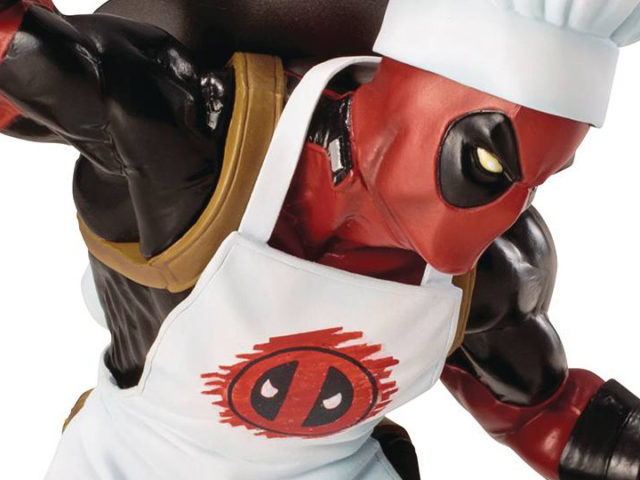 If this Wade Wilson figure looks familiar, it's because it's that same 2015 mold again–but this time, just like Malibu Stacy, Wade's got a new hat (and apron)! …But that's not all! Thrill to Cook Deadpool ARTFX+ statue's new accessories, including a spatula, a frying pan, and a head on a plate! (Seriously, I couldn't make this stuff up.)
Let's cut to the chase here: In short, I think this variant is stupid and ridiculous. When Funko released a new Chef Deadpool POP Vinyl with a new mold for 10 bucks, I thought it was funny. At this price and with a reused mold by Koto…? Not so much. I cannot begin to imagine that fans are going to line up to pay $64.99 MSRP for the umpteenth re-release of this mold with some half-baked cooking add-ons.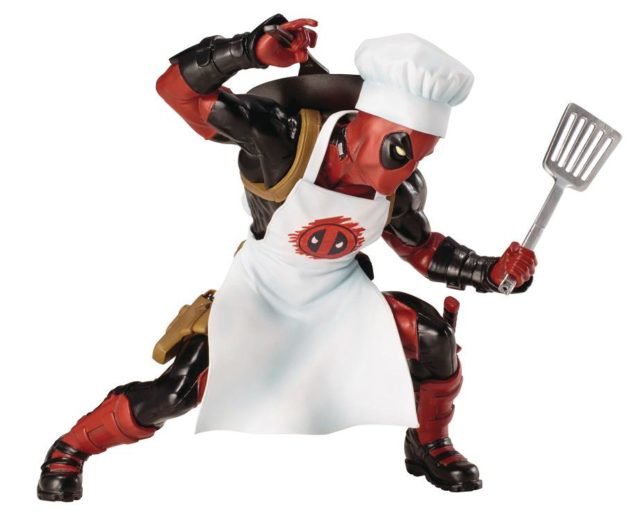 But perhaps I'm wrong! What say you, Marvel collectors? Are any of you delighted by the latest (and weirdest) Koto Deadpool statue? Is the ARTFX+ Deadpool Cook statue future-bound for your collection?
The Kotobukiya Cook Deadpool ARTFX+ Statue is now up for order, and is scheduled to be released in October 2017 (odd, what with that being only two months from now and Koto usually being somewhat slow). It's $5 off MSRP at BBTS, which is the only place I've seen it thus far, although I'd expect other retailers to list Chef Deadpool shortly. I can't imagine that this piece will sell out quickly and won't end up being heavily-discounted in the future, but Koto has tagged it as "limited edition", so I guess all things are possible.