I was planning on posting my review of the Hasbro Marvel Legends Gladiator Hulk Build-A-Figure over the weekend, but I was foiled by my hosting company's incompetence causing the site to be offline for half a week. Alas. But hey, better late than never, right? The Marvel Legends Gladiator Hulk BAF is selling for $60+ all by his lonesome on the aftermarket, and was one of the most-anticipated Build-A-Figures in quite some time (and perhaps ever)–but is this Hulk worth buying six other figures to build? Let's find out…
The Right:
When leaked lists of Marvel Legends Fall 2017 figures hit the Internet early in the year, many collectors were shocked by the absence of a Thor Ragnarok Legends Hulk movie figure in the lineup, and there was a legitimate fear we'd not get a 6″ scale figure of the movie's co-headliner.
I never believed that we wouldn't get this Gladiator Hulk BAF, but I was curious if Hasbro would have enough time to make him perfect. And while it turns out he's not perfect, he is pretty great.
As he should be, the Build-A-Figure Hulk is noticeably larger than your typical Marvel Legends 6″ figure. Gladiator Hulk weighs close to 14 ounces and stands around 9″ tall with his helmet on.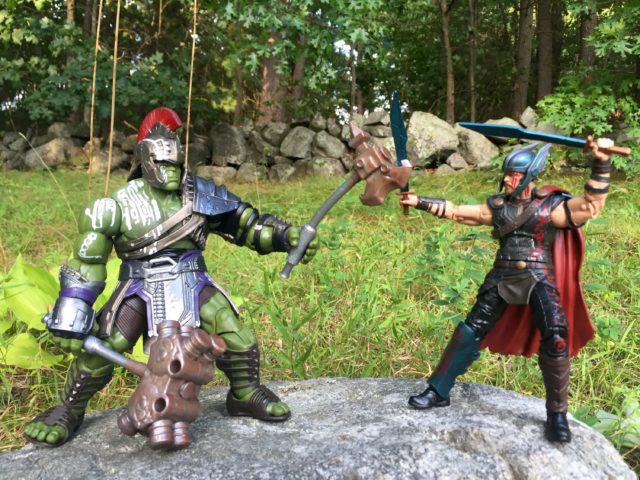 While this may still be slightly too small scale-wise, I'm happy with the way he looks in comparison to the 6″ figures and think he'd actually look out of place if Hasbro made him much larger.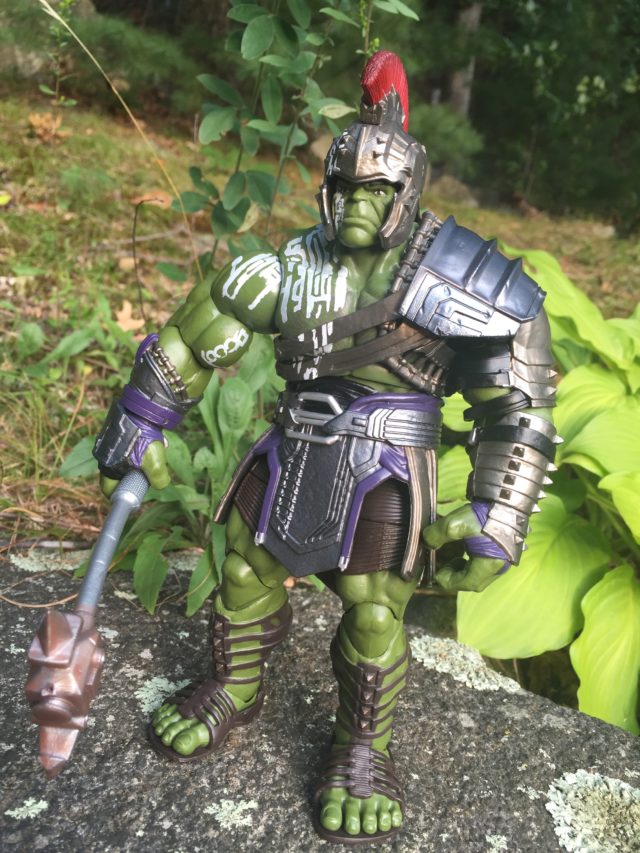 The big thing setting this Hulk apart from previous Marvel Legends movie figures is, of course, his costume and armor. Hasbro did a fantastic job with hybridizing this armor, as parts of the armor are "add-on" bits of costume and parts of it are uniquely molded pieces.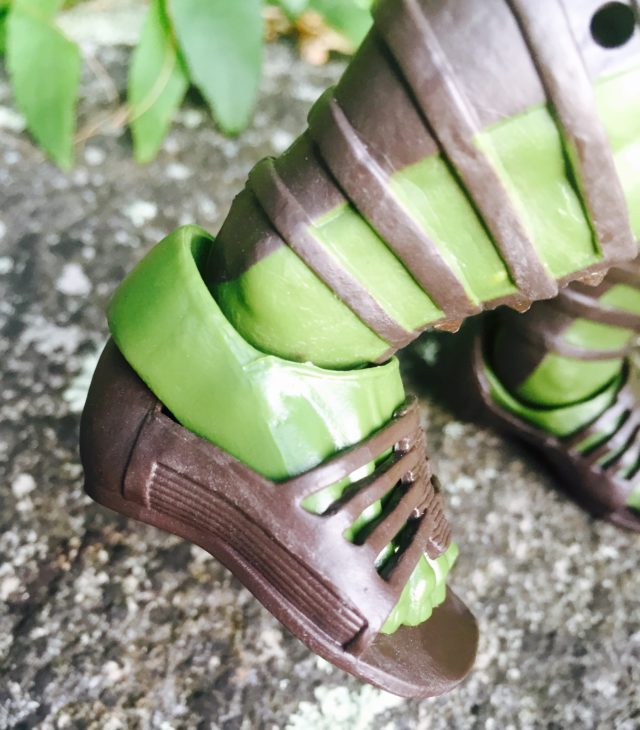 Hulk's sandals are removable (although they might be a bit tough to get back on), and his shoulder and biceps armor bits are both add-ons to the actual mold. His skirt is also removable. Meanwhile, the armor on his legs and hands all sculpted to the actual body.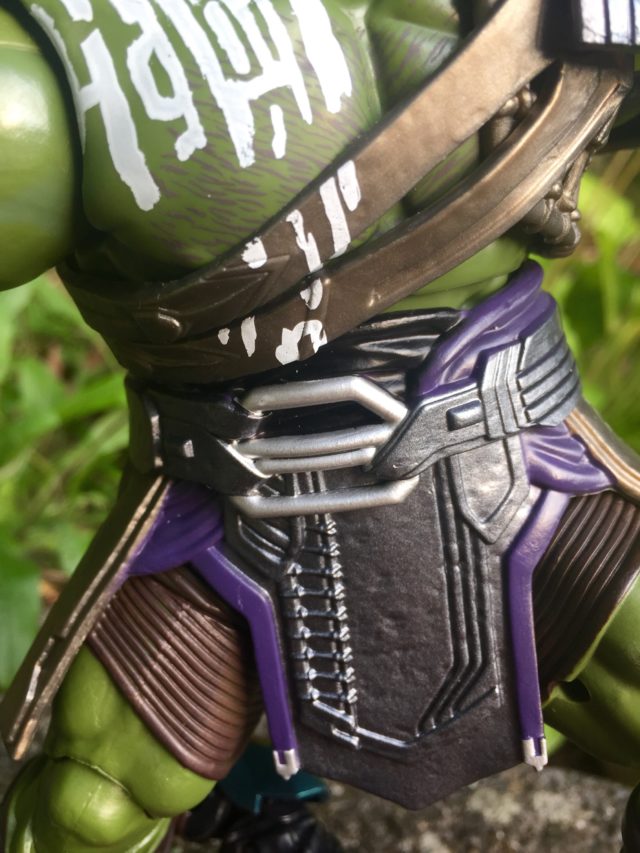 The armor not only has a ton of sculpting detail on it, but also a surprising number of paint apps. There's white, brown, purple, silver and grey all accounted for on the armor, making it look subtly colorful and lifelike.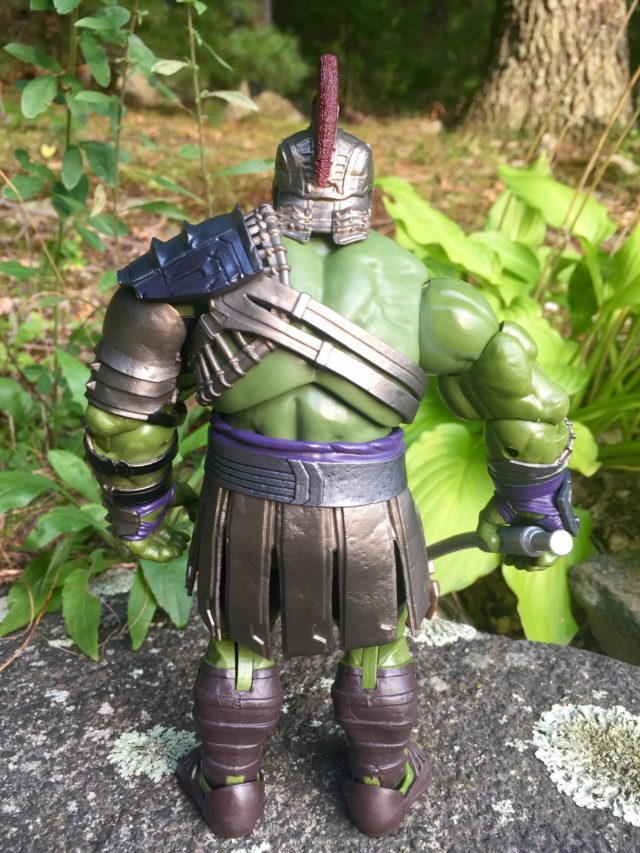 I'm not infatuated with the gladiator helmet for reasons I'll discuss in a bit, but I think it's also impressively sculpted and painted, and I love the texture and shading on the red "Mohawk" plume of the helmet.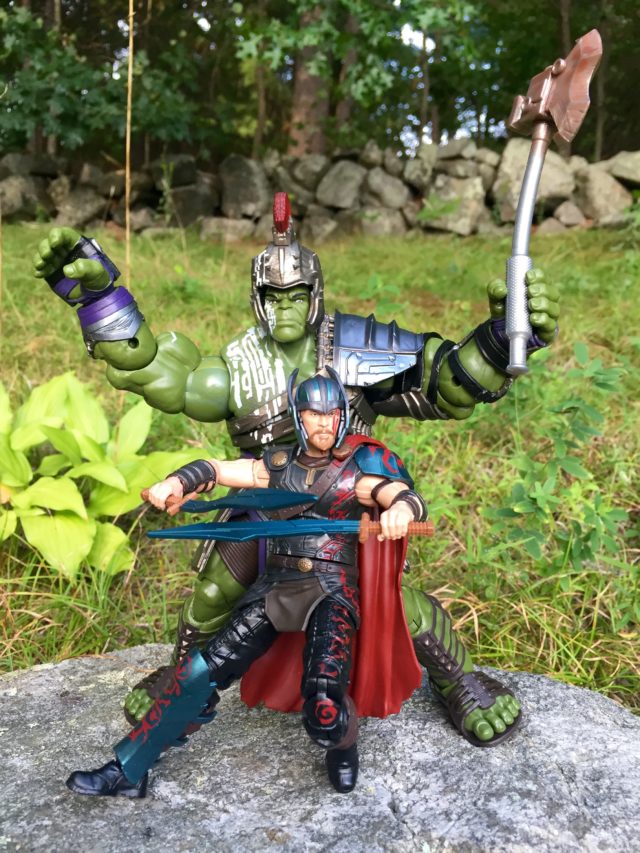 The armor (and Hulk's own musculature) does get in the way of the articulation a little bit, but short of double-hinged elbows and swivel calves, all of the standard super-articulation is present and accounted for (including ankle rockers–thank God).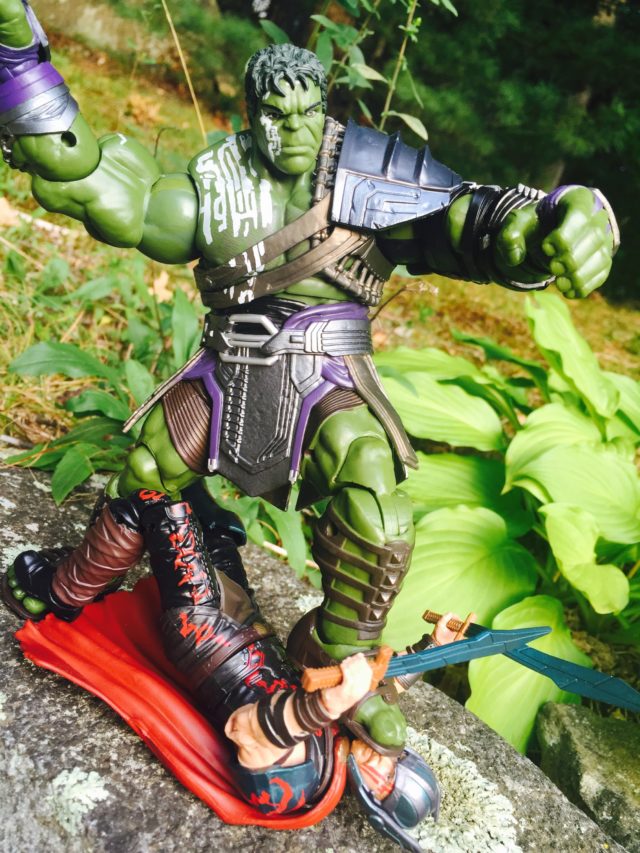 My favorite part of the entire figure might be the white war paint on Hulk's chest and face. The bright white paint and intricate design contrasts beautifully with darker colors of the figure and really grabs my eye.
Quality control on the figure itself here is stellar: the figure is heavy, has nicely-applied paint, and can stand up and be posed stably without issues. Excellent work.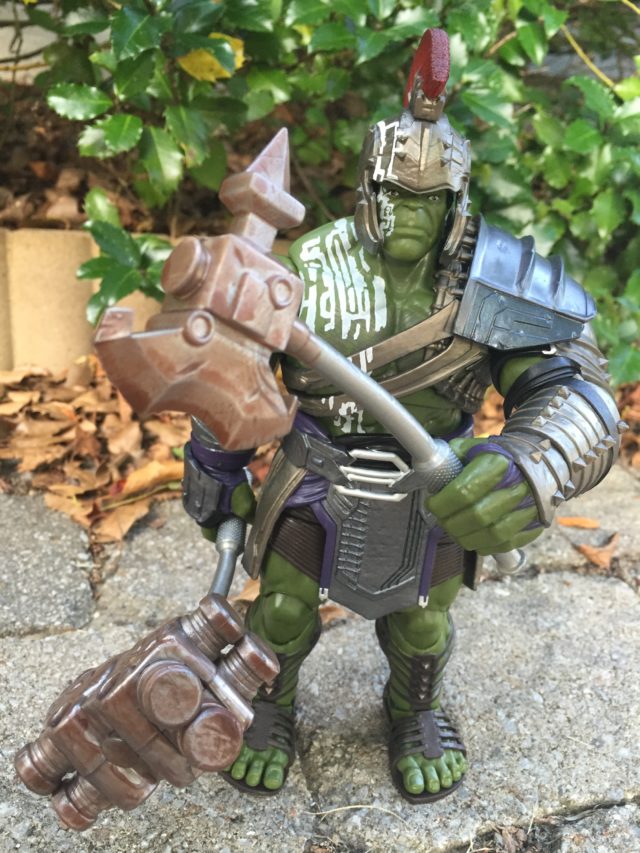 Two more things I want to touch on in "The Right" are timeliness and value. I've already heard a lot of folks say they much prefer the Mezco ONE:12 Collective Gladiator Hulk figure, but I think that's a rather unfair comparison.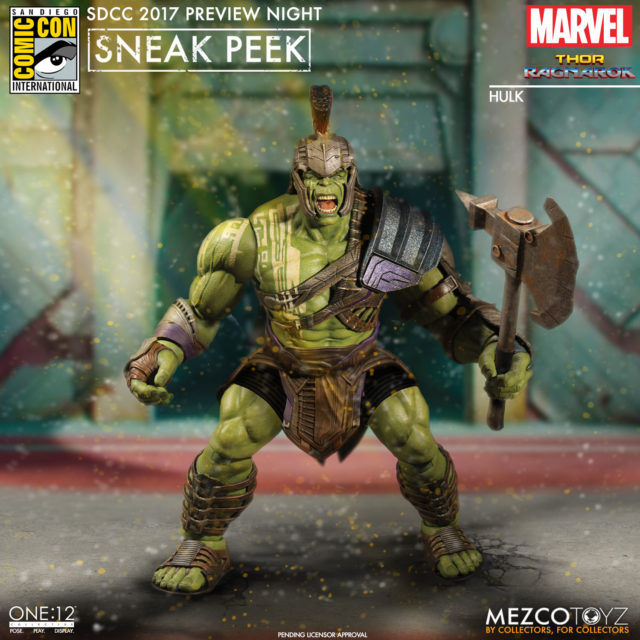 While that toy is magnificent, it isn't likely to ship for a full year from now and will probably cost $100+, whereas Hasbro had this Hulk ready to roll last month and it's effectively "free" when buying the other figures in the wave.
This is also almost beyond a doubt the only version of this character that will ship in 2017 (we'll see if the Marvel Select makes it or not), and I think Hasbro did a fantastic job with the size, detail and sculpting on this incentive figure.
The Wrong:
While I'm quite pleased with everything about the Thor Ragnarok Hulk figure itself from the neck down, I'm not quite as pleased with the remainder of the figure.
For whatever reason, Hasbro opted to give this particular Hulk action figure a facial expression that looks, well… bored. Really bored. Given how ferocious Hulk looks in his gladiator gear in the movie trailers, official photography and even other companies' toys, I'm pretty bummed that the Marvel Legends version of Gladiator Hulk looks so apathetic.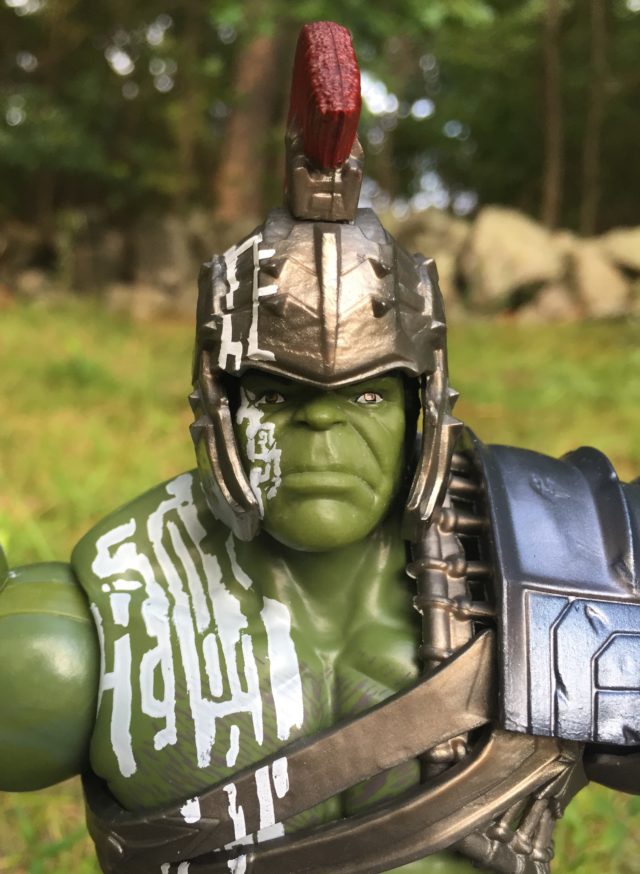 In addition, while I think the helmet itself is very nicely sculpted and painted, it's a wee bit too big atop Hulk's head (as it has to be in order to be removable). Personally, I would have much preferred an "angry" Hulk head with the helmet permanently attached than a removable helmet and only one head.
Also, I am a bit bummed that this is a Hulk figure who can't smash anything–because he doesn't have any fists. I know Hasbro didn't want to develop fists with the armor on them in addition to the grasping hands, but man–a Hulk that can't punch things is a hard concept to grasp.
The Ridiculous:
As many of you saw on the Marvel Toy News Facebook, Twitter and Instagram pages over the weekend, I was a bit dismayed to find that after only a few days out of the package, Hulk's hammer had gone, well… limp.
Poor plastic quality has been almost unquestionably the biggest issue with the Marvel Legends toy line this year, and it rears its ugly head once again here on Gladiator Hulk's accessories. Both the war hammer and the axe are made of cheap, rubbery plastic that quickly bends out of shape and looks ridiculous.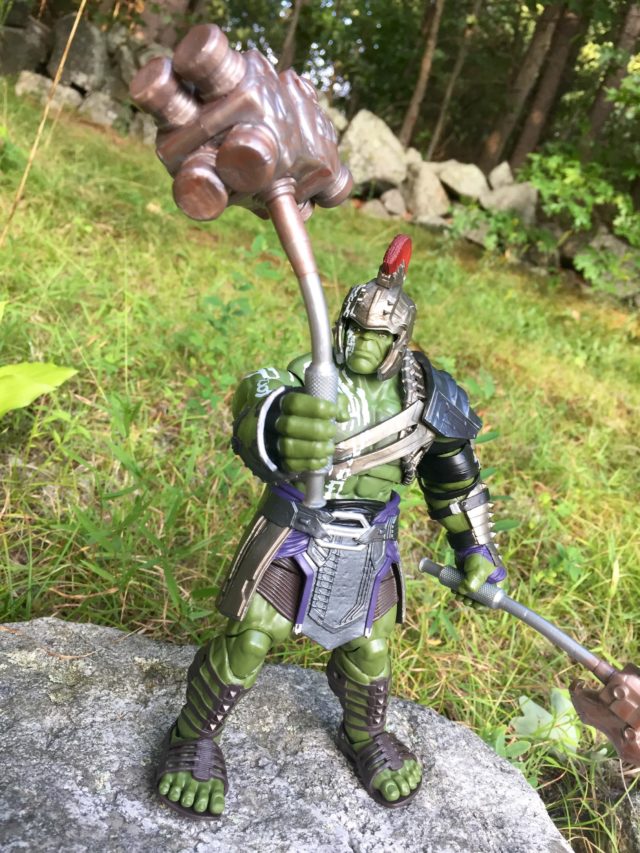 Yes, you can boil and reshape the accessories, but they'll just warp again in a day or so each time you do it. If there's one thing I hope to see as an improvement in ML in 2018, it's consistently better quality plastic.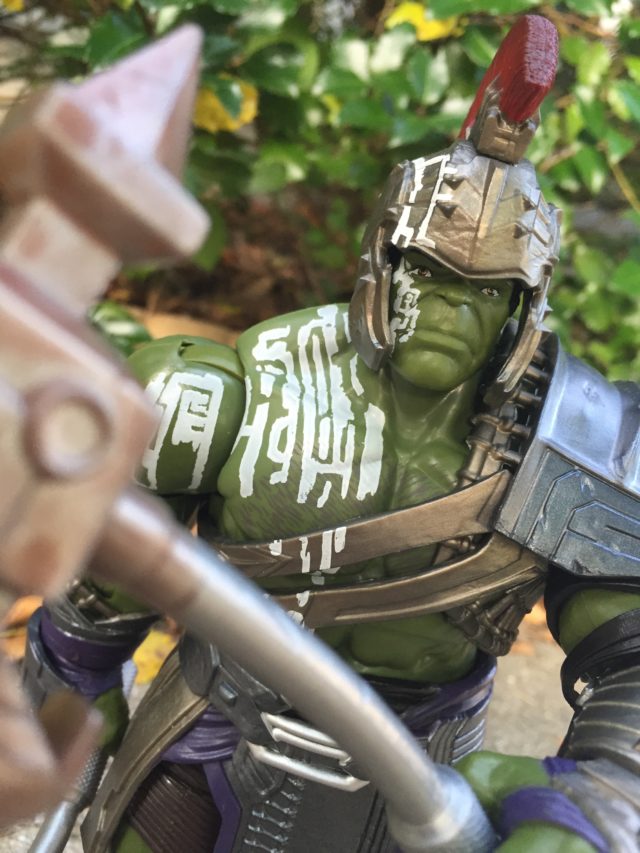 Overall: While it's one of the most-anticipated Hasbro figures of the year and one of the most high-profile Build-A-Figures we've seen, the Marvel Legends Gladiator Hulk figure falls just short of pinnacle greatness. The sculpting and paint deco on the armor of this brute look fantastic, and I think the war paint looks super cool.
Even so, I'm disappointed with the bored facial expression on Hulk, the lack of fists, the helmet that's slightly too big, and the ultra-rubbery, flaccid handles on his weapons. For a "free" figure this is pretty amazing, but it's still not quite in the upper-echelon of best Marvel Legends Build-A-Figures that we've seen released over the years.
GRADE: B+