UPDATE 10/25/2015: One week ahead of Comikaze Expo 2015, the link to order the Marvel U.S. Agent POP Vinyl has leaked out online! Get the Comikaze Exclusive Funko POP Vinyls US Agent figure fast if you want him (and use code 'HEYAUTUMN' for 25% Off!), because he is not gonna last long online! SOLD OUT!

ORIGINAL 10/6/2015: I'll be posting to the Marvel Toy News Facebook and Twitter pages like a maniac once New York Comic-Con 2015 officially begins on Thursday, but that's not the only big-name con coming up in the next month! The third Stan Lee's Comikaze convention will take place over Halloween weekend, and for the third consecutive year, the show exclusives are headlined by a Marvel Funko POP Vinyl–US Agent is in the house!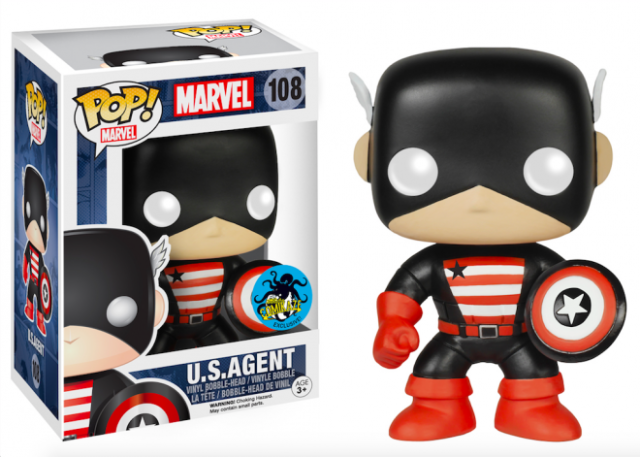 When a convention has Stan Lee's name attached to, it's gotta be good, right…? Well, even in its third year, that remains to be seen for Stan Lee's Comikaze, which I've seen decidedly mixed reviews for.
That said, regardless of how the rest of the show is, one area where Comikaze con has yet to let us Marvel fans down is exclusives! The inaugural Comikaze in 2013 featured a Funko Peter Parker POP Vinyl and a black & white Loki, whereas Comikaze 2014 brought us Glow-in-the-Dark Storm and Unmasked Captain America.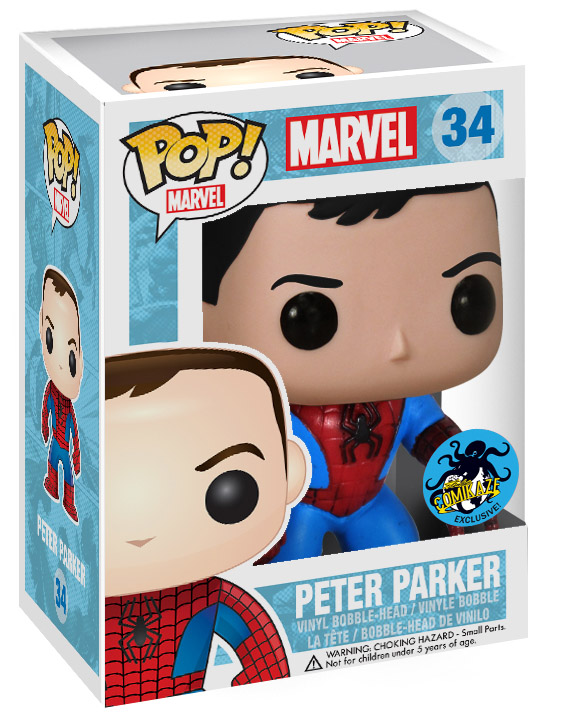 But this year's Comikaze Funko Marvel POP Vinyl may take the cake as the best con exclusive for the line in quite some time, because it's a totally unique character: a Funko U.S. Agent POP Vinyl has been announced for Comikaze Expo 2015!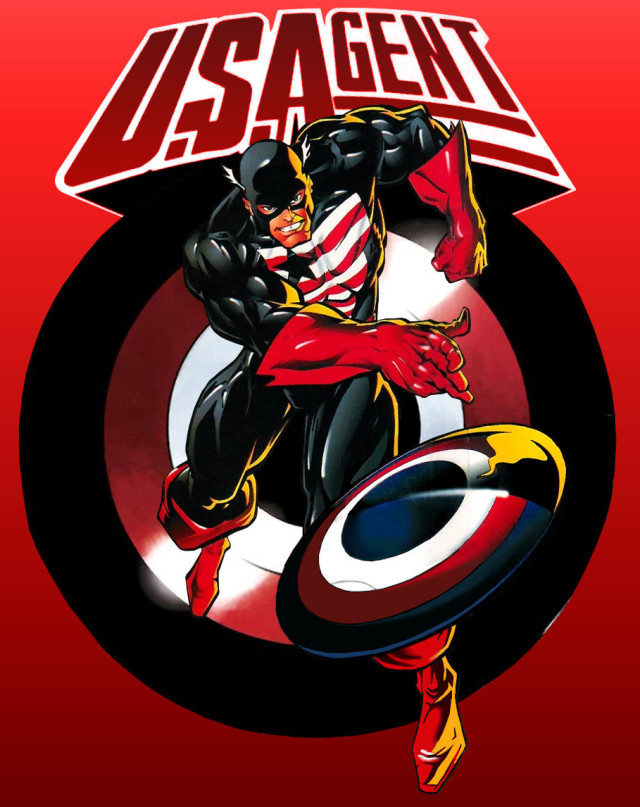 Now, let's not kid ourselves: US Agent is not exactly the most beloved Marvel hero of all-time. In fact, many comic book fans would say that he's basically a second-rate, bootleg Captain America. (I would not agree, but that faction of fandom certainly does exist.)
And yes, it's true: this exclusive really is just a Captain America POP that's been repainted with a black mask and a black, red and white costume instead of Captain America's iconic red, white and blue costume.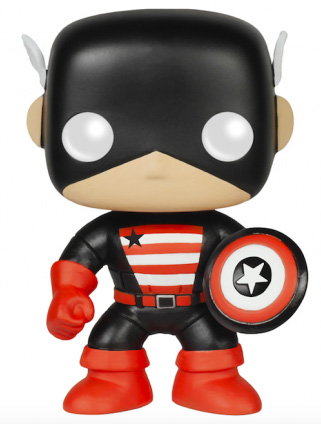 Even so, getting a unique character as a convention exclusive Funko POP Vinyl is an exceptionally rare and exciting treat! In fact, after doing a quick bit of research, I discovered that there has
never
been a con-exclusive Funko POP Marvel character before! Finally, U.S. Agent can make history and become a true legend!
The U.S. Agent Funko POP Vinyl figure has the unique number designation of #108, which leaves a gap of six unknown characters between US Agent and the next known POP (the already-released Holiday Groot #101). Will Funko surprise us with another X-Men series before the holidays…? We shall see!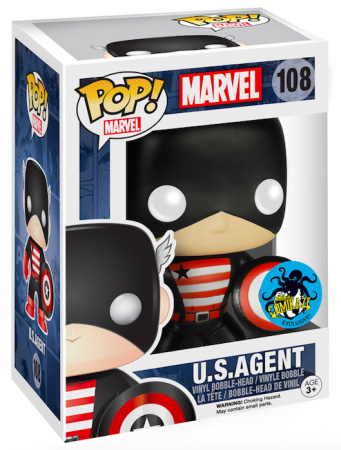 The Funko POP Vinyls US Agent figure will be available exclusively at the 2015 Comikaze Expo from October 30-November 1st, 2015 at the LA Convention Center. Specifically, he'll be at Hot Topic booth #949. Don't fret too much if you won't be in Los Angeles that weekend, though–all of the past Comikaze Funko exclusives have been available in limited quantities at Hot Topic stores after the convention. I suspect John Walker AKA US Agent, will not be an exception to that rule.
Does US Agent getting his due as a vinyl figure make you crack a big smile, Marvel collectors? Are you irritated to see a unique character being released as a convention exclusive, or do you think a limited release is the right call for a character with the limited fan-base of ol' U.S. Agent?