As soon as Hasbro confirmed the lineup for the final wave of Marvel Infinite Series 3 3/4″ figures, I instantly knew which character fans were going to be salivating for most. Though she was scrapped at the tail end of the Marvel Universe line, she made it in just in time for the end of this one! She's already selling around $20 online, but is this Marvel Infinite Series Emma Frost 4″ figure a diamond like its namesake can turn into…? Read on…
The Right:
Well, I'll be…! Hasbro has finally rectified all of the disappointment of the cancelled Marvel Universe Uncanny X-Men Team Pack by releasing the two MIA figures from that multi-pack in this last wave of 4″ Marvel Infinite Series figures! Hallelujah!!
I'll be talking about (and perhaps raving about) the Colossus Juggernaut mash-up figure in a few days, but first I'll touch on one of the more-anticipated figures of the year: Emma Frost.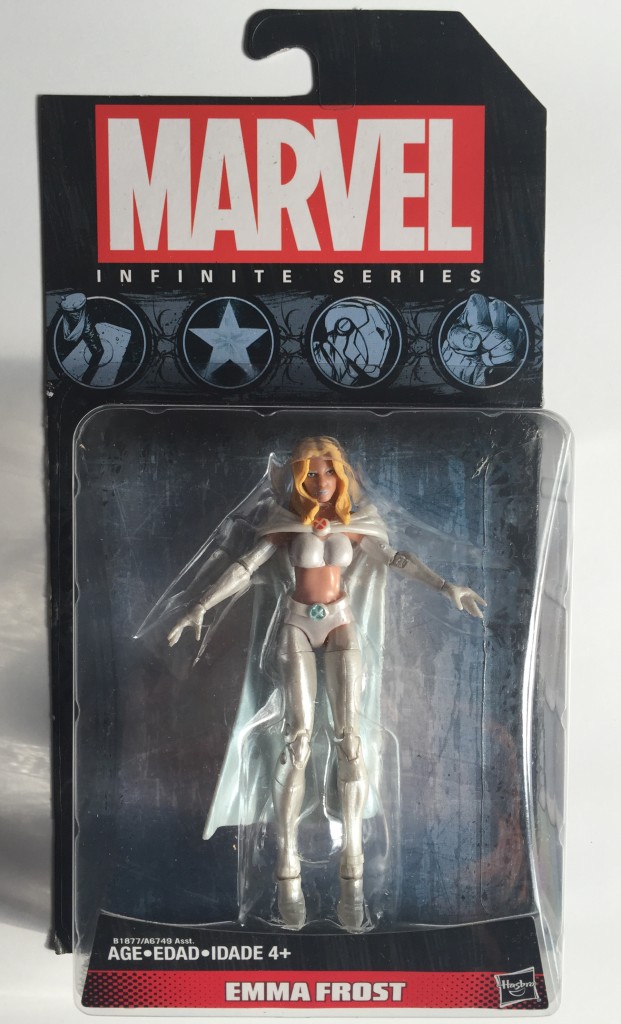 While this is actually the fourth Emma Frost action figure that Hasbro has released, the original Marvel Legends Emma Frost (and her Diamond Form variant) are pretty reviled by collectors. And while the X-Men Legends Emma Frost was a hit, she was also hard as heck to find and sells for hundreds of dollars now.
So bravo to Hasbro for getting a new White Queen Emma Frost figure out that's both good-looking and a mass-retail release packed at two-per-case!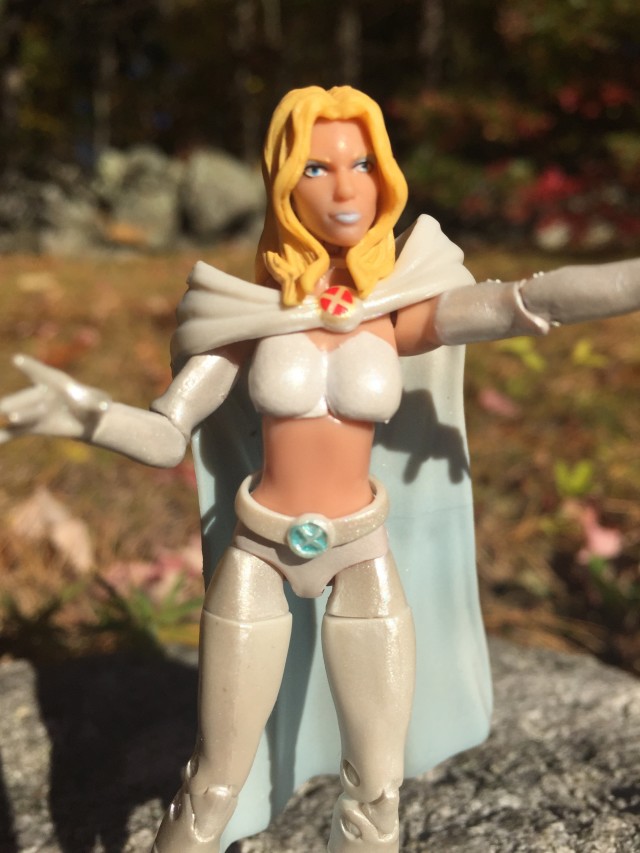 Emma Frost is supposed to be so ridiculously attractive that Cyclops is willing to throw away his marriage to Jean Grey to have an affair with Emma. Is this figure that good-looking…? Well… no.
Even so, this is a far cry from many of the dog-faced women Hasbro has released in this scale over the years. Emma's face looks soft enough and her hair is suitably wavy… I give her facial sculpt a pass.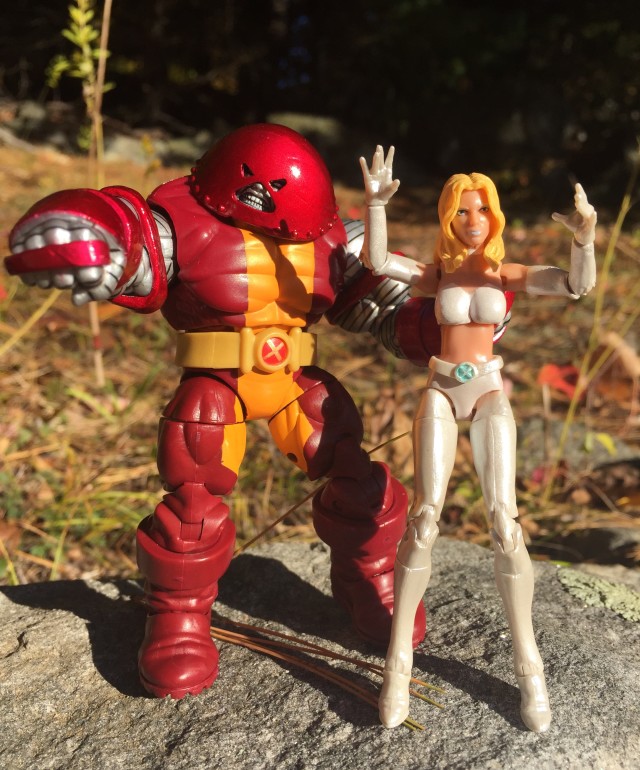 And while I wasn't sure if they'd try to "censor" her, Hasbro took the high road with Emma's costume (which is basically a bra with pants, high heels and a cape). As such, this is a very authentic representation of this era's Emma Frost.
It's not showing up well in photos, but the Emma Frost Marvel Infinite Series figure isn't painted in a flat white paint–instead, her costume is painted on in a gorgeous pearlescent, shiny silver-ish white.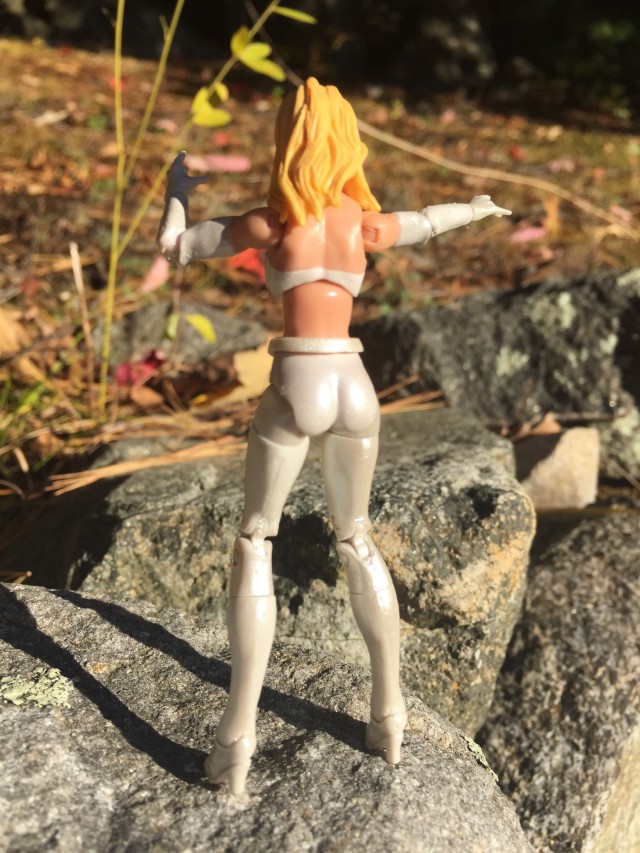 I was a little wary of popping off Emma's head to see if her cape was removable, as I worried that the neck joint might just break off entirely, but it turns out my fear was for naught: Emma Frost's head pops off without a hitch and with no signs of any fragility or breakage.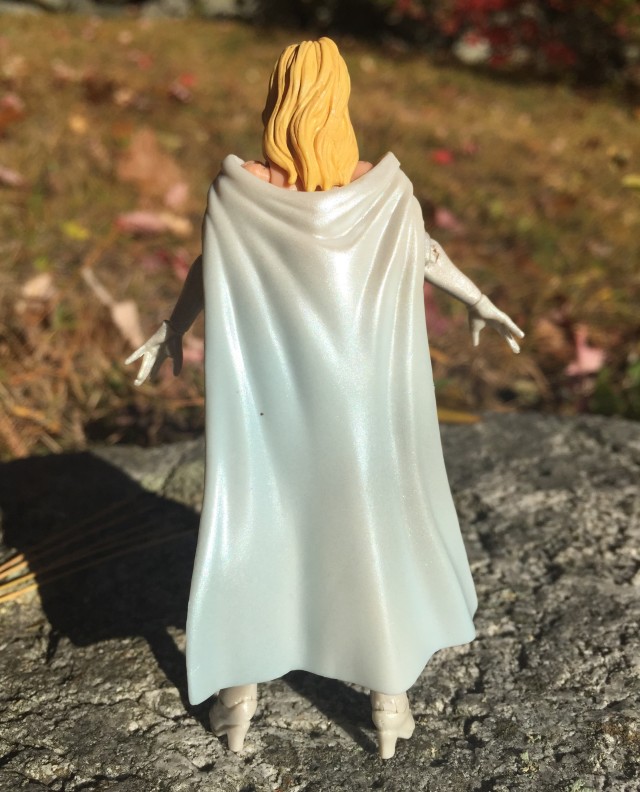 The cape itself is well-sculpted and drapes over Emma's shoulders nicely. It has a red X-Men logo painted on the collar, which is a detail I would have expected Hasbro to skimp out on.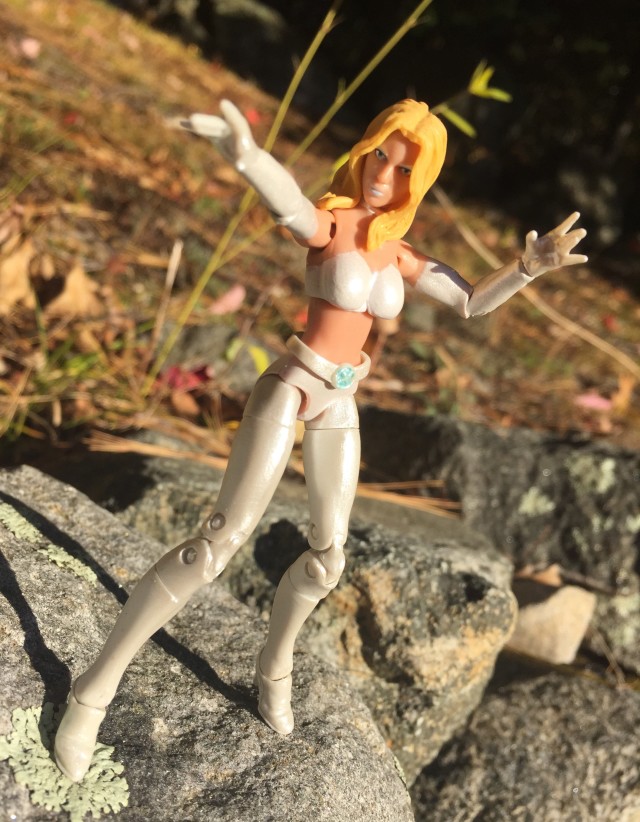 Last but definitely not least, Hasbro skillfully avoided one of my pet peeves with this figure: while her belt is a separate add-on piece on top of the body mold, it's glued or pegged into place tightly and doesn't suffer from any of the looseness and floppiness on belts that make me downright insane. I salute you, Hasbro!
The Wrong:
There is one major shortcoming of this Marvel Infinite Series White Queen figure, and it's one that I doubt will shock people: her articulation is atrocious.
Numerically, there is a ton of articulation: ball-hinge ankles, swivel thighs and calves, double-jointed knees, ball-jointed hips, upper-torso ab crunch, ball-hinge shoulder and elbows, swivel wrists and ball-hinge head.
The problem is that the figure is critically crippled by the horrid range-of-motion of the hips. There is literally zero forward-and-back movement possible on the legs, and an extremely limited amount of side-to-side movement.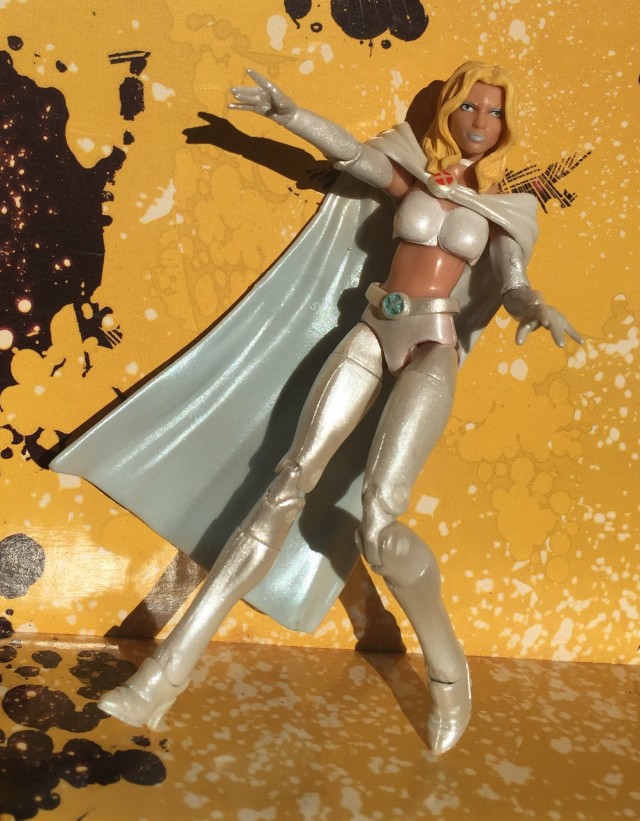 As a result of this–and the lack of rocker ankles–it can be really difficult to get Emma into any kind of dynamic pose at all (much less one that she can stand up in). I actually had much more success getting this action figure to stand on uneven surfaces like rocks instead of flat shelves and the like–which is a real shame, since ultimately all of my figures live on shelves and not outdoors.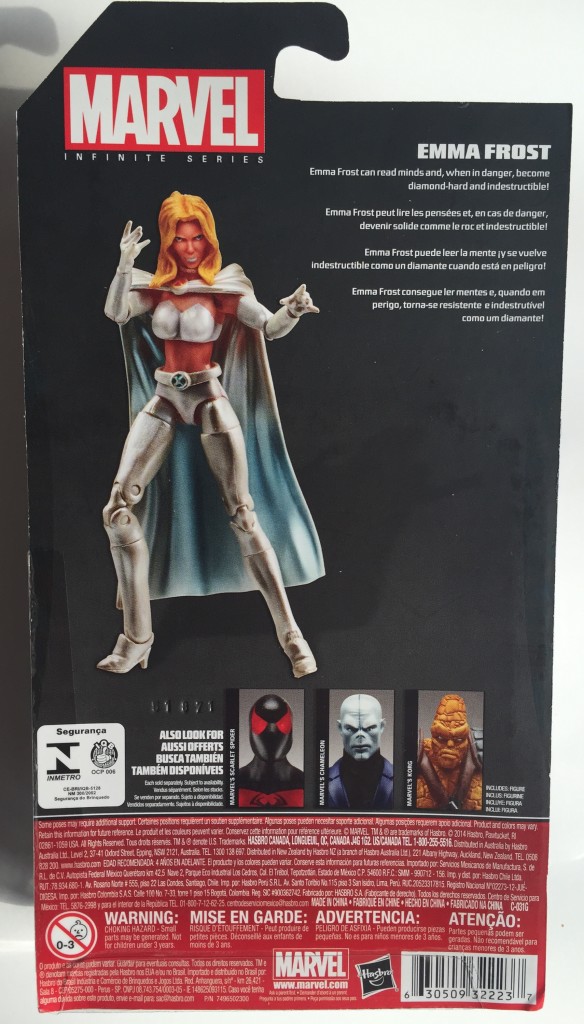 In addition to the articulation, I think Hasbro could have made Emma's skin slightly paler and given her cape a much less blue tint. She looks way too bronze to me, like she went too heavy on the spray tan or something. I suppose she looks fine as-is, but if the paints had been slightly different I think the aesthetic would have been perfect.
Also, does anyone else think it's weird that the cardback for this figure shows a Scarlet Spider figure that will never be released in this line, as it's part of 4″ Marvel Legends 2016 Wave 1?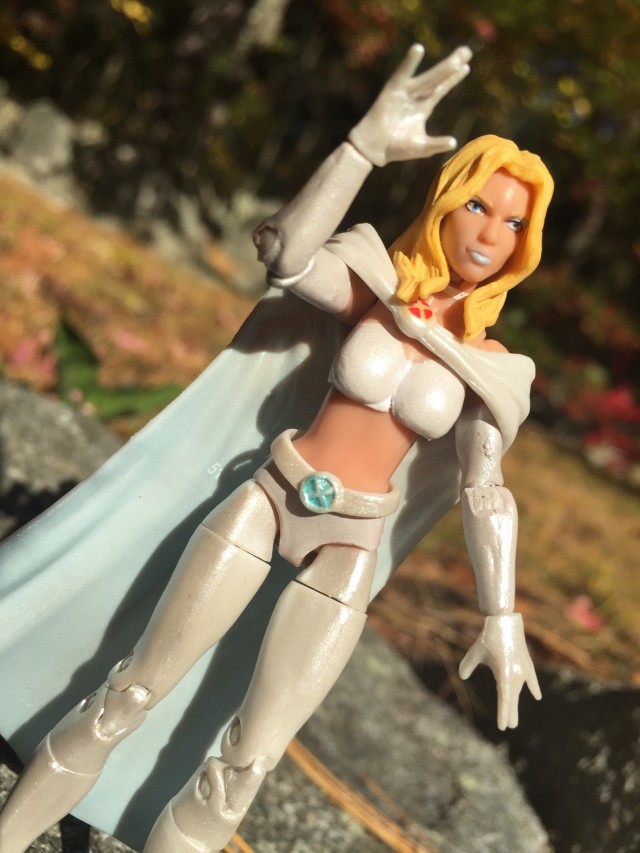 Overall: The 3 3/4″ Marvel Infinite Series Emma Frost figure is a solid figure that has standout paint deco and is good-looking (though not to supermodel levels) overall. Her articulation leaves much to be desired and her cape's interior blue-ish tint are disappointing, but I'm thrilled to finally have this character in my collection in this scale.
I don't know that I'd be willing to pay double for Emma (which is what she's selling for right now), but I was happy to get her for retail price as part of the complete Marvel Infinite Series 2015 Wave 3 set that I ordered from Entertainment Earth. Emma won't win any "figure of the year" awards, but if you're collecting the X-Men in this scale, she's a worthwhile figure of a "must-have" character. Recommended.
GRADE: B-