Ordinarily there's just about nothing on Earth that could make me happy to rebuy Blu Ray movies that I already own. Of course, ordinarily said Blu Rays don't come packaged in gorgeous new packaging and with a 1:1 prop replica from one of my favorite movies of all-time (which just so happens to not be set on Earth): the Amazon Exclusive Marvel Phase 2 Collection set with Morag Orb replica is now up for order!
We've known since this past summer that Amazon.com had picked up the exclusive rights to the Marvel Cinematic Universe Phase Two Blu Ray set, but while pre-orders have been open for months and we've known what was
in
 the set, it hadn't actually been revealed for the world to see–until now.
With less than two months until its official release date, the exclusive Marvel Phase 2 Blu Ray set has finally been fully revealed!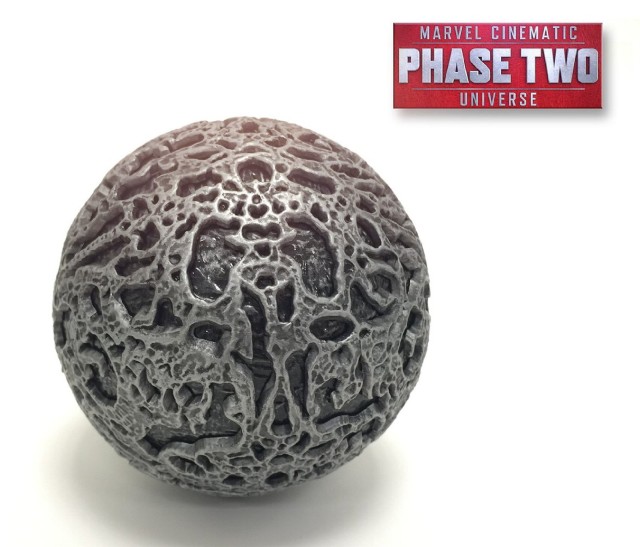 The big selling-point for me on this set is the exquisite-looking 1:1 scale Morag Orb Prop Replica. It looks decent from the outside, but the light-up purple coming from the Infinity Stone within the Orb looks absolutely amazing! I was waiting to pre-order this set until I'd seen the Orb to see if I'd be impressed enough with it to warrant a purchase, but this prop replica far exceeds my expectations! Beautiful!!
And speaking of beautiful, all six of the Marvel movies contained in this set will come with new slipcover packaging artwork for the Blu Rays. I think this artwork looks really classy, and I love the Guardians of the Galaxy and Thor: The Dark World illustrations!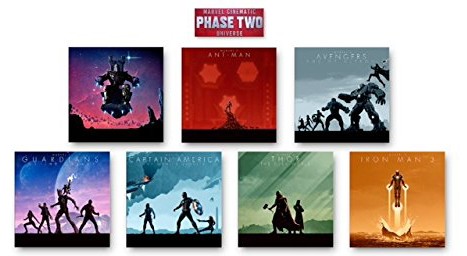 The official product description for the Marvel Cinematic Universe Phase 2 collection is as follows:
"Unleash The Power Of The Marvel Cinematic Universe In This Action-Packed 13-Disc Collector's Set
The limited-edition, 13-Disc Marvel Cinematic Universe: Phase Two Collection invites you to hold the greatest power in the cosmos in your grasp – a Morag orb containing one of the legendary Infinity Stones! Plus Blu-ray 3D, Blu-ray and Digital Copies of all the Phase 2 films, in collectible packaging designed by artist Matt Ferguson. This set overflows with stunning Marvel Studios memorabilia, including a gold-foiled page from the book of the Dark Elves, an ancient drawing from the Morag vault, Avengers and S.T.R.I.K.E. uniform patches, a replica of the Tony Stark tattoo from Iron Man 3 and much more!
Contents Include:
Marvel's Iron Man 3 (Blu-ray 3D + Blu-ray + Digital Copy)
Marvel's Thor: The Dark World (Blu-ray 3D + Blu-ray + Digital Copy)
Marvel's Captain America: The Winter Soldier (Blu-ray 3D + Blu-ray + Digital Copy)
Marvel's Guardians of the Galaxy (Blu-ray 3D + Blu-ray + Digital Copy)
Marvel's Avengers: Age of Ultron (Blu-ray 3D + Blu-ray + Digital Copy)
Marvel's Ant-Man (Blu-ray 3D + Blu-ray + Digital Copy)
Exclusive Bonus Content Disc
1:1 Prop Replica of the Morag Orb and More!
Packed with over 2 1⁄2 hours of content on an exclusive bonus disc, including never-before-seen Deleted & Extended Scenes, the complete set of Marvel One-Shot films and Commentary, From Here to Infinity: Phases 2 and 3 of the M.C.U., Tag Scenes: A Making-Of, Screen Test with Chris Pratt and Dave Bautista and more, this ultimate collection is a Marvel fan's dream!"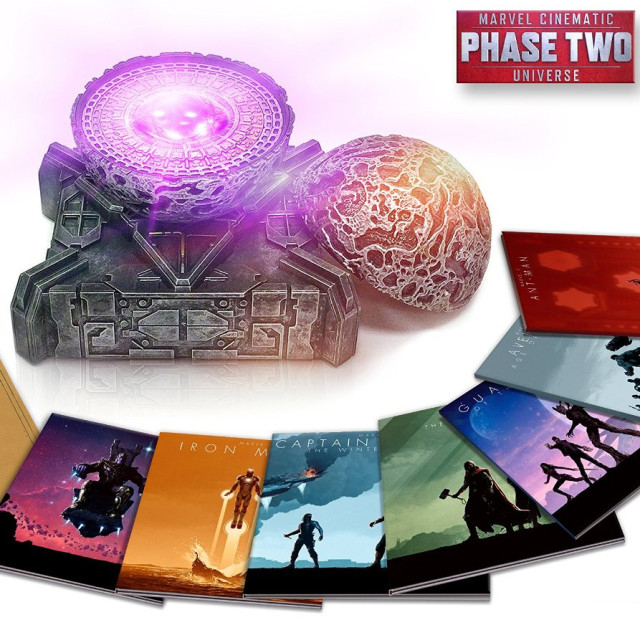 The Marvel Cinematic Universe Phase 2 Collection with Morag Orb is now available for order, and is scheduled to be released on December 8th 2015. I already pre-ordered this set–as I'm hellbent on owning that Orb replica–but if anyone wants to gift it to me for Christmas, let me know and I'll cancel my order. (I'm kidding. Mostly.)
What do you think of the Amazon Exclusive Phase II MCU set, Marvel collectors? Anyone besides me planning to buy a bunch of movies they already own again to get a killer light-up Orb and some new packaging art?