If you're a Hot Toys Marvel collector, Christmas may be coming a little bit late this year–as in, early next year! Today, Hot Toys posted a photo of the next Hot Toys products that are about to ship out in Asia, and will be hitting the United States 4-6 weeks after that. The update includes four Marvel Hot Toys sixth scale figures (that are still available for order), some of which we've been waiting for for close to a year and a half! Finally arriving in our hands this winter: the Hot Toys Star-Lord, Falcon, Igor Iron Man and Starboost Iron Man!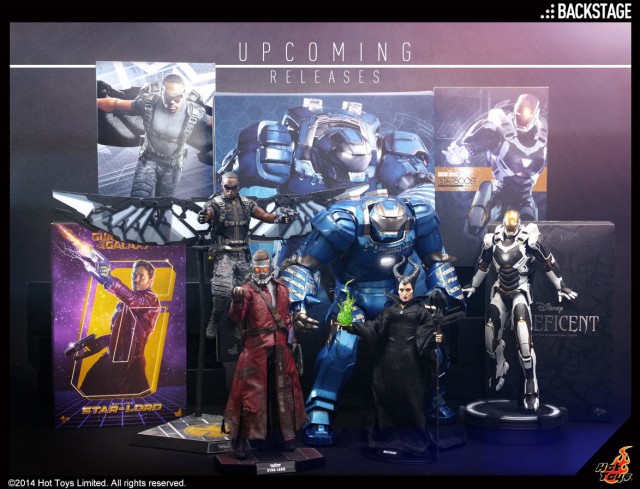 I always look forward to these "Upcoming Releases" photos that Hot Toys periodically posts, although I think I heard a little whimper from my credit card as I saw just what's in the pipeline for this winter: four Hot Toys Marvel figures, including the most expensive one ever: Hot Toys Igor Iron Man!
The four 1/6th scale Marvel Hot Toys Movie Masterpiece Series figures shipping soon are:
The photo gives us a good look at the scale of the flight stand that the Falcon Hot Toys figure will come with, as well as the enormous size differential between the Hot Toys Iron Man Igor figure and the normal-sized Starboost Iron Man! I have absolutely no idea where I'm going to put the massive, towering box that Igor Iron Man comes in, but I sure am looking forward to finding a spot for him on my shelves (assuming his weight and girth don't make them collapse)!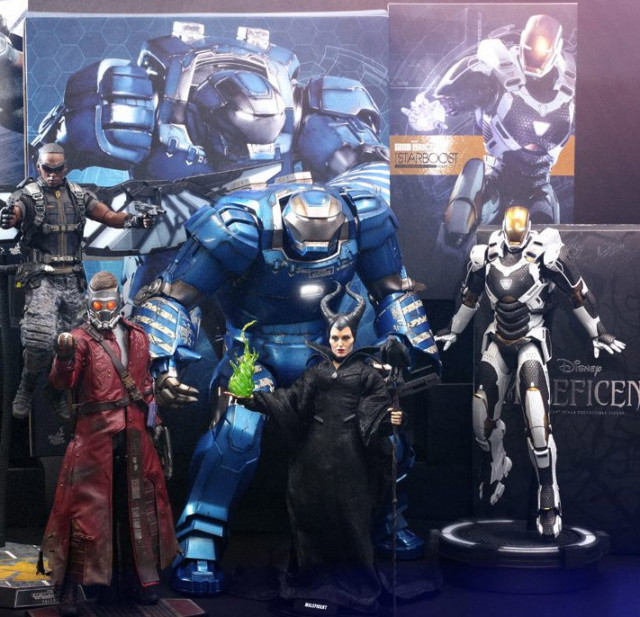 This is also our first look at the boxes from the Hot Toys Guardians of the Galaxy figures, and I have to say–man, that Hot Toys Star-Lord box is ugh–lee! Hot Toys obviously wanted to make the Guardians of the Galaxy figures' packaging look crazy-retro–and it definitely does look retro–but it's also excessively garish and ugly.
Luckily, the Hot Toys Star-Lord figure itself looks phenomenal, which is all that's really going to matter after I banish the box into the depths of my storage closet, never to be seen again (although I shudder at the ordeal it's going to be transporting my collection when we move).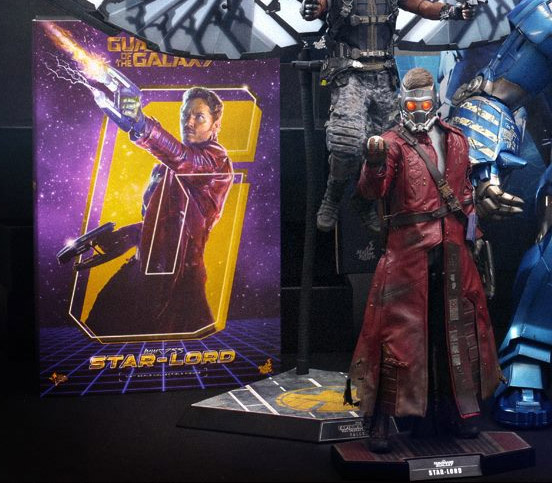 All of these Hot Toys figures are still available for pre-order if you've got any of them on your radar and haven't ordered yet, although the exclusive edition of Star-Lord sold out in the first 72 hours he was available for order. I'd like to think that Hot Toys has made a healthy quantity of the regular edition Star-Lord sixth scale figure, but it's also possible Hot Toys didn't want to take any chances and the run size isn't that large. I guess we'll find out soon enough!
How many of these Hot Toys figures do you have on order, Marvel collectors? And is your wallet trembling at the thought of all of them shipping out in the next few months?