While it initially looked like The Falcon was going to get a bit of a bum deal when it came to Captain America The Winter Soldier toys, things have turned out pretty smashing for ol' Sam Wilson in the end. While a Marvel Legends Falcon figure doesn't seem to be in the cards, there's an outstanding Marvel Select Falcon figure, a fun Marvel Minimates Falcon, and even a halfway decent 4″ Falcon Hasbro figure. But now the crown jewel of any Falcon collection has been fully revealed and is ready to claim its rightful spot atop the mountain–the Hot Toys Falcon figure is now up for order!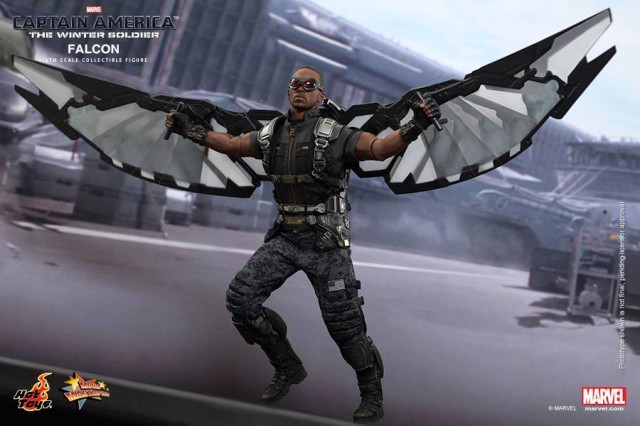 Though he's a tad late to the party, the sixth (and likely final) addition to the Hot Toys Captain America The Winter Soldier figures line has finally flown in! When Hasbro slighted the Falcon in their Captain America Marvel Legends series, there was a lot of concern that Falcon might get the shaft figure-wise. Clearly, that isn't the case. And in fact, the Hot Toys Falcon just may be the best figure in an already-outstanding Captain America Winter Soldier Hot Toys lineup!
The MMS245 Hot Toys Falcon figure looks, quite frankly, incredible.
When we first saw the backpack for this 1/6 Falcon Hot Toys figure, many collectors insisted that the backpack would just be a little accessory that came with a Captain America figure and that Hot Toys would never tackle a complicated, enormous-winged Falcon figure. I was certain Hot Toys would–and as is sometimes the case, I was right.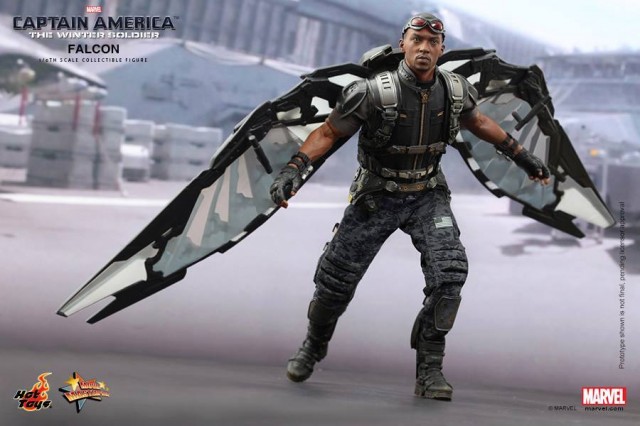 To save on costs, Hot Toys has only included a pair of fully-spread wings for the MMS 245 Falcon figure. While there's no articulation built into the wings themselves, they can swivel up and down on the Falcon's flight backpack. It would have been nice if the wings had been super-articulated, but that would have likely added another $100 to the cost of this figure, so I can like without.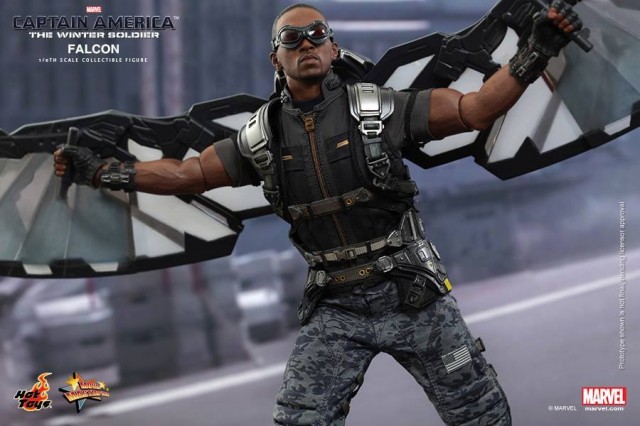 The Hot Toys Falcon's wings are sporting the movie-accurate handlebars for Falcon to grab onto mounted on the wings. You might not have noticed the handlebars in the movie if you only saw it once, but trust me–they were there.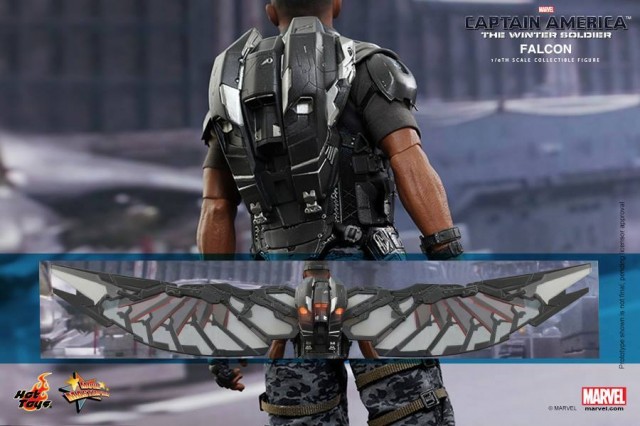 Hot Toys did an impressive job on the Movie Masterpiece Series Falcon's flight backpack, which has plenty of sculpting detail in it, as well as some nifty red LED lights built in for when the Falcon's wings are connected to it.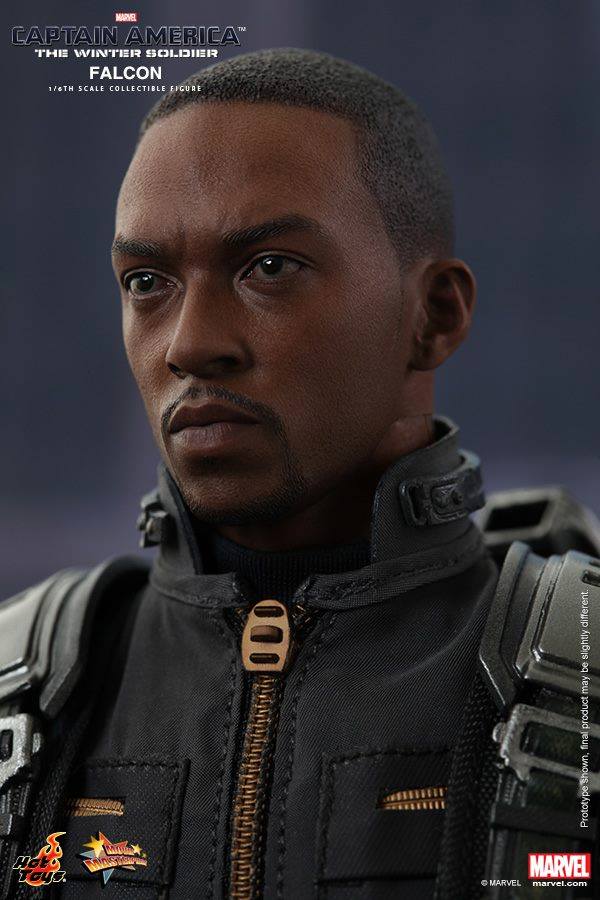 Stepping away from talking about the wings now–the Hot Toys Anthony Mackie head sculpt likeness is amazing. The resemblance to Anthony Mackie is absolutely uncanny–this is probably among the very best head sculpts that Hot Toys has ever developed for their Marvel movie lines.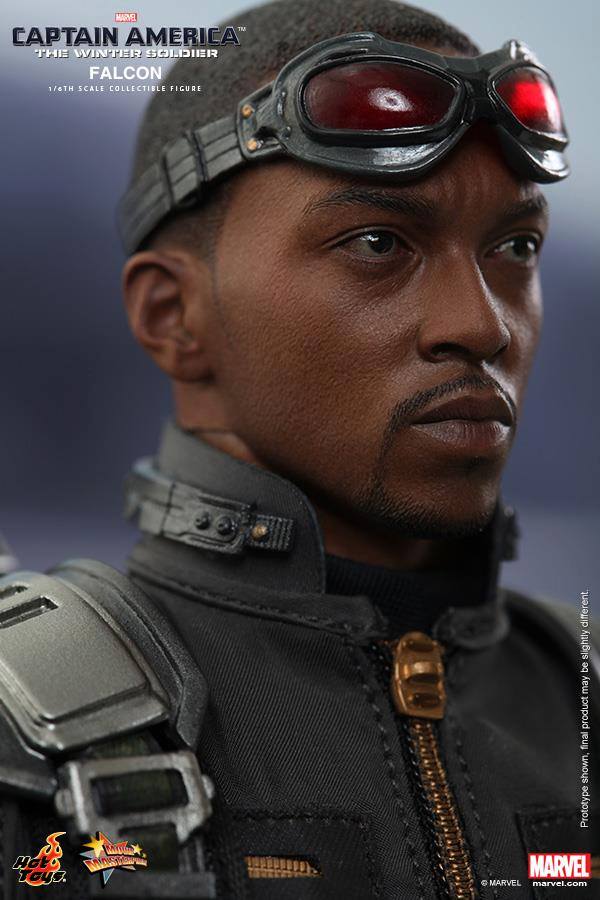 I was unsold on the Falcon wearing goggles the first time I saw them on a movie poster, but now I think the Falcon's red goggles are pretty much the coolest thing in the world. My Hot Toys Falcon 1/6 figure is never going to be displayed sans goggles. (In fact, I kind of want to get a pair of goggles like that to wear around myself. Maybe for New York Comic-Con.)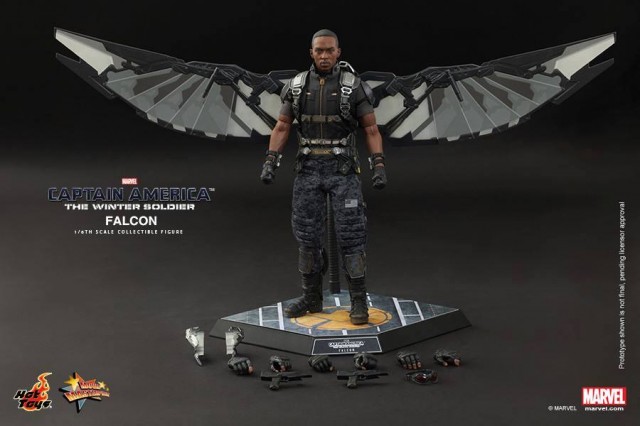 While the Captain America The Winter Soldier Falcon Hot Toys figure doesn't come with a ton of extra accessories (what–the wings aren't enough for you?), he does include a Winter Soldier logo figure stand, four pairs of interchangeable hands, his goggles, flight backpack, wings, and a pair of submachine guns.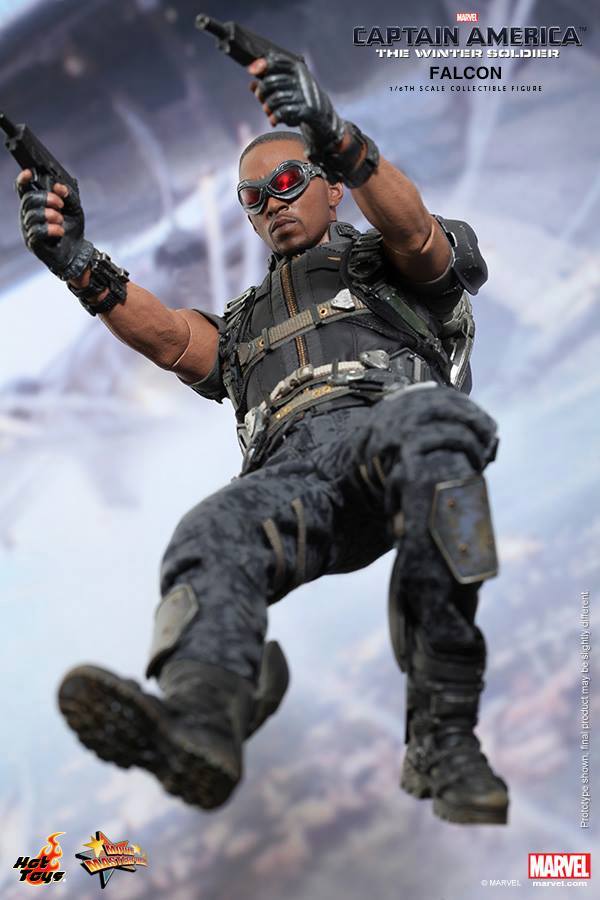 Hot Toys has set the retail price on the Hot Toys Falcon at what I think is a very fair $249.99! I had nightmares about this figure retailing for $300 because of the enormous wings, so getting him for the same price as the Winter Soldier figure feels like a real steal!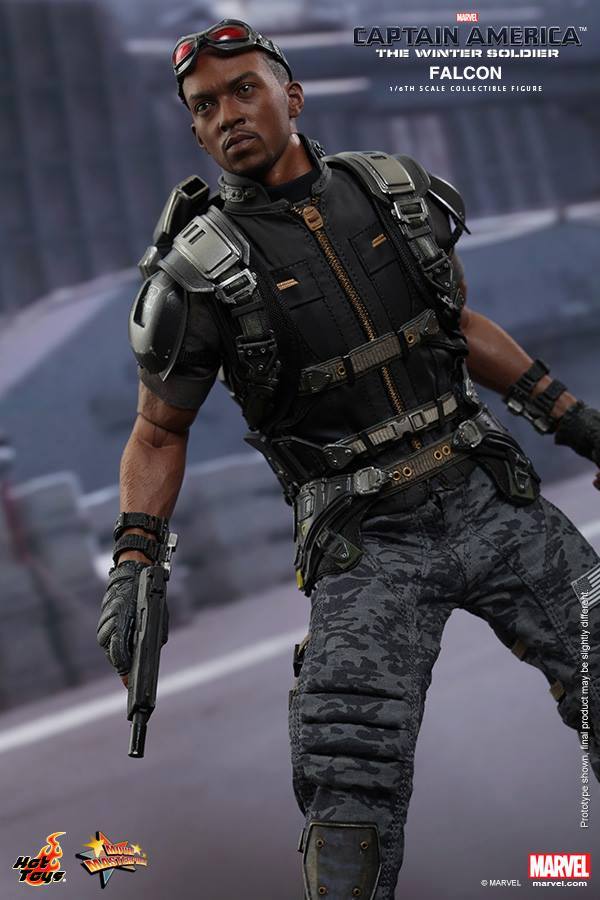 While Hot Toys hasn't nailed down a specific release date yet for their Hot Toys Falcon 1/6 figure, barring any unforeseen delays (knock on wood), he's scheduled to arrive in Q4 2014/Q1 2015. We've been lucky with some Hot Toys sixth scale figures arriving early lately (though some have been very late), so let's hope for the best.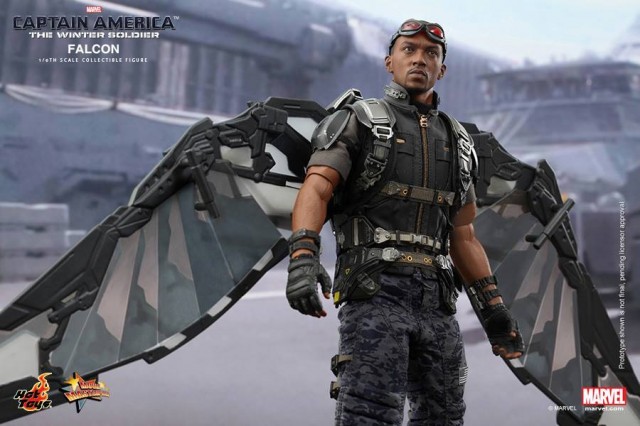 The Hot Toys The Falcon MMS 245 figure is now up for order on the Sideshow Collectibles website (the official U.S. distributor of Hot Toys figures). This is one of the best-designed Hot Toys Marvel MMS figures ever, so I definitely don't see this figure sticking around and not selling out in the way that the poor old Hot Toys Mandarin has.
Does the Hot Toys Falcon sixth scale figure meet (or exceed) your expectations, Marvel collectors? Will you be willing to drop a couple hundred bucks this winter to add the finest figure of the breakout star of Captain America: The Winter Soldier to your collection?