You never forget your first–and my first was Samuel L. Jackson. That's right–though I own dozens of them now (I'm scared to count how many), it was the Hot Toys Nick Fury figure from the Avengers that convinced me to enter the sixth-scale game. But hey, I own a double-digit number of Iron Man sixth scale figures, so I definitely have room for another Samuel Jackson in my collection–especially an improved one! The Hot Toys Nick Fury 1/6 figure is now up for order!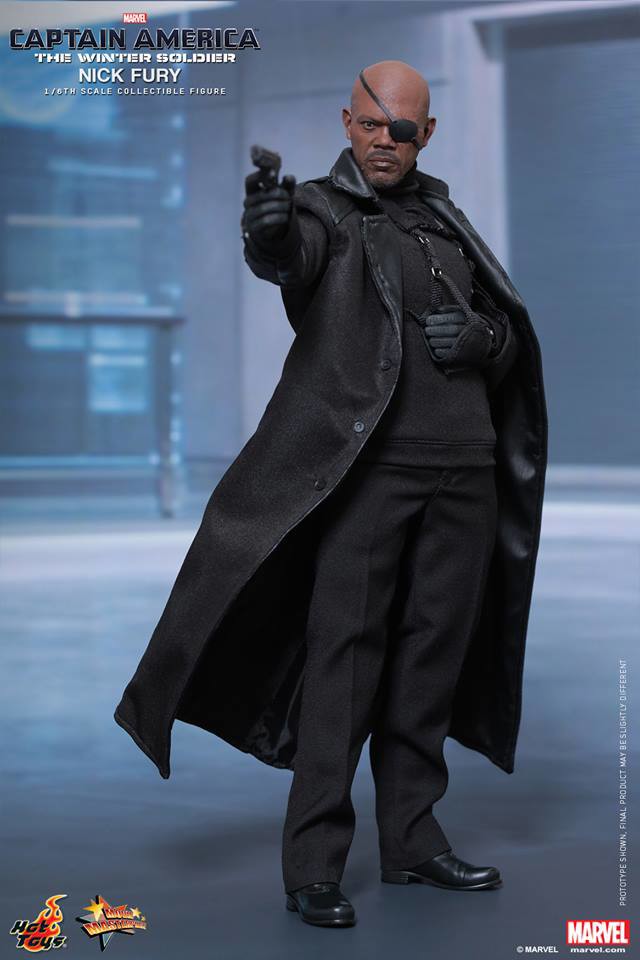 When I purchased the Nick Fury Hot Toys MMS figure three years ago, I thought it was pretty much the most amazingly realistic, accurate figure I'd ever owned before.
And then someone pointed out that Nick Fury's head was a bit, well… bulbous. And then I could never unsee it, despite my love for everything about that 1:6 figure.
I'd been hoping for a do-over of Nick Fury ever since so that I could get a new head to pop onto my original version (in addition to have a new figure altogether), and though it's taken longer than I expected, it's finally coming next year!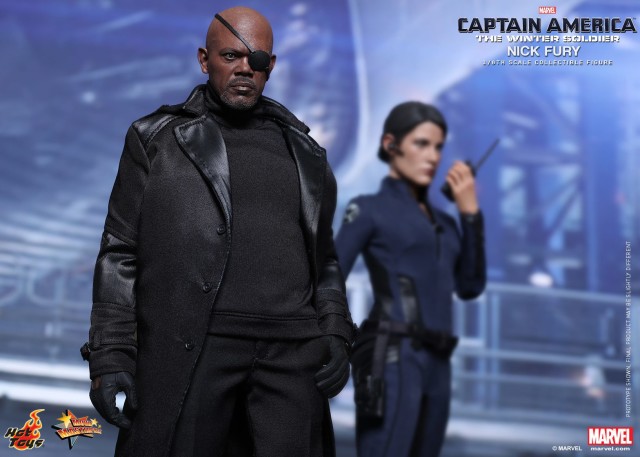 Given Nick Fury's large and significant role in Captain America: The Winter Soldier, I figured he was a shoe-in for a new Movie Masterpiece Series sixth scale figure last year. Except that figure never came, and it didn't look like it ever would–until Hot Toys shockingly debuted him at Ani-Com 2015 last month, rectifying their early transgression of passing on a viable new Sam Jackson figure.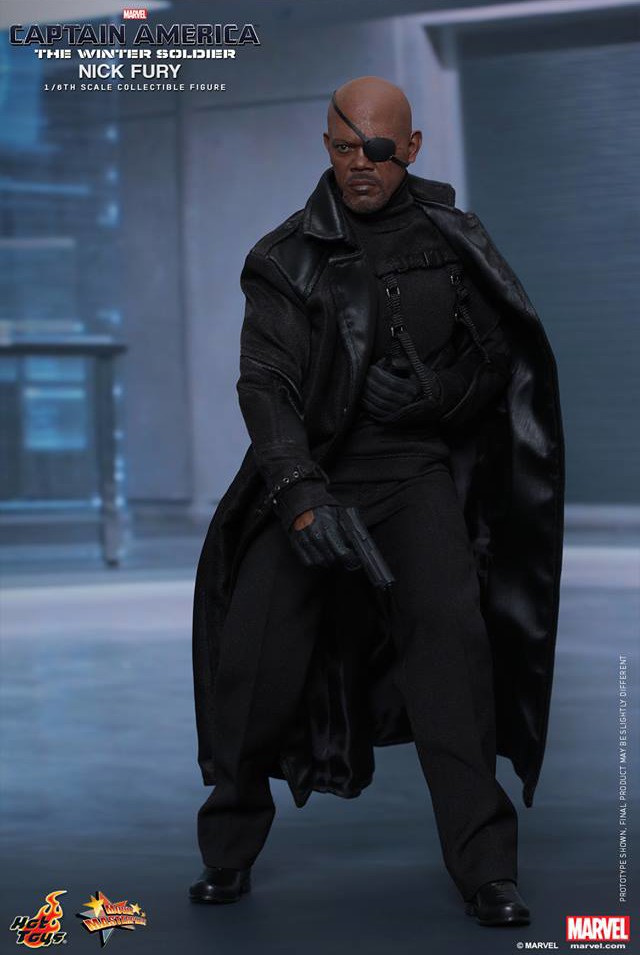 This new Captain America The Winter Soldier Nick Fury Hot Toys figure has a far more authentically-proportioned head sculpt, which finally gives Samuel L. fans the perfect head that they've been pining away for.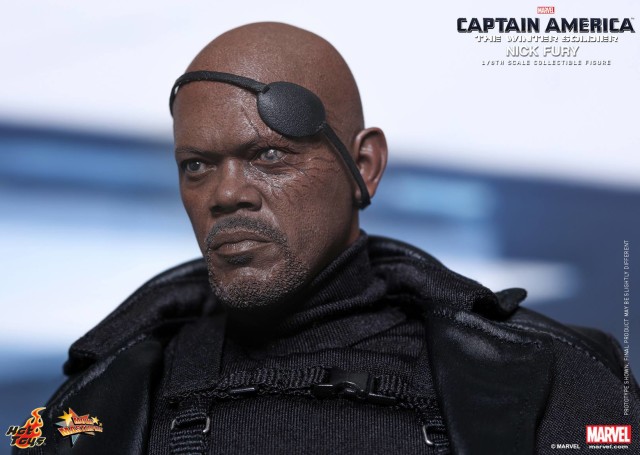 What's more, this iteration of Nick Fury will feature a removable eyepatch, which can be lifted to reveal Fury's movie-accurate dead right eye, as seen in the Winter Soldier movie! Awesome!!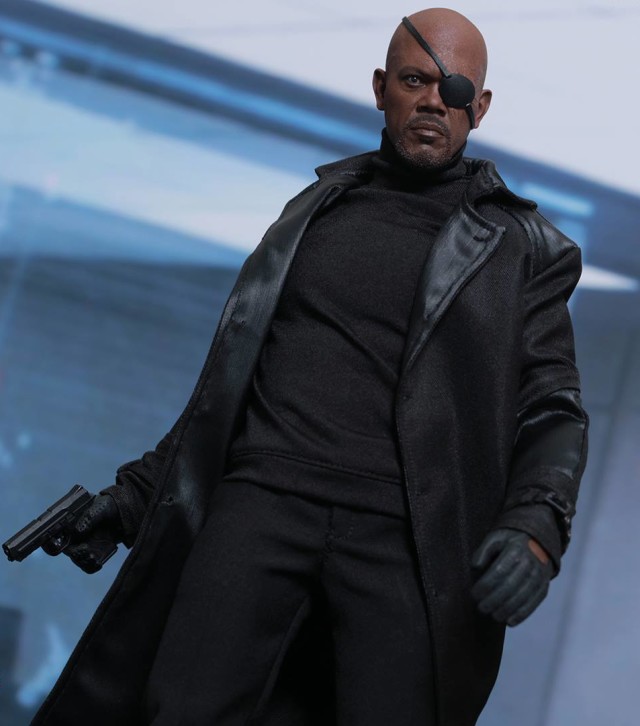 The only potential weakness I can spot regarding this figure is that I know some fans would prefer the trench coat look more like the black leather version than the black cloth one from the latter part of the movie that Hot Toys chose, but the jacket looks fantastic to me regardless. This is the coat Fury wore when he raised his eyepatch at the end of the film, after all, so it's the more accurate version to go with the scene.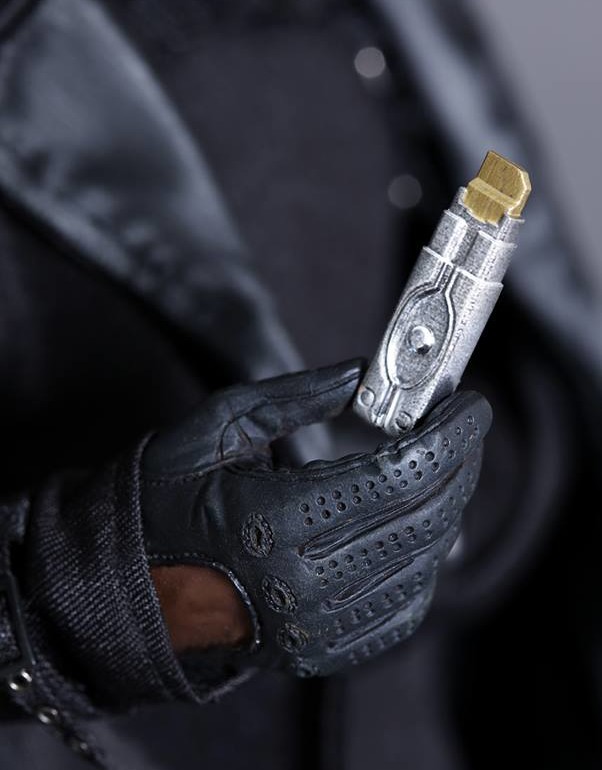 This time out, Nick Fury's accessories are a little more bare-bones than the original version's–there's no briefcase, no Tesseract, no rocket launcher. Instead, we get a figure stand, interchangeable hands, a mobile phone/smartphone (iPhone?), a removable eyepatch, a flash drive (no SHIELD logo, sadly), an arm sling and a gun.
And honestly? That's fine with me. All of the critical accessories for the character from TWS are present, and I don't need a bunch of extras I'll never use driving up the price. Nice choices all-around, Hot Toys.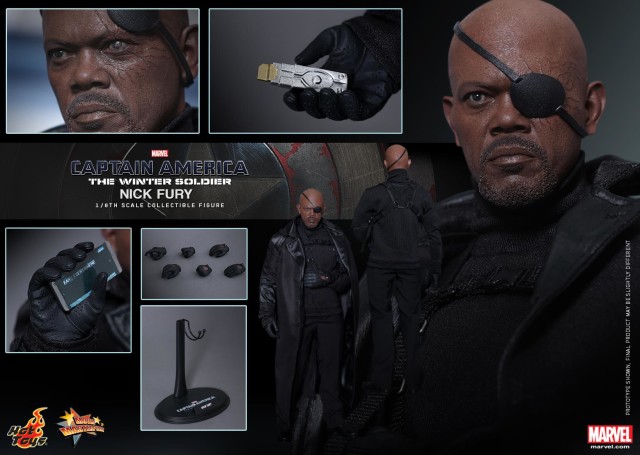 The Hot Toys Captain America: The Winter Soldier figure goes up for pre-order later today, and should be released in spring 2016. The original Hot Toys Avengers Nick Fury is one of the more limited run figures from that line, and I'd anticipate that this new version will likely follow suit.
Do you think Hot Toys has upped their Samuel L. Jackson game with their new version of Nick Fury, Marvel collectors? Will you be adding this new Hot Toys 2016 Nick Fury to your collection (whether you own the original version or not)?