Get your wallets ready, Hot Toys Marvel collectors! A new Marvel Hot Toys figure has just been released overseas this week, and it's a pretty major release. The first Hot Toys Captain America: The Winter Soldier sixth scale figure has arrived, and it's the "Hot Toys Movie Promo Captain America Golden Age Edition Version" figure that sold out in just 12 hours when it went up for sale! Hot Toys Golden Age Captain America has been selling for around $400 on the aftermarket recently, but does the product live up to the hype?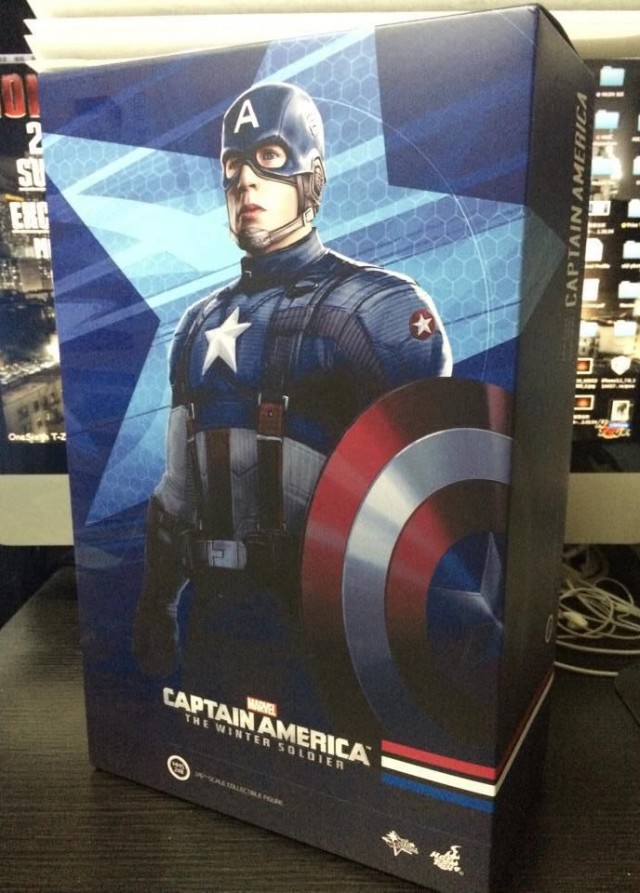 Hot Toys could slap the label of "Movie Promo" on just about any Marvel Movie Masterpiece Series figure and have it sell out instantly and explode on the aftermarket, but that effect is magnified further when the 1/6 figure in question is what many people consider to be the iconic version of a character from a blockbuster summer movie.
Such is the case with the Hot Toys Captain America Golden Age Version figure, which went up for sale in March 2014 and sold out a scant dozen hours later.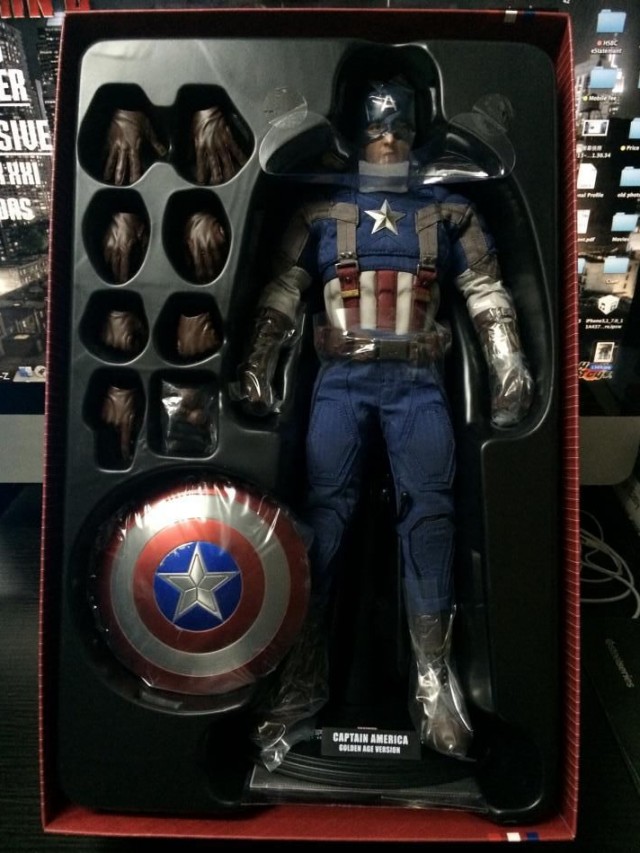 A surprisingly brief three months later, Golden Age Cap is already arriving overseas. And while domestic buyers likely won't receive their Captain America Golden Age Ver. figures until mid to late July 2014, we can at least get our first look at the finished product and see how it turned out.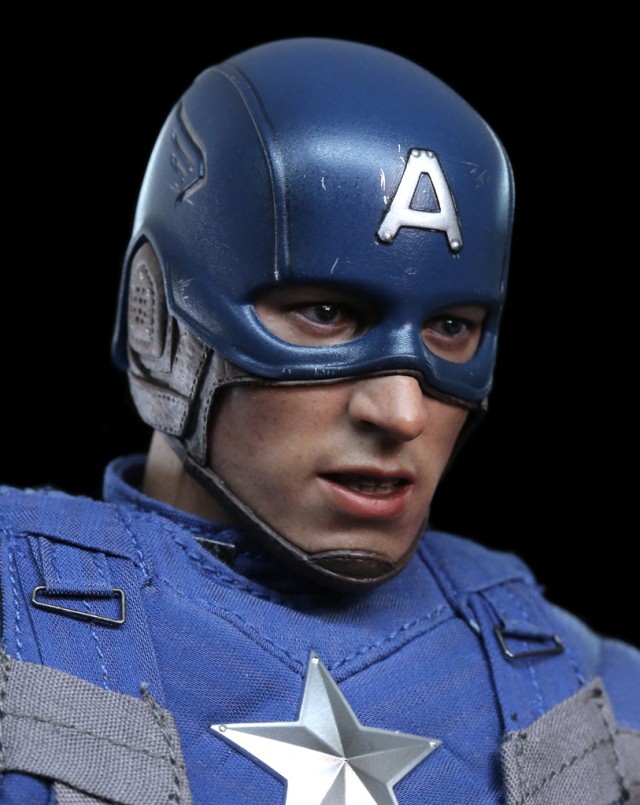 The most controversial aspect of this figure–by far–is the head sculpt. Some people have been complaining since the prototype for Golden Age Captain America was revealed that they didn't like the open-mouthed, gaping head sculpt.
While it's not my favorite Chris Evans head sculpt ever (that honor goes to the Hot Toys Steve Rogers figure coming in the fall), I don't mind the dynamic nature of the head. It'll look nice for action poses, and it's at least something different from the trend of stalwart, emotionless Hot Toys figure heads.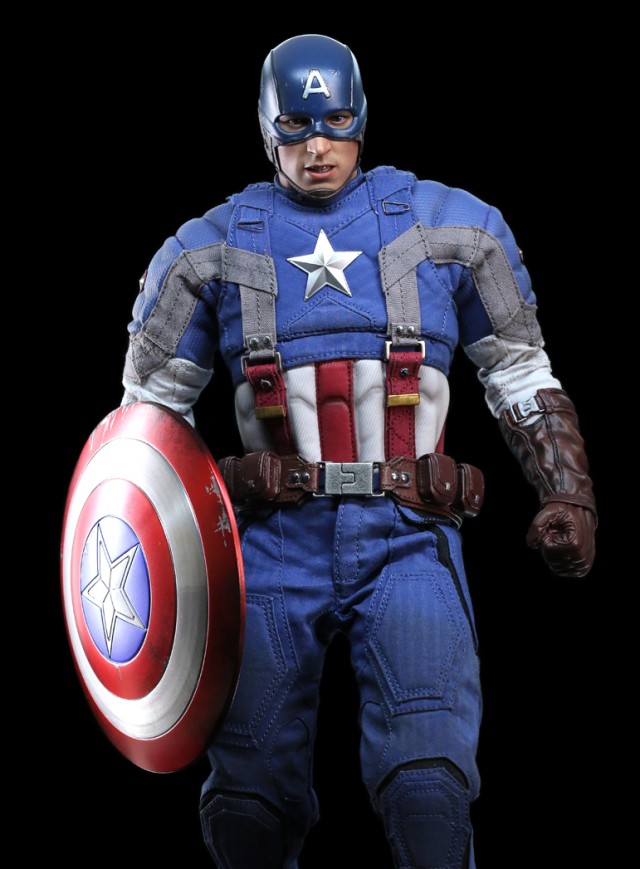 One thing that I'm less accepting of with this Hot Toys MMS240 Golden Age Cap Hot Toys figure is how bulky his upper-body costume looks. In particular, his shoulder pads seem oversized, making Captain America have more of a linebacker look than I'm comfortable with.
I'm not going to cancel my order or anything (sorry Wait Listers), but I'm definitely not jazzed about the upper body attire at a glance. And speaking of the Wait List…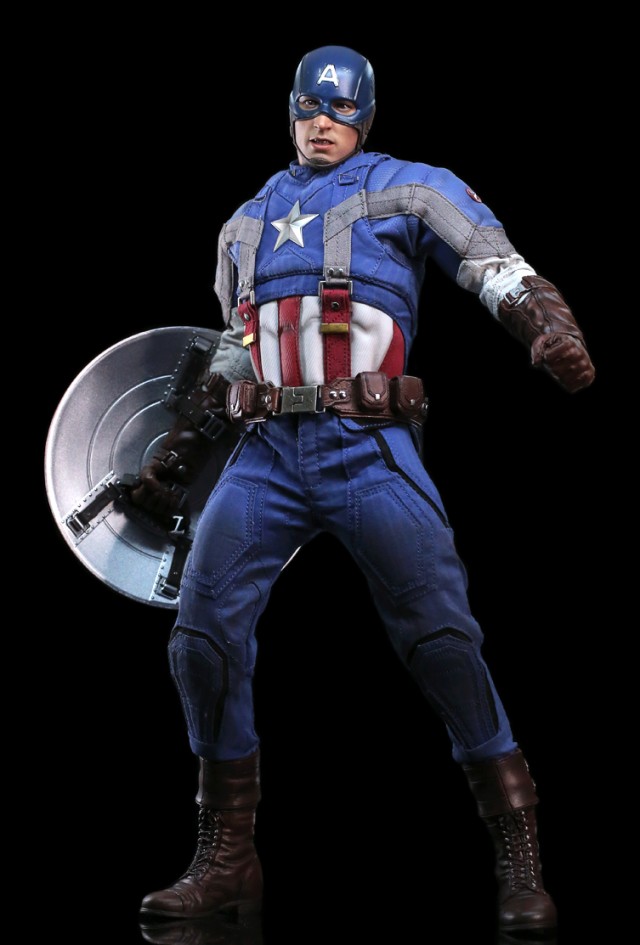 Sideshow Collectibles still has the Hot Toys Golden Age Captain America figure Wait List open, so you can certainly jump on the Wait List and give it a shot if you want this figure and don't want to pay $400 for it. At this point I would say that it's highly unlikely that a Wait List reservation will convert, but it certainly doesn't hurt to try.
Who's got this Hot Toys Captain America Golden Age Version figure on pre-order besides me (or wishes that they had gotten in an order for it)? Do these photos of the final product make you glad that you pre-ordered, or are you considering cancelling your order now?