It's becoming a bit of a tradition for the Disney Store and Marvel Store to share all of the "easy" Marvel Select repaint exclusives from Diamond Select Toys. From Marvel Select Unmasked Spider-Man to War Machine repainted into Marvel Select Iron Patriot, Disney Store and MarvelStore.com has become the de facto home for minor Marvel Select exclusives. And we can add one more character to the list, as today DST officially announced the Marvel Select Unmasked Captain America figure from "Captain America: The Winter Soldier"!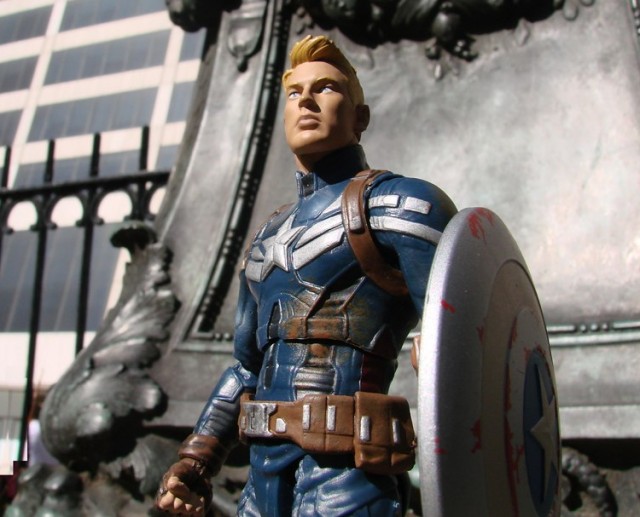 I'd love to give myself mad props for correctly assuming that a Marvel Select Steve Rogers Unmasked Captain America figure would be released this year as an exclusive. But, well, that would be a bit too self-aggrandizing, especially when the existence of a Marvel Select "battle-damaged unmasked" exclusive was basically a forgone conclusion based off past trends by Diamond Select Toys. Every longtime Marvel Select collector
knew
this Marvel Select Captain America variant was almost a certainty, so it's not going to be a big surprise to anyone that here he is!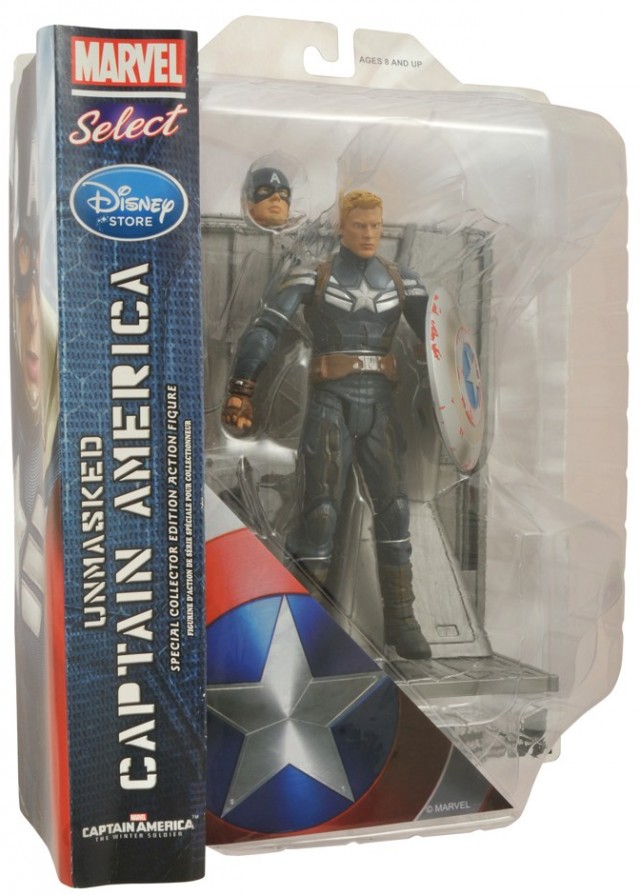 Diamond Select Toys has changed things up just enough with this Battle Damaged/Unmasked Captain America Marvel Select exclusive to entice most collectors into buying what's almost the regular 7″ Marvel Select Captain America: The Winter Soldier movie action figure.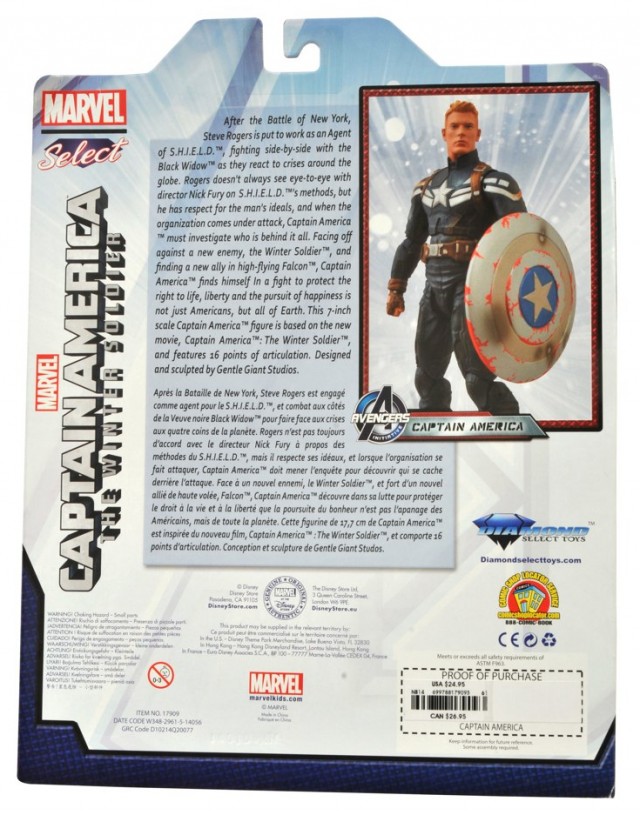 There's three main things that set this Marvel Select Captain America Unmasked figure apart from his predecessor. First (and most obviously), you get a Marvel Select Steve Rogers head with this action figure. I say "Steve Rogers" and not "Chris Evans" because, um… well, look at that head. I don't know who that is, but it's not Chris Evans. Sorry, DST–I love you guys, but that's not a very good Chris Evans head (though it is better than the G.I. Joe "Duke" head Hasbro have to the Marvel Legends Captain America figure).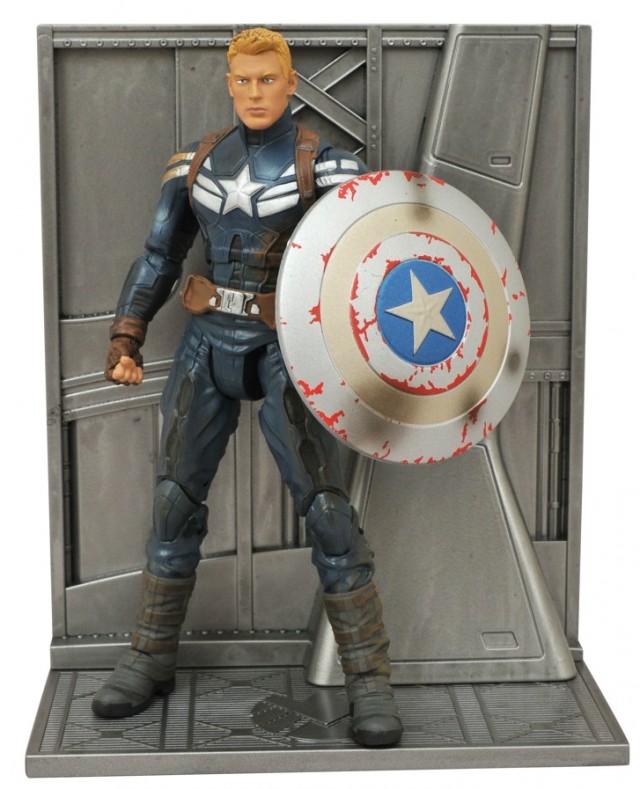 The other things that set this Marvel Select exclusive Unmasked Captain America figure apart are the fact that he's "battle-damaged" (see the dirt on his costume?) and includes a mega-awesome battle-damaged Captain America shield.
I love the look of the battle-damaged Captain America shield from the movie, and it's honestly more the shield that sells this variant figure to me than the iffy Captain America Chris Evans head sculpt.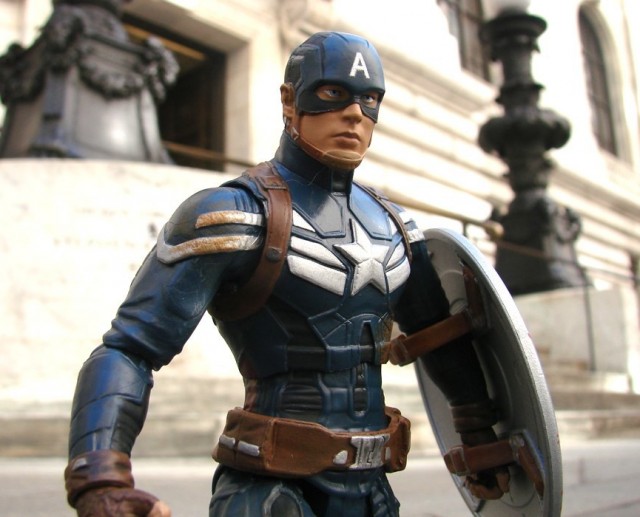 You'll also get the same SHIELD Helicarrier display base with this Captain America as the regular version comes with, as well as an extra masked Captain America head. Hey–Considering Hot Toys is making fans pay an extra $120 for a whole other figure to get their Steve Rogers head, 25 bucks for a Marvel Select version containing both heads seems like a real deal!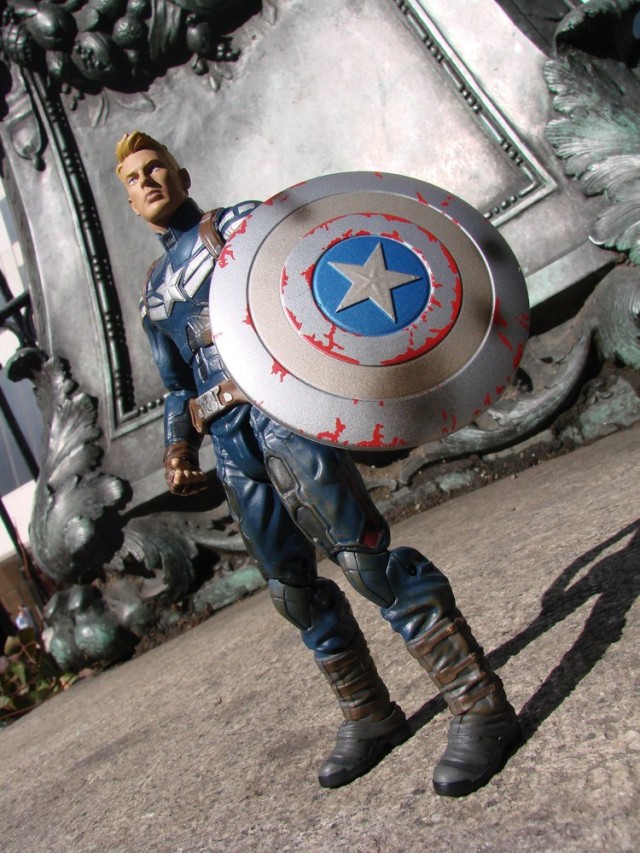 The Marvel Select Unmasked Captain America figure exclusive will be released via the online Marvel Store on 5/19/2014 and then be available (allegedly) a week later at the online and physical Disney Stores. Every Disney Store near me breaks toy release dates more often than not, so I'd be shocked if the Marvel Store actually beats the Disney Store to the punch with this Cap. But we'll see!
What do you think of the latest Diamond Select Toys exclusive Marvel Select figure, Marvel fans? Is there room in your life (and collection) for this Unmasked Captain America variant action figure?