After salivating over the Kotobukiya Marvel NOW! Avengers ArtFX+ statues since last summer, the first (and biggest!) character of the series is now shipping to stores: the 1/10 Avengers Kotobukiya Hulk ArtFX+ Statue! Non-coincidentally, it's time for my inaugural Kotobukiya review, focusing on the aforementioned Hulk statue. The Kotobukiya Avengers Hulk statue is now in-stock and available for order–but is it worth your sixty to sixty-five bucks?
The Right:
Since the Avengers Kotobukiya Hulk ARTFX+ statue is the beginning of a whole new series of Kotobukiya 1/10th scale Marvel statues, I'm going to be extra-thorough and hit on some topics that I sometimes gloss over for more established lines–exciting stuff like packaging. Kotobukiya was nice enough to bring the finished packaging for Hulk to the New York Toy Fair 2013 in February, so I'd actually seen it before, but it's a lot easier for me to process all the details now that I have it in-hand.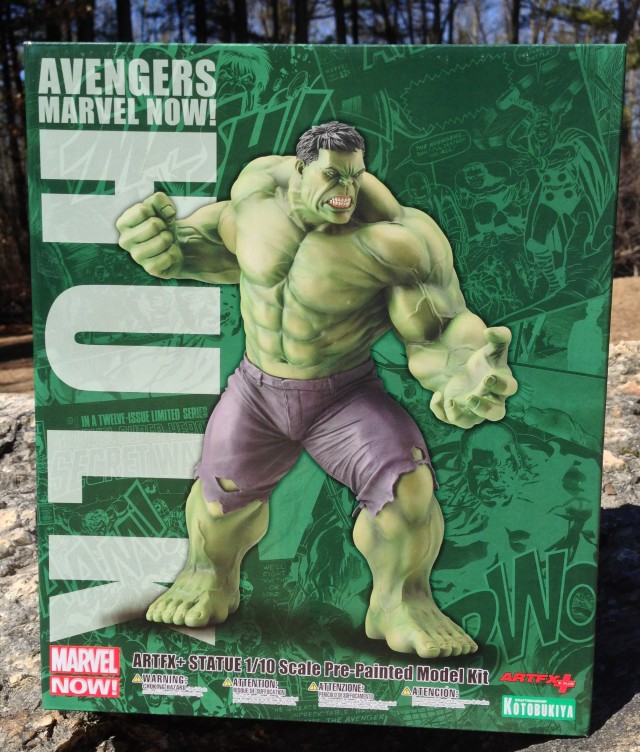 As the Hulk statue isn't fully assembled in the package (more on this later), an open-window box wasn't really an option for this piece. Even so, the box art graphics that Kotobukiya used for the packaging design are snazzy and eye-grabbing.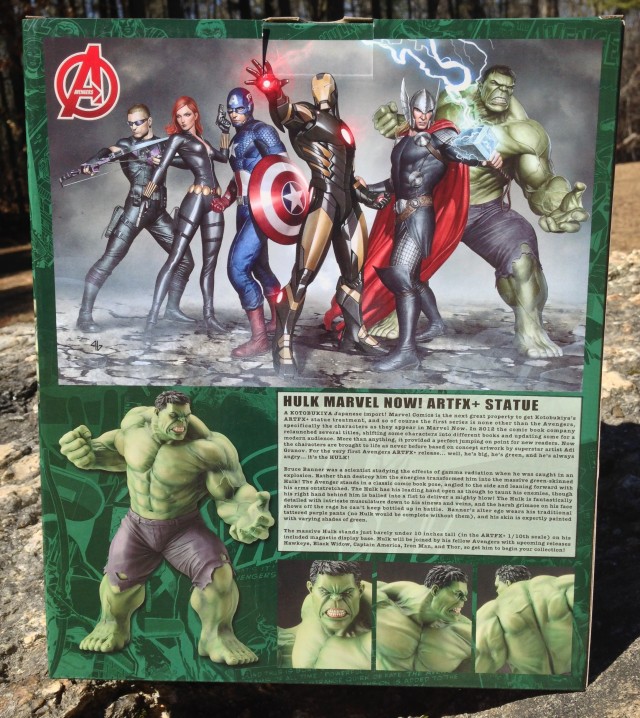 Unsurprisingly, Kotobukiya opted to make the ARTFX+ Hulk box primarily green (really, what else were they going to pick?), and included the Adi Gravov artwork this statue is based off of on the back of the package, as well as a comprehensive textual write-up. It's a pretty box and I have no complaints about it.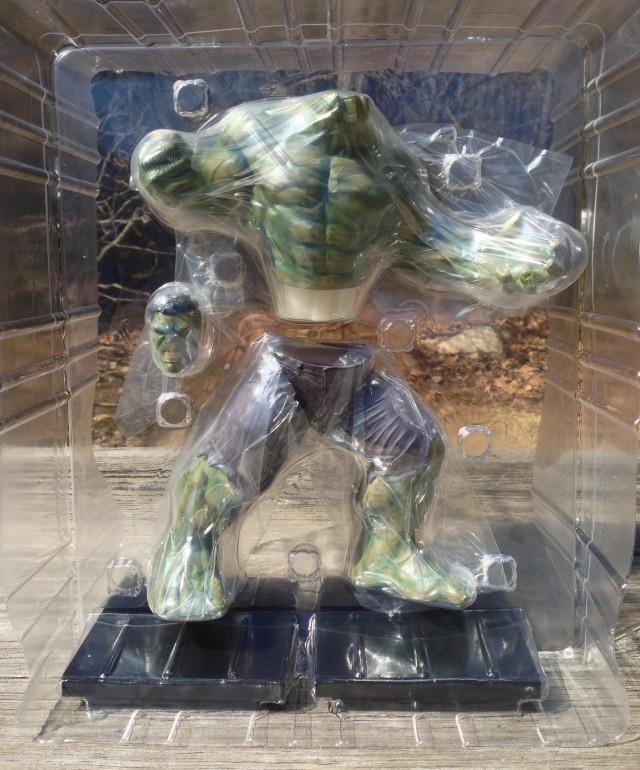 Inside the box, you'll find the Avengers Hulk Kotobukiya statue safely nestled within the Fort Knox of plastic trays. Seriously–short of a car running over this box (that actually happened to me with a LEGO set), nothing is going to damage the contents inside.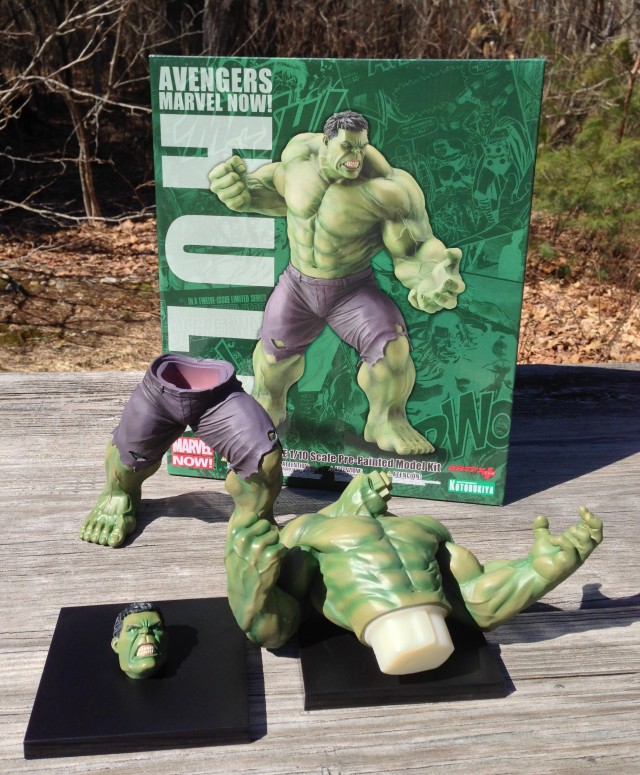 Within his plastic prison, the Kotobukiya ArtFX Hulk statue is separated into three pieces: his head, his upper body and his lower body. This may surprise some folks, as it wasn't highly-advertised that this was going to be a statue that you had to put together. Luckily, it only takes a grand total of four seconds to put the Hulk model together, so it'd be a nitpick to complain about that.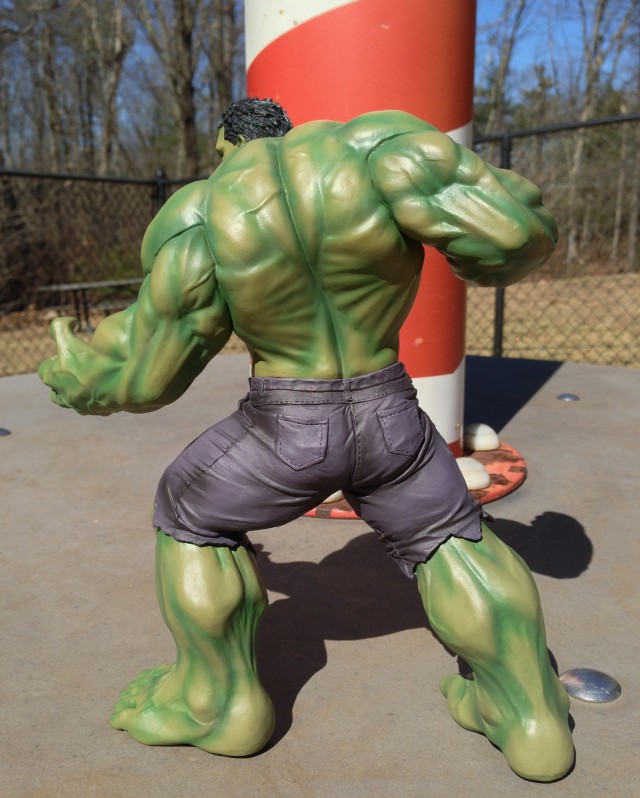 One of the primary complaints I did hear people spouting about the Kotobukiya ArtFX+ Avengers statues is that they're made of regular plastic and not resin or polystone. So let me address that: Yes, you can tell that the Hulk Kotobukiya ArtFX+ statue is made of plastic when looking at him and not a more expensive material.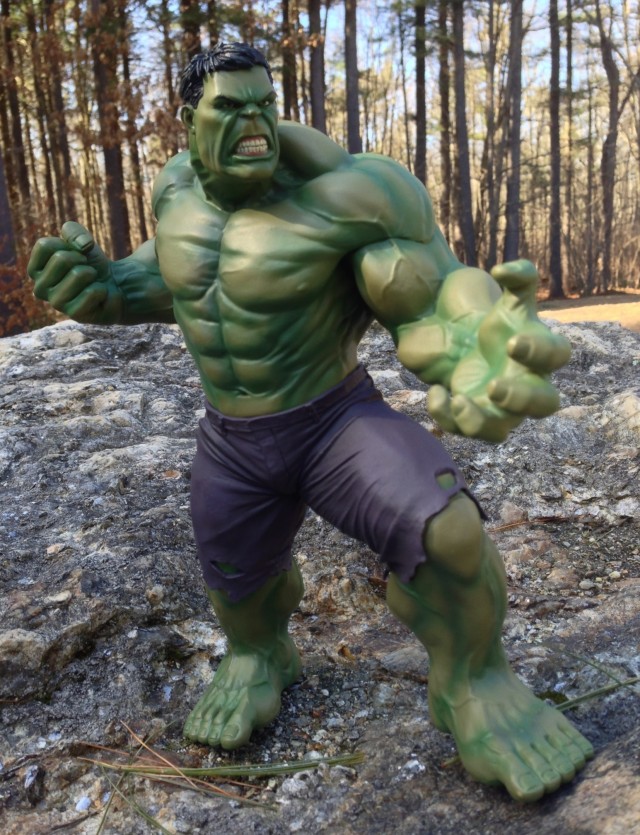 That said, the Kotobukiya Hulk statue is far from being a cheap, hollow rotocast figure or whatever some folks are picturing. ArtFX Hulk is made out of a sturdy, heavy, high-quality plastic. Seriously, this Hulk feels like a brick–you could definitely hit somebody in the head with the Kotobukiya Hulk statue and kill them (don't do that).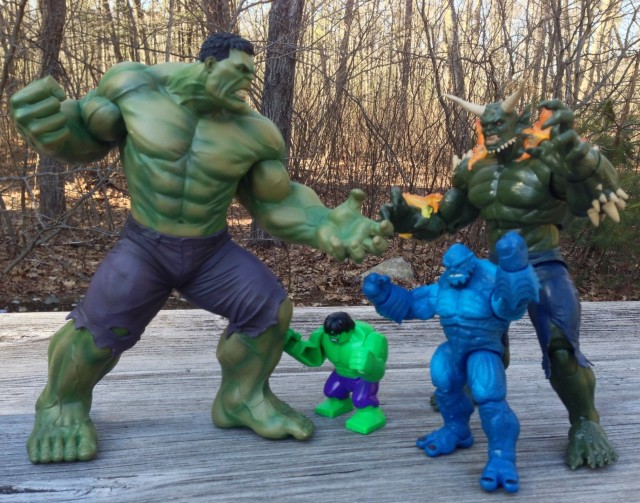 It's true that the Kotobukiya Avengers Hulk statue doesn't look quite as good as it might if it were made out of resin, but it also costs a ton less than it would if it were resin. I have no doubt this Hulk Kotobukiya statue would cost $100+ if it was resin, and in this instance, I'm perfectly happy with getting a nice-looking 9″ statue for a great value rather than paying double for the same figure made of a slightly better material.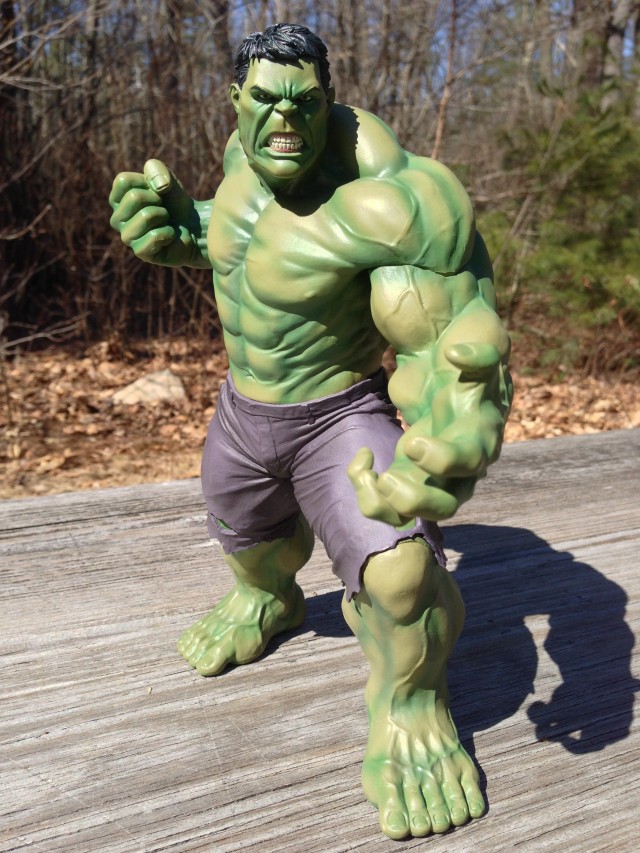 From a paint deco perspective, I'm very satisfied with the work that Kotobukiya has done here. Rather than opting for the usual straight-up green paint tone on Hulk's body, Koto has mixed together varying hues of dark green and yellowish-green. I imagine some fans won't like this choice, but I think it adds a very nice layer of depth and contrast to the statue. All of the paint applications are neat and clean, and this is an all-around wonderfully painted Hulk figure.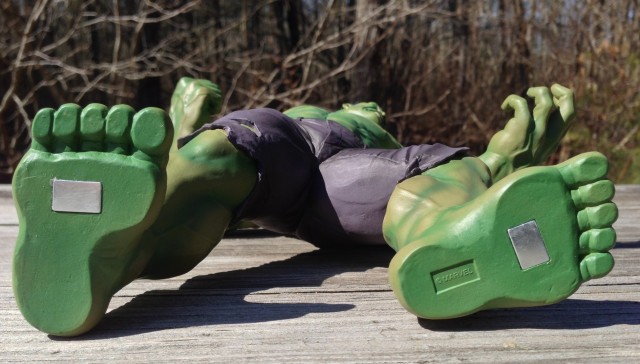 Finally, the sculpt. I have to admit: it's spot-on authentic to the source material. I've whined quite a bit about the fact that this wasn't a "true" Marvel NOW! Indestructible Hulk design ever since the piece was announced, but for the sake of this review I'm going to look past that. This is Hulk based off of Adi Granov artwork where Hulk isn't wearing his Marvel NOW! armor, and while I wish he was wearing the armor, I'm not going to penalize this statue for being true to the artwork that the sculpture is based off of.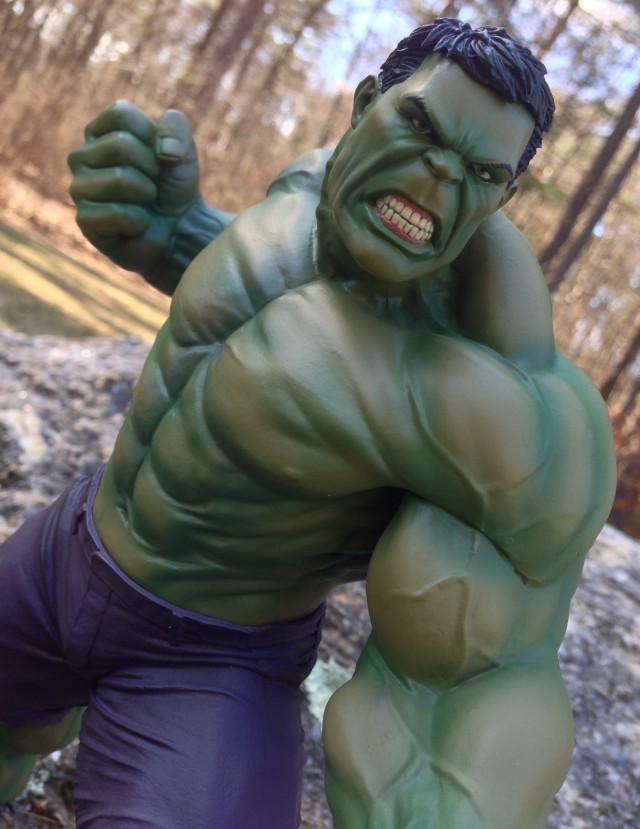 This piece is very accurate to the Adi Granov Avengers artwork, as it's meant to be, and the Kotobukiya designers deserve to be acclaimed for that (even if I still would have preferred a true armored Indestructible Hulk). With plenty of popping veins on Hulk's body, textured hair and wrinkled shorts, this is a Hulk statue that's chock full of detail far beyond the level of what you'd find in a low-end Hulk action figure (which is, after all, the whole point of buying a higher-priced statue).
The Wrong:
If there's one thing I absolutely loathe about this statue, it's the "base"–or rather, "bases". I understand that Hulk is a large figure and the standard-sized base would be too small, but having two separate black rectangular bases for Hulk to stand on is really jarring. Even if I push the two bases together they end up in an odd shape and clearly have the seam between the two visible.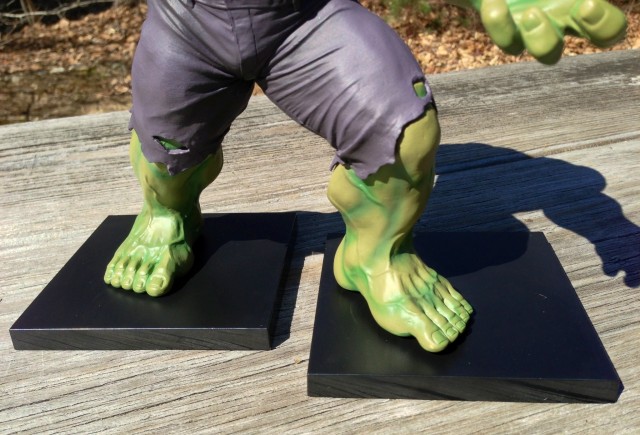 I realize that the Kotobukiya ArtFX statues line is a "value" line of statues, but I'm really sort of irked by the lame-o pair of twin black bases Hulk comes with. Hulk isn't 100% stable on his own, unfortunately, so I'm stuck using the magnetic bases until I find another way to get Hulk balanced freestanding.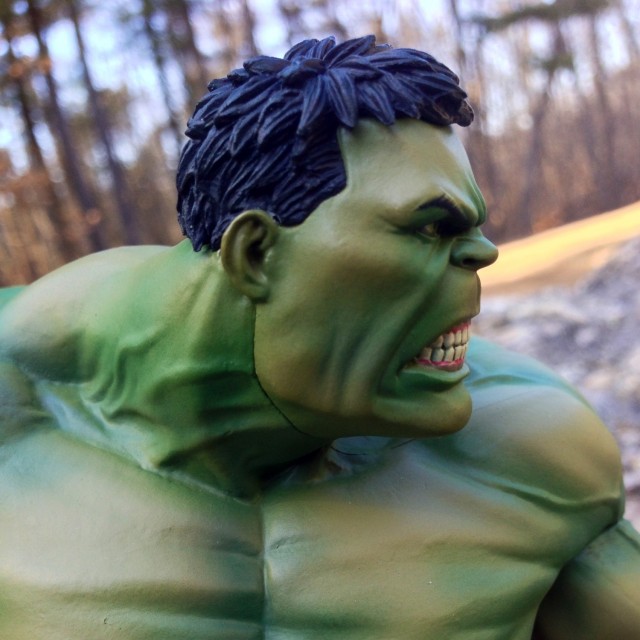 The other thing that will tick off people about this Kotobukiya Marvel NOW! Hulk statue is that the seam where you connect Hulk's head to his body when assembling him is pretty visible and noticeable. While the seam of the upper and lower body connection is totally invisible, that's just not the case for Hulk's head. And because of the direction Hulk is facing, you're always going to be looking at the seam unless you have Hulk looking right at you.
Amazon has the Kotobukiya Avengers Now Hulk statue for below retail price and with free shipping. Most other online retailers are also selling Hulk right now for right around his $65 MSRP, but no one else is offering the free shipping on this heavy, heavy statue.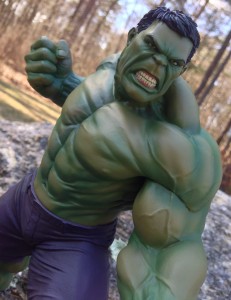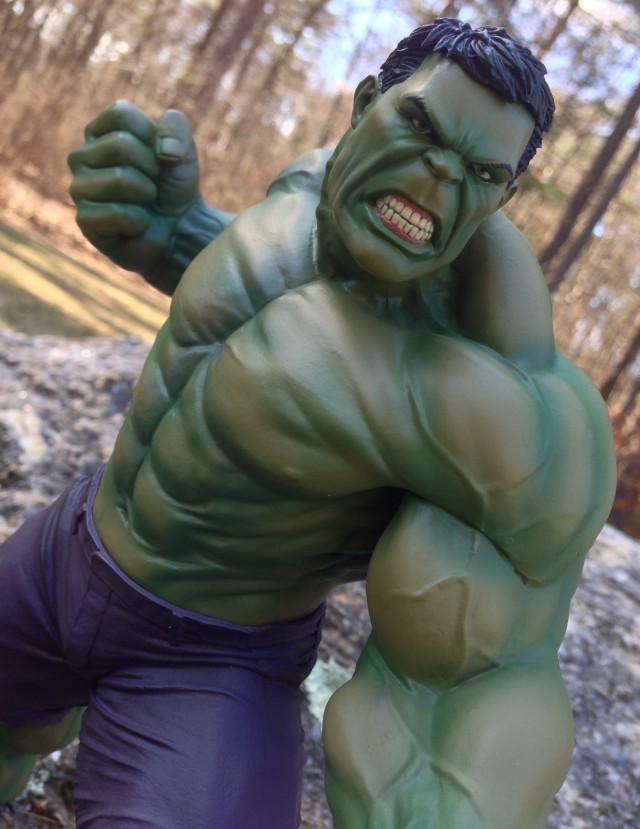 Overall: As my first-ever Kotobukiya ArtFX+ statue, I wasn't sure what to expect with Hulk and had a few trepidations. As it turns out, those were mostly unwarranted. The packaging, sculpting, paint deco, sturdiness and quality of the Hulk Kotobukiya statue are all outstanding, and he's a great-looking piece despite being made of plastic.
My only genuine qualms about this Koto Hulk are the annoying from where you attach his head and the dual-rectangle black bases that set my OCD off. Both of those are issues I wasn't expecting to bug me about this piece that end up doing so in reality. Even so, I'm very impressed with the overall work that Kotobukiya has done on the Hulk, and I will absolutely be back to pick up the excellent-looking Kotobukiya Black Widow ArtFX+ statue next month. Recommended.
GRADE: B