Last week Kotobukiya posted a teaser photo of a certain black and purple bow, so it didn't take someone with the IQ (or humongous, bulbous brain) of The Leader to know that the Kotobukiya Hawkeye ArtFX+ Statue was about to debut in painted form. And sure enough, Kotobukiya has now opened pre-orders for the Hawkeye Kotobukiya Avengers statue! But while ol' Hawk-guy is the statue I was most anticipating out of this series, something feels a bit off about this figure…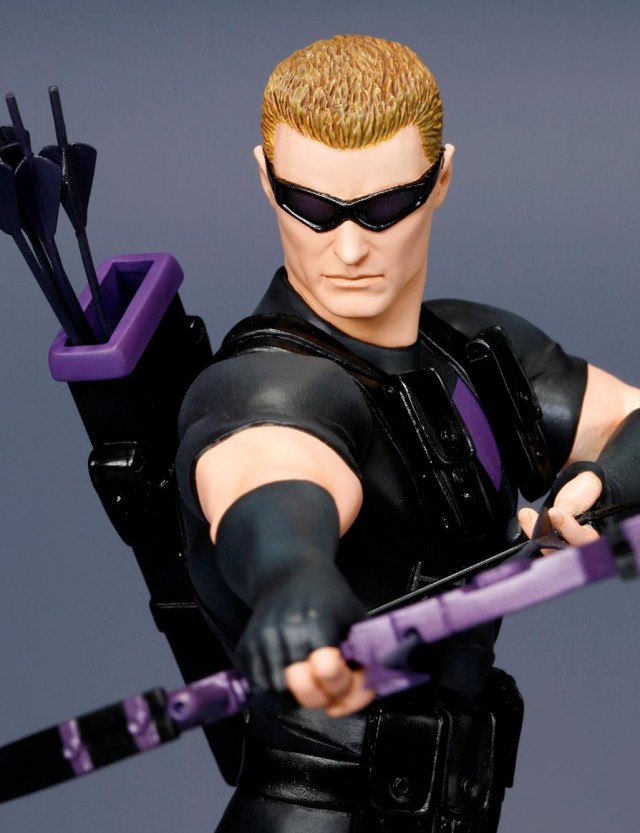 When Marvel announced that they were launching a new Hawkeye ongoing comic book series back in 2012, I genuinely thought they were crazy. Hawkeye solo comic series had failed time after time, and I didn't think any new take on the character was going to be a colossal success.
Turns out I was completely and utterly wrong (it happens sometimes)–the Marvel NOW Hawkeye series is one of the most critically beloved surprise-hit Marvel comic book series in years.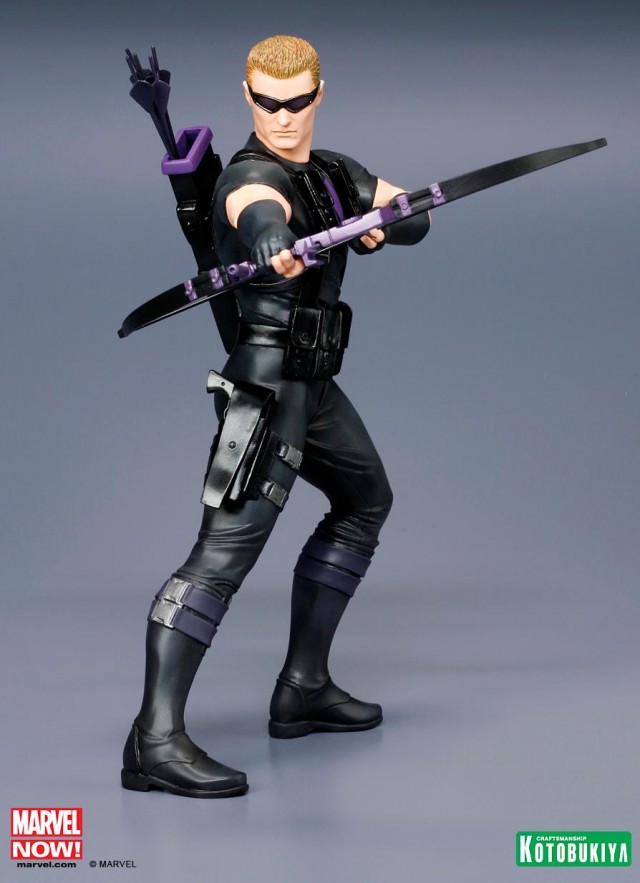 I look forward to every new quasi-monthly issue of the current Hawkeye comic series (yes, even the Kate Bishop Hawkeye issues that Clint Barton doesn't appear in), and I'm eager to eat up every collectible that comes our way featuring the modern Hawkeye attire (forgive me, classic Hawkeye fans!).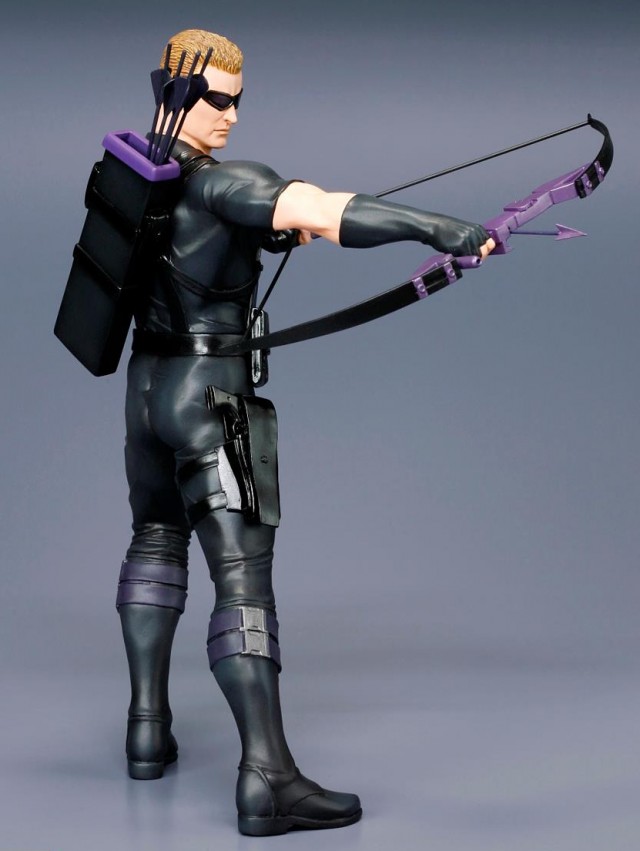 That said, I'm truthfully a bit disappointed with this Kotobukiya Hawkeye ArtFX+ Avengers statue. While the sculpting and paint on the figure's attire are (for the most part) spot-on, I totally hate the way they've sculpted Hawkeye's head and hair. While I think Hasbro hit the bullseye (pun intended) with the head sculpt on their Marvel Legends Hawkeye figure I reviewed last year, I think Kotobukiya really missed the mark.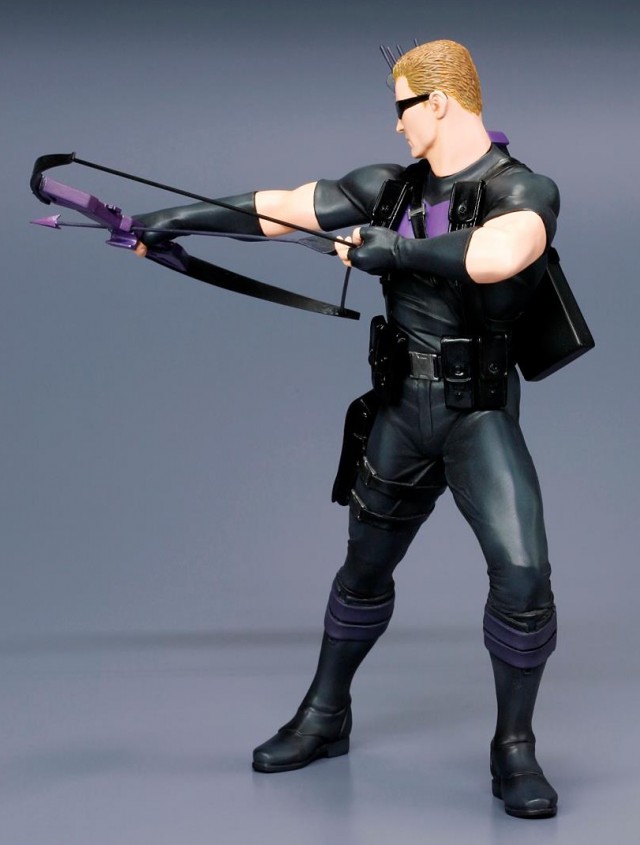 I know that this sculpt is based off the Adi Granov artwork, but the head and hair on this Avengers Hawkeye statue just feel "off" to me–Clint's buzz cut makes him look more like Duke from G.I. Joe fame than Clint Barton. The facial sculpt doesn't seem on-model either, unfortunately.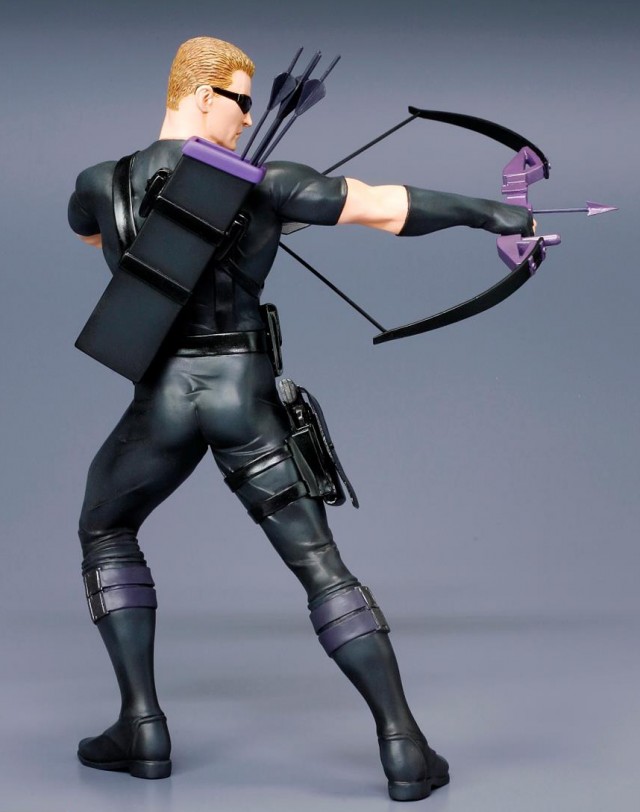 I'm not saying I'm not going to buy this Hawkeye Avengers Now figure–I am. I'm in for the whole set of Kotobukiya Avengers ArtFX+ statues–I just wish that this statue looked more in line with the way that Hawkeye has been depicted in his own series and the Avengers comic books Marvel has published for the past year-plus. As it stands, this statue's head doesn't look like any incarnation of Hawkeye to me.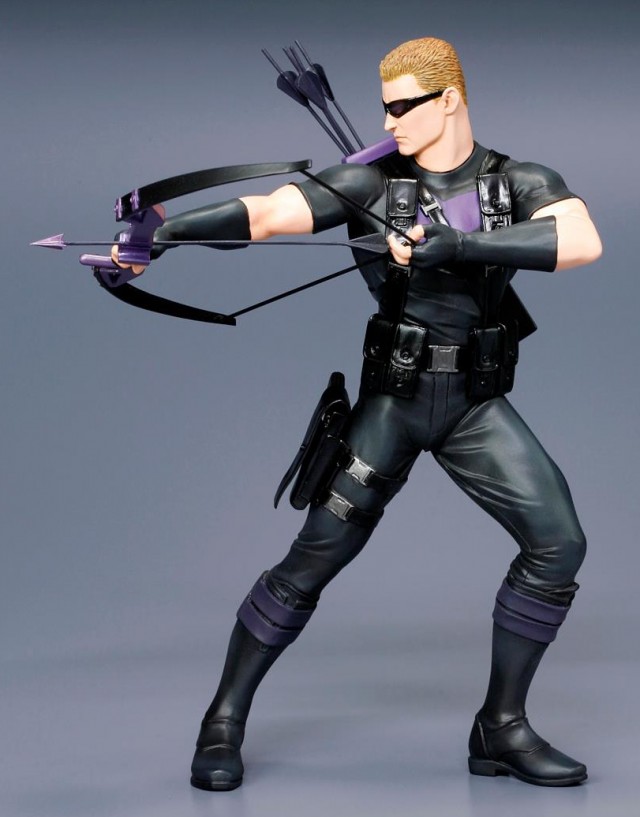 The Kotobukiya Hawkeye Statue is now available for pre-order. Kotobukiya has now announced the official release date and price for the Kotobukiya Avengers Now Hawkeye ArtFX+ 1/10 Statue as October 2014 and $49.99.
Hands up, Hawkeye fans! Are you impressed, disappointed or impartial toward the Hawkeye Kotobukiya ArtFX+ Statue now that you've seen it in all its hi-res images glory? Will the Avengers' greatest sharpshooter by shooting himself straight into your collection?