Things have been pretty quiet on the Marvel Kotobukiya statues front ever since they released the Avengers Hulk ARTFX+ statue that I reviewed last month. But while we're still waiting for the pre-order and painted prototype photos of the last statue in the ARTFX+ Avengers Now lineup (Iron Man), we've got something new to get excited about–the second (and in my opinion, best-looking) of the Kotobukiya Avengers has now been released–the Kotobukiya Black Widow ArtFX+ Statue is now in-stock and ready to be ordered!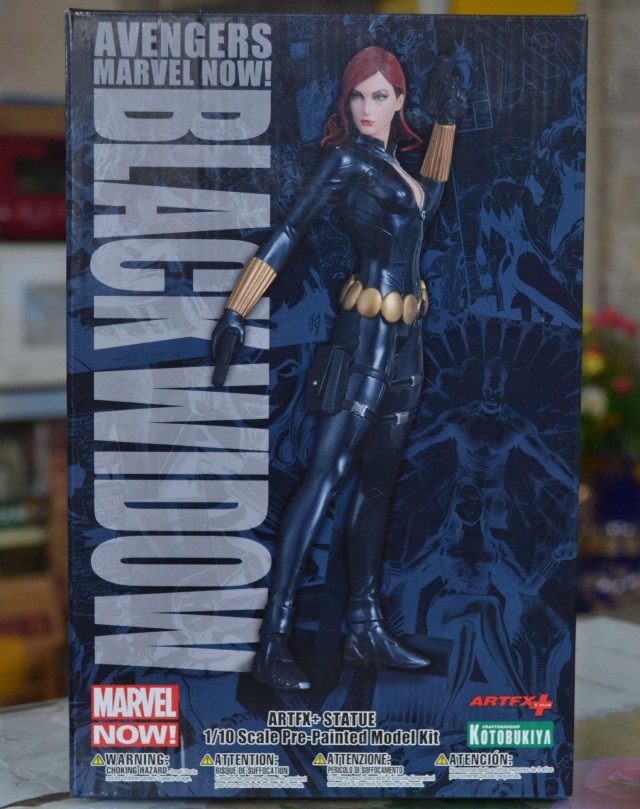 As soon as I saw the first unpainted prototype of the Kotobukiya Avengers Black Widow ARTFX+ statue, I fell in love. While Black Widow isn't near the top of my list of favorite Avengers in the comics, the elegance and grace of the 1/10 scale Black Widow Kotobukiya Statue blew me away. I had pretty high hopes for this statue–and thankfully, it looks like the final production version of it has come out perfectly!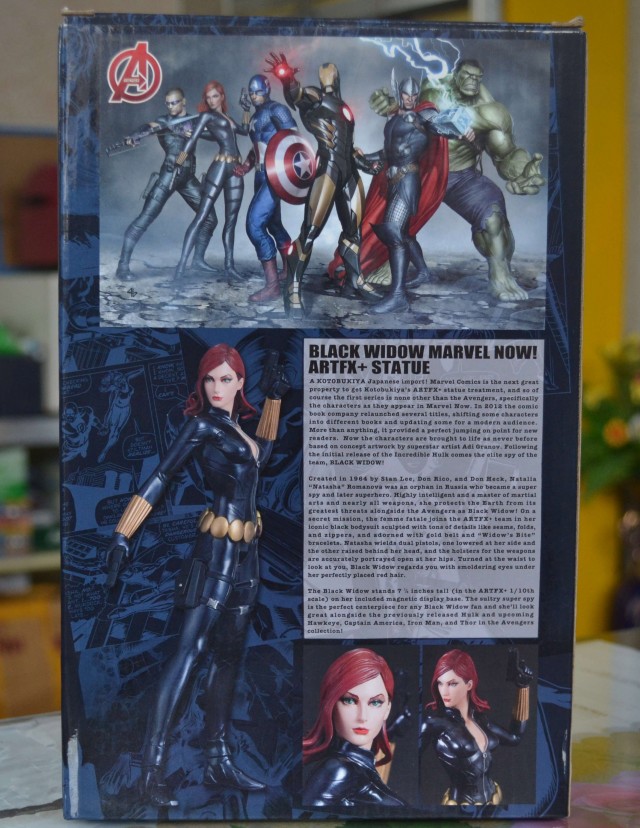 The packaging for the Kotobukiya Black Widow statue is in the same style as the previous Kotobukiya Hulk figure, but in blackish-blue instead of green. I actually really like this style of packaging with all of the glam shots of the statue and the biographical information for the character on it, so I'm happy to see this same style of packaging again.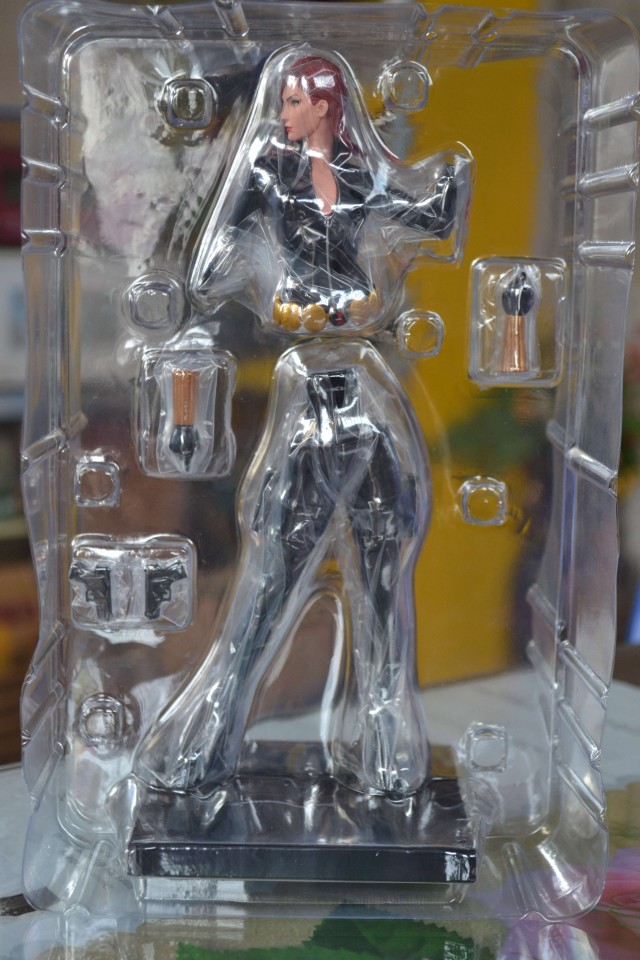 As was the case with Hulk, the ARTFX Black Widow 1/10 statue comes disassembled in several pieces. While Hulk was broken into three pieces, Black Widow is broken into four (and six if you count her guns).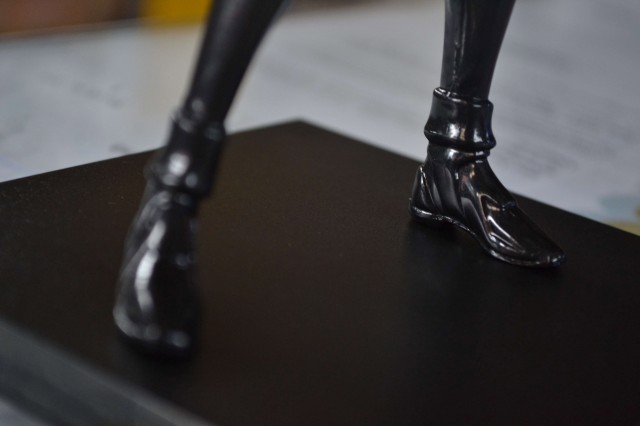 Black Widow's base is the same generic magnetic black rectangle that Kotobukiya typically uses for the ARTFX+ statues. It's nothing fancy, but I like more than Hulk's since you only get one rectangle this time instead of two.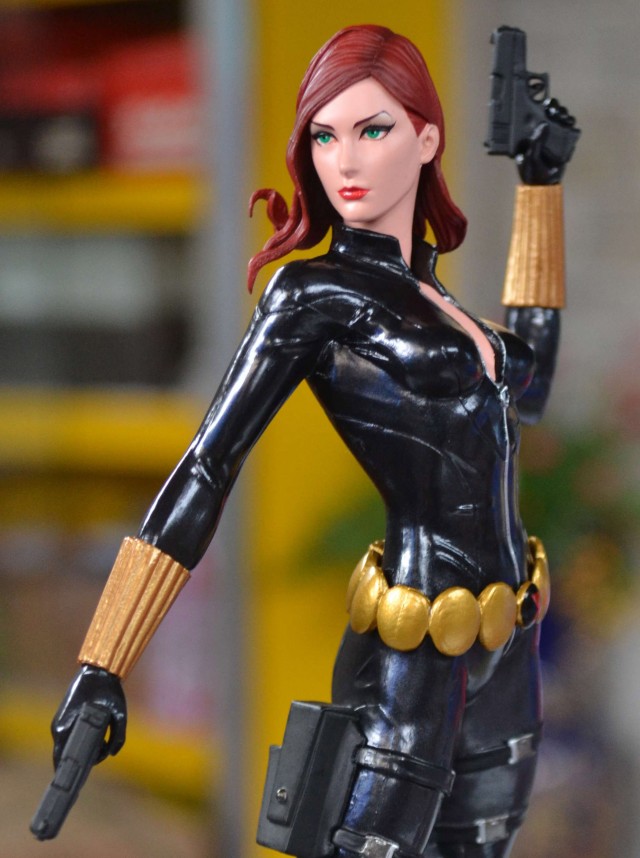 Up close you can see that Kotobukiya's sculptors have made this one of the best-looking and most beautiful renditions of Black Widow ever. Her face is just gorgeous!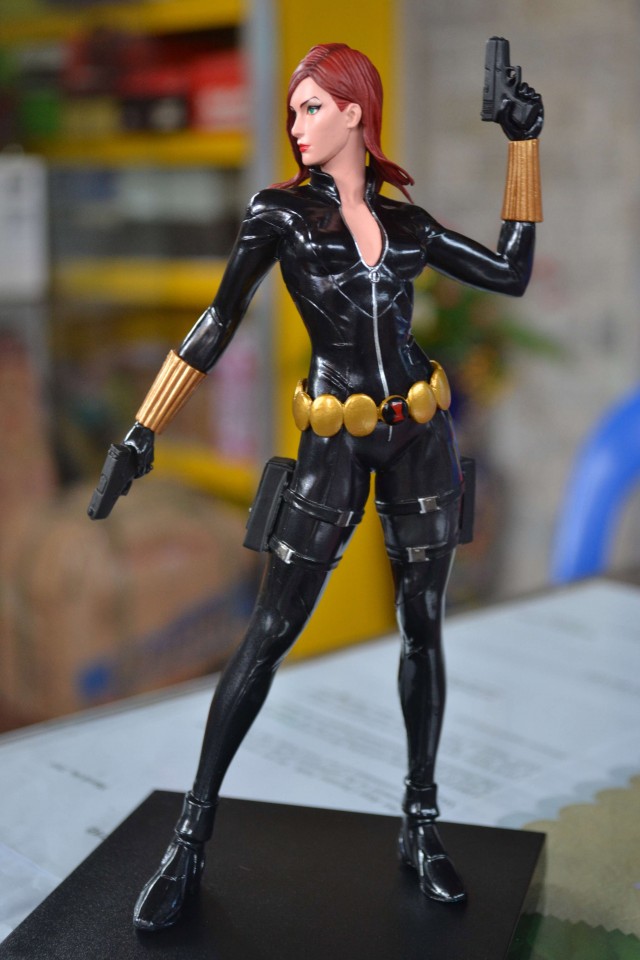 Because Black Widow's forearms attach to the rest of the statue via her bracelets, the seams are pretty much invisible on her arms and not an eyesore the way that the Hulk's neck seam was.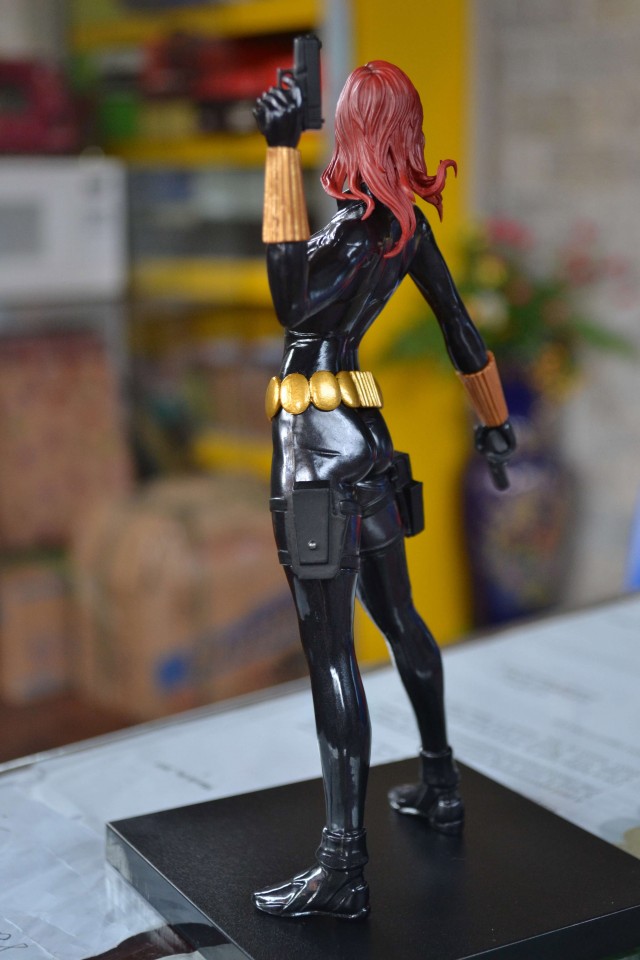 The dynamic, flowing hair that Kotobukiya has captured Black Widow with is another great selling-point for this statue. I don't know if this type of hair would look right on a Marvel Legends Black Widow figure, but it looks great here!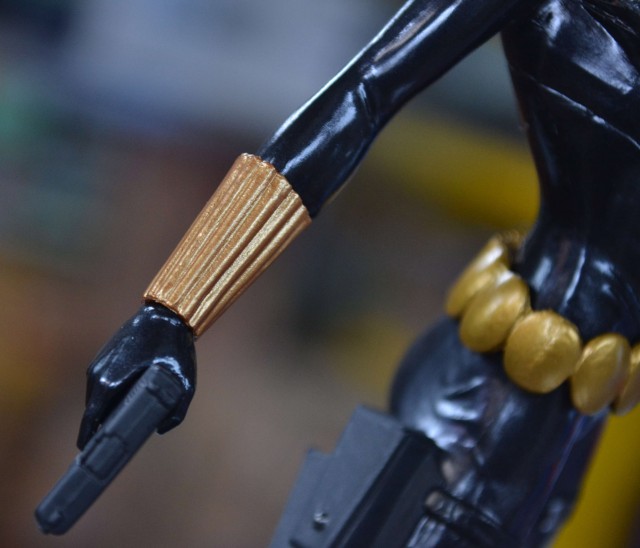 Because Black Widow's bracelets are gold and her costume is black, I was worried about potential paint bleed hurting the aesthetic of the Black Widow Kotobukiya statue. But as is turns out, the Kotobukiya paint applications are every bit as good as you would hope. Her paint looks pristine!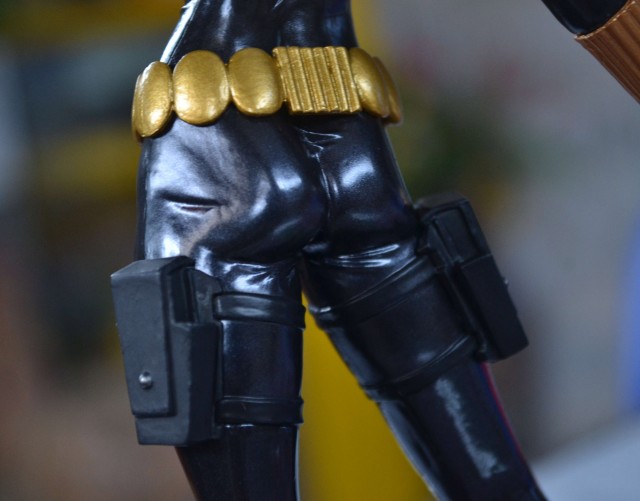 And for those of you who are a feeling a little bit pervy, here's a close-up of Black Widow's buns, just for you.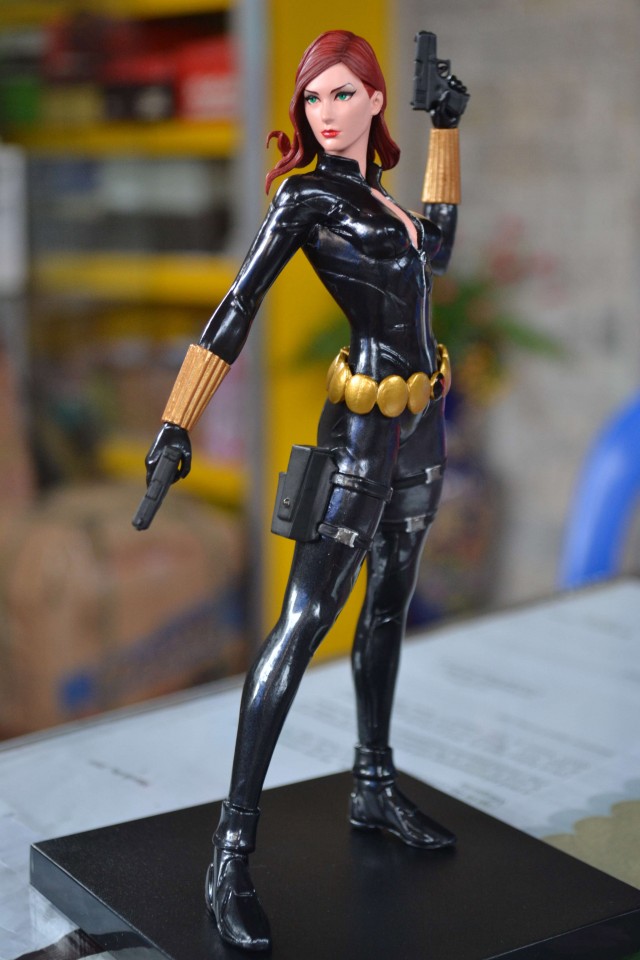 Huge thanks to ABCbajet for sending in these terrific hi-res photos of Black Widow and giving me permission to run them while I wait for my own Kotobukiya Avengers Now Black Widow ARTFX+ statue to show up!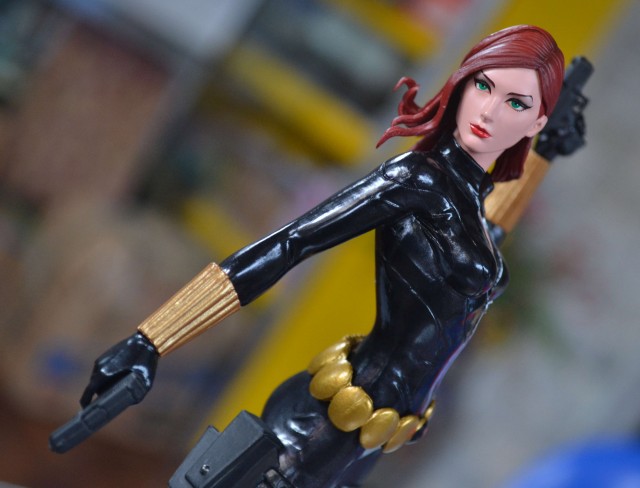 The Kotobukiya Black Widow ARTFX+ statue is now available online for a little under $49 shipped, which is a good deal in my eyes for such an exquisite, medium-end collectible. Most comic book and specialty stores haven't received their allotments of the Avengers ARTFX+ Black Widow statue yet, so you may need to snag her online for now if you want her right away.
I know some folks said they were planning on passing on Black Widow, but has Kotobukiya won anyone over to ordering this piece with these photos of the final product? I stand by my assessment that this is the nicest of all six Avengers Kotobukiya Statues–is anyone else as excited for this Black Widow ARTFX as I am?