Having toyed with us with teaser photos all last week, on Friday Kotobukiya decided to fully pull back the curtain and reveal the second figure in their line of 2014 Kotobukiya Marvel Now Avengers ArtFX+ Statues: Black Widow! Kotobukiya has tackled the Black Widow character several times before in their Bishoujo lines, but the Bishoujo Black Widows are way too cheesecake for me. This Kotobukiya Avengers Now Black Widow statue, though? It's pretty much perfection…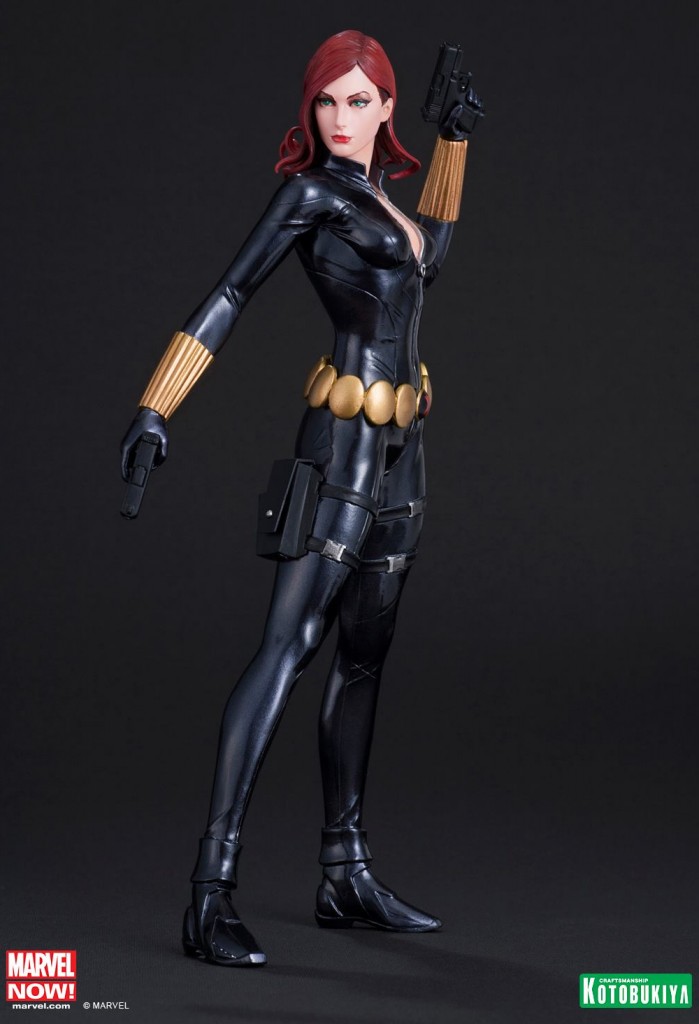 The less I say about my feeling toward the Kotobukiya Bishoujo Black Widow figures, the better, so I'll forgo talking about those past efforts at the Russian super-spy and jump straight into what makes the upcoming Avengers Now Black Widow figure a masterpiece: namely, everything. Looking at the glamor shots that Kotobukiya has posted of the Black Widow ARTFX+ statue I literally have no complaints (which is a real rarity, as anyone who reads this blog knows well).
In fact, I know it's blasphemy to say this, but based on the official photos I actually prefer this ~$45 Kotobukiya Black Widow ARTFX+ Statue to the $360 Sideshow Black Widow Premium Format Figure also coming out next year. The pose on the 7.5″ ARTFX Black Widow simply looks a lot more badass, and I'm a big fan of the glossy paints Kotobukiya chose to simulate leather and metal on this Black Widow. I even find the facial sculpt and hair on this smaller and cheaper Natasha Romanova to be preferable to Sideshow's latest Black Widow.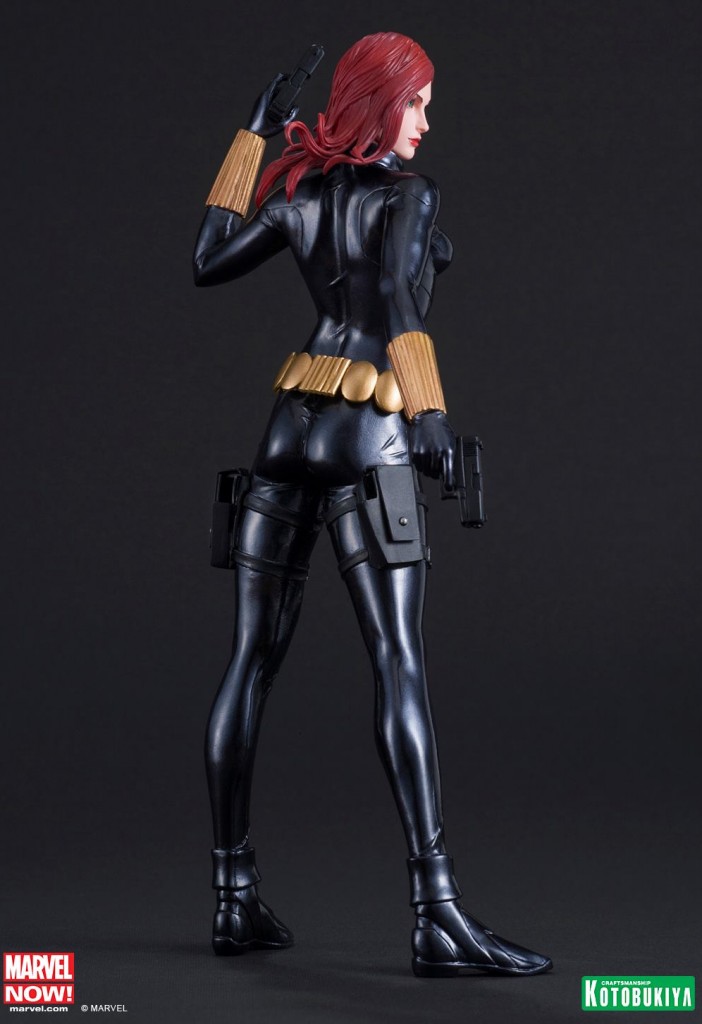 I like that Kotobukiya chose to release Black Widow as the second figure in the Avengers Now ArtFX+ figure series. With the 10″ Marvel Now Hulk as the first statue in the series, putting these first two figures together will create a real "beauty and the beast" type of feel that brings out the Hulk's monstrous size and Black Widow's sexy (yet deadly) good looks.
One thing that really bugged me about the Kotobukiya Avengers Hulk ARTFX+ statue was that the Hulk plain and simple didn't look like his Marvel Now incarnation seen in the "Indestructible Hulk" comic books, despite the imspiration of this series of statues being "Avengers NOW". That's not a problem with the Marvel Now Kotobukiya Black Widow ARTFX+ statue.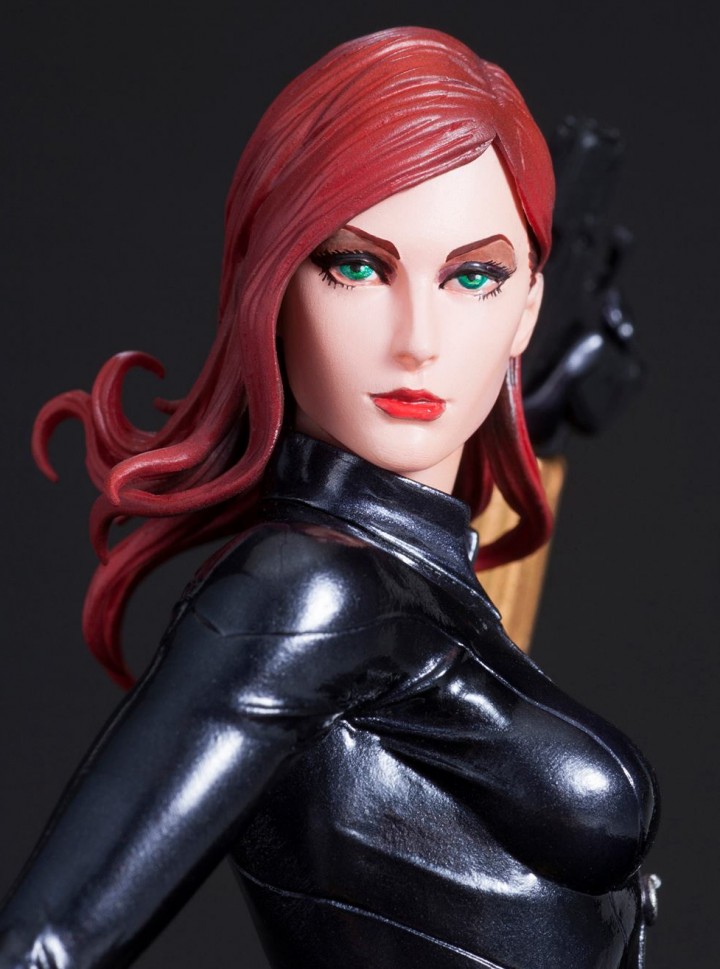 Unlike the Adi Granov Marvel NOW Hulk character design, the Avengers Now Black Widow looks, well… pretty much the same way she's always looked. Classic Black Widow, Avengers movie Scarlett Johansson Black Widow and Marvel NOW Black Widow are all extremely similar character designs, so you can really get away with placing this Black Widow figure with almost any era of similarly-scaled statues and not have it look out of place (although the head sculpt here is obviously not meant to represent Scarlett Johansson).
It's also worth nothing that this 1/10 Avengers Now Black Widow Kotobukiya statue is in the same scale as their DC New 52 statues, so now you can fulfill any childhood fantasies you might have about pitting Black Widow against Wonder Woman. I imagine that Black Widow will lose (badly), but that's one of my personal cross-company dream fights (no, really, I'm serious).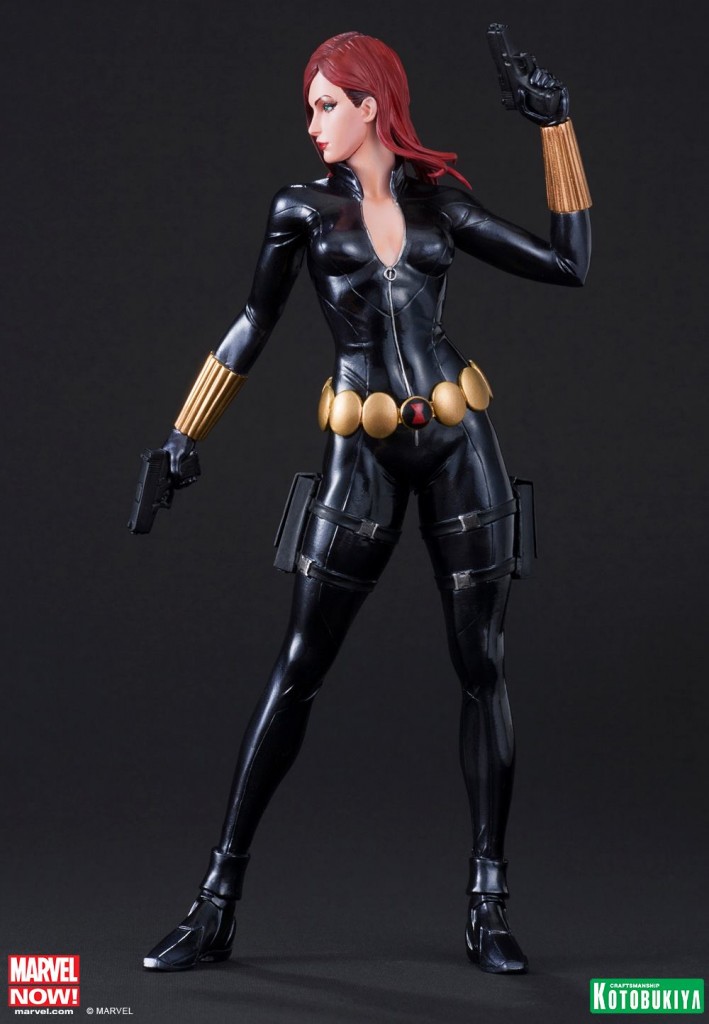 The Kotobukiya Avengers Black Widow ARTFX+ statue is now available for pre-order, with an expected arrival date of May 2014. The Kotobukiya Marvel Now Black Widow is priced a full $15 cheaper than the Marvel Now Hulk statue, which is totally fair, given that that Hulk is 25% larger than Black Widow.
I ordered the Hulk Kotobukiya figure because I wanted to build the whole Avengers team, but I'm buying Black Widow because she's downright fantastic in addition to being part of the Avengers roster. I'll post a review and photos of the Kotobukiya Black Widow Avengers Now ARTFX+ Statue when I get mine next spring.