Now that the holidays are at an end (at least for a couple weeks), I've got a chance to step back and discuss some news items I didn't have time to talk about during Thanksgiving break. First up on the list is the third release in the Marvel NOW Kotobukiya Avengers ArtFX+ line: Captain America! Cap debuted at SDCC 2013 in July, but was M.I.A. when NYCC 2013 rolled around in October. Luckily, he's returned safely from his mission and is now fully-painted! Even so, he's probably my least favorite of the Kotobukiya Marvel NOW Avengers ARTFX+ Statues thus far…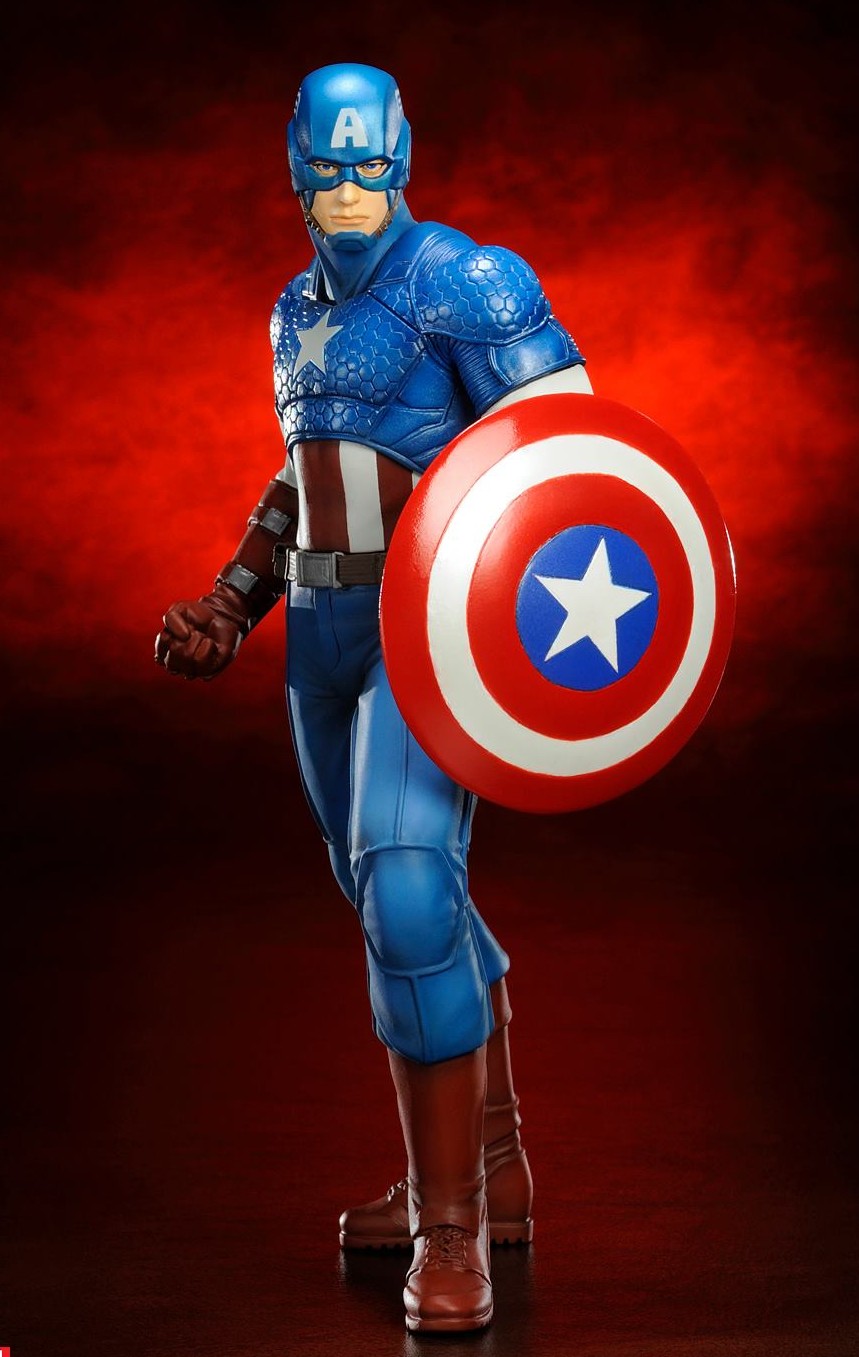 When Kotobukiya unveiled the unpainted prototype of the Marvel NOW Captain America ARTFX+ Statue at San Diego Comic Con 2013, I thought it looked outstanding. But now that Kotobukiya has finally shown off the painted prototype, I think I may have set my expectations a little too high.
While I thought that the Kotobukiya Black Widow was virtually perfect and the Hulk looked almost as good (albeit not being depicted in his Marvel NOW incarnation), the Kotobukiya Captain America ARTFX+ Statue stumbles a bit and doesn't feel quite as well-executed. Oh, the I still think the Kotobukiya 2014 Captain America statue looks really nice (spoilers: I'm buying it), but there are definitely some aspects of this Steve Rogers statue that really bug me.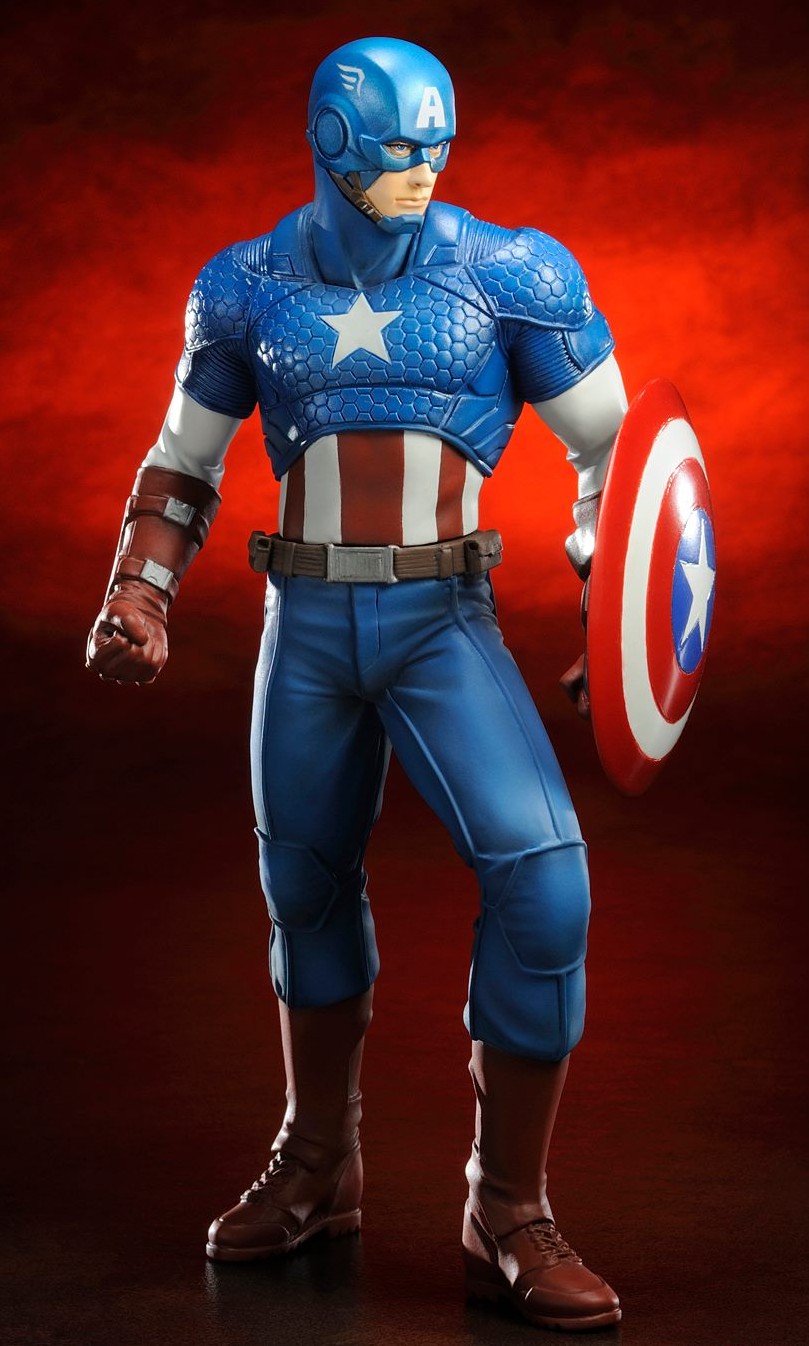 The primary thing bothering me about this Kotobukiya Captain America statue is the face. I don't know if the Kotobukiya sculptors are trying to portray Captain America with a stern demeanor via his facial sculpt or if they were aiming for a determined look or what–ultimately, what I see here is a bored-looking Captain America who looks more like he wants to take a nap than go fight villainy.
Also, I feel like Cap's face looks far too soft and youthful–the figure reminds me way too much of the bishoujo-looking New 52 Justice League Kotobukiya statues, which I don't think is appropriate here.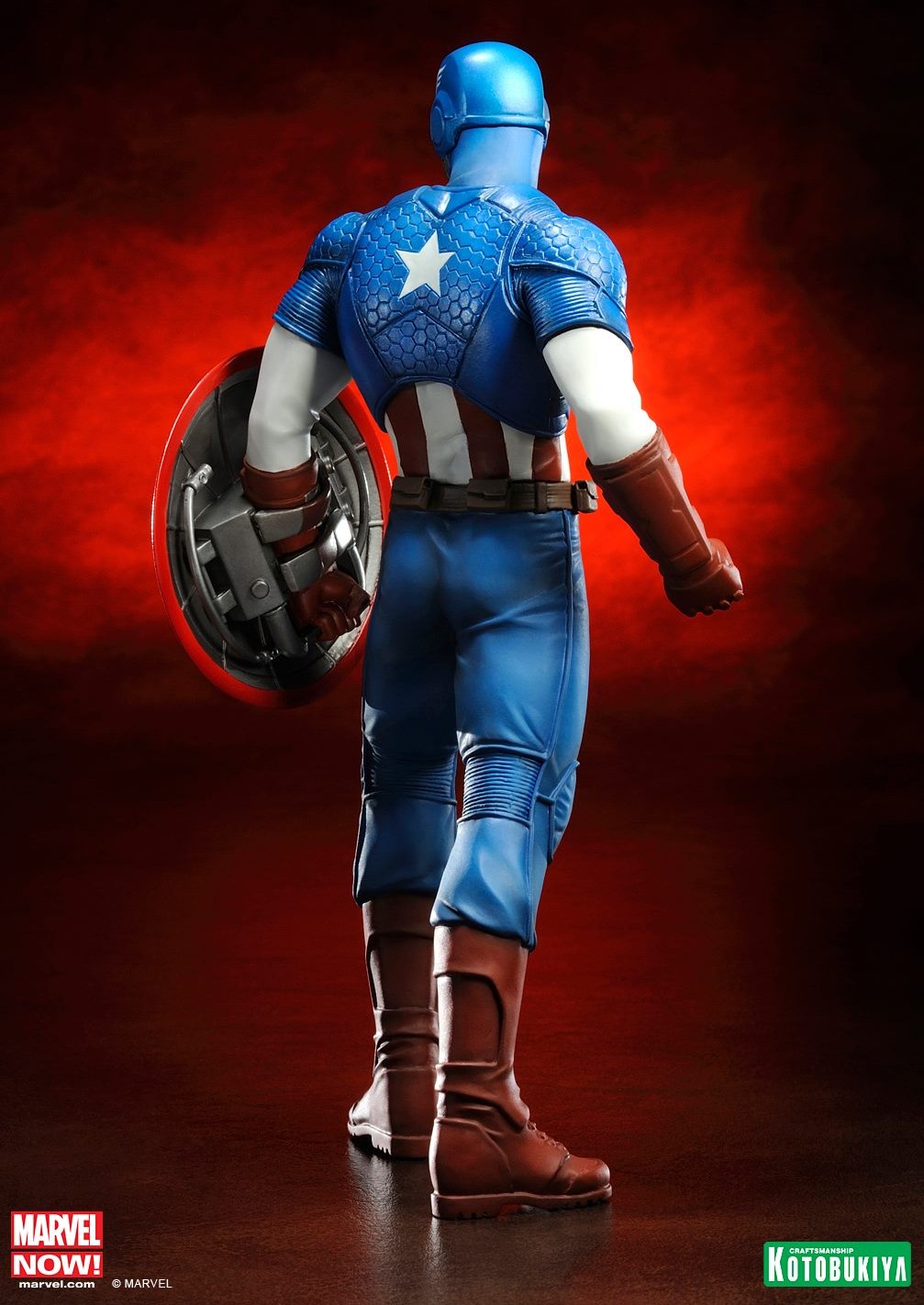 The other part of this Kotobukiya Avengers Now Captain America statue that I'm not sold on yet is the paint deco. While most of the paint looks excellent on the prototype, I'm not digging the paintwork on Captain America's upper-body armor at all. It has an appearance like cheap, shiny plastic, and it really brings down the overall look of the 1/10 statue to me. Maybe this will look better in-person, but in the official photos it looks more "plastic toy-esque" than I like for a ~$50 statue.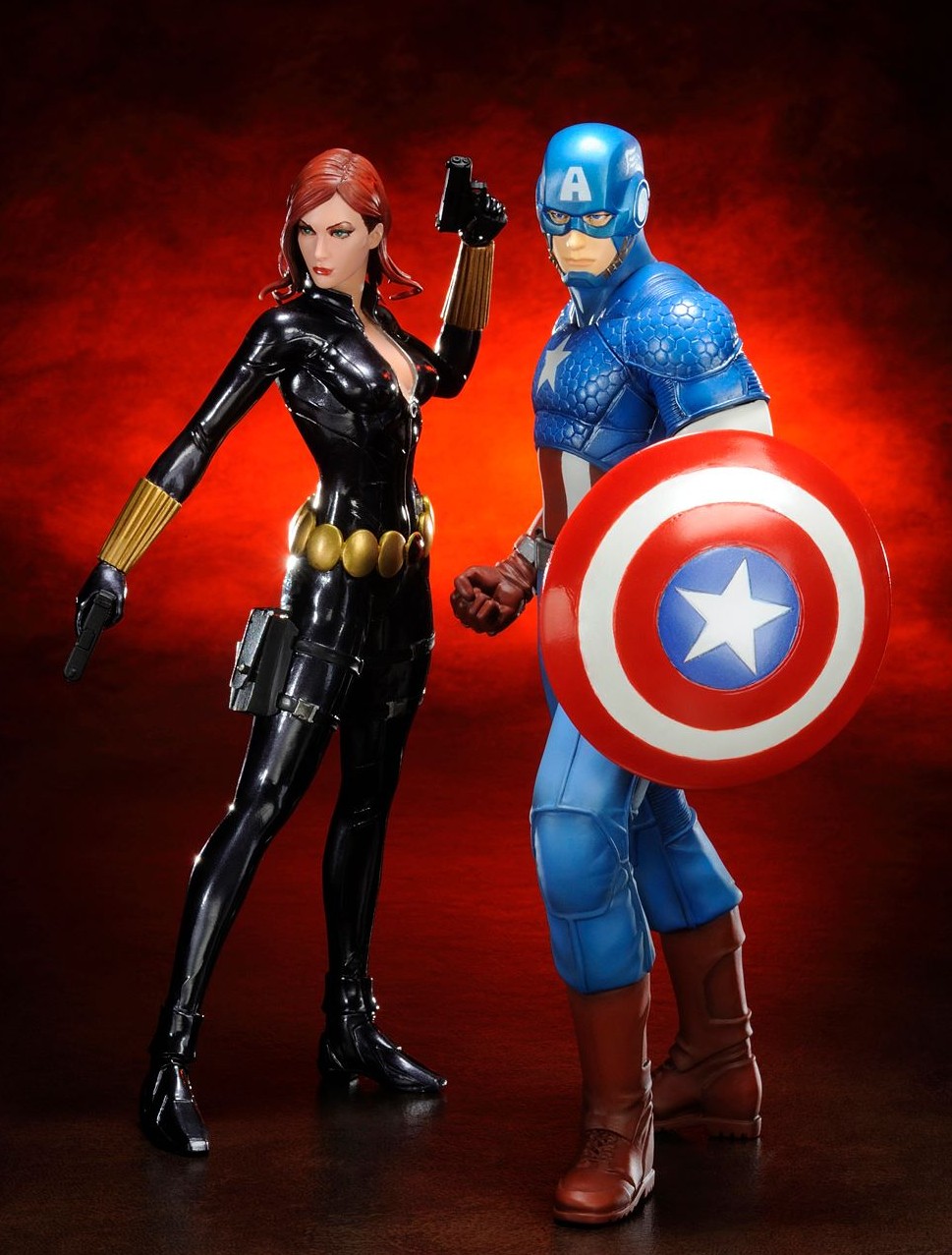 The Kotobukiya Avengers Now Captain America ArtFX+ Statue is now up for pre-order for $54.99, although the exact release date still isn't known. I'll update this post with the official release date for the Kotobukiya Captain America just as soon as Kotobukiya discloses that information.
Does the Captain America Kotobukiya ArtFX+ statue meet your expectations, Marvel fans, or will you be passing on this affordably-priced patriotic superhero statue?