We saw it painted at the 2013 San Diego Comic Con last month, so it's not going to shock anyone that the Marvel Now Hulk ARTFX+ Statue is kicking off the Kotobukiya Avengers Now line. While the announcement is an expected one, however, it's still nice to see Kotobukiya post the official glamor photos of their upcoming ARTFX+ Hulk Statue and let us know that we'll have to make space on our shelves for this jade giant in March 2014…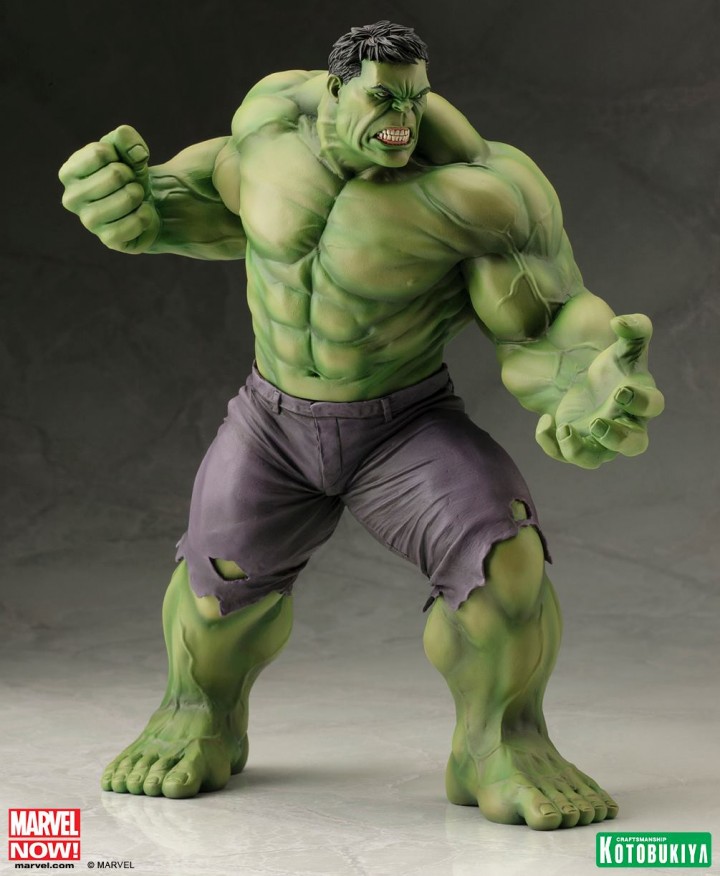 When
Kotobukiya debuted their painted Marvel Now Hulk ARTFX+ Statue at SDCC 2013
, I thought it looked pretty good (unlike the poor X-Force Psylocke Fine Arts Statue, which looked pretty wretched at that time). Since then, Kotobukiya has finalized the paint scheme for the Hulk and is ready to show off the final, to-be-produced version of the first in the series of Marvel Now Avengers ARTFX+ Statues!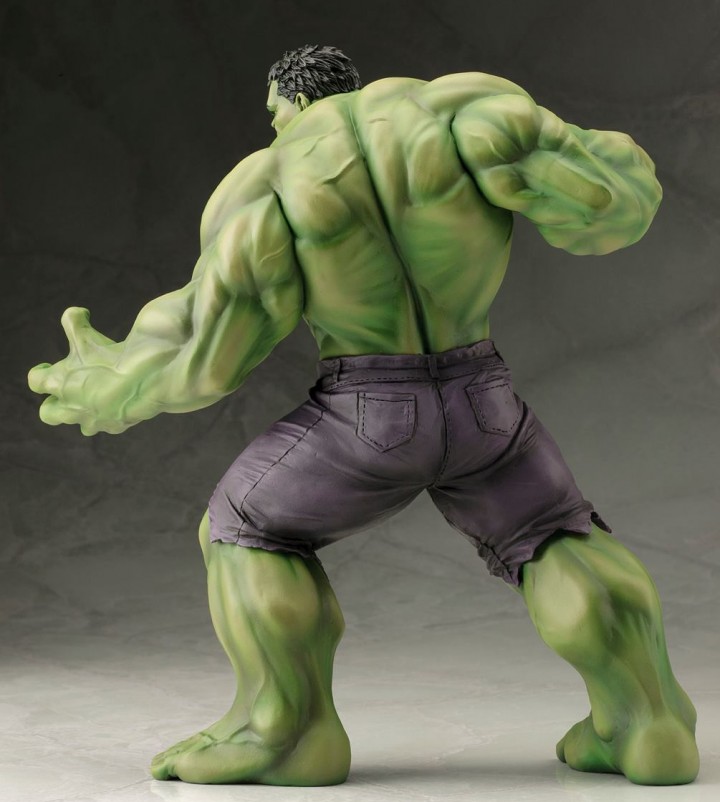 In general, I am really, really pleased with the look of this Hulk Kotobukiya statue. The sculpting of Hulk's bulky musculature is outstanding, with his legs looking like the rotund tree trunks that I imagine them to be. Basically, this 1/10 Hulk is a total beast of a statue.
I'm also completely infatuated with the paint washes that Kotobukiya put on their Hulk ARTFX statue–the mixture of different hues of green (some dark green, some yellowish) creates a fulfilling effect of depth and shading on the Avengers Now Hulk statue.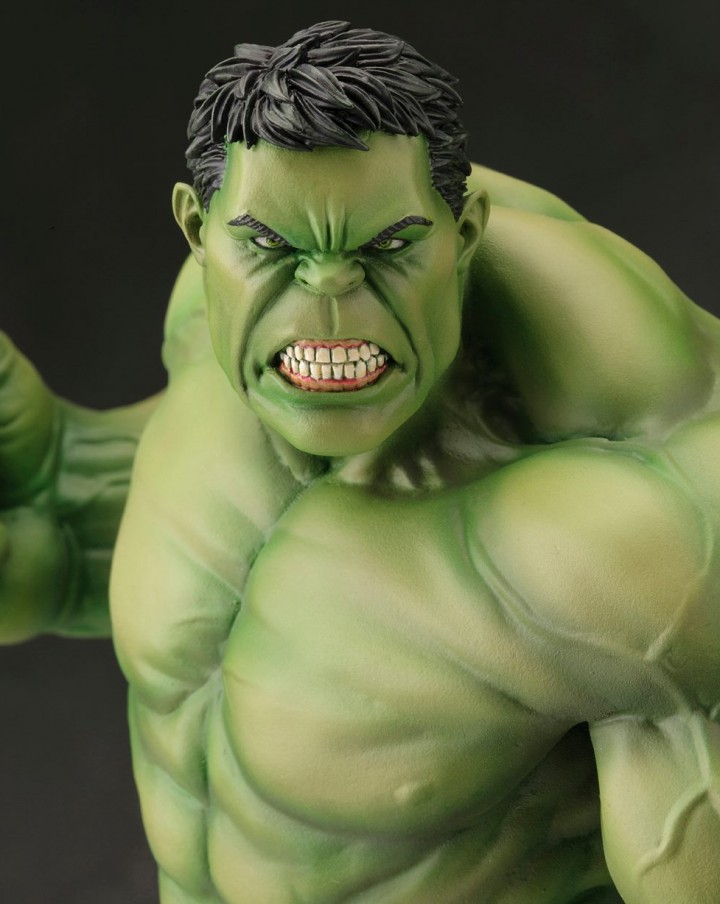 The only thing that bugs me about this nifty Kotobukiya 2014 ARTFX+ statue is that it's being labeled as "Marvel Now". In almost all of the Marvel Now Hulk comics (and books featuring Hulk), Hulk is decked out in armor and technology. Meanwhile, this statue is pretty obviously just a "classic" Hulk. I don't know if this is just Kotobukiya wanting to capitalize on Hulk's popularity from the Avengers movie or what, but it doesn't feel like a true Hulk Marvel Now statue to me.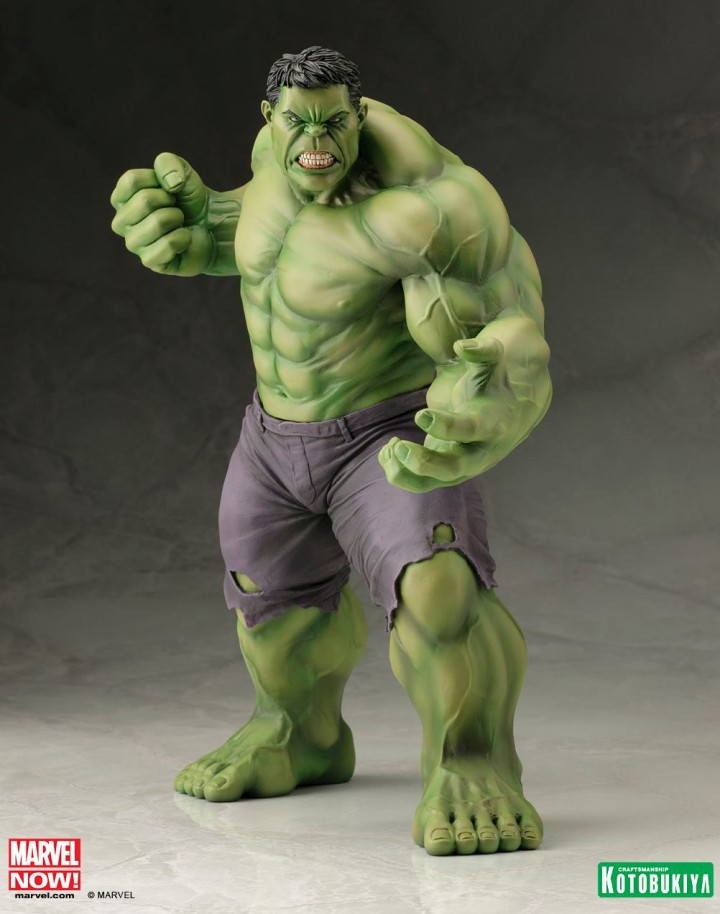 The Kotobukiya Marvel Now Avengers ARTFX+ Hulk 1/10 Statue is scheduled to be released in March 2014, and pre-orders for the Kotobukiya Hulk are now available at BigBadToyStore for $59.99. The suggested retail price for the Hulk ARTFX+ figure is expected to be $64.99.