"BOOM!!!" That's the sound of thousands of Marvel Hot Toys collectors' collective heads exploding, as in 24 hours, Hot Toys has knocked off three of the most-requested figures from fans' wish lists. Pepper Potts debuted yesterday and will go up for sale today, and now the long-demanded Hot Toys Quicksilver and The Winter Soldier Nick Fury figures have been revealed!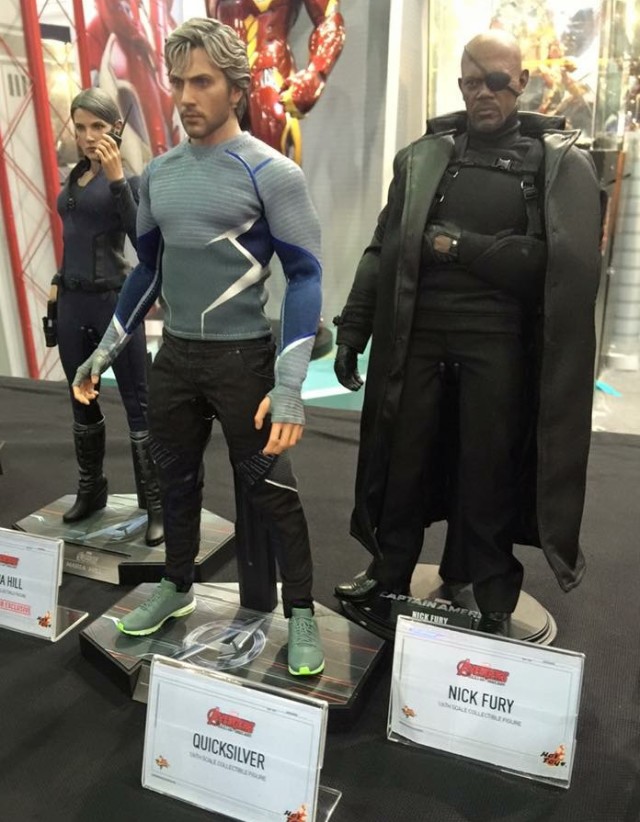 I am not gonna lie: I was shocked–
stunned
 even–to see that Hot Toys turned up with two all-new, never-before-seen Marvel Movie Masterpiece Series 12″ figures today. Surely after debuting several new figures at San Diego Comic-Con 2015 and then another handful yesterday, they must have been all tapped out… right?
But seeing is believing, and the doubters (like me!) have been proven wrong: the Hot Toys Quicksilver figure is a reality… and he's even brought a new Nick Fury with him!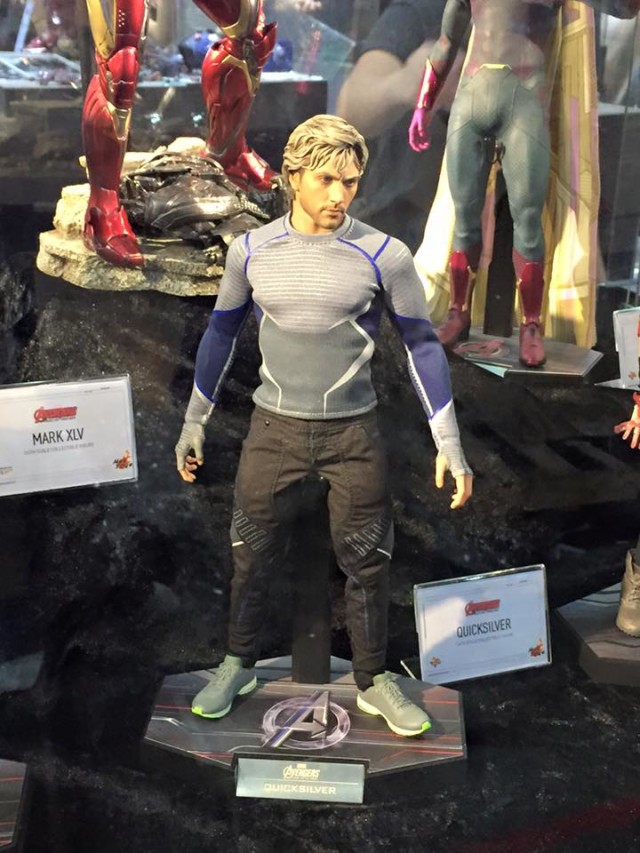 I've read a surprising number of fan theories about the manner in which Quicksilver may return in future Marvel movies, but I don't share that optimism (at all), so I expect that this will be the only time that a Quicksilver sixth scale figure is released.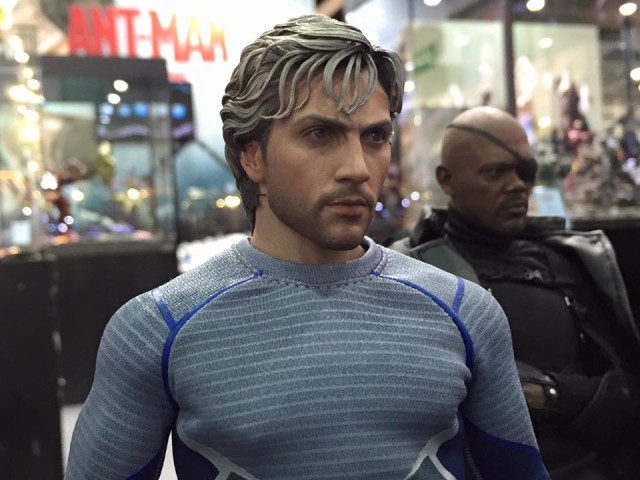 Fortunately, this Quicksilver Hot Toys MMS figure looks absolutely awesome! Pietro may be looking a mite too thin, but the head sculpt and clothing on this prototype are absolutely dead-on. Those who have been waiting for this 1/6 Quicksilver figure (and I know there are many of you) are definitely going to be pleased,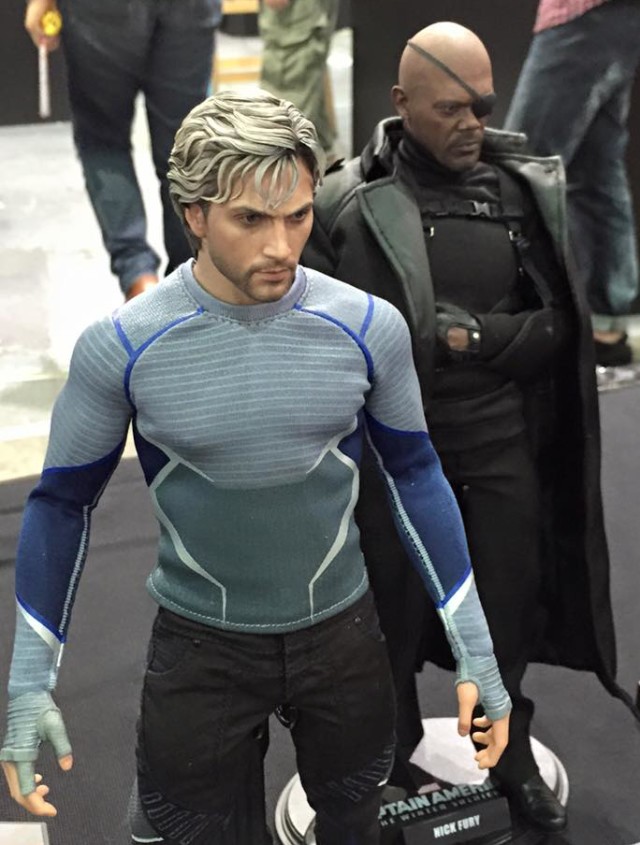 As we're already in the second half of 2015, the Hot Toys Quicksilver figure will almost without question be a winter/spring 2016 release. We won't know for sure until he's put up for order, but at least now we know that he's actually coming (at least, we all hope so).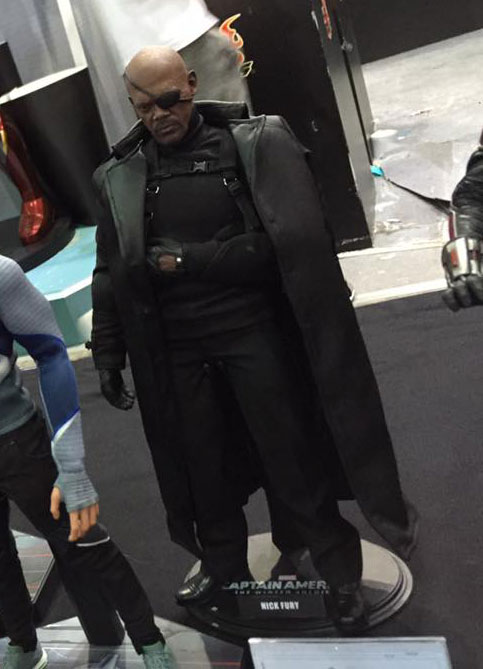 And as a super-surprise bonus, an addition to the Captain America: The Winter Soldier Movie Masterpiece Series line: Nick Fury! I thought it was extremely odd when there was no Samuel Jackson Hot Toys figure released in conjunction with the release of the Winter Soldier last year, and I am absolutely thrilled to see that an updated Nick Fury (with improved head sculpt–thank god) is on Hot Toys' radar.
I have the Hot Toys Avengers Nick Fury figure that kicked off the Avengers MMS line three years ago, but that figure had some definite room for improvement and I can't wait to own the updated version.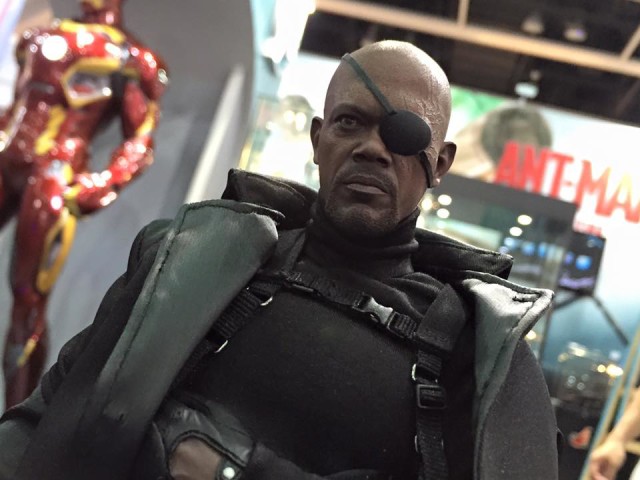 As with the 1/6 Quicksilver, I don't expect to see this Nick Fury figure actually released until the first half of 2016. I'll post updates here and to the Marvel Toy News Facebook Page as more details about this duo come to light over the next several months–including their official ordering window, price-point and release dates.
What do you think of the Winter Soldier Nick Fury and AOU Quicksilver Hot Toys figures, Marvel collectors? Are these the ultimate MCU movie figures of these characters you've been waiting for, or are you disappointed with the most high-end figure of either character ever likely to be released?