Hot Toys is like a wild predator today, and Iron Man collectors are their prey! This morning, Hot Toys posted the official photos for over $1000 worth of new Iron Man figures. Among the new toys are the first-ever Pepper Potts sixth scale figure and two of the previously-unreleased House Party Protocol armors. But there's no question what the biggest (literally) reveal of the day is: the Hot Toys Iron Man Mark 45 Quarter Scale figure goes up for order soon!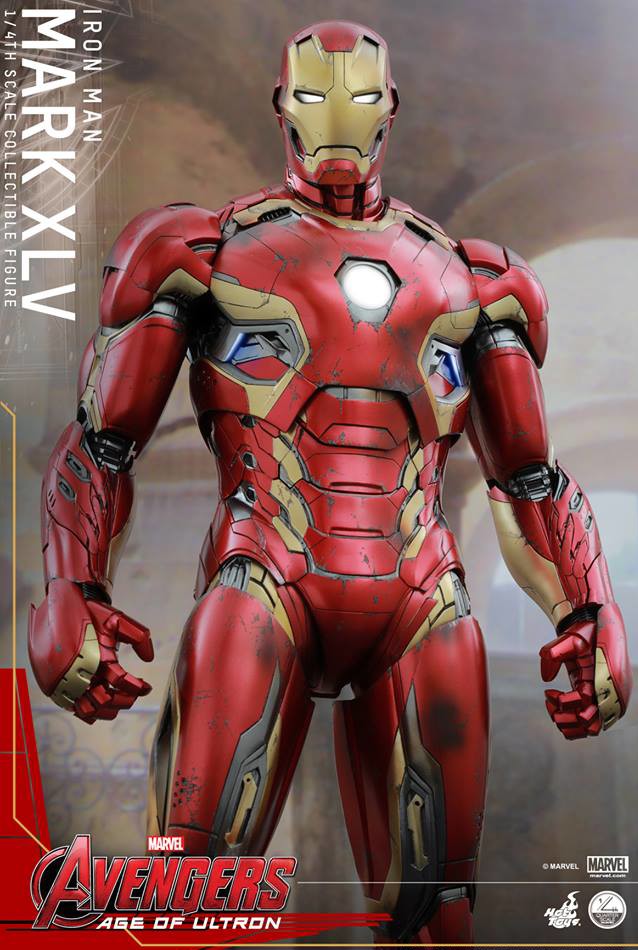 While the Mark 42 rehashed Mark 43 armor was all over the early marketing and merchandising for Avengers: Age of Ultron, the Iron Man Mark 45 armor was actually fairly-well obscured right up until the movie hit theaters.
But despite its lack of an early push, the Mark XLV armor that Tony Stark donned during the final battle with Ultron in Sokovia has gone on to become a fan-favorite armor that many fans are clammoring for. And now, the most high-end version of Iron Man Mark XLV ever is on the way–in massive quarter scale form!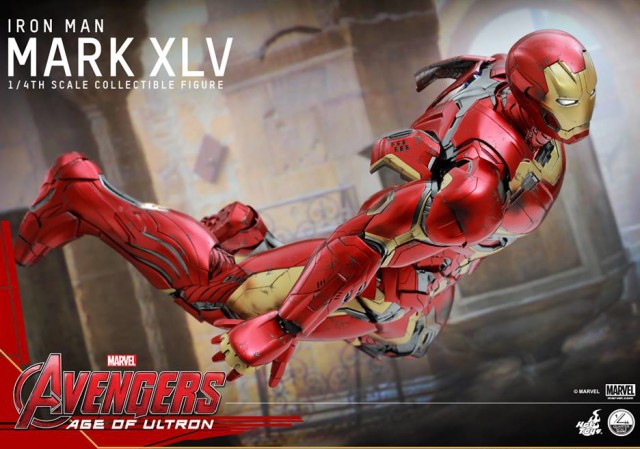 Based off of the official photos currently available to us, this 18″ Iron Man Mark 45 Hot Toys figure looks almost identical to the 12″ Iron Man Mark 45 MMS. This isn't a criticism of the 1/4 Mark 45, though–it's praise for the accuracy of the sixth scale figure, which is spot-on awesome.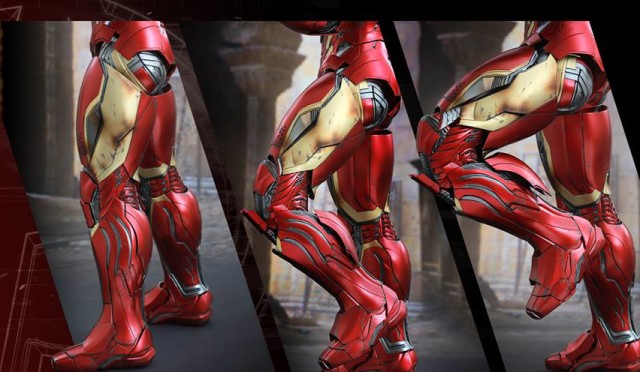 There are some definite upgrades (besides just being plain bigger) for this larger Hot Toys Quarter Scale Iron Man Mark 45, though–it has very cool expanding arm and knee articulation (a la the Bandai MG Gundam model kits), as well as improved torso and back LED lighting.
It's going to sound a bit bizarre coming from me, seeing as how I'm buying about three dozen sixth scale Iron Man armors that appear in Iron Man 3 for about two seconds each (or less), but I just wasn't that attached to the Iron Man Mark XLV armor coming out of seeing Avengers: Age of Ultron.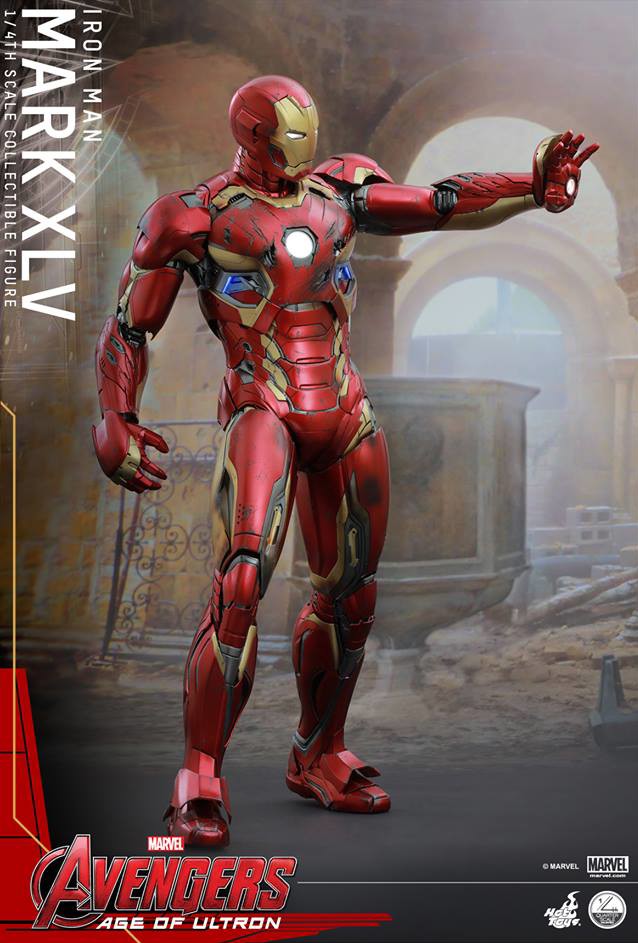 Personally, I like this armor enough to buy the sixth scale Iron Man Mark 45 MMS, but I think I'm gonna draw the line there. This quarter scale Mark 45 is probably going to be a pass for me.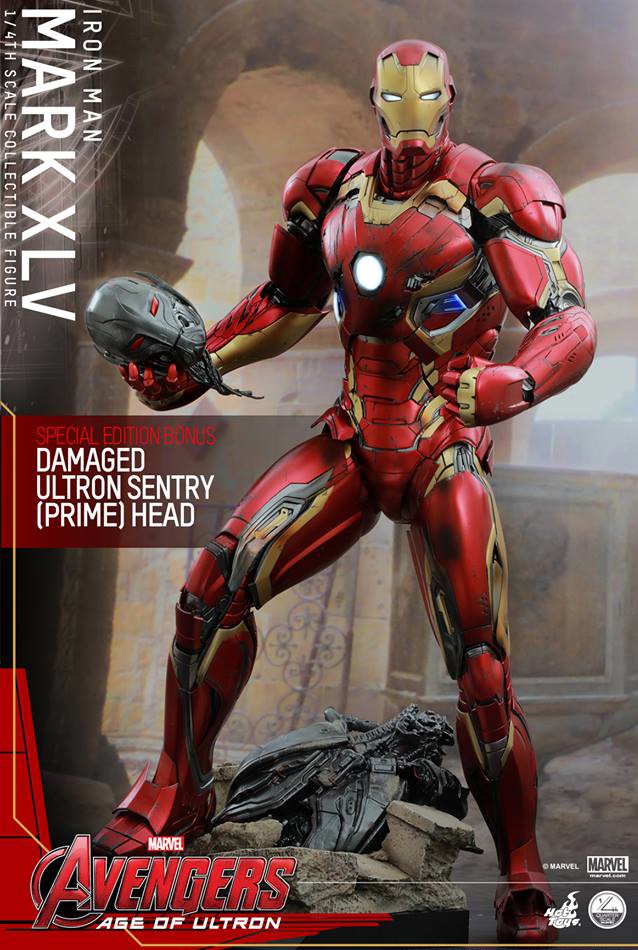 …But hold on a second! I have a weakness (as do many similar collectors), and that weakness is the word "exclusive". Hot Toys is well aware of this and is capitalizing upon it once again, as there will be a Sideshow Exclusive Edition Mark 45 figure that will include
two
bonus accessories.
The first exclusive Iron Man Mark XLV accessory is a severed Ultron Sentry Drone head for Iron Man to hold. This is a complement for the Ultron Sentry Drone body on the base of the figure, so it definitely feels like a worthwhile bonus accessory to be included.
But far more intriguing for me is the mystery exclusive item coming with the exclusive edition. I don't have any idea what the exclusive accessory could be, but man–I sure do want it! I don't know that I $500+ want it, but I sure am tempted.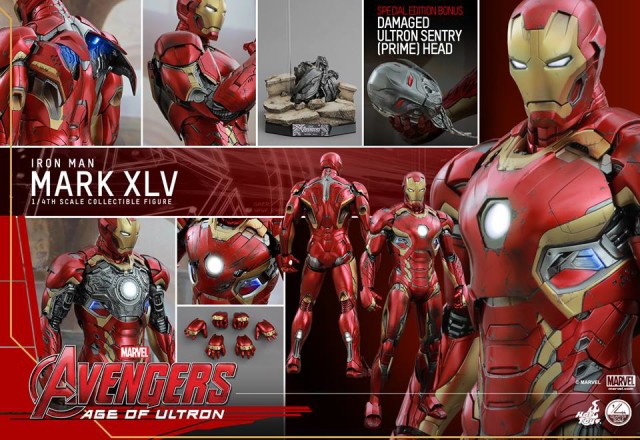 The Sideshow Exclusive 1:4 Hot Toys Mark 45 Iron Man figure should be up for order shortly, and is scheduled to ship out in 2016. I suspect that there's very little chance of the regular edition of this figure selling out before it ships, but I do expect that the exclusive edition with Ultron Drone head and mystery item will sell out long before the release date.
Anyone out there planning to invest the big bucks in the biggest Iron Man Mark XLV figure likely to ever be released? Are you intrigued–or annoyed–by the Mystery Bonus Accessory that's being included with this quarter-scale figure?