The Hasbro Marvel Titan Hero series of value-priced figures got off to a roaring start in 2015, releasing loads of electronic figures, new characters and even characters from the Avengers: Age of Ultron movie. The second half of the year has been a mite slow for the Titan Heroes range, however, with very few new toys hitting shelves (although the Titan Hero Vision is finally getting into decent circulation and Black Widow is rumored). But finally one more big release for 2015 has arrived–and I do mean big! It's the mega-sized, 18″ Hulkbuster Armor Titan Hero!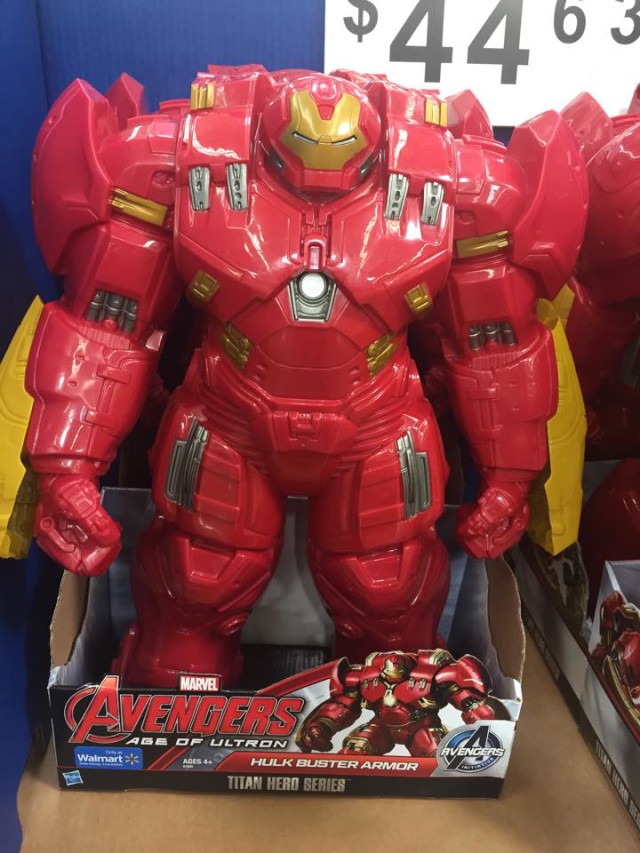 Earlier this year, Hasbro released an electronic, Interactive Titan Tech Hulk Buster Iron Man figure that stood about 15″ tall and retailed for $34.99, making it the most expensive Marvel Titan Heroes figure released to date. I assumed that that was going to be the biggest that Hasbro intended to go with this line of low-priced large Marvel action figures. I assumed wrong.
Now arriving exclusively at Walmart stores, it's the biggest Marvel Titan Hero figure ever released: the Titan Hero Hulk Buster Armor!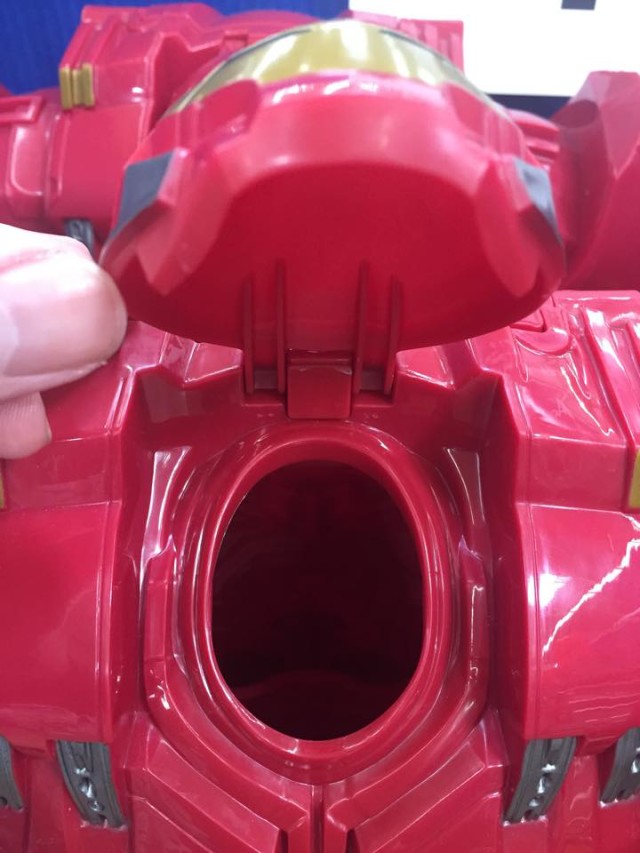 Unlike the previously released Hulkbuster Titan Hero, the 18″ Hulkbuster armor is hollow inside and can be opened up to place "most" figures inside (Sorry, Titan Hero Hulk). This is actually a pretty fun little idea that Hasbro had, and I can see lots of children having a blast sticking Hawkeye and Venom and so forth into the armor and then having a wild brawl with the rest of their twelve inch figures.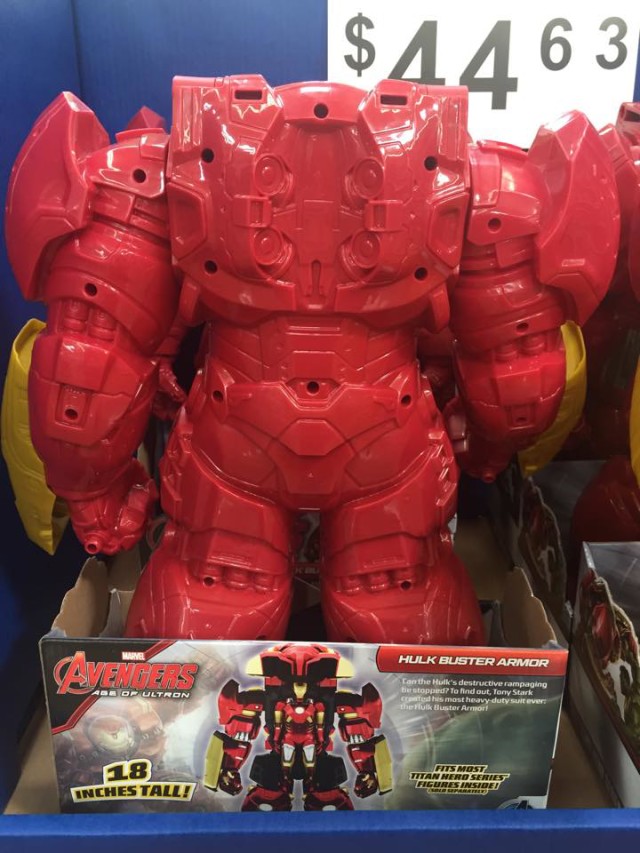 Sadly, there's no improvement to the paint apps on this toy despite the increased size: Hulkbuster Iron Man's back is totally unpainted and riddled with injection holes. From the back, this figure looks mighty awful.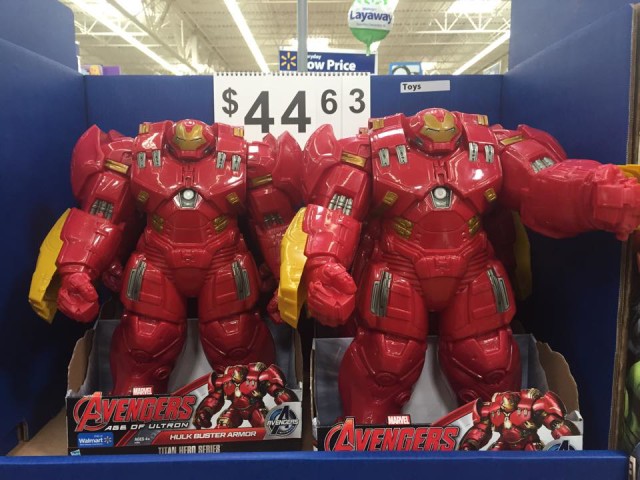 In an odd twist, I'm actually about to complain about the MSRP on a Titan Hero figure (no, really). The price-tag on this gigantic hunk of plastic is an imposing $44.63. Yeah, I suppose that would ordinarily be an "okay" price for an 18 inch action figure (which would usually be considered "quarter-scale", but obviously not for the Hulkbuster), but in this case I actually kind of feel like the $45 price-point is a ripoff.
A standard Titan Hero 12″ figure retails for $9.99, and even if this Hulkbuster Armor is 50% taller and a lot bulkier, it just doesn't feel like it's worth more than quadruple the entry cost for a standard toy in the line. Although this version has the size advantage, the Titan Hero Tech Hulk Buster Iron Man still has the advantage in paint applications, heft, and electronic lights and sound.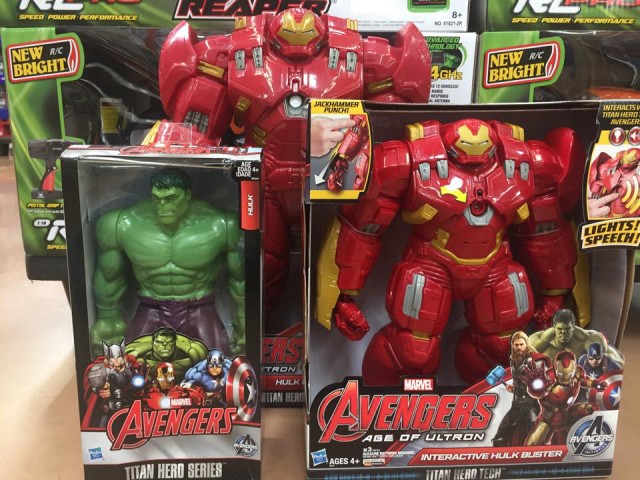 The Marvel Titan Heroes Hulk Buster Armor 18″ figure is now available as a Walmart exclusive, and while I'm not enamored with the price of this beast, I'm confident that it will sell out with very little problem this holiday season. As an adult collector I'm pretty okay without owning this version of Hulkbuster Iron Man, but if you have young kids, this would very likely make a Christmas present that would get a ton of love and play on Christmas morning.
What do you think of the Walmart exclusive Hulkbuster Iron Man armor, Marvel collectors? Is this an item that you'd like to have for your own collection, something that you'd give to a loved one, or a toy that you think is better off left forgotten on the shelves of your local Walmart?