If you snoozed on the October 2015 Marvel Collector Corps Villains Box, you lose-d, because as of yesterday, that box is totally sold out and no longer available via the Funko Marvel Collector Corps website! But when one door (mystery box?) closes, another opens up–and in this case, that mystery box will be themed after 2014's most popular Marvel movie! Coming this winter–the December 2015 Marvel Collector Corps Guardians of the Galaxy box! But the big question is: what's left to put in it that hasn't been done before…?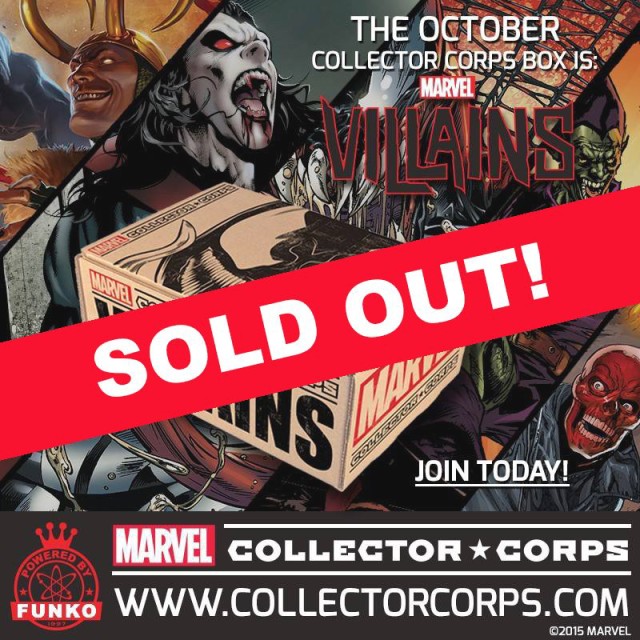 Up until now, most of the Marvel Collector Corps boxes Funko has released have been based on current events such as Avengers: Age of Ultron, Ant-Man and Secret Wars. But following this month's immensely successful Villains box (which is now sold out and should be shipping next week), in December the spotlight will literally be falling on
last year's
fan-favorite superhero team: the Guardians of the Galaxy!
Everyone knows that I love me some Guardians of the Galaxy (particularly of the raccoon variety), so I am beyond excited to see the Guardians getting their own Funko box of goodies just in time for the holidays!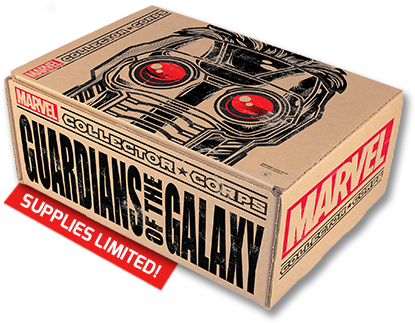 That said, I honestly cannot even begin to guess what would be the exclusive vinyl figure items for this set. We've gotten 2-3 exclusive vinyl figures with every single Collectors Corps box thus far, but I'm legitimately not sure what exclusive characters/costumes are left to do for Guardians of the Galaxy. Funko did pretty expansive lines of Mystery Minis, POP Vinyls and even Dorbz already–it doesn't seem like there's a whole lot of possibilities left.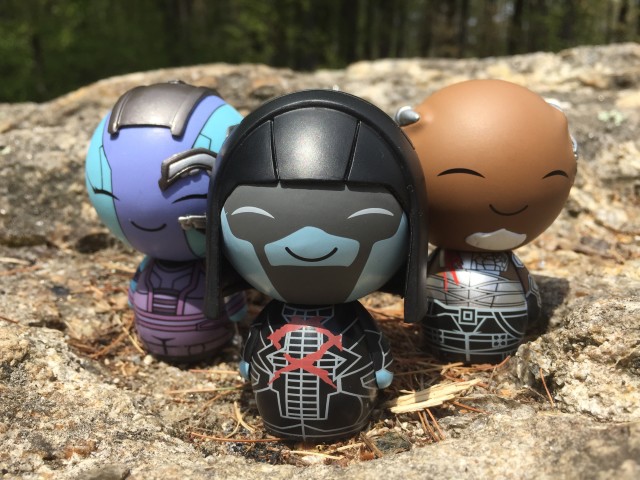 There are really only two unique characters from the film that haven't already been created as movie POP! Vinyls that I think have even a snowball's chance of being included in the Guardians of the Galaxy Collector Corps box: Cosmo the Russian Space Dog and Korath. Korath was released as a (poor-selling) Dorbz figure, so it wouldn't be impossible for him to get a POP!, but even I have to admit that both these characters seem like real longshots.
Likewise, I can't see anything being added to the GOTG Dorbz line except for maybe Thanos or Howard the Duck. I've always been a little suspicious of the exclusion of a Vinyl Sugar Dorbz Thanos as part of the GOTG series, so I wouldn't be stunned to see him getting his own a-DORBZ-able counterpart as part of the December 2015 mystery box.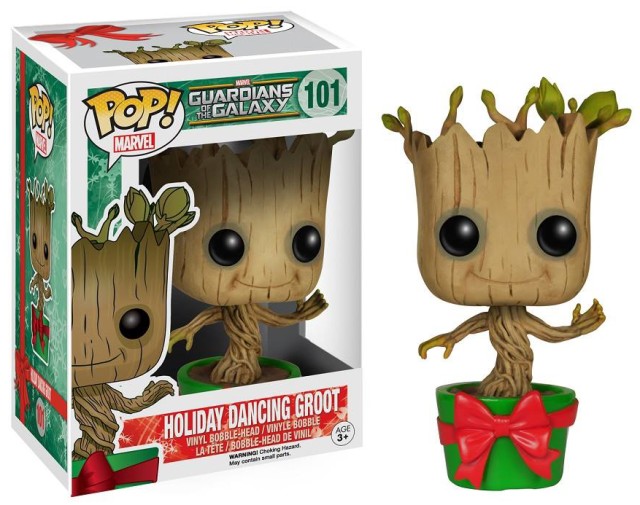 The fact that
a Holiday Groot POP Vinyl mold already exists
and this box is coming in December concerns me that we may end up with a repaint of that figure as part of the box, but I'd like to think Funko wouldn't give their subscribers something that lame (and they certainly haven't thus far).
If you held me at gunpoint and forced me to make a guess (please don't), I suppose I'd choose a short-jacket Star-Lord POP (based on the movie) and a flocked Howard the Duck POP as the most likely exclusives for this set, but those are pure guesses. If you guys have better ideas (and I bet you do), leave a comment and let me know what they are!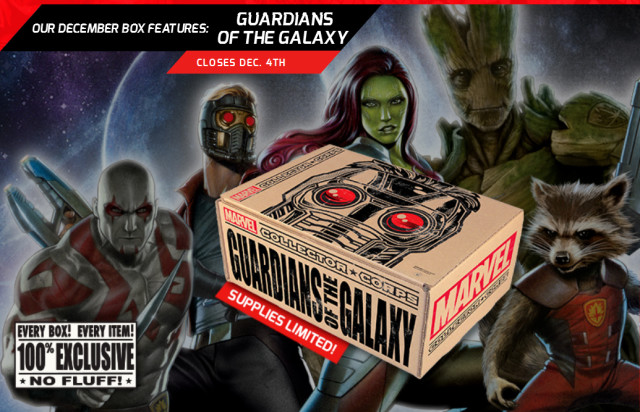 The Marvel Collector Corps December 2015 Box is now available for order, with the deadline for orders being December 4th. With the deadline being so early in the month this time, it seems highly probable that the MCC Guardians of the Galaxy box should be arriving for most folks before Christmas.
Are you excited for the Funko Collectors Corps to go back and give us a Guardians-themed mystery box to close out 2015, Marvel collectors? And more importantly–what do you think is going to be in the box?!