Ever since I saw them at the Funko booth at the New York Toy Fair 2015 back in February, visions of Vinyl Sugar Dorbz figures have danced in my head. I got my grubby hands on the debut figure in the first Marvel Collector Corps box, but today I received what I was really waiting for–my Guardians of the Galaxy Dorbz arrived from Entertainment Earth! And now that I've had a chance to photograph and play with them all, I can confidently say that they are every bit as a-DORBZ-able as I expected…
The Right:
Interest in vinyl figures and Collectibles is at an all-time high, and that means that the time is ripe for Funko to expand their horizons and launch some new vinyl figure lines! Of the three new lines launching as part of the Vinyl Sugar brand, the Vinyl Sugar Dorbz are my clear favorite.
While Funko POP Vinyls are beloved and full of personality, they're also larger at 3 3/4″ and more mass-market than collectible vinyls have traditionally been. With the launch of the Dorbz Vinyl Sugar figures, however, the niche for 3″, more limited vinyls has been filled!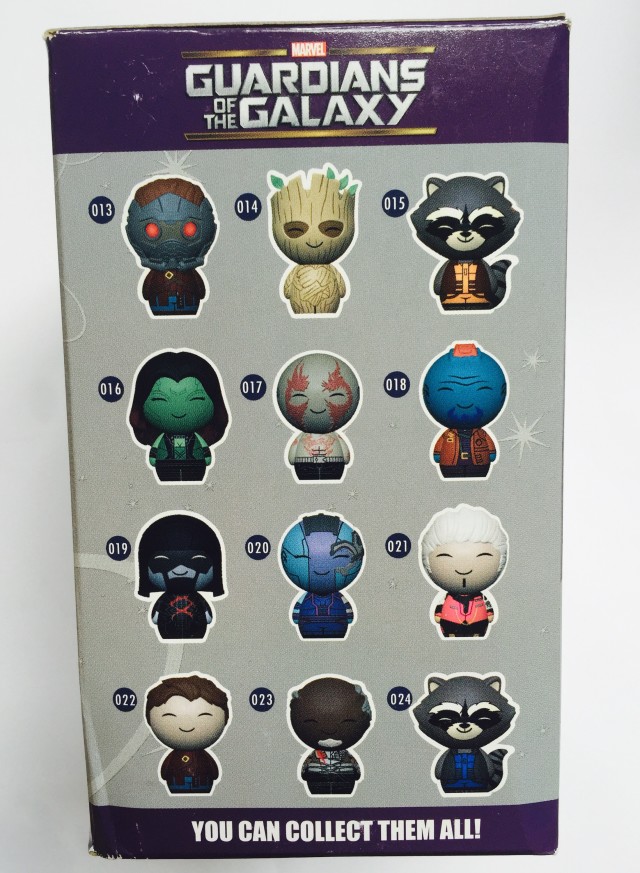 The first full Marvel Dorbz series to be released is the Guardians of the Galaxy Dorbz series (with the first batch of Classic Marvel Dorbz set to ship this summer). The series contains twelve figures, with ten unique characters and variants of Starlord and Rocket Raccoon.
The blue Nova Corps Rocket Raccoon Dorbz was rumored to be a Hot Topic exclusive, but Gamestop has the blue Rocket Raccoon in their systems and is taking in-store pre-orders for it as well, so it's unclear what stores have this particular figure as an exclusive.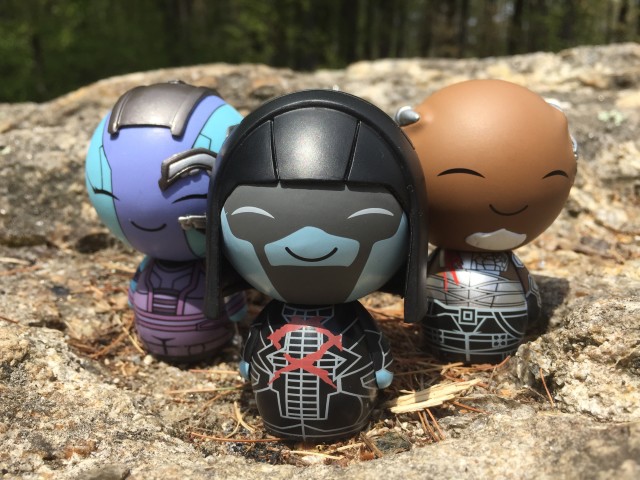 The seven Guardians of the Galaxy Dorbz that I received to start my collection with are unmasked Star-Lord, Drax, Yondu, The Collector, Ronan, Nebula and Korath.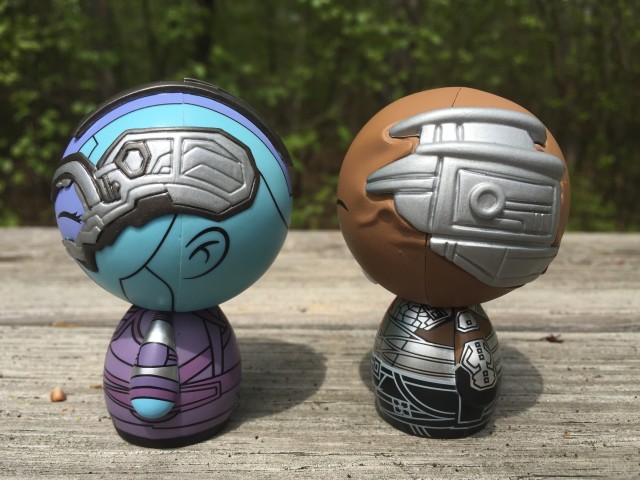 A big thumbs-up for the Korath Dorbz figure as a character selection stand-out, as Korath has not received figures in any of the major toy lines like Marvel Legends, Hot Toys, Marvel Select or even Funko POP! Vinyls. Korath's sculpted cybernetic implants are one of my favorite details on any of the GOTG Dorbz.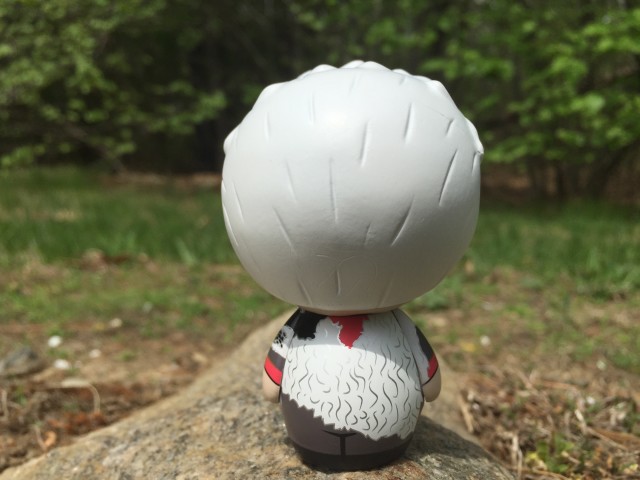 In fact, while every figure features the same body sculpt, they also all have a totally unique head sculpt (besides the two Rocket Raccoon figures). Yondu's goatee and mohawk, The Collector's hair, Ronan's headdress, Nebula's cybernetic implants and Drax's facial tattoos are all well-sculpted and look fantastic.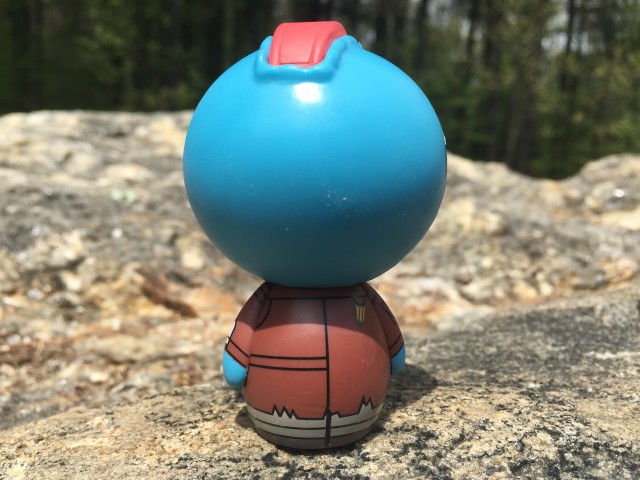 That's not to say that the painted details on the Dorbz bodies aren't great as well though! I was surprised to see the level of detail captured on the figures, including the buttons on the Collector's sleeves, the tattered edges of Yondu's jacket, and the texture on Ronan's cape.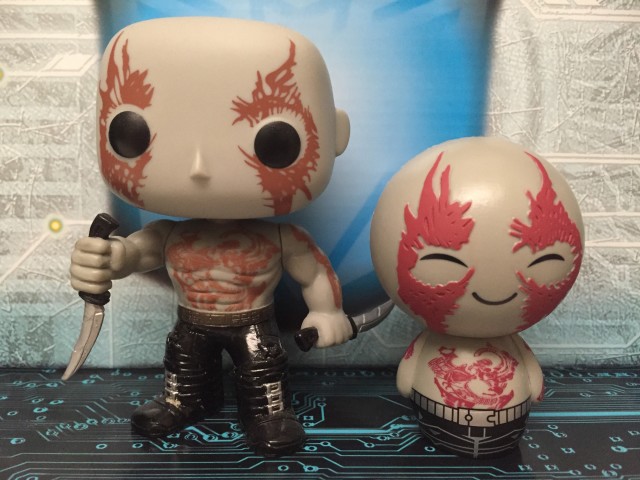 I was especially impressed by the super-detailed and masterfully-applied tattoos on the Dorbz Drax figure's body and arms. Getting that level of detail onto such a small, curved surface is nothing short of miraculous!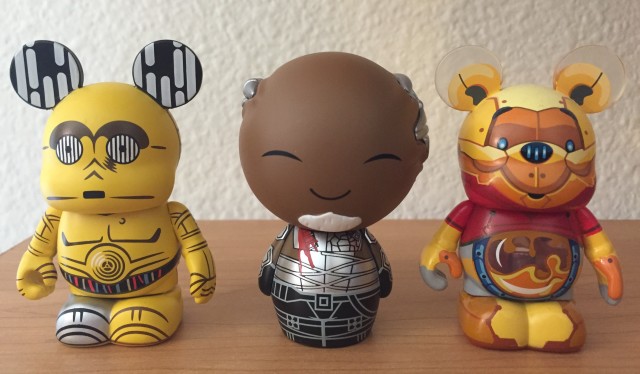 Each Dorbz Guardians of the Galaxy figure stands 3″ tall and is approximately the same size as Disney Vinylmation, Kid Robot, and other similarly sized vinyl figures.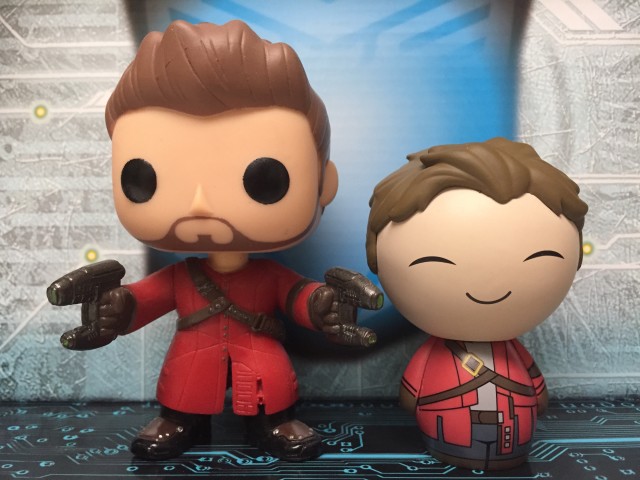 A big advantage to the Vinyl Sugar Dorbz being in this scale is that they take up far less space on a shelf than the larger Funko POP Vinyl figures. You can easily fit several Dorbz vinyls in the same amount of space as one POP Vinyl.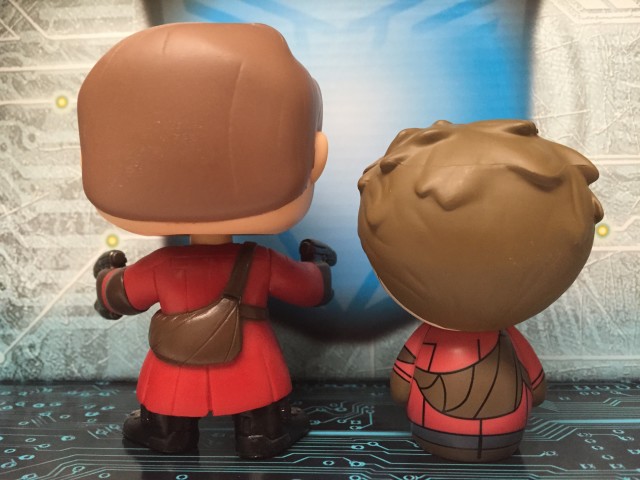 And fans who can't deal with the bobble-head nature of the Marvel POP Vinyls figures can rejoice–the Marvel Dorbz figures are true figurines with one point of articulation (swivel heads) and no bobbles!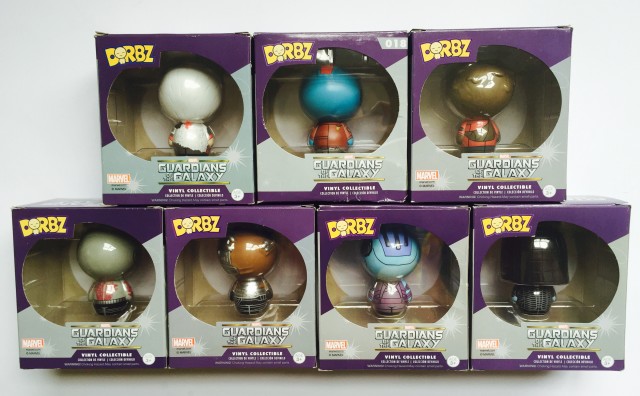 In addition, the packaging for the Dorbz Guardians of the Galaxy figures have one big innovation over that of other vinyl collectible figures (including POP Vinyls): a double window box!
This is a huge boon for collectors, as packaged collectors can see the whole figure without removing it from the box at all, and openers can check for any paint mishaps or defects right in the store before purchasing a figure. Honestly, I wouldn't mind if Funko POP Vinyls and Funko Hikari figures both adopted this style of box.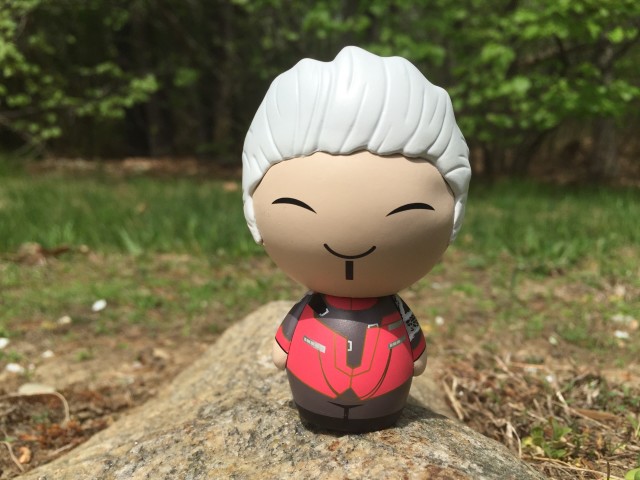 And finally, I just want to overtly assert what's so obvious that I almost forgot to mention it: these figures are some of sweetest, cutest renditions of Marvel characters that I've ever seen. It's not easy to make characters like The Collector, Ronan and Korath "cute", but the Vinyl Sugar designers have done so with these darling little figures.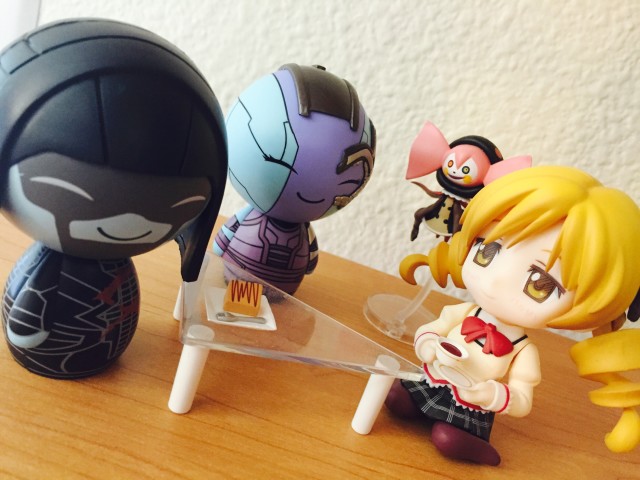 And at an affordable $8.99 MSRP, I wouldn't be at all surprised to see Dorbz figures really take off and become super-popular, perhaps even giving the best-selling Funko POP! Vinyls figure line a run for its money.
The Wrong:
The main things about the Vinyl Sugar Guardians of the Galaxy Dorbz figures that bothers isn't the toys themselves–it's the packaging. Yes, I know that I just got done praising the double-window style of the boxes a few paragraphs ago, but hear me out.
The Funko Dorbz boxes are big–unnecessarily big. Are they smaller than Funko POP Vinyl boxes? Yes. But they're still much bigger than they need to be, which is an odd choice for a series of smaller figures that otherwise would be great for saving space. The boxes are attractive to be sure–but they're also much bigger than the packaging for similar 3″ vinyl figures. They're big enough to build a fort out of. In fact, I did build a box fortress out of them, as shown above!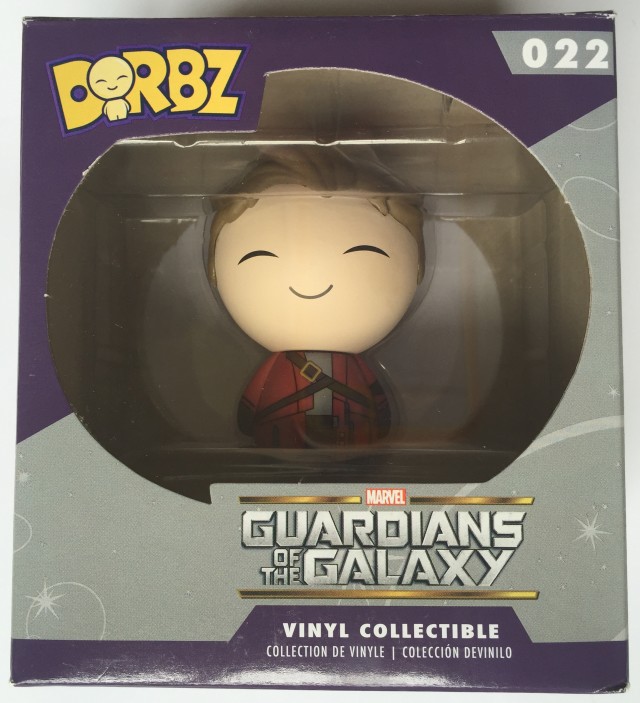 In addition, the boxes felt a bit more flimsy to me than the typical Funko boxes, although I'm not sure if that's due to thinner cardstock being used or the boxes being slightly unstable due to the double plastic windows. I definitely can foresee these boxes wearing out fast, though, if you take your figures in and out of them a few times.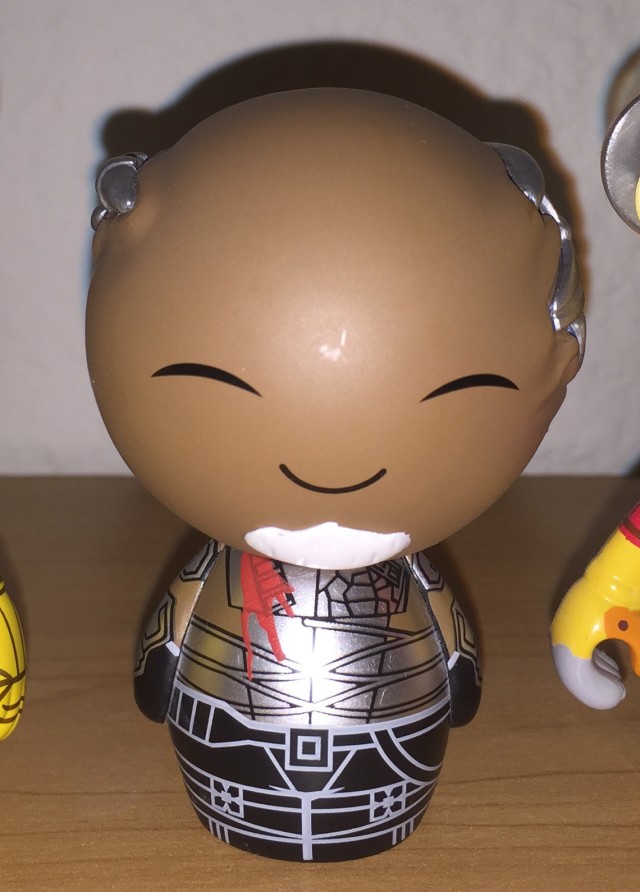 Lastly, there were a few quality-control issues on a couple of my figures, all of which having to do with paint applications.
Dorbz Korath has a shiny brown spot on his forehead which was tough to photograph in natural light, but easy to see in real life and when using the flash in photos. It looks worse than it is when lit up, but it's definitely still noticeable in person under natural lighting conditions.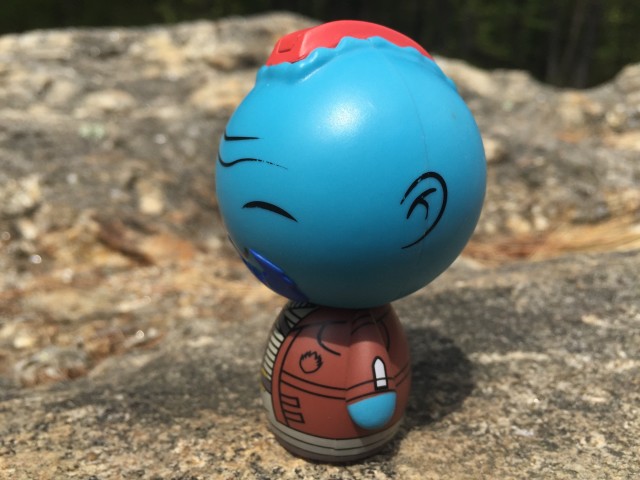 Meanwhile, the poor Dorbz Yondu figure has some black paint missing on his eyebrow and ear, and also has a weird grey smudge on the side of his head.
These are certainly not deal breaker QC issues, but I will be purchasing another Yondu figure, as my OCD just can't cope. If you're crazy like me, you may want to examine the figures very carefully through the convenient double-window box packaging.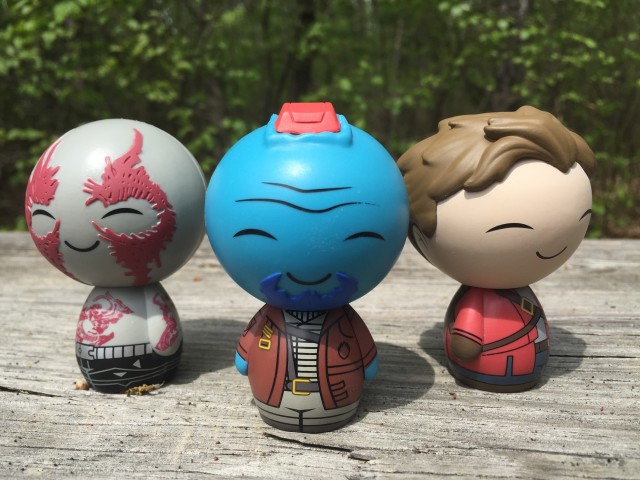 Overall: I really wanted to award this first set of Dorbz figures an "A++" based off of how a-DORBZ-able they are, but the packaging footprint and some paint defects knock them down slightly. Even so, make no mistake–these are some of the cutest Marvel figures released this year–or any year, and each figure has tons of personality and fun details. I'm thrilled to have these Guardians of the Galaxy Dorbz in my collection, and can't wait to see what the future holds for the Vinyl Sugar Dorbz Marvel lines.
GRADE: B