We're still more than a third of a year away from Christmas, but the question of what the "cheap holiday gift of choice to give superhero fan coworkers and casual friends" for 2015 is has now been answered. I really should have seen this coming, but just like with the Mandarin in Iron Man 3, I did not: a red-and-green, Christmas themed Guardians of the Galaxy Funko Holiday Dancing Groot POP Vinyl is now up for order!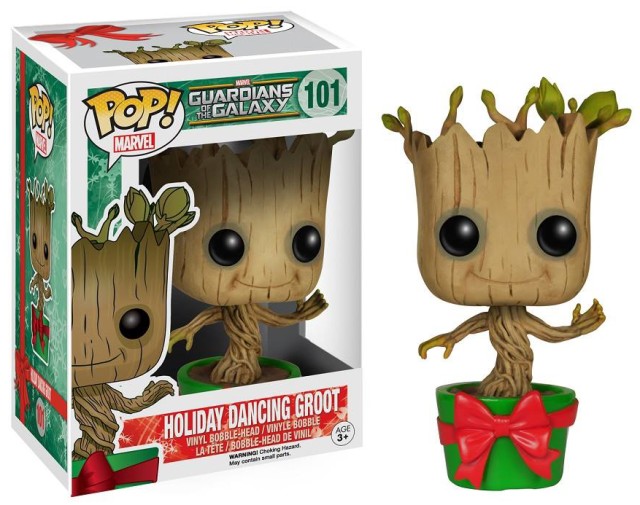 With Funko having already released a double-digit number of vinyl Groot figures across their various lines (and then some), I was beginning to think that that well had been bled completely dry, but Funko surprised me this week by announcing a new–and fitting–new addition to the Groot army: the Holiday Dancing Baby Groot POP Vinyls figure!
See, Groot's a tree, and everyone gathers around and decorates a tree for Christmas! Get it?!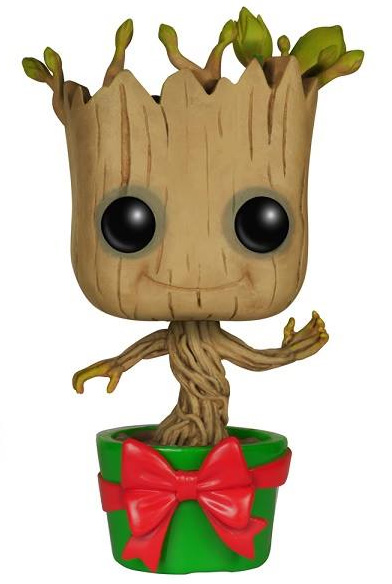 This is, in essence, the same POP Dancing Groot that Funko has released thrice-over during the preceding year, but with one big change to the tooling: an additional sculpted red ribbon around the pot.
I hit the saturation point on Baby Groot toys months ago, personally, but this will be an instant purchase for me (in fact, I've already got it pre-ordered), as I'm a Christmas nut and have zero willpower to resist a shameless Christmas repaint cash-in.
That said, I do wish Funko had added a string of lights or something to the Holiday Groot POP to make him a bit more differentiated (and Christmas Tree-like). Oh well–at least he's got super-cool and unique "Christmas gift" packaging with ribbons and Christmas colors on it!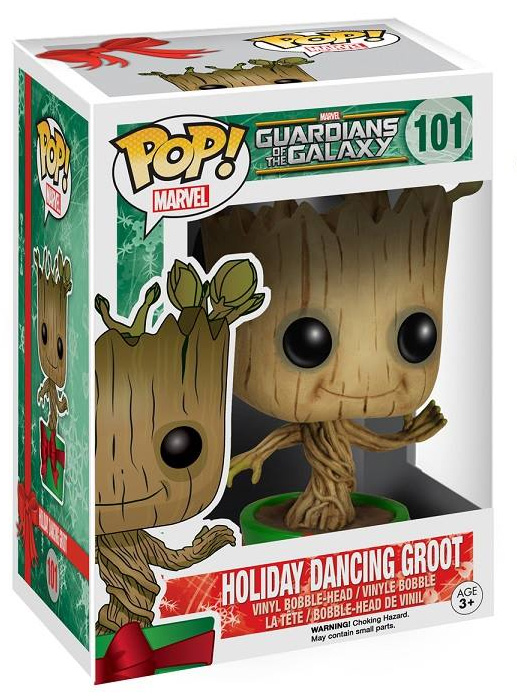 The Holiday Dancing Groot Funko POP! Vinyl figure is now available for order, and is scheduled to arrive in September/October 2015. POP Vinyls tend to get wiped out in stores around Christmas, so if you want some of these for your friends or loved ones, you might want to pick them up early. I'm going to have to ask my loved ones to not buy me this little guy, as I know otherwise I'm gonna end up with a whole forest of these trees.
Are the festive ribbon on the pot and new green and red color scheme enough to sell you on yet another Funko POP Vinyls Dancing Baby Groot figure, Marvel collectors? If this turns up under your tree at Christmas, will you be delighted or disappointed?