Amidst hundreds of new collectibles on display at San Diego Comic-Con 2015 last month, I know one absence that really bummed out a lot of Marvel collectors was that of any never-before-seen Marvel Select figures (as we've already seen all of the figures coming from that line for the rest of 2015). But while Diamond Select Toys had zero future Marvel Select action figures to reveal, they did premiere a major limited-edition set from one of their other collector lines, and one month later, it's up for sale: the 8″ Deadpool Retro Figure Collector Set is now up for order!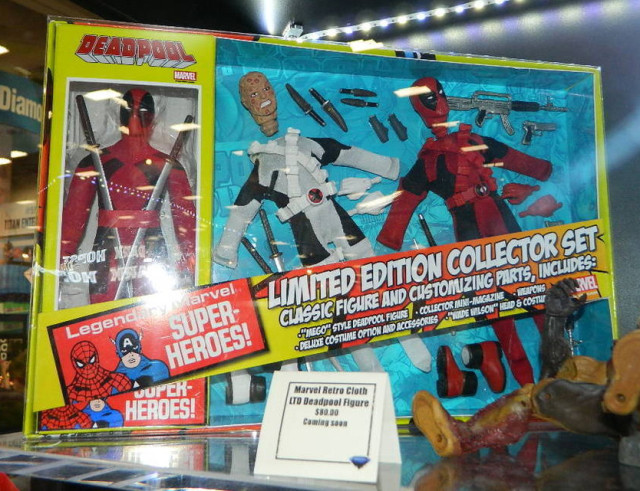 Because the MEGO 8″ Superheroes line was a thing before I can remember (seeing as how I hadn't been born yet), the DST Retro 8″ Marvel figures don't have the same nostalgia factor going for them with me as they do with older folks. But perhaps that's why I feel so psyched about the next figure up in the MEGO-inspired Diamond Select Toys Retro figure: because when MEGO was a thing, he hadn't been created yet either!
Deadpool didn't make his first appearance until well over a decade after the fall of the legendary MEGO, but just like his current comic series is going back and adding 1970's tales for Wade Wison, now he's getting his own 70's style doll–complete with alternate heads and clothes!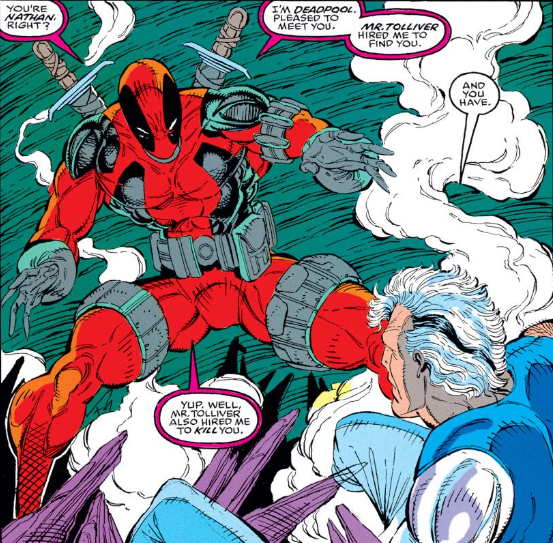 You get three costume options for displaying this Retro Deadpool: original costume (New Mutants/X-Force), X-Force (Grey) and Modern. I have great memories of Deadpool from all three eras, so I'm going to have to change his clothes regularly (that sounds a little more creepy than I like, though). Sadly, the original Deadpool costume option will not come with crazy, disproportionate muscle body to emulate the Rob Liefeld art it is based upon. Alas.
Along with a respectable arsenal of weapons (Wade stole Raphael's sais!), the figure also includes a heavily-detailed unmasked Wade Wilson head. And unlike the Koto Lady Deadpool statue we saw earlier in the week, poor Wade Wilson is not a looker. *barf*
I do think it's a little bit peculiar that a grey X-Force Deadpool mask doesn't seem to be included with this set at all, as I would think it would make more sense to include that option instead of two red Deadpool masks plus the unmasked head. Hmn.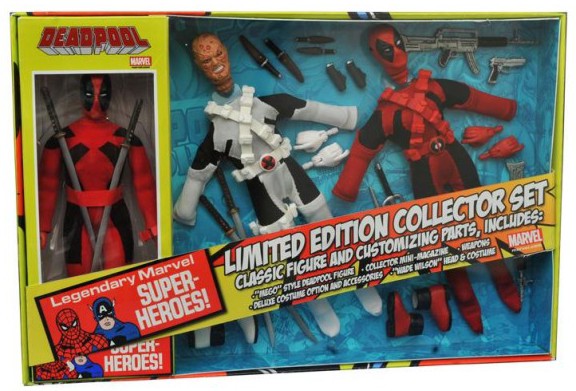 The Diamond Select Toys Deadpool Retro 8″ Figure set is now available for pre-order, and is scheduled to be released in January 2016. This product is limited to 3,000 sets produced, which really isn't all that much for an ultra-hit character like Deadpool. I'm not convinced at all that it will sell out in the pre-order stage with an $80 price-tag, but with a character as popular as Deadpool, who knows? (Those who pre-order the set from BBTS or EE early can get a $10 discount, by the way.)
How do you like the latest addition to the Retro Marvel Diamond Select Toys 8″ figure line, collectors? Will you be kicking off 2016 with this Deadpool Collector Set, or are you saving your future collecting dollars for use elsewhere?