The New York Toy Fair 2015 isn't for another month, but it seems that the Hasbro Avengers: Age of Ultron toys just couldn't wait that long to make their grandiose debut! Of course, it's not the Marvel Legends figures that everyone's been waiting for that leaked out onto store shelves early. No, it's a slightly less beloved line–the Avengers Age of Ultron Titan Hero Series! But while these Avengers AOU Titan Hero Tech figures will absolutely not be for everyone, they do give us our very first look at a Hasbro Hulkbuster Iron Man figure…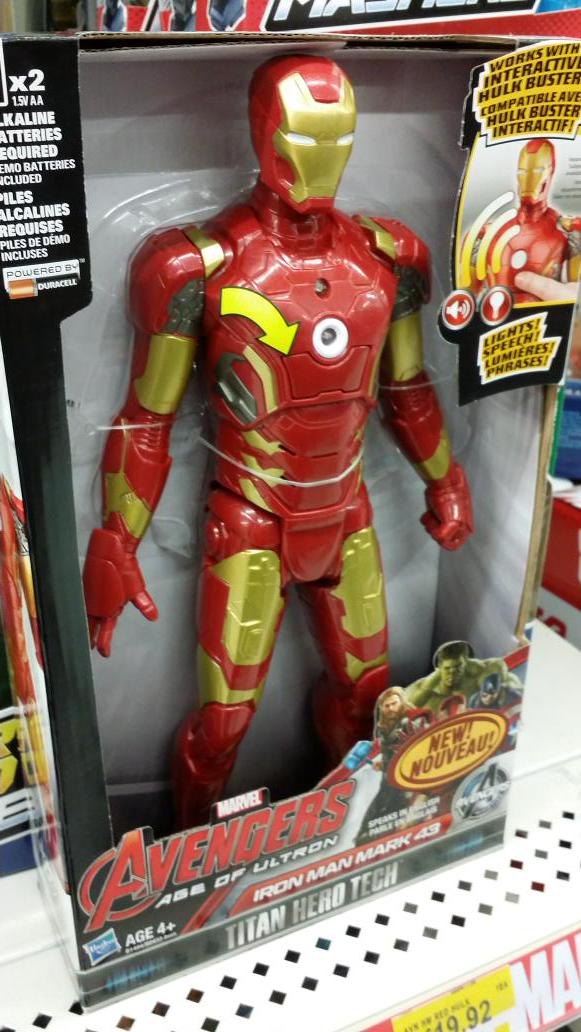 The Hasbro Marvel Titan Hero series of oversized figures is "not exactly" every collector's favorite line of Marvel action figures. But what they lack in paint apps and articulation, they make up for in sheer size and affordability, making them a favorite of kids and parents (and a fair number of collectors, believe it or not).
Thus, expanding the series for an Avengers Age of Ultron Titan Hero figures movie line was a no-brainer on Hasbro's part. But it's not just regular Titan Hero Age of Ultron figures that we'll be getting–Deluxe Electronic figures (dubbed "Titan Hero Tech") will be arriving at retail this winter! In fact, one Walmart store already broke street date and put an Iron Man Mark 43 Titan Hero Tech figure out on the shelf!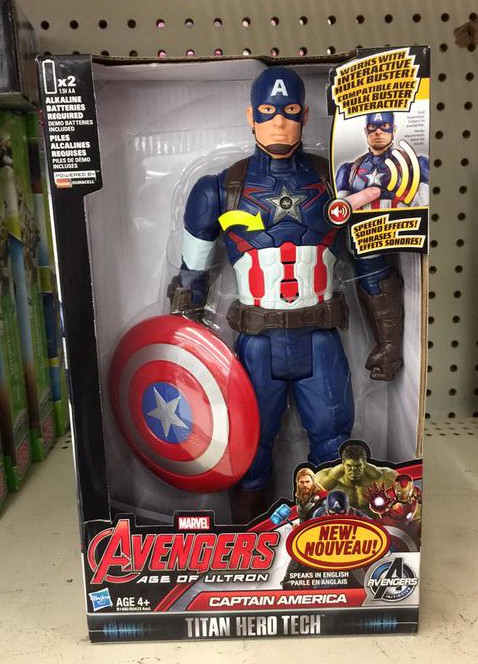 Twitter user unBLESSEDdata found the Titan Hero Iron Man Mark 43 figure at his local Walmart store, where it's priced at $19.92 (which is a very odd price, actually, what with ending with a "2" and all). The figure looks to be the usual 12″ Titan Hero size, but with built-in electronic speech and lights.
In addition, a different Walmart location ignored the street date on these figures and put the Captain America Titan Hero Tech figure out early. While the front of the box shows Hulk alongside Thor, Captain America and Iron Man, the actual figures on the back of the package don't include Hulk at all. Hmmmm. Very odd, especially considering that…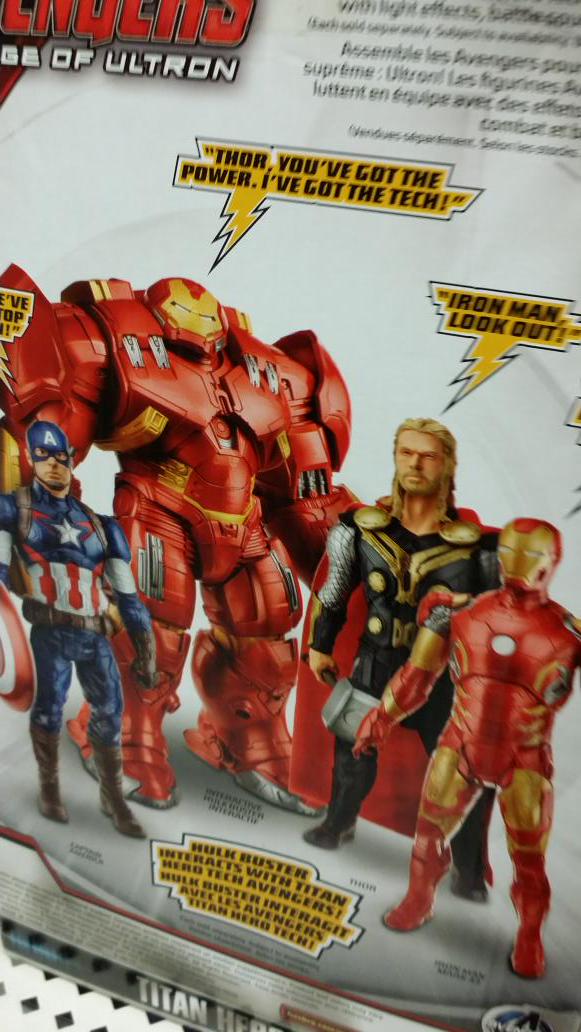 The Captain America and Mark 43 Iron Man Titan Hero action figures themselves aren't the big news here, though–it's what's announced on their boxes: the Interactive Hulk Buster Iron Man figure! The Interactive Hulkbuster Iron Man Titan Hero figure looks to be several inches taller than the other figures, and can apparently respond to the electronic speech dialogue that the other Titan Hero Tech Avengers figures have.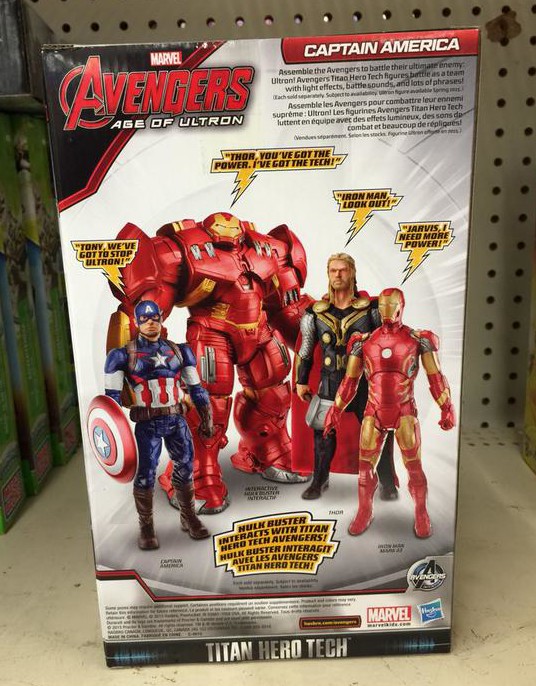 I'll post an update here and to the Marvel Toy News Facebook Page once the actual Titan Hero Hulkbuster Iron Man interactive figure turns up on some non-street-date-abiding-store shelf somewhere, so stay tuned if Titan Heroes (or Hulk Buster Iron Man) are your thing.
What do you think of our first glimpse at a Hasbro Hulkbuster Iron Man action figure, Marvel fans? Are you considering picking up this sure-to-be low-priced Hulkbuster Iron Man Titan Hero figure, or are you holding out for something a lot more high-end (and a lot more expensive), such as the Hot Toys Hulkbuster Iron Man?