Sometimes there's a huge intersection between what kids love and what hardcore collectors love… and sometimes there isn't. While the Marvel Titan Hero line has saleswise been a spectacular success with the masses, the line hasn't exactly been lovingly embraced by adult collectors. But last week I got a pair of more collector-oriented exclusive Titan Hero figures from Entertainment Earth, and this duo just may earn older collectors' attention: it's the Titan Hero Iron Legion & Ultimate Hawkeye figures!
The Right:
While the Marvel Titan Hero 12″ figures are a mega-hit with kids, there's been a bit of a disconnect with many adult collectors this far. So it definitely came as a bit of a surprise when an online retailer exclusive pair of Titan Heroes were announced for Entertainment Earth!
Although older collectors traditionally haven't been enamored with these low-priced sixth scale figures, Hasbro may be working to change this attitude toward the line. And what better way to do that than with online exclusive characters that will appeal more to collectors than to children?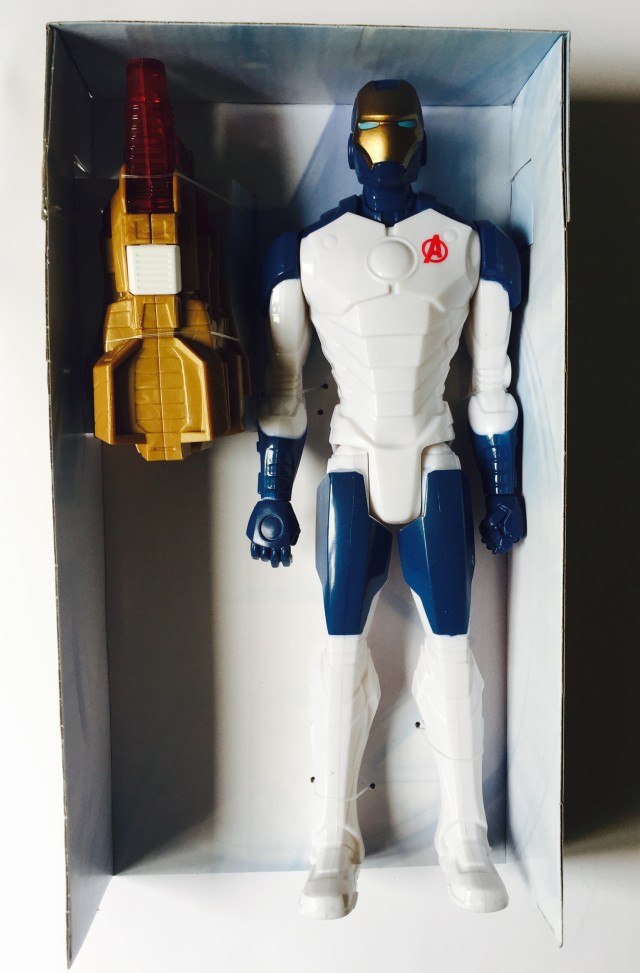 First up, we've got the figure that's called "Beam Blaster Iron Man" on his packaging. But let's be honest here: this is an Iron Legion Drone from the Avengers: Age of Ultron movie. It's not "just another Iron Man", and I'm glad that it's not.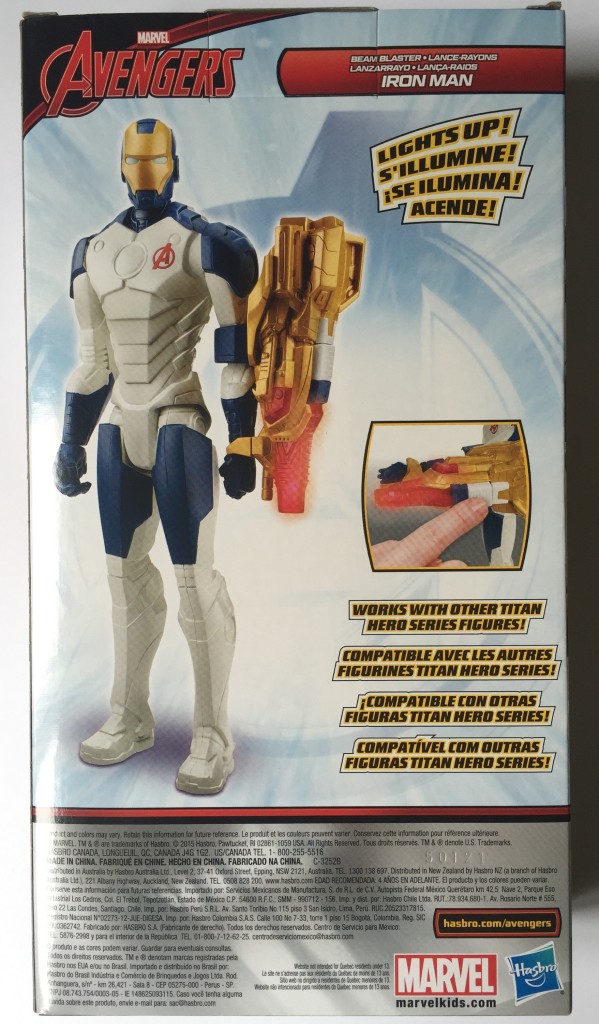 See, while I loved the Iron Legion armor design from the movie, there's been a grand total of one other Iron Legion figure planned that's 4″ or bigger–and that's a $200+ Hot Toys Iron Legion figure. Not exactly something that many can afford to army-build (sadly, that includes me).
But there is some hope for filling out those displays requiring the complete quintet of Iron Legions–and that's this exclusive Titan Hero Iron Legion figure!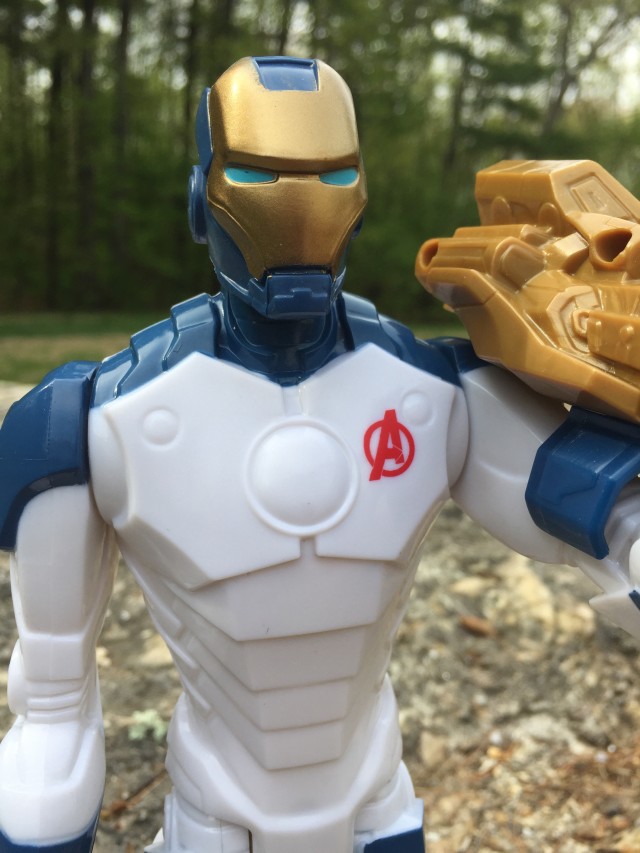 We don't get a whole lot of white Iron Man armors (in fact, Starboost Iron Man was the only primarily white suit among the 43 Iron Man armors in Iron Man 3), so Beam Blaster Iron Man's white, blue and gold color scheme is a definite eye-grabber.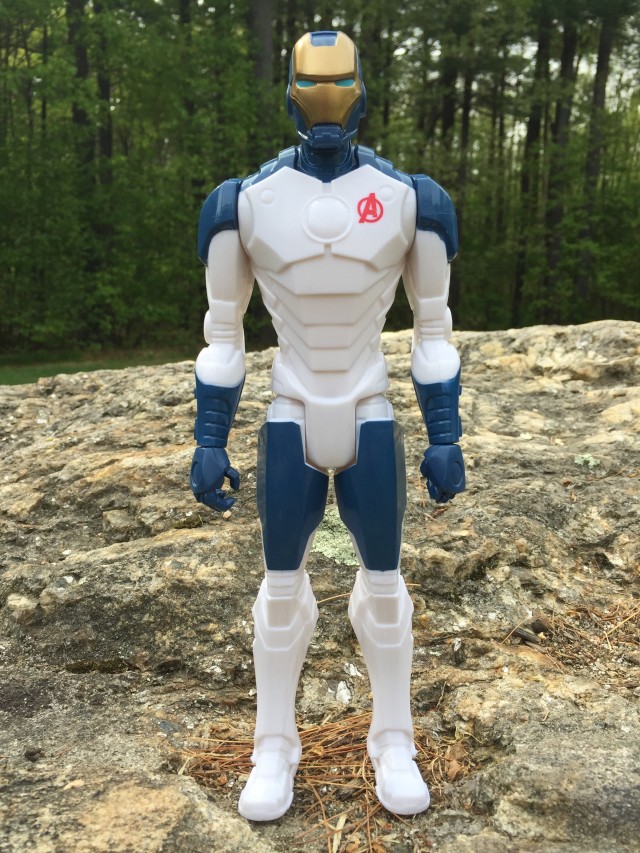 And because the Iron Legion design is pretty simplistic in Avengers Age of Ultron, this Titan Hero figure really doesn't feel like it's missing all that much paintwise besides some weathering (at least, not from the front).
The designated numbers are missing off of this figure, but I think I actually prefer not having the numbers painted on the figures to having every Iron Legion figure produced sporting the same number designation (a la Hot Toys).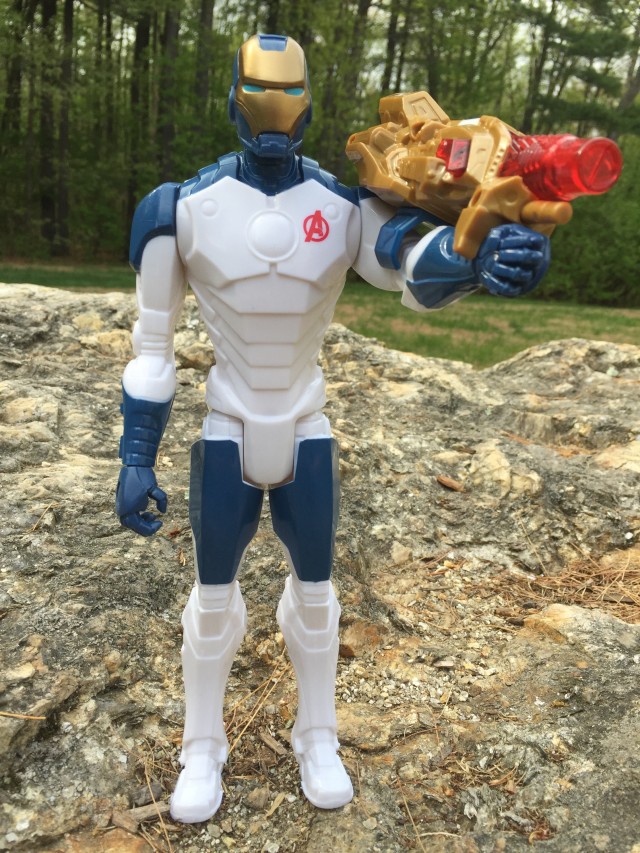 Iron Legion includes one accessory–a light-up beam cannon (hence the name "Beam Blaster Iron Man"). The cannon attaches firmly to the Iron Legion figure's arm with little or no chance of it falling off, and the electronic feature activates easily with a push of the big button.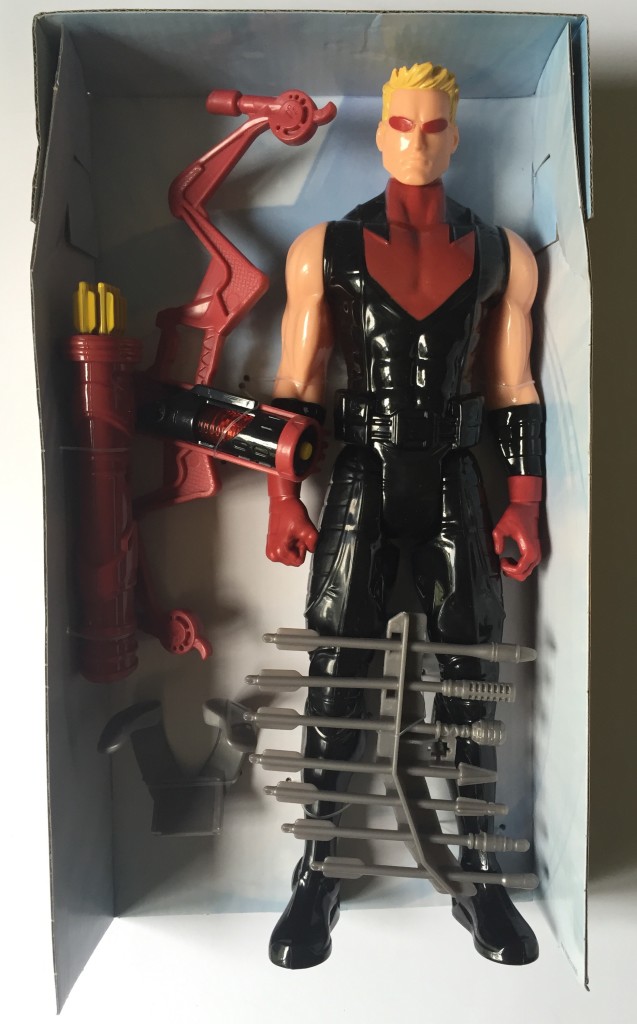 Being sold alongside the Titan Hero Beam Blaster Iron Man figure (but in his own individual box) is Lightning Bow Hawkeye. But what's call this figure what it really is: Ultimate Hawkeye. There's only been one mass-released Ultimates Hawkeye released ever before in his black and red costume, and that was the Marvel Masher Hawkeye that warmed shelves for what seemed like eternity.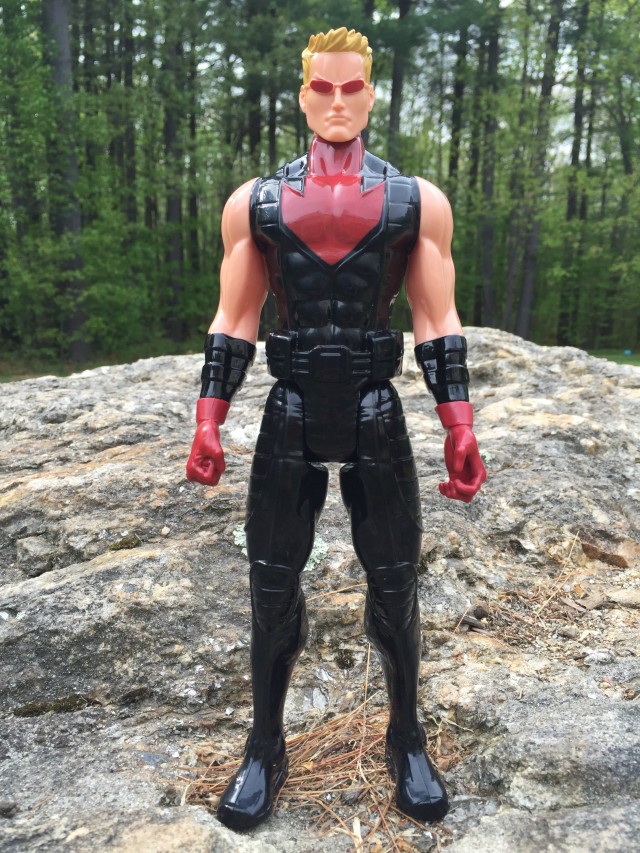 As such, I like offering Titan Hero Ultimate Hawkeye an exclusive: he won't rot on pegs with kids who don't know this version of Hawkeye passing him by, and comic book readers familiar with the character can pick him up online if they want him. Sounds like a plan to me!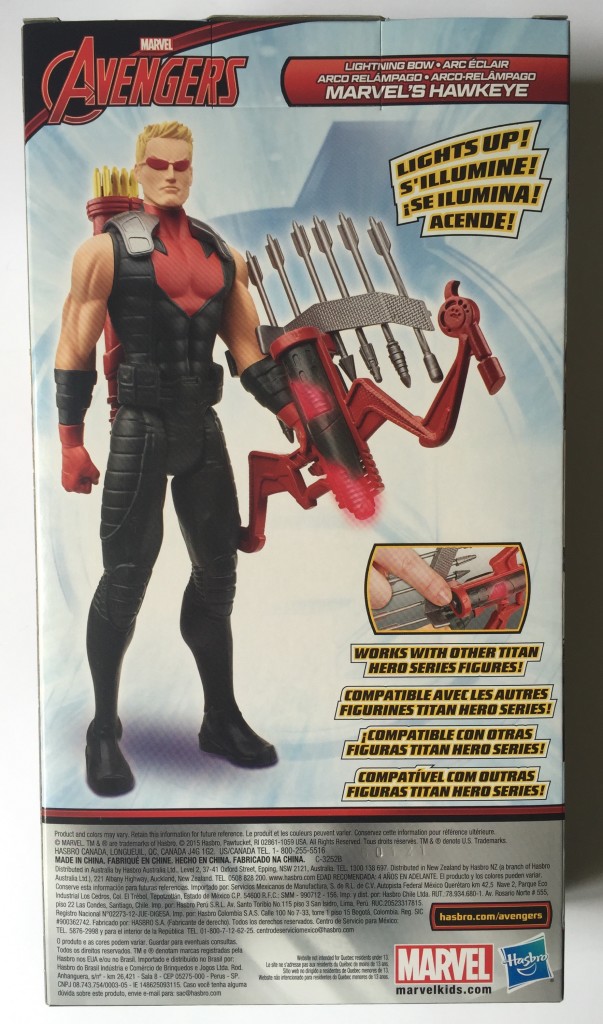 The Ultimate Universe Hawkeye has a really simplistic costume in the comics, and it's replicated pretty well on this figure. The red's here, the black's here… even with the simplicity of a standard Titan Hero figure, Hawkeye's costume is complete.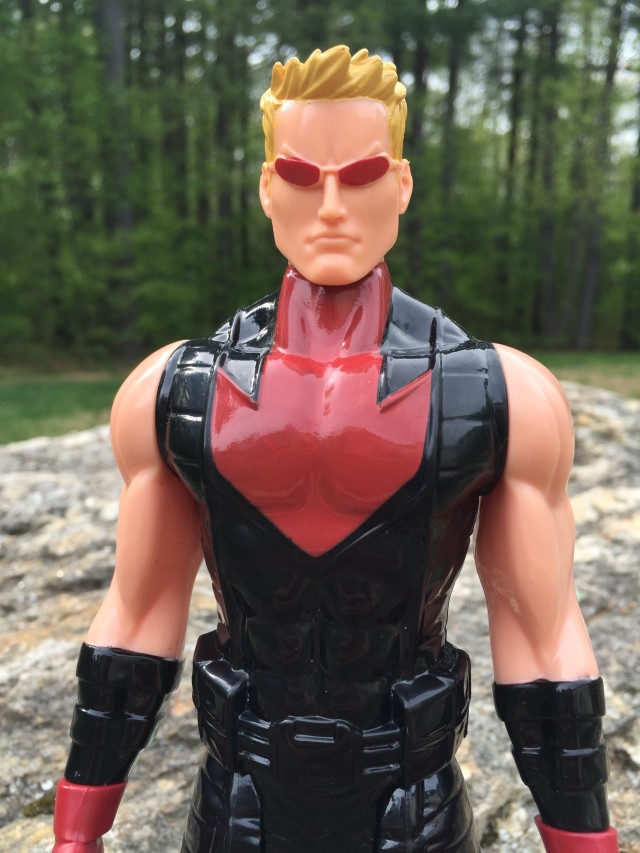 Though I was never a fan of this head when it was released for the regular version of Hawkeye in the Hasbro Titan Heroes line, I actually feel like this sculpt works far better as an Ultimate Hawkeye portrait than it does as a 616 comics-based, cartoon-based or Jeremy Renner Hawkeye head sculpt.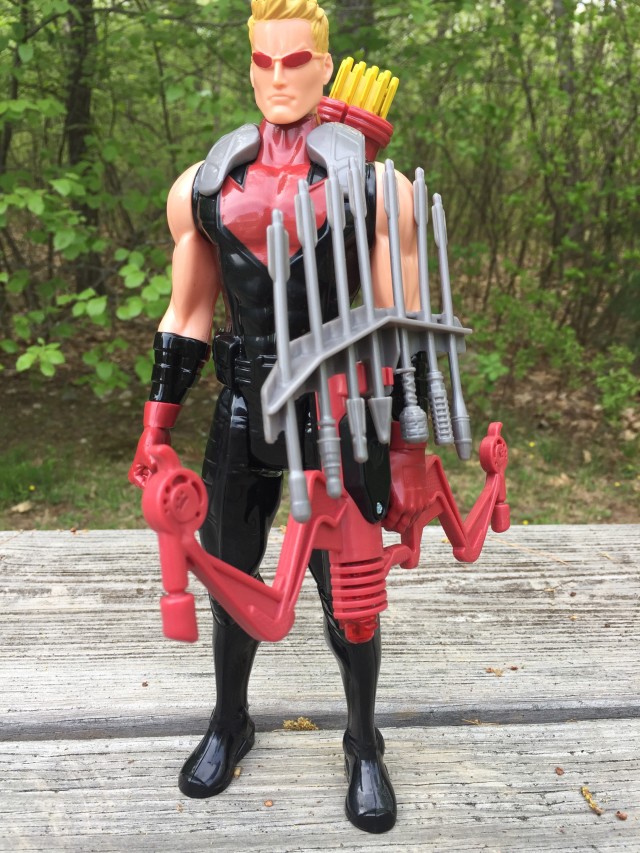 Hawkeye includes three accessories, with the best one being the biggie: a light-up bow with a ton of trick arrows attached. The box is red with black highlights and grey arrows, so it actually has a bit of color to it, and snaps into place tightly on Hawkeye's arm.
You'd think that Hawkeye would look bizarre carrying a fully-loaded bow like this, but I think it looks pretty fun (as a toy–not as an "accurate" collectible or anything like that).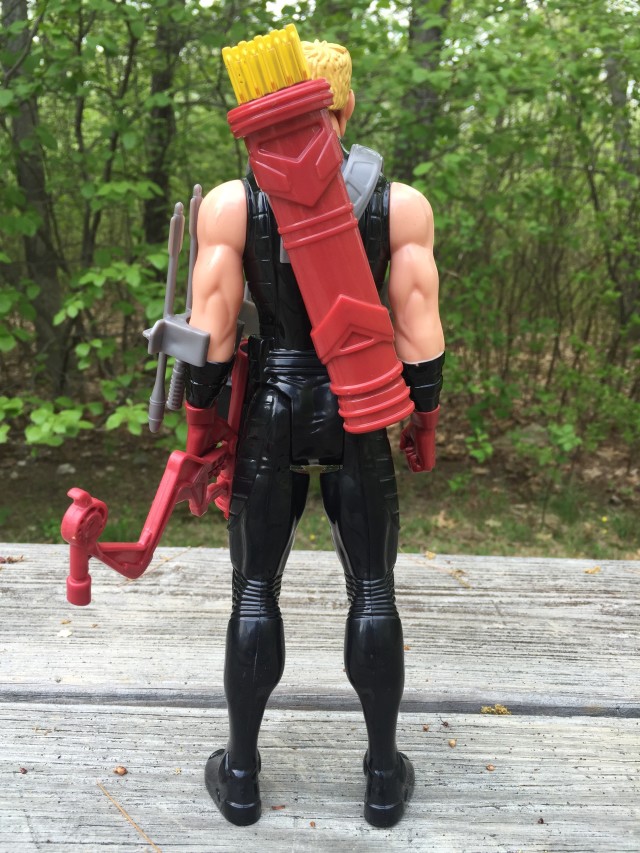 Hawkeye also includes a grey harness and a red quiver that can attach to the harness and sit on his back. It's a weird choice giving Hawkeye a harness rather than just drilling a hole in his back, but the harness isn't too jarring once you get used to it. I do think it's odd that only the arrows in Hawkeye's quiver have yellow ends, though.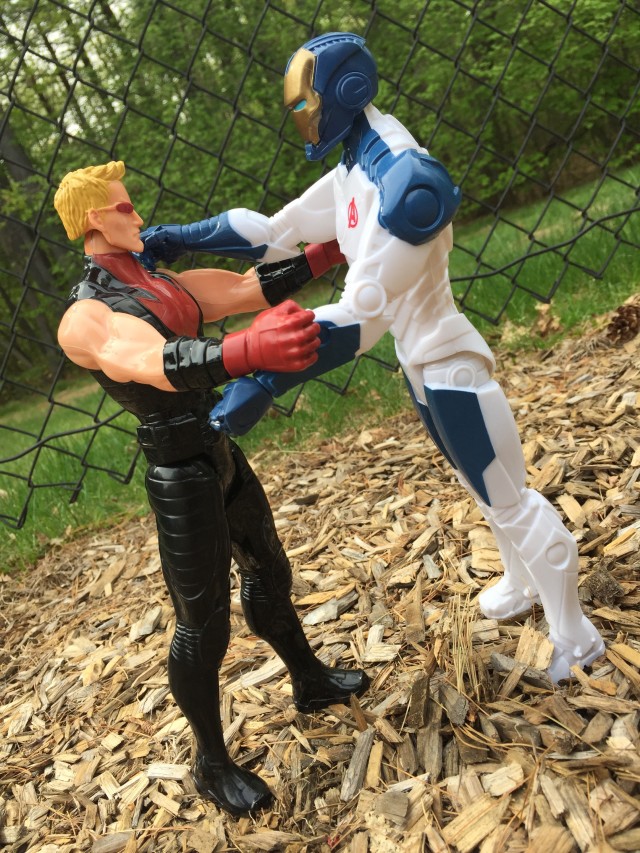 I was surprised to learn that neither of these figures have the 5 points of articulation I was expecting–they have 7! Both figures have articulated heads, shoulders, wrists (unexpected!) and legs. It's not a ton of articulation, but it is more than I was expecting and allows the characters a bit more personality when being posed. And for a 12″ figure costing under 20 dollars, it's tough to be too hard on the articulation scheme.
The Wrong:
For high-end collectors who hate this style of figure to begin with, the weaknesses in these 1/6 figures are pretty obvious, so I'm not going to drone on and on about them: the sculpting on these figures is not super-detailed, the articulation is really limited and the paint apps are minimal.
For those who are just after some fun and affordable larger-sized figures, there are far fewer flaws in these figures.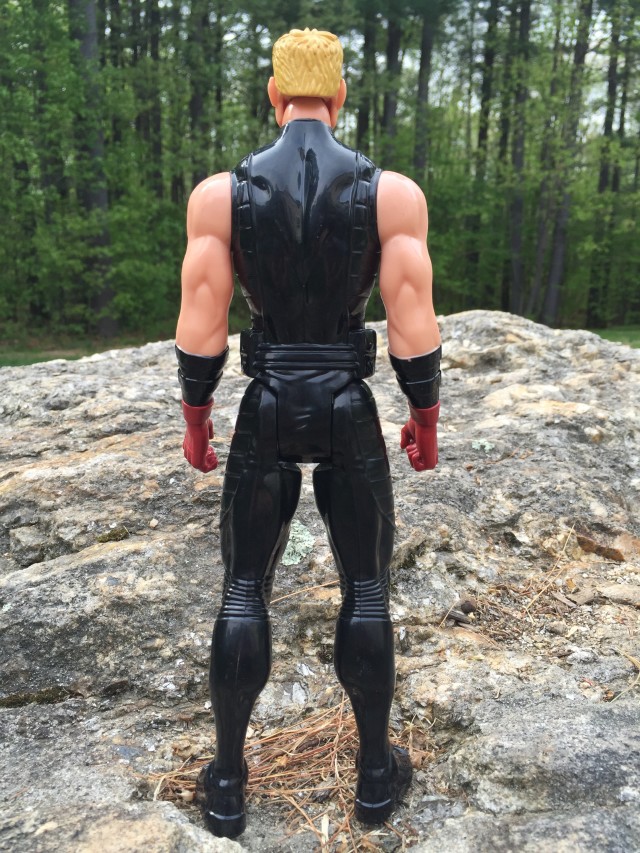 As these are Deluxe Electronic Titan Hero figures that cost close to twice the cost of a regular Titan Hero figurine, I was disappointed to see that there still aren't any paint applications on the back of the figures. Lightning Bow Hawkeye really doesn't need any paint on his back, but the Beam Blaster Iron Man Titan Hero (Iron Legion) looks a bit bare on his back side without deco.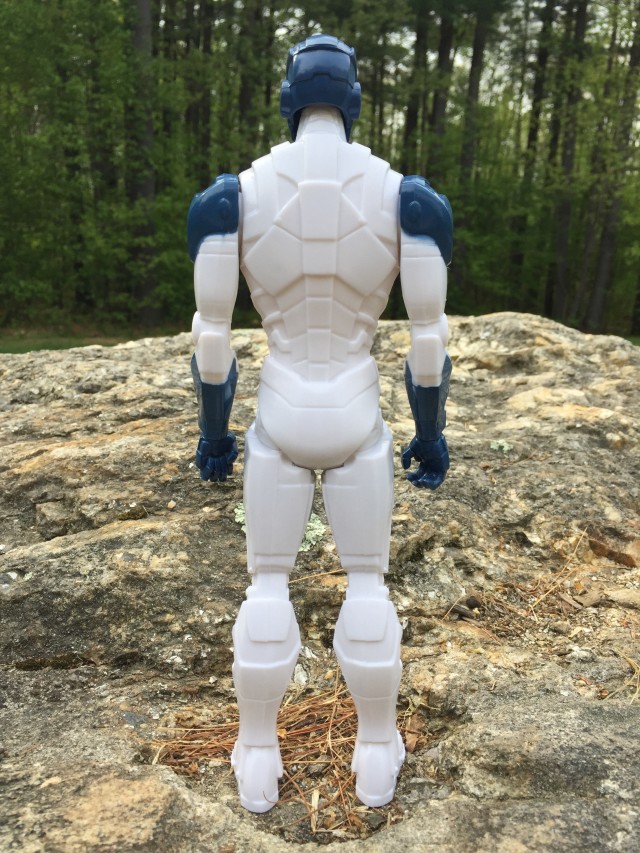 These figures will almost always be facing forwards, so it's not a big deal, but I'm a fan of the all-over design of the Iron Legion armor, so it's a bit of a bummer to not have the back of the figure be screen-accurate.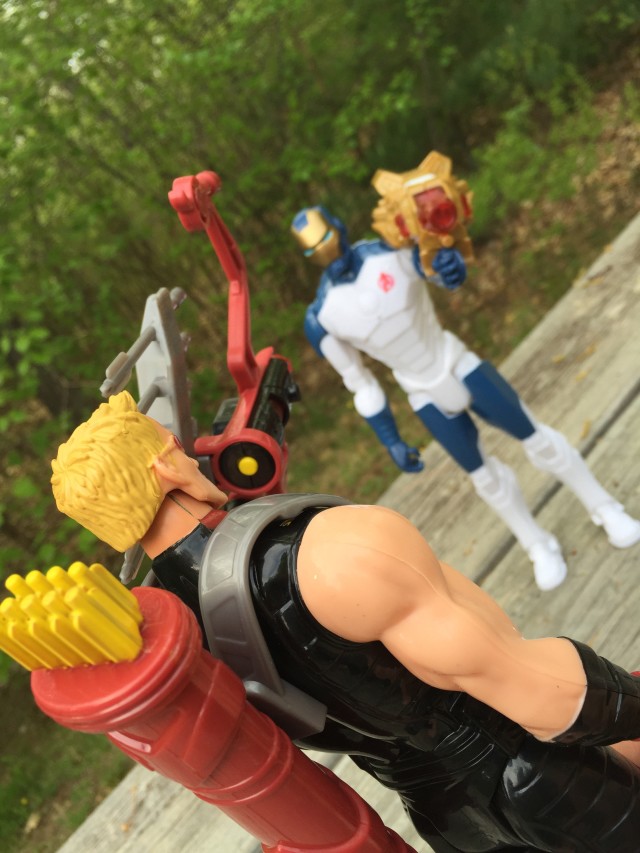 Also, I'm not thrilled with where the button to activate the electronics on Hawkeye's bow is–it's a little bit difficult to reach around to the back of the bow and touch the little button while Hawkeye is holding the weapon, which is more frustrating than you might think. I much prefer how the activation button for Beam Blaster Iron Man's cannon is huge and right on top of the accessory.
Finally, I wish that these two Marvel Titan Hero exclusives were sold individually rather than as a pair. I'd love to own a couple more Iron Legion/Beam Blaster Iron Man figures, but if I want two more Iron Legions, I have to buy two more Hawkeye Titan Heroes as part of the package. I think the Iron Legion figures would sell out much faster of sold separately, so it's disappointing that it's all or nothing with this duo.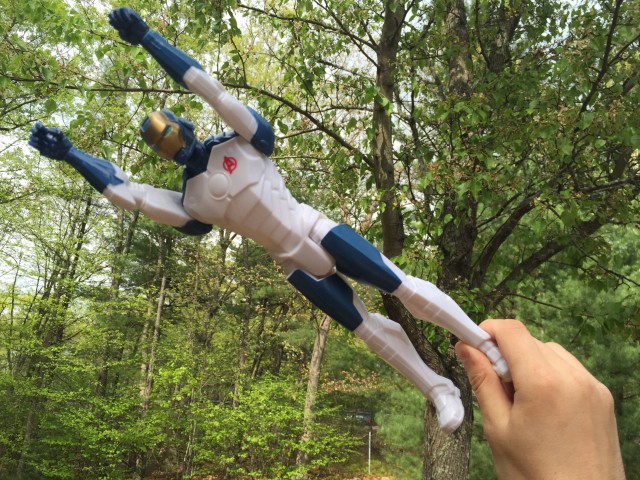 Overall: There are some rare cases where I don't feel that assigning a usual grade will do a product justice, and this is one of those times. When it comes right down to it, those who hate this style of Titan Hero figures will  hate these figures, and those who are fans of the line will likely love them.
Overall, I think that the Marvel Titan Hero Beam Blaster Iron Man (AKA Iron Legion) may be my favorite figure released in the Titan Heroes line, with Lightning Bow Hawkeye (AKA Ultimate Hawkeye) being a well-executed variant as well.
For those who outright hate the Titan Hero figures as a whole, well… you'll probably hate these too. But for those of you who have kids who like to have fun with their toys, would like a large-scale Iron Legion Drone for under $200 or who want the first major non-Mashers Ultimate Hawkeye figure ever made, these earn a solid recommendation.
GRADE: N/A