Good news: Hasbro officially unveiled their first toys tying in to this summer's Ant-Man and the Wasp movie this week. Bad news (from a certain point of view): None of those toys are 6″ Marvel Legends figures. We're going to be waiting a bit longer (likely until New York Toy Fair 2018 in two weeks) to see what Hasbro has in store for adult collectors as far as Ant-Man & Wasp movie toys go, but in the meantime, let's take a look at the Titan Hero figures, role-play items and 12″ action figures that are on the way…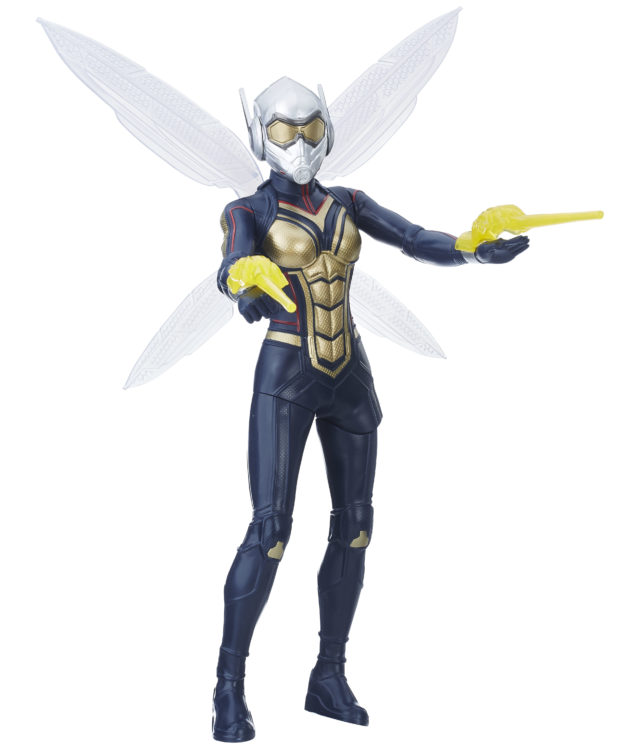 Real talk: the popularity and sales of the Marvel Legends Ant-Man series of figures from 2015 didn't exactly set the world ablaze. So when we reached 2018 and there were still zippo rumors about a mass release wave of Marvel Legends Ant-Man and The Wasp figures, I was not surprised.
I'm sure we'll get a couple figures folded into the Avengers Marvel Legends Infinity War waves later this year, but as far as a whole, devoted series of Ant-Man and Wasp Legends go… I don't believe that's in the cards.
That said! That doesn't mean we're not getting any mass-release Ant-Man & The Wasp movie toys–Hasbro actually had some fun stuff whipped up… for the kiddos!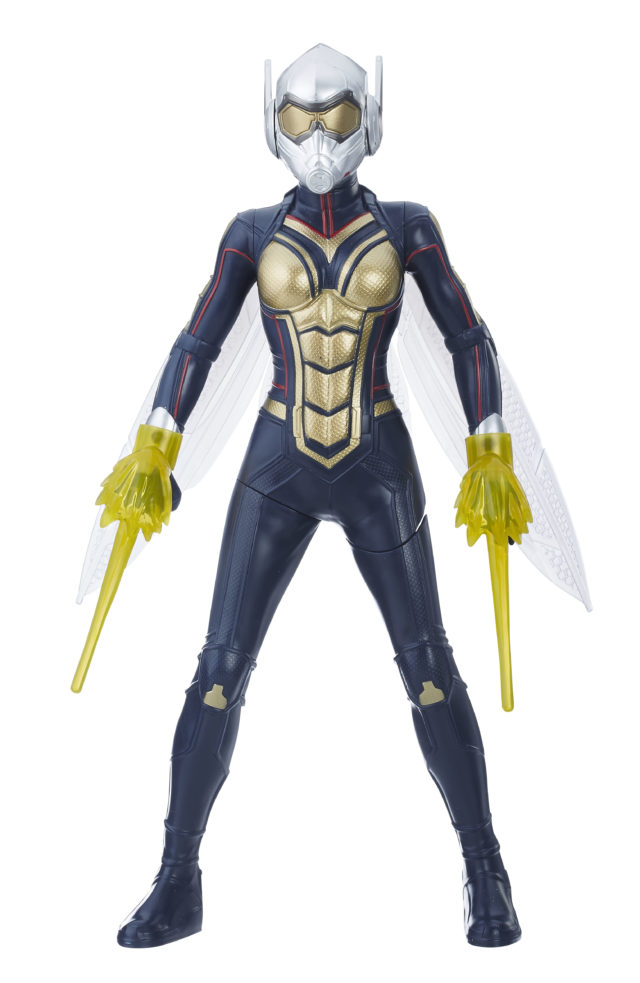 The most interesting toys Hasbro has revealed from the movie thus far are definitely the first toys of the MCU Wasp movie design that we've seen to-date. Rather than the tried-and-true "electronic talking" 12″ action figures we're accustomed to seeing for kids, the $20 Wasp with Wing FX will feature wings that flap when you squeeze Wasp's legs.
For a $20 12″ figure, the paint and detail on this FX Wasp look decent–I think Titan Hero fans will be pretty happy with this figure.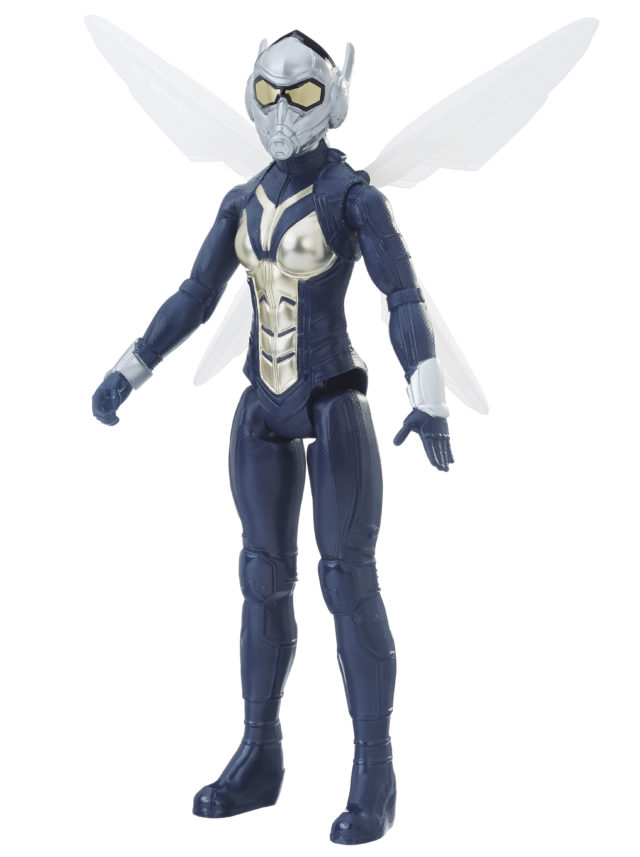 But–! For those who don't want to drop a whole Andrew Jackson on a Wasp 12″ figure, there's also a standard $9.99 MSRP Wasp Titan Hero on the way. This version has much less detailed paint deco, but she does still have wings and the price is certainly right.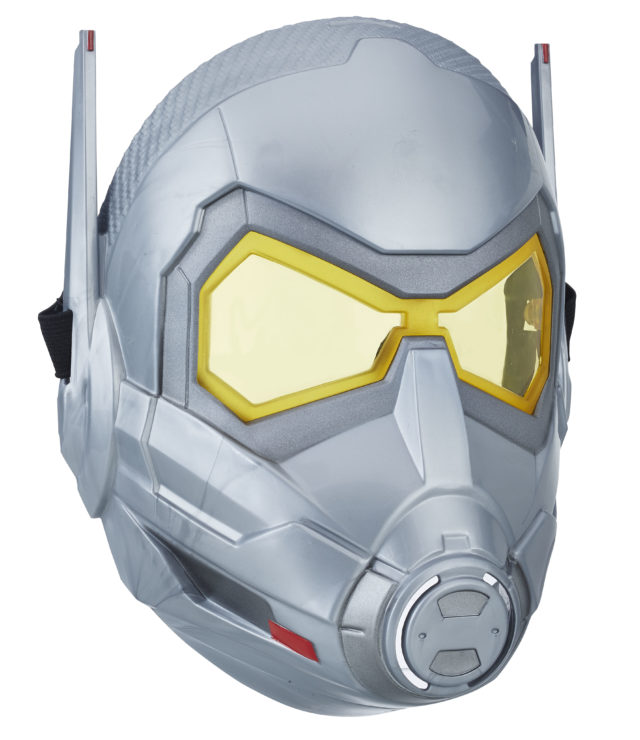 Rounding out the Wasp toys, we've got a basic Wasp mask! It's a mask… with a strap! This is nothing fancy (we are talking about a $10 mask here), but it's really nice to see a role-play item at all for a female Marvel superhero.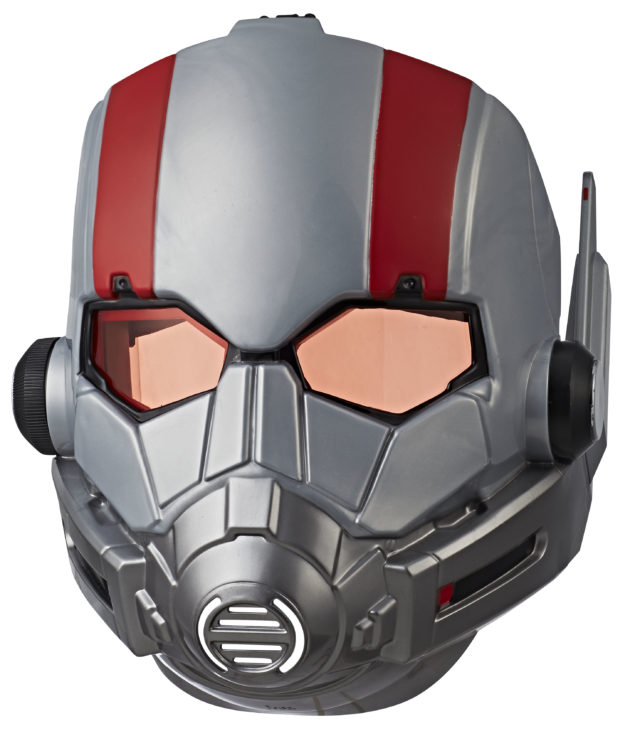 Getting back to the sausage side of things, We've got the "less basic" 3-in-1 Ant-Man Vision mask. It's got a little knob you can twist to switch between Red Vision (self-explanatory), Ant-Vision (likely some sort of magnifying effect) and Quantum Vision (I truly have no idea).
I was really hoping for a Marvel Legends Ant-Man Helmet prop replica, but hopefully there's still a chance we'll see something like that at Toy Fair. If not, this $20 Ant-Man mask will have to do. Alas.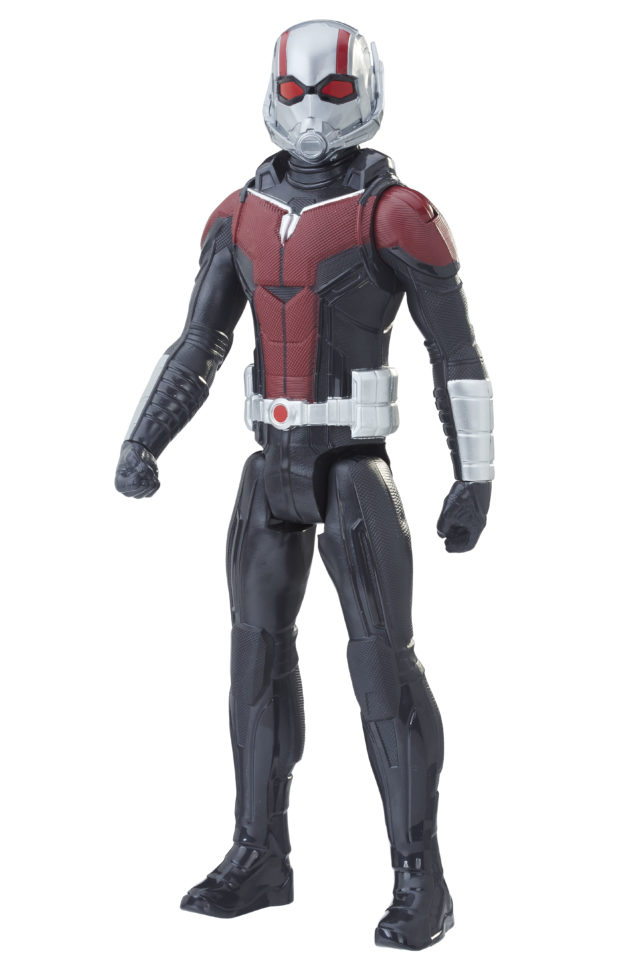 Rounding out our Ant-Man and Wasp movie toys, we've got a pair of 12″ Ant-Man figures. One is the basic Titan Hero Ant-Man movie figure, which actually doesn't look all that bad. It's no Hot Toys, mind you, but a Hot Toys costs 2400% of the 10 bucks this is going to retail for. As far as Titan Heroes go, this isn't half bad.
Finally, the $19.99 12″ Shrink & Strike Ant-Man. I can't begin to describe this one myself as well as the official product description, so here's my best copy-and-past job: "Imagine Scott Lang shrinking and launching through the air with this 12-inch scale SHRINK & STRIKE ANT-MAN Figure, featuring a hidden launcher that can send the included miniature ANT-MAN figure or Quantum ship accessory flying! Load the included accessory into the port, then pull the arm to send it launching!"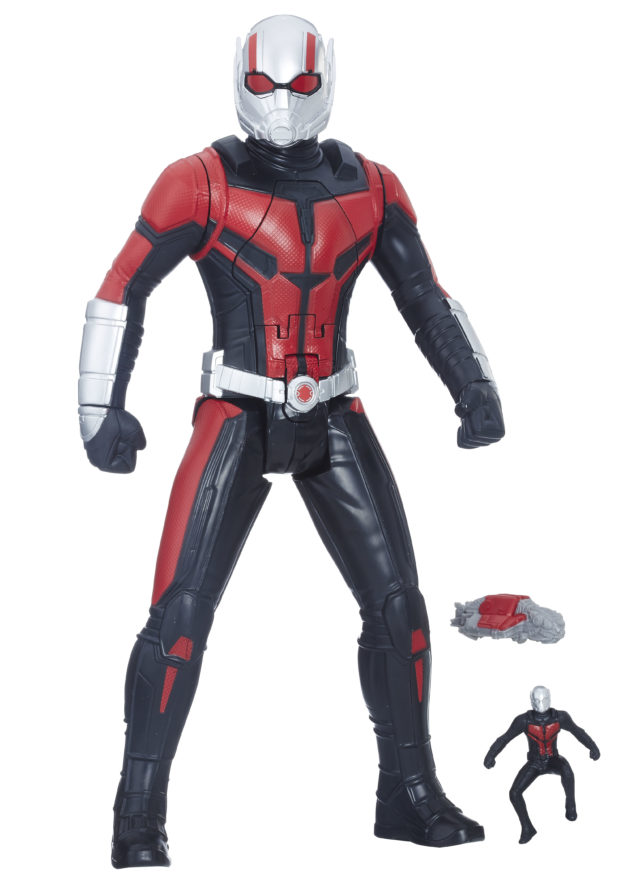 All of these Marvel Ant-Man and The Wasp toys are scheduled to be released in Spring 2018, ahead of the movie's July 2018 release date. I imagine that we'll be seeing at least a little bit of more collector-oriented merchandise for the movie at the 2018 Toy Fair next month, and you can follow the Marvel Toy News Twitter and Facebook Pages if you want my photos and coverage from that event beamed right to your favorite choice of social media.
Anyone excited for this first batch of very kid-centric Ant-Man and Wasp movie toys to be revealed, or are you holding out hope for something a bit more "adult collector"? What else, if anything, are you hoping to see released to correspond with the film?