The main goal of Marvel Toy News as a website is to be an comprehensive in discussing as many aspects of Marvel toy collecting as possible, so when we get requests for coverage of a new line, I take notice. Such is the case with a line that wasn't even on my radar, yet which ended up being many readers' "Best of 2016" selection. And so, tonight its our first-ever Marvel Jada Toys Metals review of perhaps their best item ever: the Jada Toys Metals Hulkbuster Iron Man figure!
The Right:
It's been so long that Funko has ruled the world of stylized, super-deformed Marvel toys that I was beginning to think that they might never be toppled. But if there's one company that might stand a legit chance of toppling Funko from their perch, it just may be Jada Toys!
The Marvel Metals figures are sort of like Funko POP Vinyls as far as being stylized goes–except instead of being cutesy and made of plastic, they're more realistically styled and made of 100% die-cast metal.
And what better place for me to begin my Metals odyssey than with the Marvel character best-suited to being made of metal: Iron Man?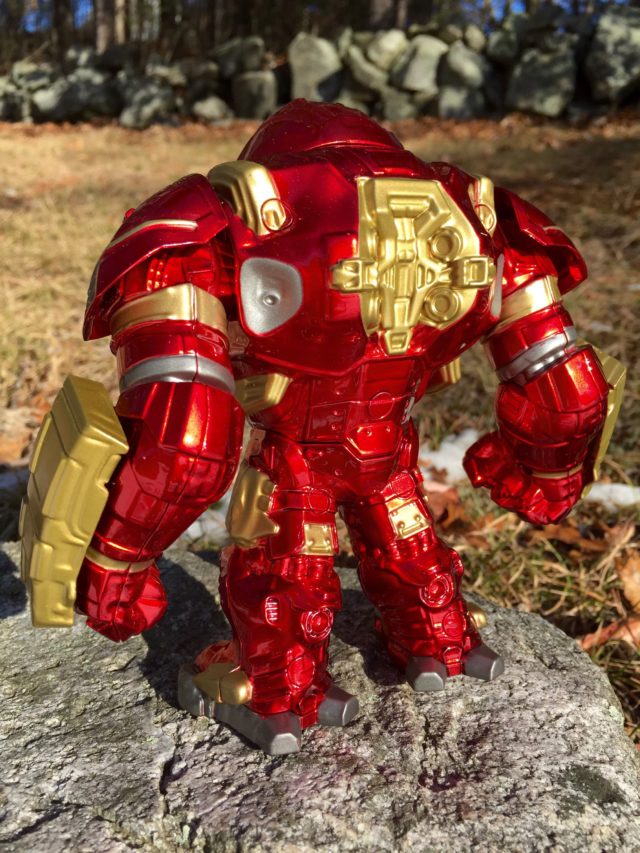 The first thing I noticed when I picked up the box for the Jada Toys Hulkbuster Iron Man is that it's heavy. Seriously–picking up this figure is like picking up a brick. I'm pretty sure you could kill someone hitting them in the head with this Hulkbuster Jada toy (don't try that).
Even without looking closely at this figure, you can feel the quality in its heft.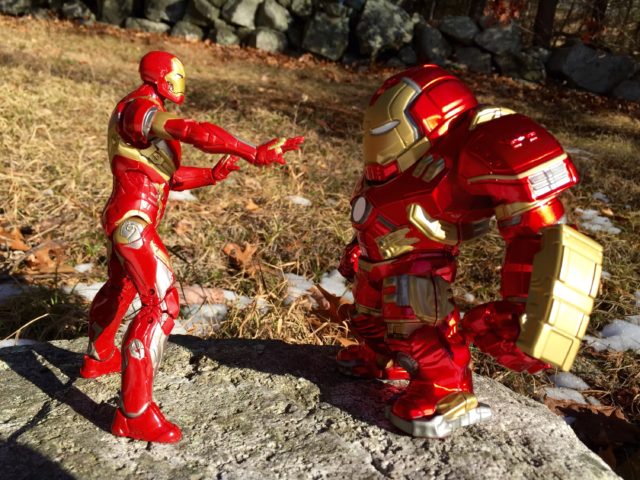 But when you do look at the figure–oh man–you are in for a treat. I never thought I'd say this about a mass-market figure competing with Funko, but the die-cast Hulkbuster Metals figure's paint looks just as good as the paint on my Hot Toys Iron Man die-cast figures. The shiny red and gold paint look absolutely stunning.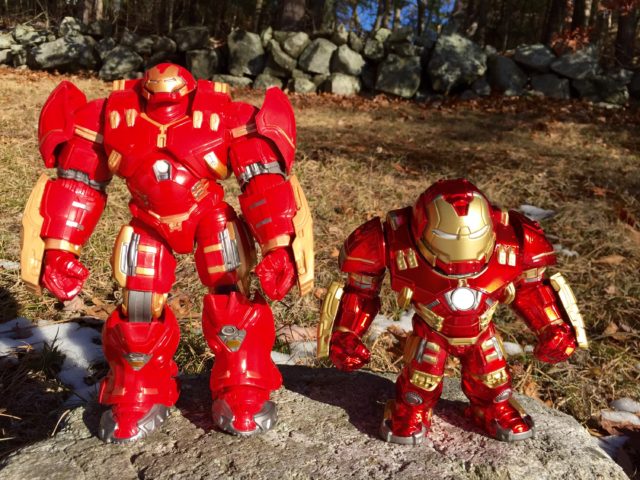 While the Marvel Legends Hulkbuster Build-A-Figure has superior size and articulation to the Jada version (which is 6.5″ tall and unarticulated), the paint on the Jada Hulkbuster Iron Man makes Hasbro's look like a cheap knockoff. Phenomenal.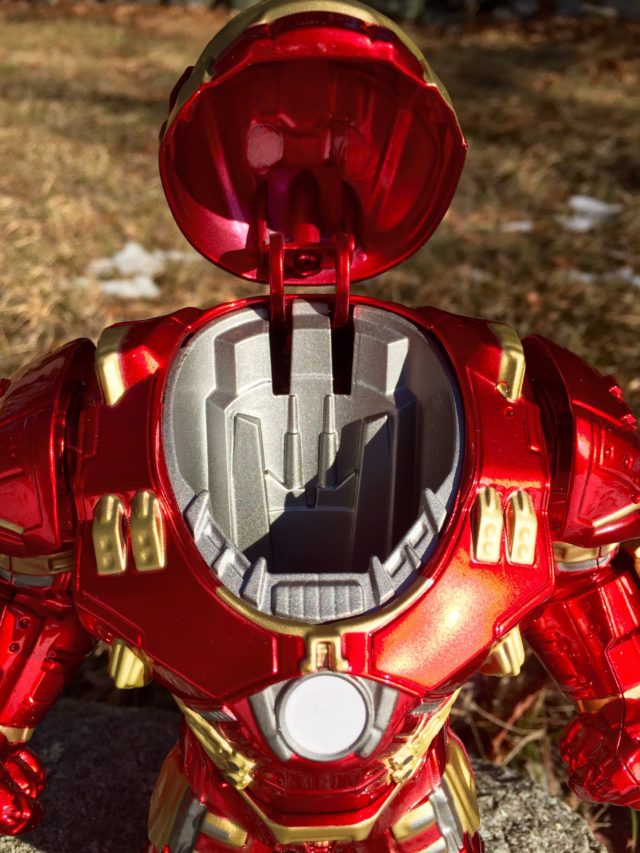 And although the design of this armor has been slightly simplified a bit for the style and scale, there's a lot of intricate sculpting details captured on this armor. Despite the super-deformed style, this is one of the best-looking Hulkbuster toys out there with among the sharpest detailing.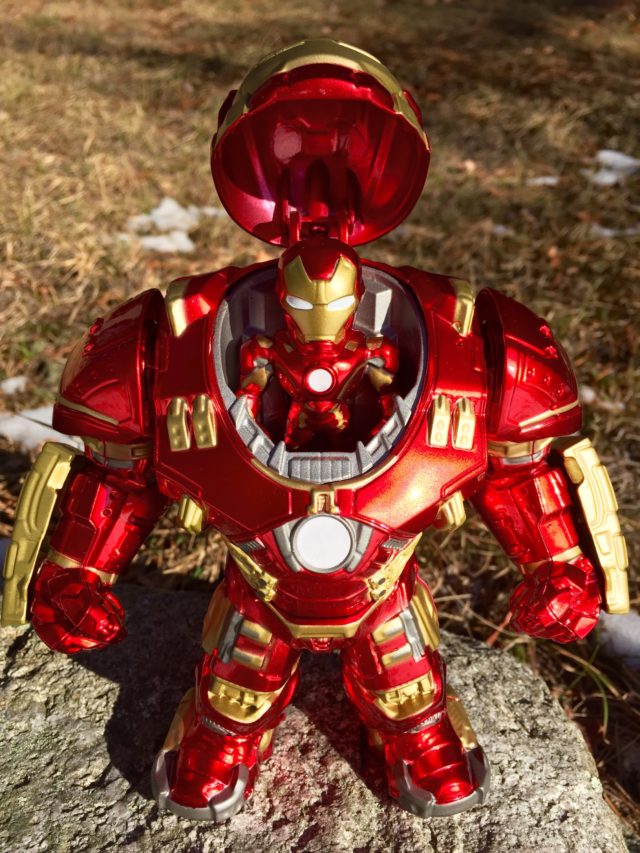 That's not all, though! This figure also has an action feature, believe it or not: a whole other die-cast 2.5″ Iron Man Mark XLIII figure is included, and Hulkbuster's helmet can be raised to place the Mark 43 inside the armor! This feature works great and is a ton of fun. Love it!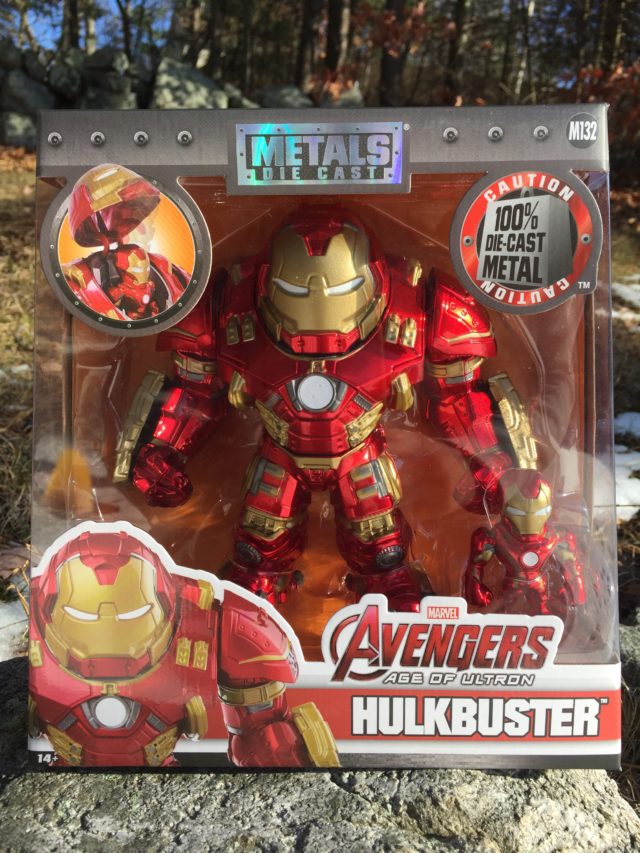 But wait–! "Just how much is this gorgeous, heavy, die-cast figure going to cost me?", you ask? Prepare to be amazed: the MSRP on the Jada Hulkbuster Iron Man Metals figure is just $24.99 (though many sellers are currently charging 30 bucks and up for this rightfully in-demand figure).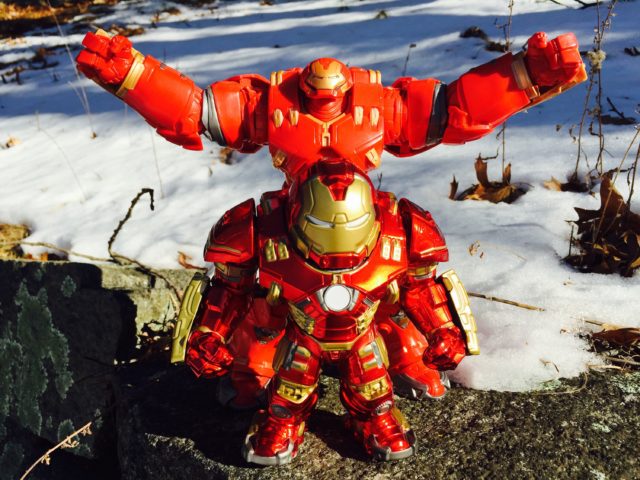 For comparison's sake, that's the same price as a plastic Funko POP Rides vehicle that weighs a fraction of this Hulkbuster and doesn't use paints nearly as nice. This honestly might be the best value in Marvel toys for the entirety of 2016!
The Wrong:
Regular readers know that I try my damnedest to always find
something
to gripe about in my reviews. But in this instance, I am genuinely coming up blank. The quality on this Hulkbuster Metals piece is off the charts, and the price is shockingly low.
Perhaps the packaging for the figure could be a bit more "fun" and a timelier release (less than a year and a half after the movie) would have been nice, but honestly? This stylized Hulkbuster Iron Man is a masterpiece. There's really no room to complain.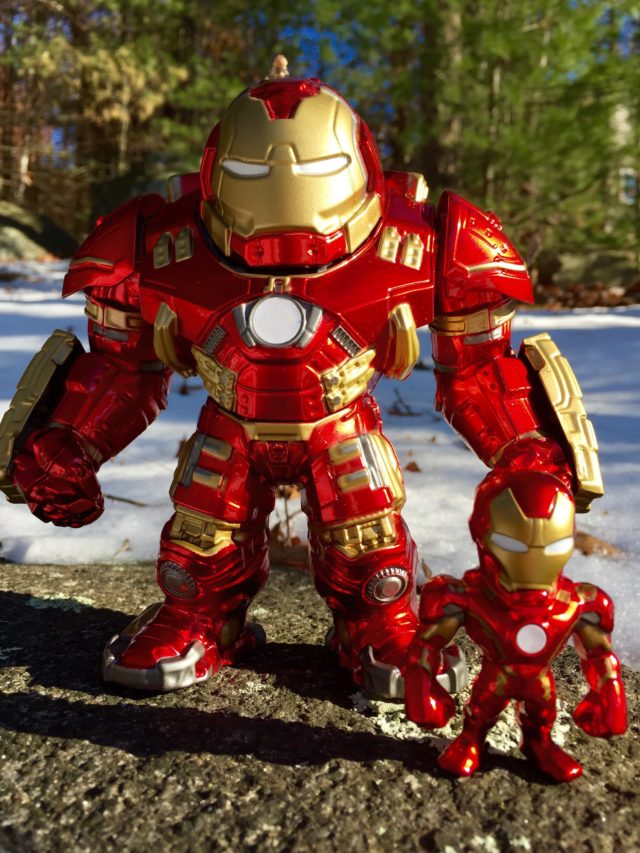 Overall: The Jada Toys Hulkbuster Metals figure is really going to put Jada Toys on the map for a lot of collectors. This is a breathtaking piece with spectacular paint applications, impressive heft, great sculpting and a fun action feature. If you pick up one toy from the Marvel Metals die-cast figure line, it should absolutely be this one. Highest possible recommendation.
GRADE: A+