Funko is rolling out their list of exclusives in thrice-weekly announcements and Hasbro is expected to officially announce its San Diego Comic-Con 2016 exclusives next week (although at this point we all basically know what they are anyway), but in the meantime, a few other toy companies are filling in their own Comic-Con blanks. And this week, Beast Kingdom announced what's likely to take the cake as the craziest SDCC 2016 exclusive of all: a 24K Gold Hulkbuster Iron Man figure!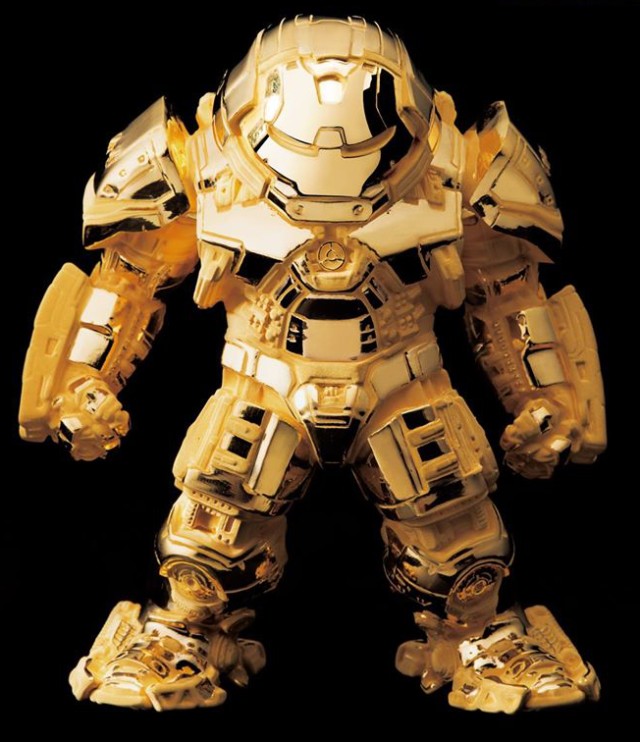 There have been some pretty unexpected Marvel SDCC exclusives announced thus far, ranging from a Marvel Legends Dreadknight to a
Kotobukiya Con-Goer Lady Deadpool Bishoujo statue
to
a Marvel Universe-scaled Cosmo the frickin' space dog
, but the one Marvel item on Beast Kingdom's Comic-Con docket is the one that strikes me as the most double-take worthy: a real 24K Gold Iron Man Mark 44 figure!
Yes, for the collector who already has a Hulkbuster in every other conceivable size and style, now you can own a 24K gold-plated Hulkbuster Iron Man. Seriously.

If you don't recommend this particular Iron Man Hulkbuster figure mold, I don't blame you, because it's a crazy-obscure item. This was originally released as the KN-005 Kids Nation Hulkbuster Iron Man Earphone Plugy figure last year.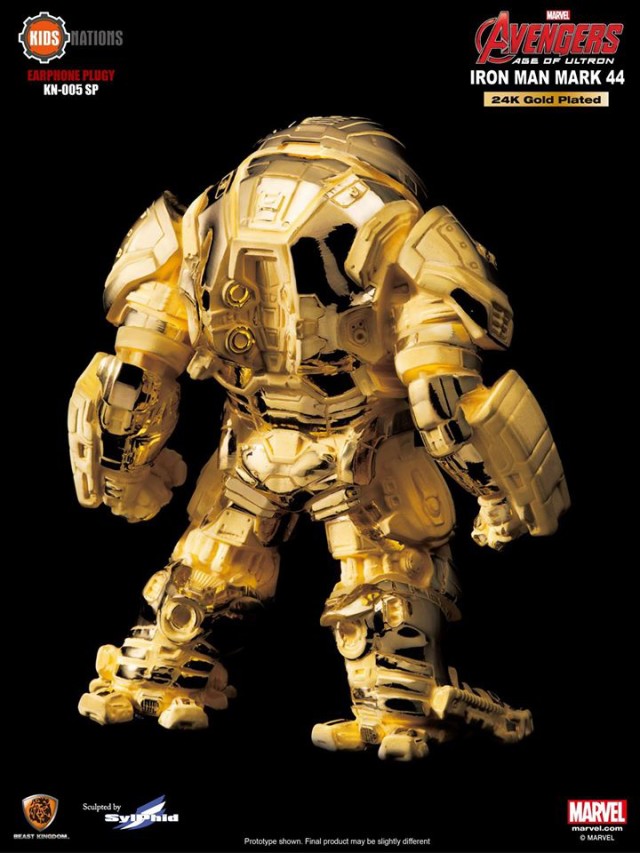 What's an "Earphone Plugy", you ask? Basically, they're charms that you attach to your smartphone via the earphone jack. You become instantly cooler by having a chibi superhero hanging from your phone, and your phone's headphone jack get protected by an awesome cover.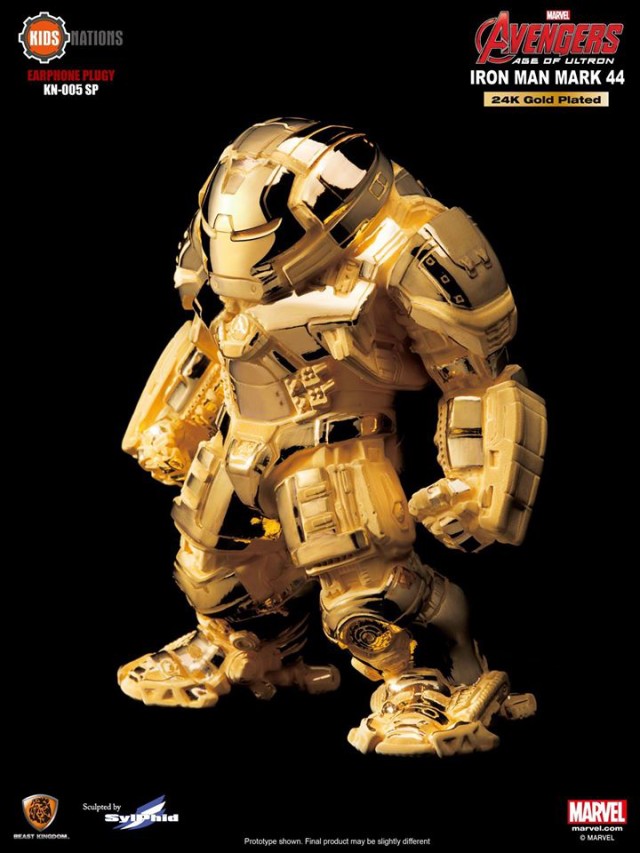 Of course, I don't know that I would ever risk having a 24K Gold Hulkbuster Iron Man figurine hanging off of my phone, but it's the audaciousness that makes this bizarre item so appealing, right? (Right…?)
It appears that both the cord attaching to the head of this Iron Man and also the LED light-up features that the regular release of this figure featured have been omit from this special KN-005 SP version (which is probably for the best, honestly). The figure will come packaged in an acrylic display case with a gold "Avengers: Age of Ultron" logo plate on the front of the case.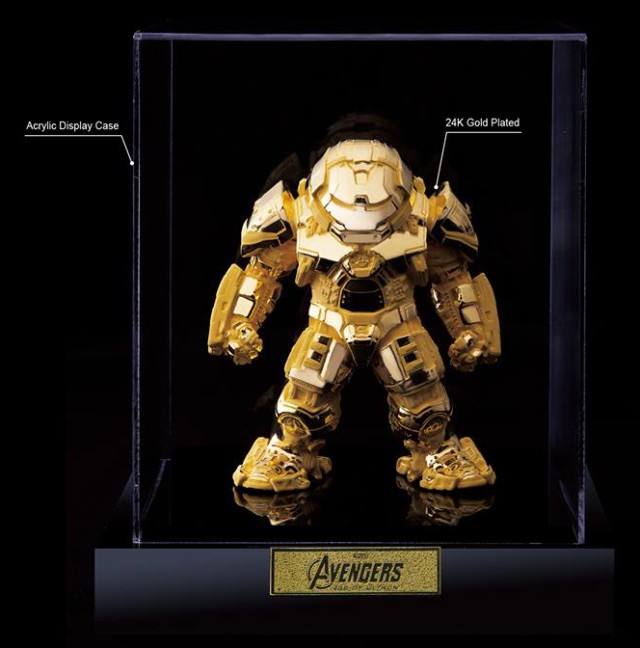 The Kids Nation Hulkbuster Iron Man 24K Gold-Plated figure stands about 3.9″ tall and will be available exclusively at the Bluefin Beast Kingdom Booth (#2845) at San Diego Comic Con 2016 next month. The figure will retail for a hefty $350, which would be both the most and least I've ever spent on a 24K Gold-plated action figure.
What are your thoughts on the SDCC 2016 Exclusive Beast Kingdom Gold Hulkbuster Iron Man figure, Marvel collectors? Anyone thinking of dropping 350 bucks on this wacky item, or is this sort of loftily-priced craziness just not for you?