We're now under one month out from San Diego Comic-Con 2016, and that means it's time for all remaining Marvel toy licensees to put their cards on the table and show off their SDCC 2016 exclusives! In Kotobukiya's case, I really wasn't sure what to expect from the Bishoujo line–but I can promise I didn't see this exclusive coming: the Kotobukiya SDCC 2016 exclusive Lady Deadpool Bisjoujo statue!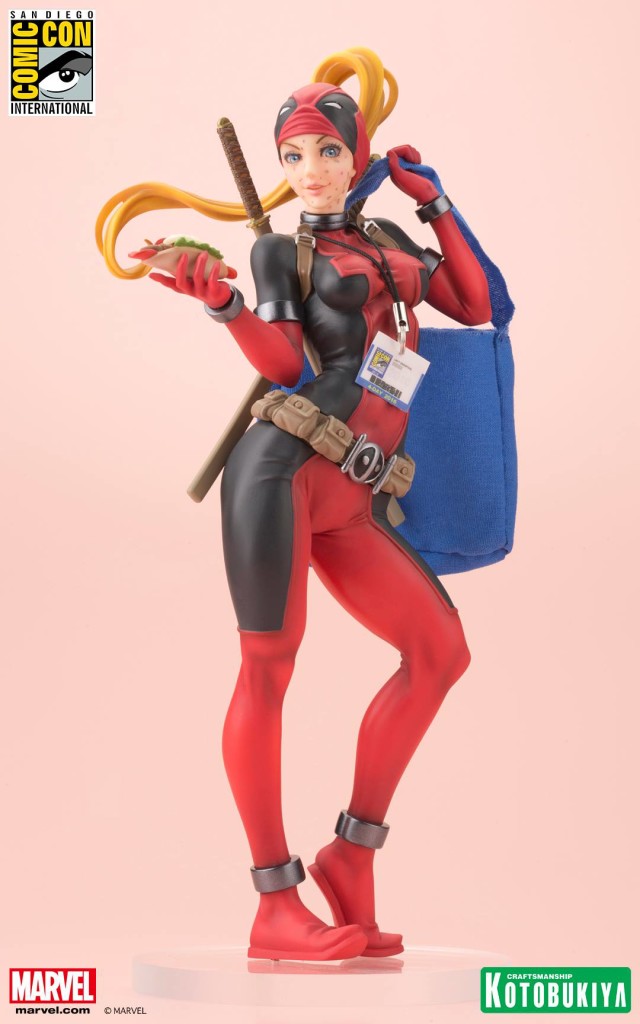 Kotobukiya hasn't released much in the way of Marvel Bishoujo statues since last summer, so I was really wondering about what Koto was planning for their Marvel SDCC exclusive.
The regular release of Lady Deadpool already came with an unmasked head, so surely there was nothing else to do for a special variant of that character… right?
Wrong. As predicted by absolutely nobody in the world, the San Diego Comic Con 2016 exclusive is… a SDCC Attendee Lady Deadpool statue!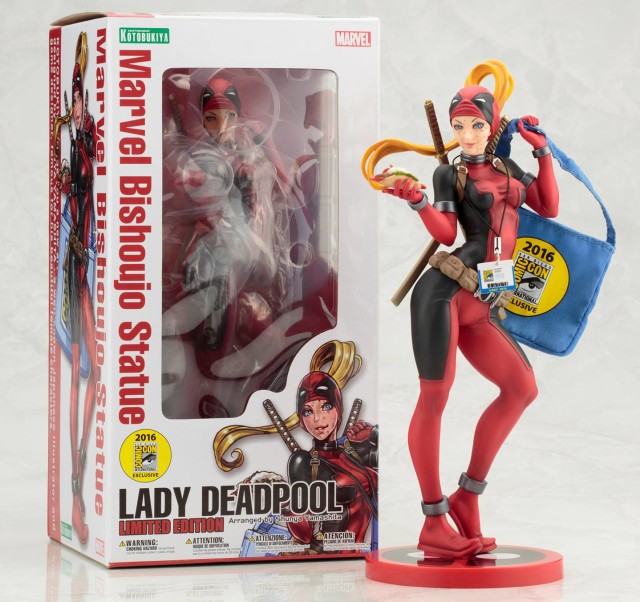 Basically, what we are getting here is a reissue of the still-available 1/7 Kotobukiya Lady Deadpool Bishoujo statue with a new head and new accessories.
Whereas the original release of Wanda Wilson came with both masked and unmasked heads, this time out we're getting a half-masked Lady Deadpool head!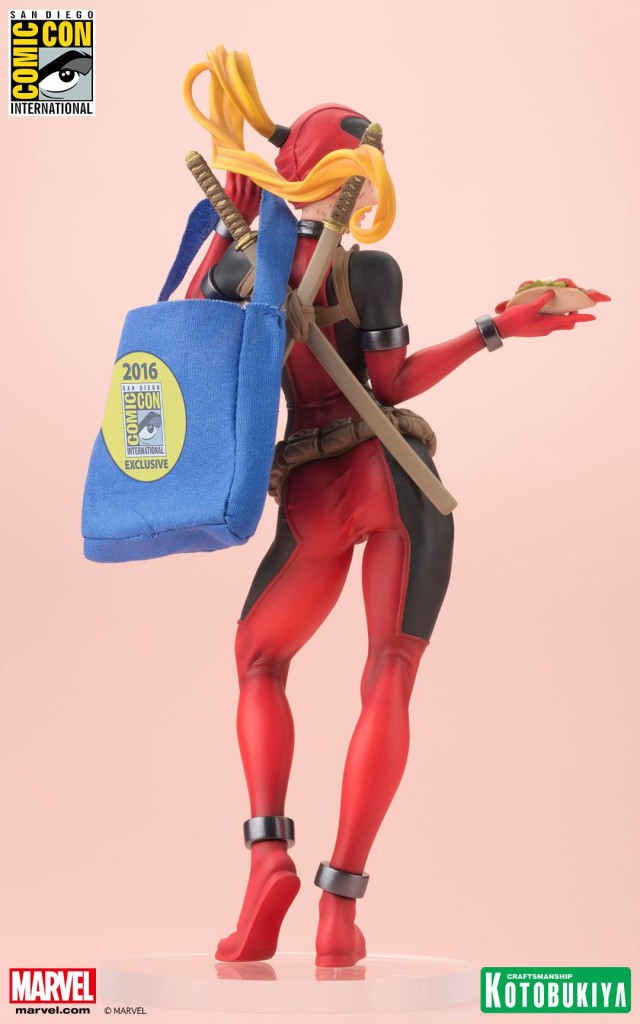 Meanwhile, four extra accessories will also be included with the SDCC Lady Deadpool figure–a gyro, a removable SDCC 4-Day Pass Badge on a lanyard, and two fabric tote bags she can sling over her shoulder.
The first of the tote bags is a blue bag with the San Diego Comic Con logo printed onto it. Apparently, Wanda Wilson is planning on loading up with SDCC exclusives!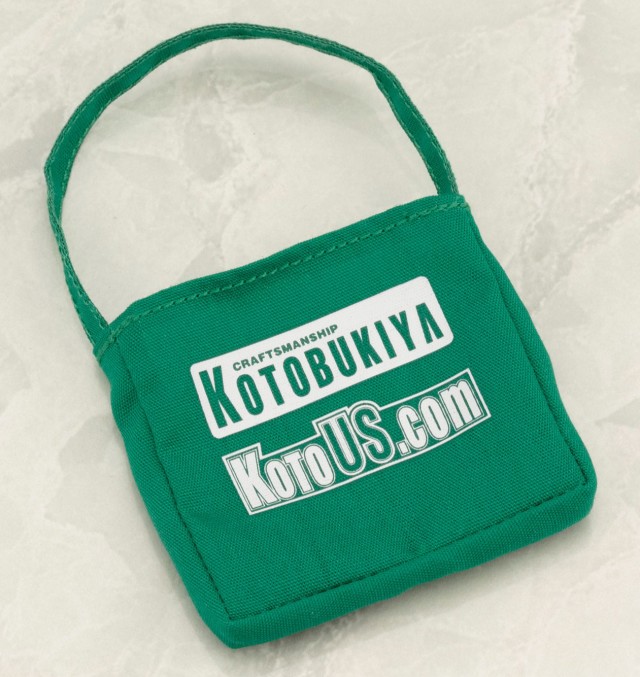 And as an added bonus, a green Kotobukiya shopping tote bag is also included with the statue (which makes sense, since this statue will presumably be available from the Koto US shop as well as from the con). I don't know exactly how many folks are going to care about having a green bag instead of a blue one for Wanda Wilson to hold, but I suppose any free extra accessory is a good free extra accessory.
Honestly, this particular release is of absolutely zero interest to me, as I only have the slightest attachment to Lady Deapdool in my heart, and even less so for a bizarre variant like this one. That said, I guess this is a clever little model that will be fun for collectors who like this kind of novelty item. Personally, I'm okay without a niche Lady Deadpool Bishoujo, but that's just me.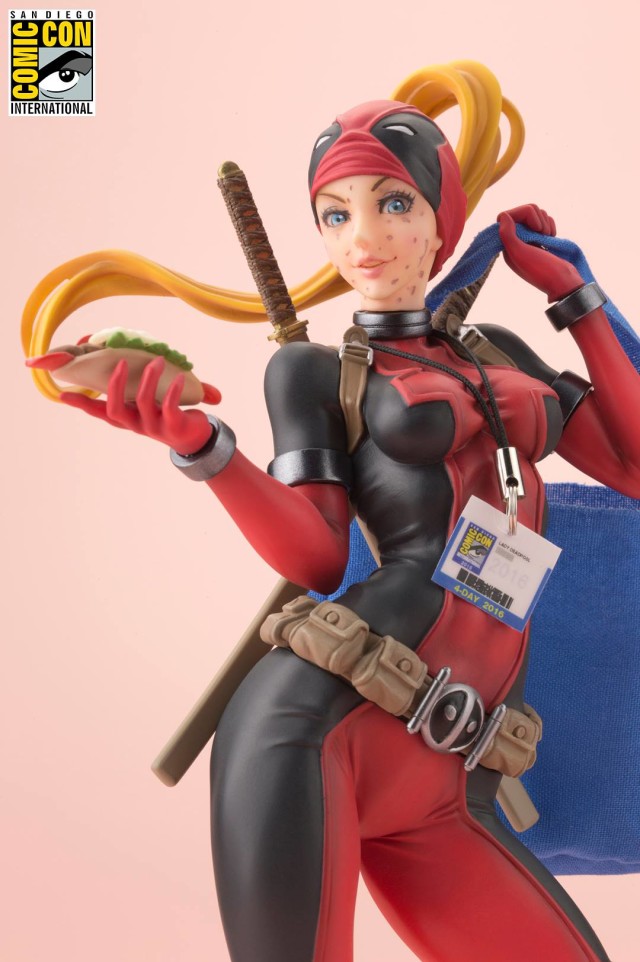 The SDCC Lady Deadpool will retail for $74.99 and will be available at Koto's booth at the show from July 20-24, 2016. This is a limited-edition, one-time-only production run, so be sure to grab one of these while it's available if you want one. Kotobukiya hasn't disclosed the edition size on this statue, but I'd be shocked if they produced less than 1000 of this piece for the convention and online sales.
What do you think of the Kotobukiya SDCC 2016 Marvel exclusive statue? Does this whimsical 1/7th scale Lady Deadpool statue catch your attention, or are you less than interested in this con-attending variant figure?