Just like last year, this year's major Avengers-centric Marvel Cinematic Universe film is being followed up by a movie debuting a Marvel character that's a little less popular in mainstream culture than Captain America, Iron Man and Spider-Man. So yeah, in case you didn't hear–a Doctor Strange movie is coming our way this November. And that means we'll be seeing more Doctor Strange toys released than ever before, including these entries just revealed by Diamond Select Toys: the Marvel Gallery Doctor Strange Statue and Dr. Strange Minimiates are now up for order!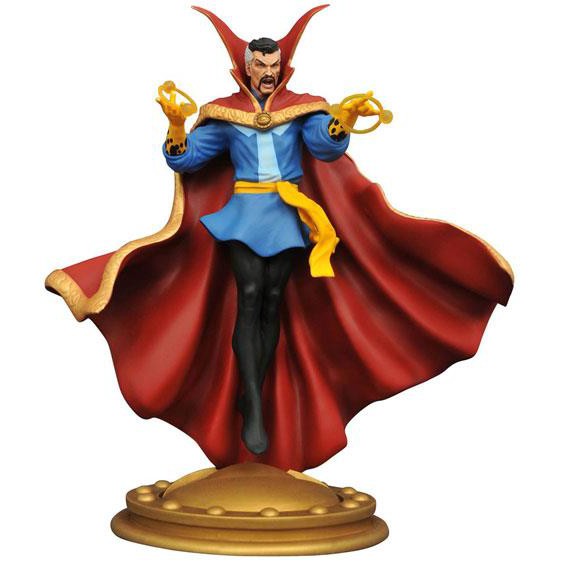 I was really impressed (not to mention surprised by) the first assortment of low-priced, 9″ Marvel Gallery statues that Diamond Select Toys debuted at their booth at New York Toy Fair 2016. And while
the much-loved Marvel Gallery Deadpool statue shown at that show went up for order last month
, it looks like poor Hulk and Spider-Man are going to have to wait a little bit longer to arrive in peoples' homes!
Just in time to align with the release of his movie, the Diamond Select Doctor Strange Marvel Gallery statue is heading our way in November!
I've been very pleased with DST's Marvel Gallery series statues so far, and this piece is no exception. Stephen Strange traditionally doesn't get many releases in statue form, but I think Diamond Select has nailed comics-based Doctor Strange with this super-cheap ~$40 nine-inch statue. I love the open-mouthed portrait and levitating effect!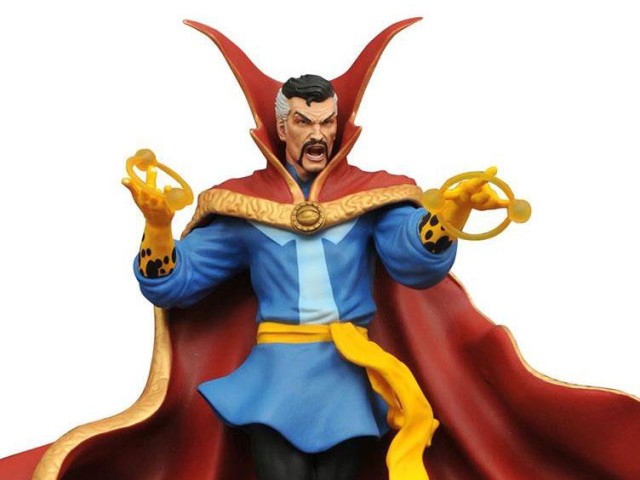 About the only thing I don't dig about this statue from the initial images is the spell effects–they look too opaque to me, where a more clearly translucent appearance would probably make them pop much more. Hopefully they'll look a bit better when DST displays the statue at SDCC 2016 next month.
What's DST have to say about this statue themselves? Thanks for asking! Here's the official product description for this statue from Diamond Select Toys:
"Diamond Select Toys Release! By the Vishanti! The Marvel Universe's Sorceror Supreme, Doctor Strange, is now the latest in DST's new line of 9-inch-scale Gallery PVC figures! Depicting the sorcerer hovering in mid-air over a giant Eye of Agamotto and casting a complex spell, this comic book-inspired figure features a detailed sculpt and collectible-quality paint applications. Figure is in scale to all Gallery and Femme Fatales PVC figures, and comes packaged in a full-color window box. Sculpted by Phil Ramirez!"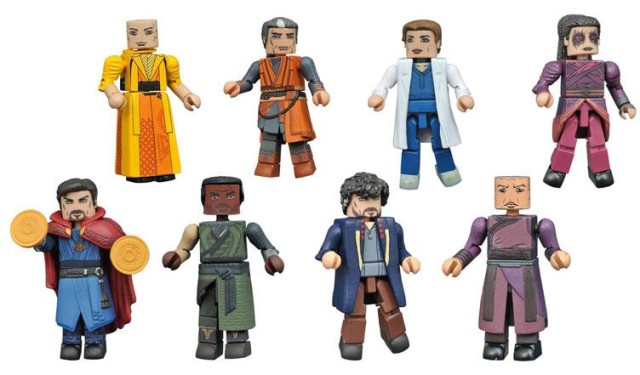 But for those who are more inclined toward the movie take on the good doctor, DST has you covered as well! Not only is there
a Marvel Select Doctor Strange movie figure coming our way in the fall
, but we're getting a whole series of movie Minimates as well! Let's hope this film is a big hit, because if it's not, I can see at least six figures here that nobody is gonna want…
Here's the official solicitation info for the Minimates:
"A Diamond Select Toys Release! The next chapter of the Marvel Cinematic Universe is now the next entry in the long-running Marvel Minimates line! Series 70 of Marvel Minimates mini-figures travels to the world of the Doctor Strange movie, with four different two-packs: Dr. Strange with The Ancient One, Mordo with Kaecilius, the specialty-exclusive Stephen Strange with Christine Palmer and the specialty-exclusive Wong & Zealot! Each 2-inch Minimates mini-figure features 14 points of articulation and fully interchangeable parts. Each two-pack is packaged in a full-color window box."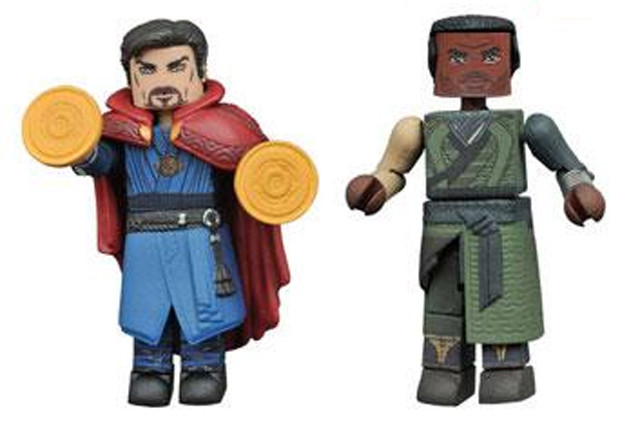 The Diamond Select Toys Doctor Strange Movie Minimates and Doctor Strange Marvel Gallery Statue are all up for pre-order now, and are scheduled to be released in November 2016. There's a discount on both the statue and figures for collectors who pre-order right now as well. The toys for a lesser-known Marvel property like Dr. Strange are really going to benefit from the hype provided by the movie, so let's hope that there are no delays and these items make it out during the release window for the movie.
What do you think of the Marvel Gallery Doctor Strange Statue and movie Minimates series, Marvel collectors? Will any of these new figurines of the Sorcerer Supreme be in your collection before year's end, or are you taking a wait-and-see approach before investing in any Doctor Strange merch?