It's been the better part of a year since the Marvel Select Doctor Strange movie figure first apparated at shows and events for collectors to drool over–but after a lengthy wait, the Diamond Select Toys MCU version of the Sorcerer Supreme has finally arrived in retail stores and our collections today! I prefer to secure my Marvel Select figures from online retailers, but I couldn't resist heading over to my closest comic book store to check out the DST Doctor Strange in person…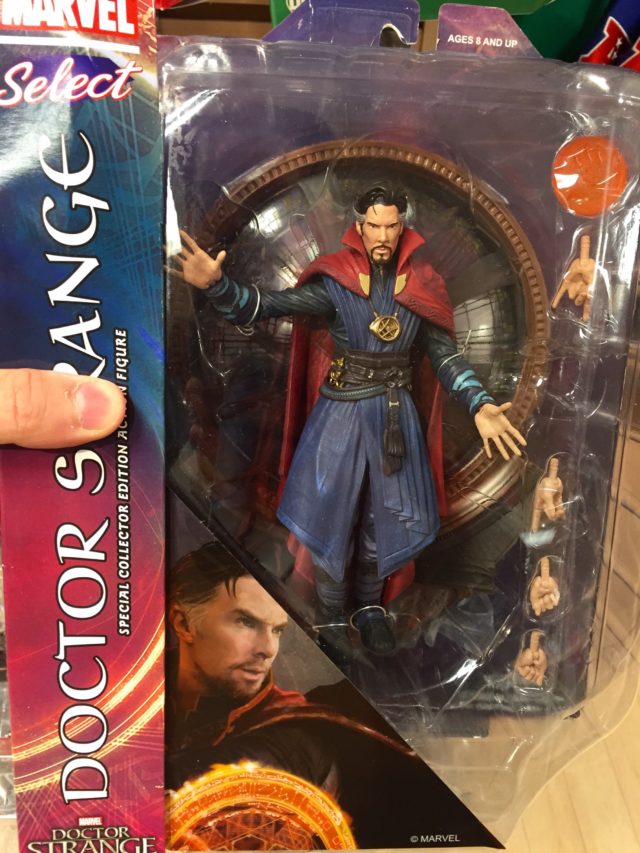 I've tried to keep my opinions on the Doctor Strange movie–such as they are–off of this site, as readers come here to read about toys and not to hear me rant about movies. But to summarize: I did not like the Doctor Strange movie last fall. (And if you want to hear
how much
,
you can hear me talk all about it on Marvelicious Toys Podcast #178
).
Even so, while the Benedict Cumberbatch led Dr. Strange movie wasn't my cup of tea, that's not to say I'm not buying the movie Doctor Strange toys that come out. I've got three 6″-7″ either in-hand or ordered right now, and a Hot Toys on the way.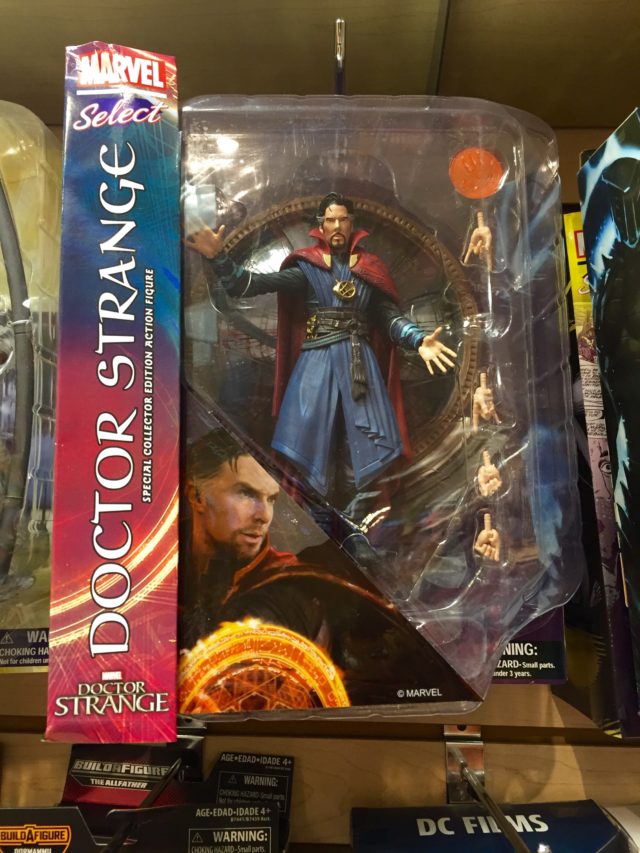 Now that I've seen the 7″ Diamond Select Toys Doctor Strange action figure in hand, how do I think he stacks up?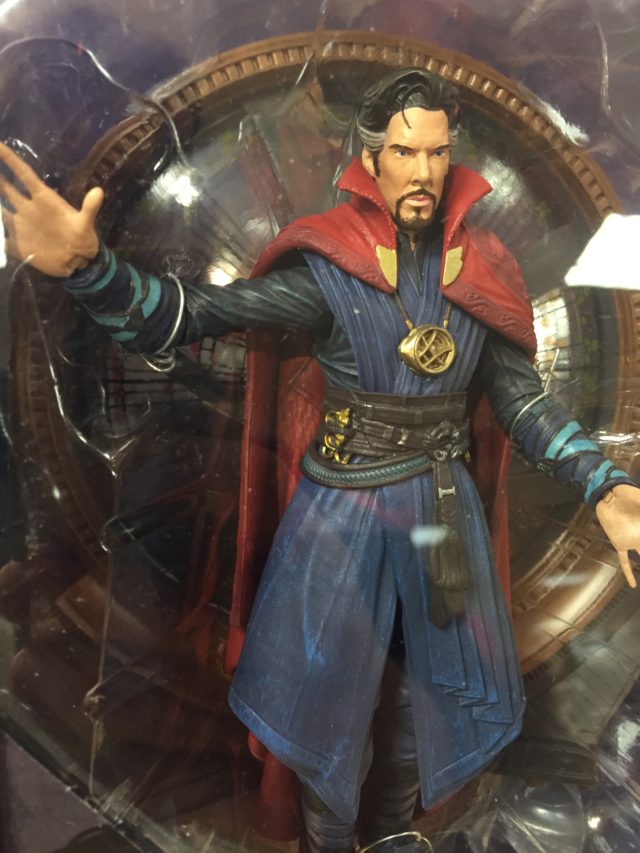 Well, I think he's quite nice, honestly. While Hasbro did a good job with their Marvel Legends Dr. Strange figure, I think DST's version certainly has a better likeness. Not perfect, mind you–but definitely better.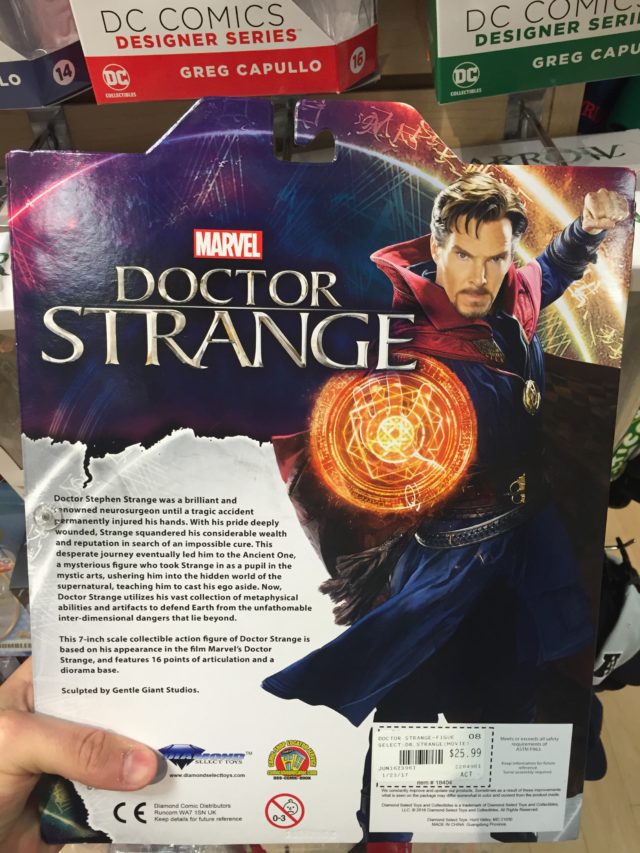 The back of the packaging for this figure has a dynamic photo of Benedict Cumberbatch, along with the movie logo and a blurb regarding the character and the toy.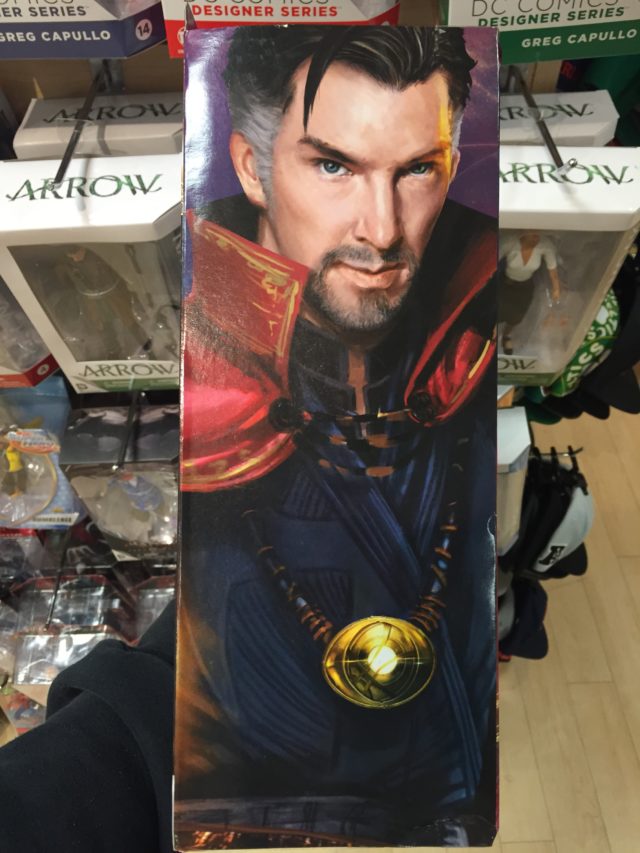 The spine of the package has another really sharp-looking shot of Cumberbatch.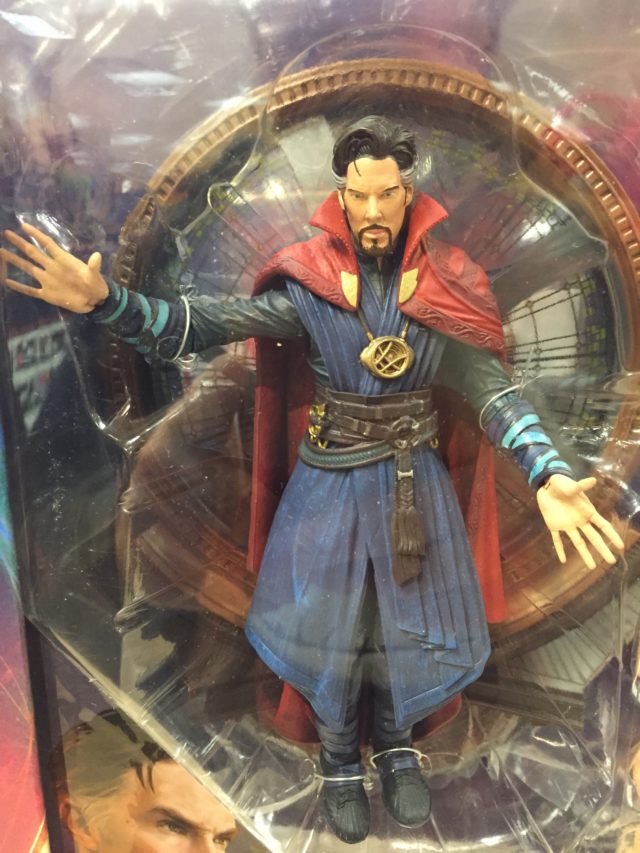 The sculpting detail on the robes and paint shading on this figure trump Hasbro's iteration, but the 16 points of articulation allowed on a Marvel Select figure obviously can't challenge the surplus on a Marvel Legends (or SH Figuarts) action figure.
Diamond Select's Strange does, however, come with the single best accessory of any movie Dr. Strange figure–a diorama-style Sanctum Sanctorum display base. It was rather tough to get a good photo of it (since it's in the back of the package), but first-hand the base looked very nice.
Along with the display base, Stephen also has three pairs of interchangeable hands and an orange translucent plastic energy effects piece. The magic effect is a little small, but I love the color.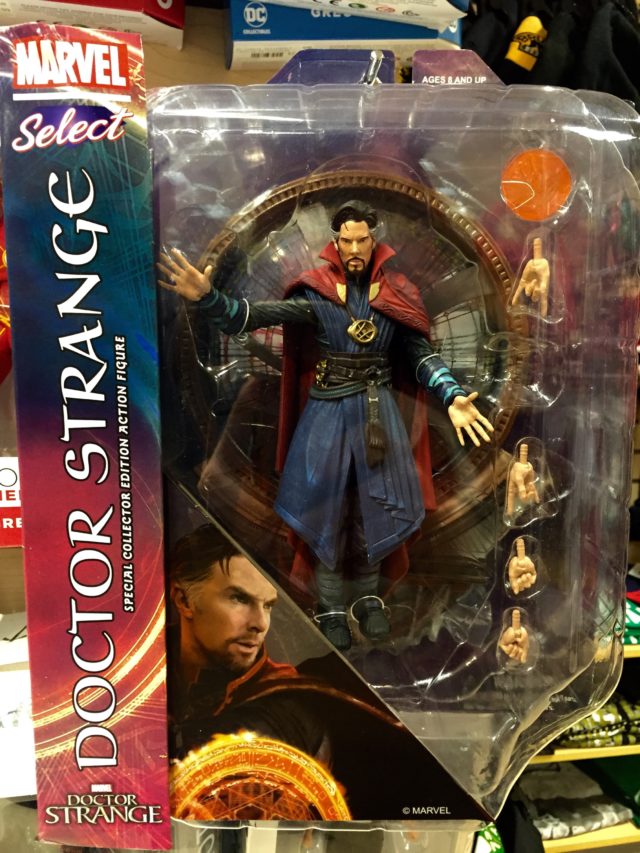 The Marvel Select Doctor Strange figure from the movie is now available online and from comic book and specialty stores. The figure was just officially released today, so it may take some stores a little while to receive their stock or process orders. This is the only figure that DST will be making from the first Doctor Strange movie–I'd love a Karl Mordo or Kaecilius myself, but it looks like the Doc is going stag for his first movie toy appearance from DST.
Having seen the finished product now, how do you think Diamond Select Toys' Doctor Strange movie figure compares to Hasbro's Marvel Legends and the SH Figuarts versions, Marvel collectors? Which do you think is the greatest 6″-7″ Benedict Cumberbatch figure in the land?