If you've been asking yourself the question: "What do you get for the Iron Man collector who already owns every Iron Man Mark 43 figure that costs less than $2,000?", then you're about to owe Sideshow Collectibles a big, fat "Thank You!" The 42″ tall, 35 pound Sideshow Legendary Scale Iron Man Mark 43 statue is now up for order, for the *cough* "low, low price" of just $2,299.99!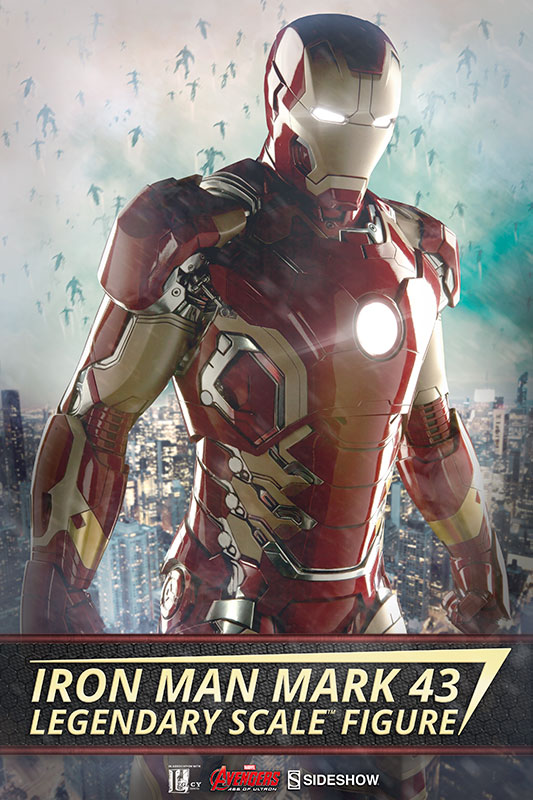 We've come to expect the finest (and most expensive) Marvel high-end collectibles to come through Sideshow Collectibles, and this week they've outdone themselves yet again with a jaw-dropping Iron Man Mark XLIII Legendary Scale Figure that's bigger than a child!
What's more, if you've been waiting for the most accurate Mark 43 armor that will ever be produced, you're probably looking at it–this statue was created by Legacy Effects Studios, the same studio that worked on the "Avengers: Age of Ultron" movie! What's more, Legacy Effects Studios even used the original film assets in the creation of this figure.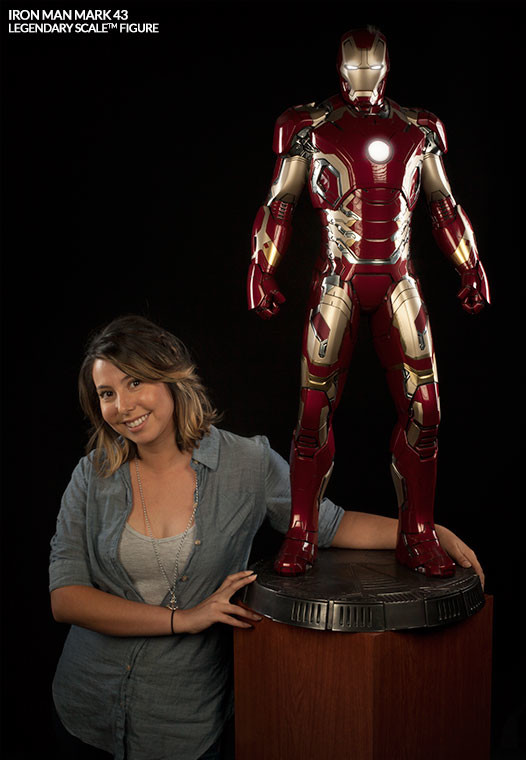 As you can see from the scale photo, this Iron Man Legendary Scale statue is a big boy. As large as the various Sideshow Iron Man maquettes and Premium Format Figures out there are, this Legendsry Scale Figure will tower over every single one of them.
Even the Hot Toys Hulkbuster Iron Man is going to be dwarfed by this baby!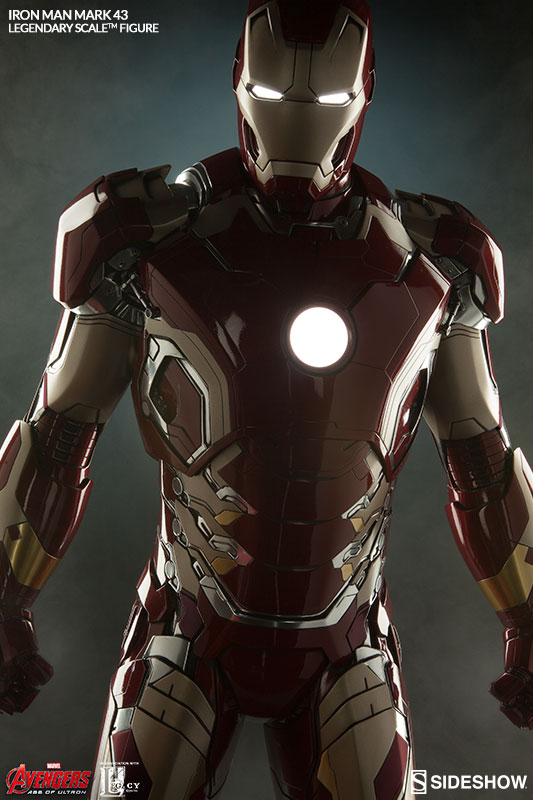 As you should expect from a "toy" of this size and cost, each hand-painted statue will feature high-quality LED lights in the helmet, repulsors and ARC Reactor. This is pretty standard for high-end Iron Man collectibles, so while I'd rarely use the electronic features if I could afford this statue begin with (which I can not), I'd be totally miffed if the features weren't included.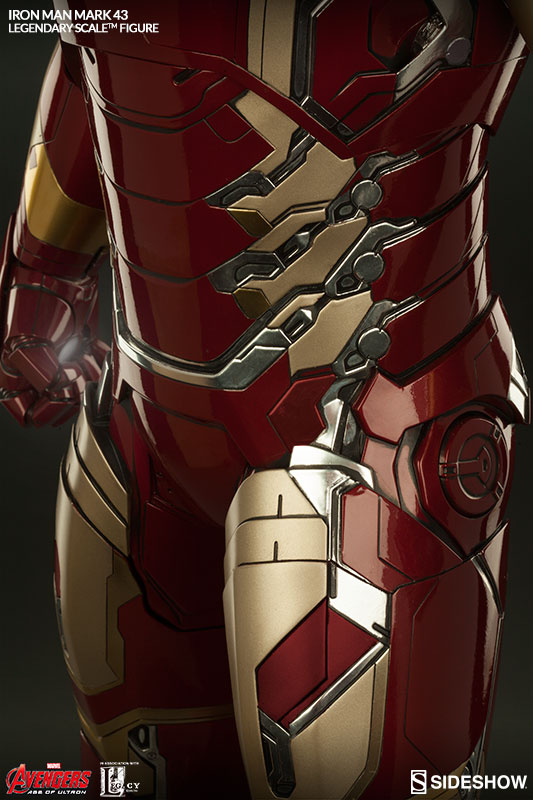 In addition, each figure is made from a combination of polystone, fiberglass and metal–there's no cheap plastic or PVC bringing down the quality of this masterpiece. Just looking at the photos of this item, you can tell it is an absolute treasure on a completely different level from the lower-tier high-end collectibles we're accustomed to.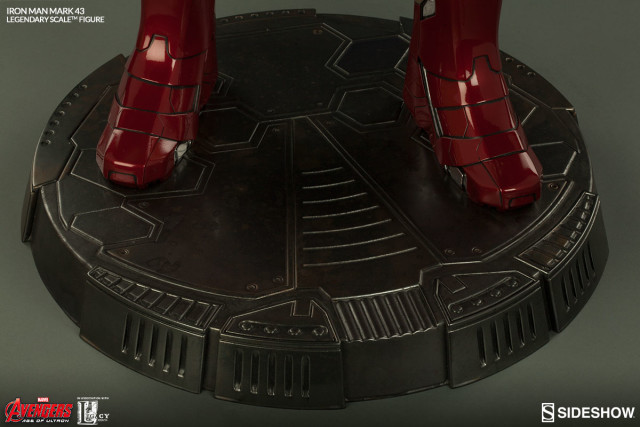 The Avengers Tower-themed base that this Legendary Iron Man statue comes with is a bit dull, but I think most of us will agree that this is a case where you want to be looking at the glory of a $2000+ Iron Man armor without the potential distraction of a noisy base.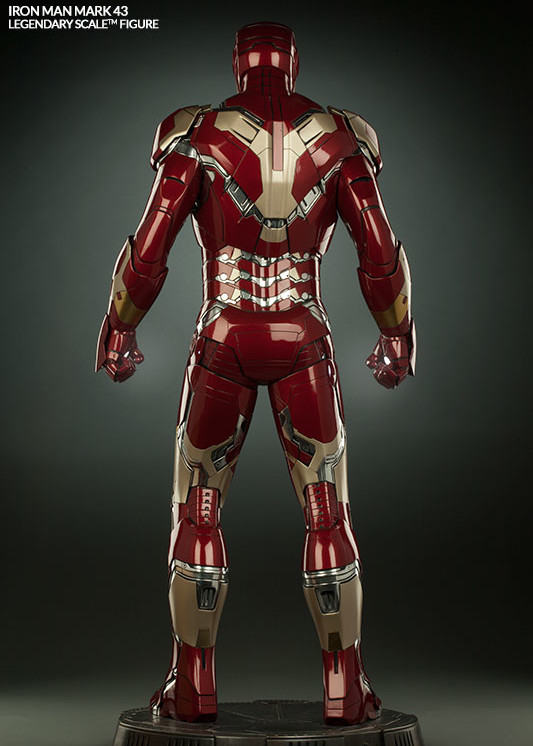 Of course, all this goodness comes at the ridiculous cost of around $2,300–almost as much as three Hot Toys Hulkbuster Iron Man figures. Yowza. This is clearly not a collectible for the faint of heart (or light of wallet).
Thankfully (at least for me), the Mark XLIII armor is not one of my favorite movie armors. In fact, it's the inverse color scheme of my favorite armor, the Mark 42 from "Iron Man 3". ::Phew:: There's a bullet dodged (for me). If this three foot tall-plus statue was depicting one of my most favorite armors from the MCU, who knows what would have happened?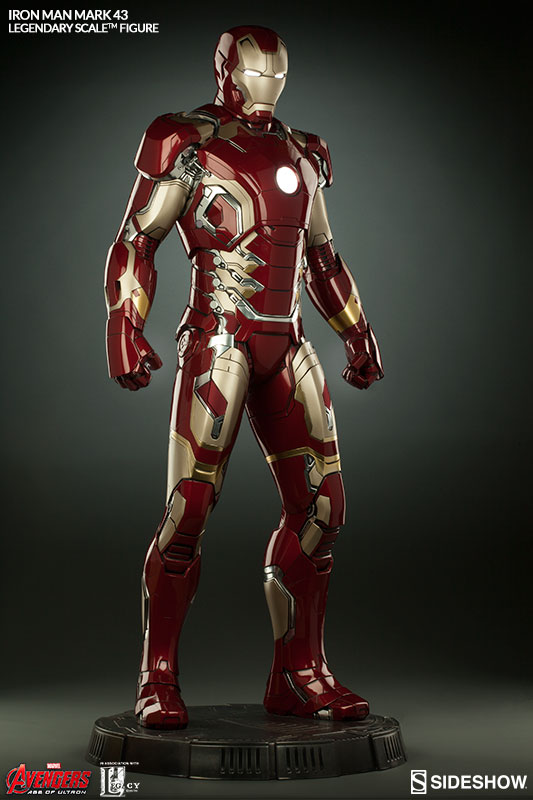 The Sideshow Collectibles Iron Man Mark 43 Legendary Scale Figure is now available for order, and is scheduled to be released in December 2016. Yes, that (thank God) gives interested buyers over a year to pay off this $2K+ monster via the Sideshow FLEXPay payment plan (unless, of course, you prefer to pay off this item in one lump sum for some inconceivable reason).
As beautiful as the Mark 43 Iron Man Legendary Scale Figure is, I straight-up don't have the space or money for this statue. What about you, Marvel collectors? Is anyone here planning to take the plunge and invest in this massive (and massively expensive) Iron Man armor?