I like being right (a lot), and as such, I am rarely happy to be wrong. But today is one of those times–and not only has Hot Toys proven me wrong once today… they've done it twice! Not only is the Iron Man Mark IX I had written off as never coming on the way–but so is the Pepper Potts figure that's allegedly been in-development for over two years! The exclusive Hot Toys Pepper Potts & Iron Man Mark 9 set is now up for order!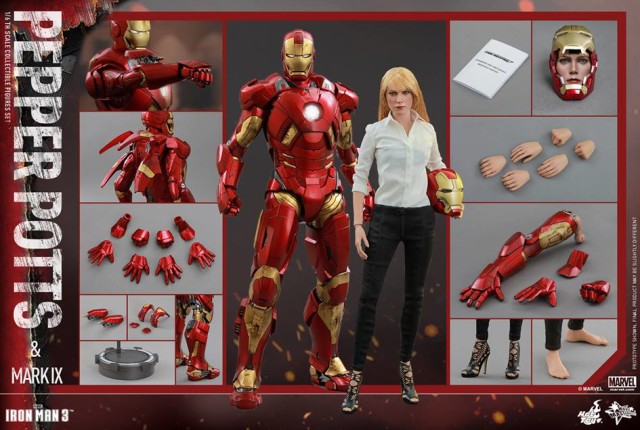 Back when Hot Toys began their insane descent into making four dozen different Iron Man armors for the Iron Man 3 movie, there was a Q&A in which the company confirmed that they were, in fact, working on producing a Gwyneth Paltrow Pepper Potts 1/6th scale figure.
After waiting two years with literally not one sneak peek of the figure, I gave up, believing that a high-end Pepper Potts figure was nothing but a pipe dream. But today, Hot Toys has fulfilled their promise–a Pepper Potts Movie Masterpiece Series figure is finally on the way!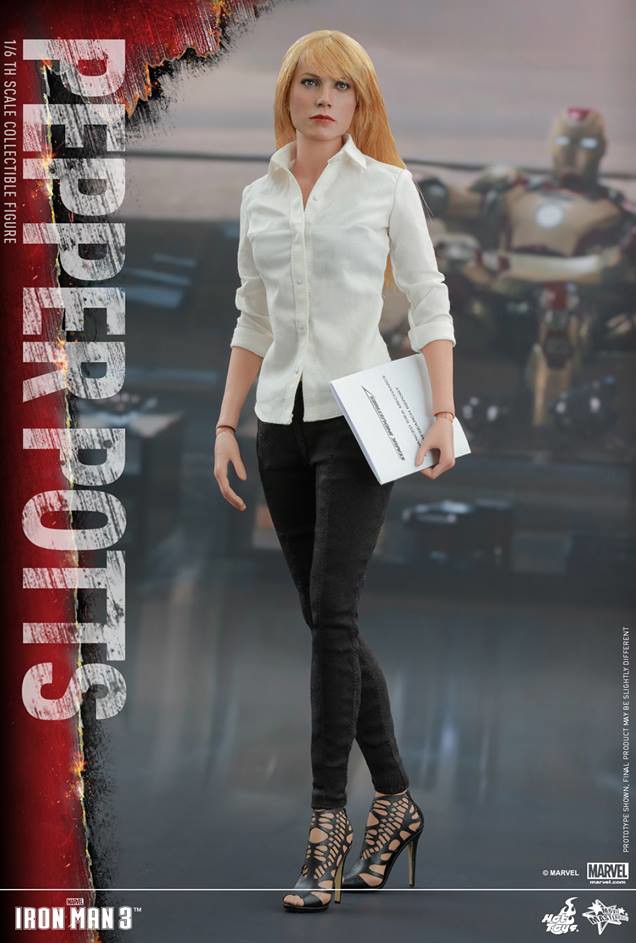 At a glance, I was really disappointed with this figure. I didn't see a lot of Gwyneth Paltrow in the portrait, and the long rooted hair threw me for a loop.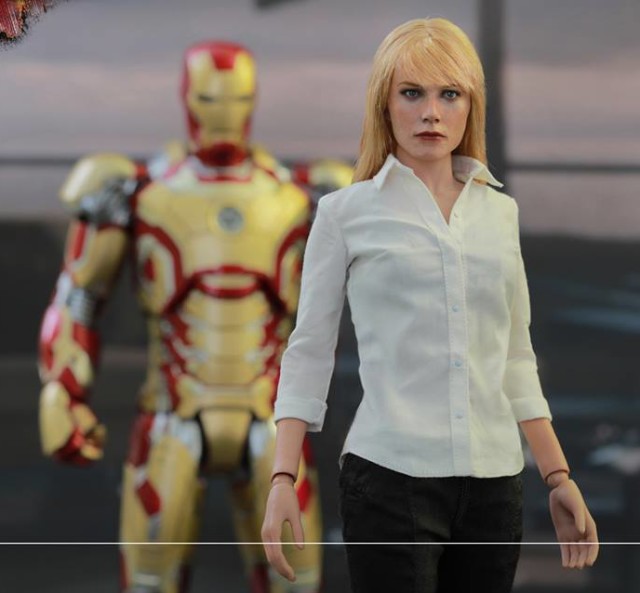 But looking at all of the available images of this 1/6 figure and comparing them to screenshots from the movie, I'm "okay" with the head. Pepper still looks more ticked-off than I'm used to seeing her, and her hair should have a dash of red in it, but this is a decent take on Pepper, in my opinion. If the cheeks get thinned a bit and I can manage to style her hair into a ponytail, I'll be content.
And yes, for those wondering–Gwyneth Paltrow's shoes can be removed so she can go barefoot, just like in the final battle! Could this Pepper figure also be sporting a sports bra beneath her shirt? We'll just have to wait to find out…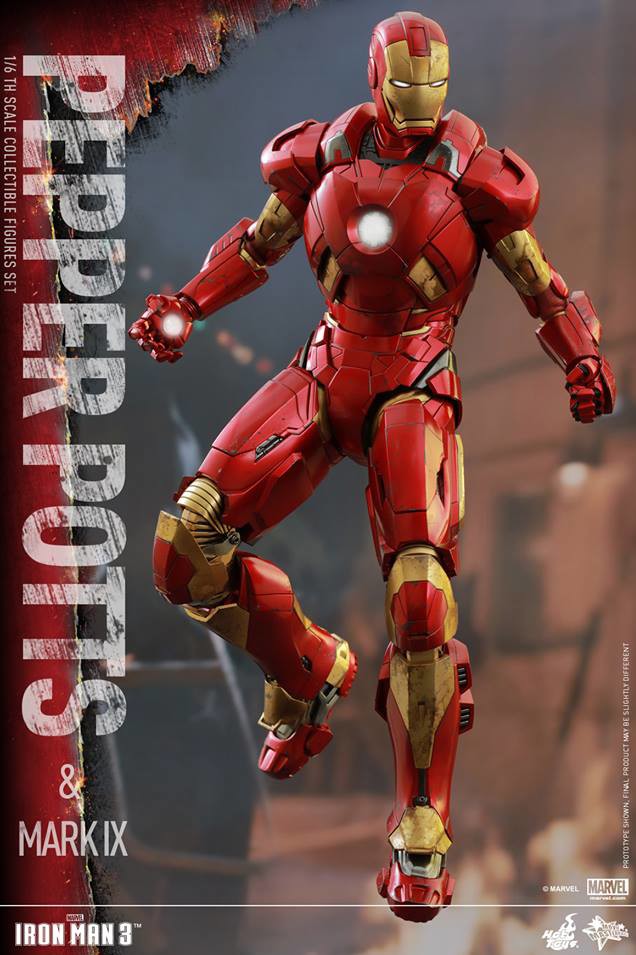 But Gwyneth Paltrow isn't coming alone–she's coming with an Iron Man friend! And this isn't just any armor–it's one of the two permutations I genuinely was convinced would not be produced.
Two weeks ago, the inclusion of a mini Iron Man Mark IX figure with the Tank armor had me lamenting that this particular armor permutation was never coming in actual sixth scale form. Apparently, Hot Toys really wanted to put the screws to me, because out of nowhere, a 1:6 Iron Man Mark 9 figure has appeared!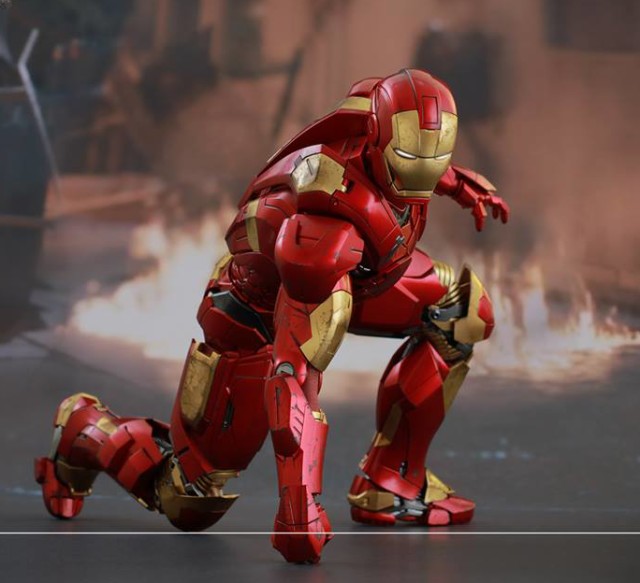 Now, this is not a random inclusion. In the climax of Iron Man 3 (which I have seen many, many times), Pepper destroys the Mark IX Iron Man and uses the armor's arm to ultimately defeat Killian.
The Iron Man Mark 9 MMS is almost entirely a repaint of the Python Iron Man released last year (the crotch is different) in red and gold, so if you have the Python armor, you basically know what you're in for here. I'm building the whole 1:6 House Party Protocol, so I'm thrilled with it, personally.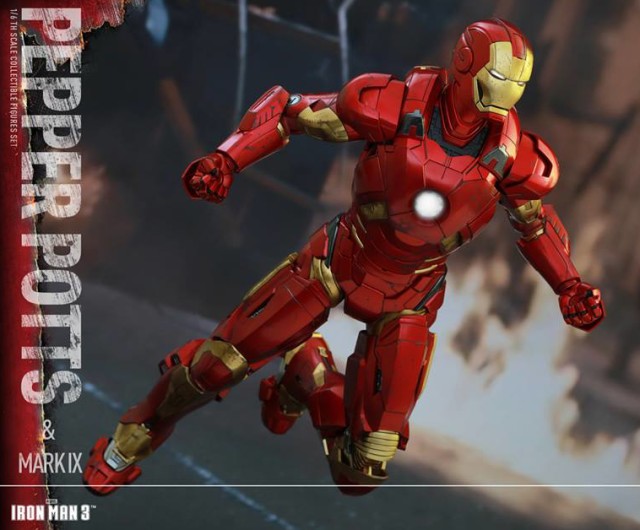 And in a dastardly evil twist, Hot Toys is making the Iron Man Mark IX MMS figure available
exclusively
bundled with Pepper Potts. So for those who want to complete their House Party Protocol but don't want Pepper–sorry, you're out of luck! Not a bad sales strategy, eh? Well-played, Hot Toys. Well-played.
But that's not all! The two-pack of Pepper and the Mark IX will include an exclusive Pepper Potts in Iron Man helmet head (which looks perfect), as well as an illuminated Iron Man helmet which will be exclusive to Sideshow Collectibles in the United States. So if you want all the bonus items, Sideshow is the only retailer to get this set from in the U.S. Be aware.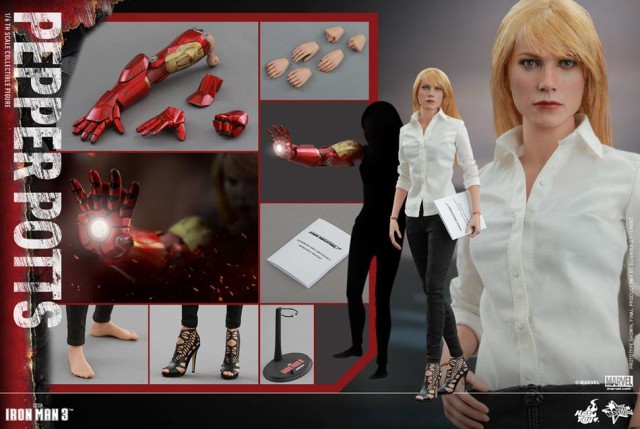 The EXCLUSIVE Hot Toys Pepper Potts & Iron Man Mark IX set will be up for order later today on the Sideshow Collectibles Website, and is scheduled to ship out in 2015. There is never going to be another sixth scale Pepper Potts figure ever made, so if you've been wanting Pepper (like me!), this is your time.
What do you think of the long-awaited Pepper Potts Hot Toys figure, Marvel collectors? Are you happy to be adding this high-end Gwyneth Paltrow to your collection, buying her just to get the Hot Toys Iron Man Mark 9, or passing on this duo altogether?