I'm building an entire Hot Toys Iron Man House Party Protocol of sixth scale figures, and when it's complete, it will be the pinnacle of my toy collection. But while there are plenty of red and gold Iron Man figures that look "the same", there are also some HPP armors that are wonderfully different. And today, I'm reviewing one of the "different" armors. The Sideshow Exclusive Hot Toys Gamma Iron Man Mark sixth scale figure is a little bit bigger and a whole lot more green than your typical Iron Man armor, and an absolute must for an Iron Man 3 collection…
The Right:
While there's plenty of love out there for the more "classic"-feeling Iron Man armors that appear in the Marvel Cinematic Universe, my favorites in the House Party Protocol tend to be the weirdo armors such as Disco, Peacemaker, Bones… and this guy, Gamma Iron Man.
When Hot Toys announced they were going to attempt to produce the entire House Party Protocol, I was seriously skeptical that we'd never get some of the wacky armors like Mark XXVI Gamma Iron Man. The fact that I now have this figure in my hand is proof that I was wrong to doubt Hot Toys. Thumbs up.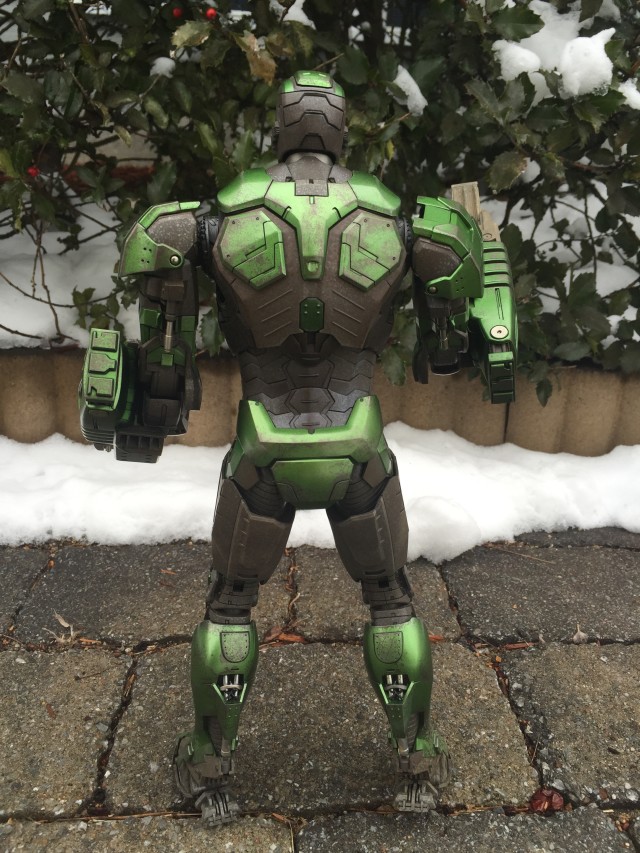 Gamma Iron Man is a straight-up repaint of the previously-released Hot Toys Striker Iron Man sixth scale figure. Even so, the two armors don't share parts with any other armor permutation, so Hot Toys produced 100% new tooling to make sure Striker and Gamma were perfectly authentic. Thanks, Hot Toys!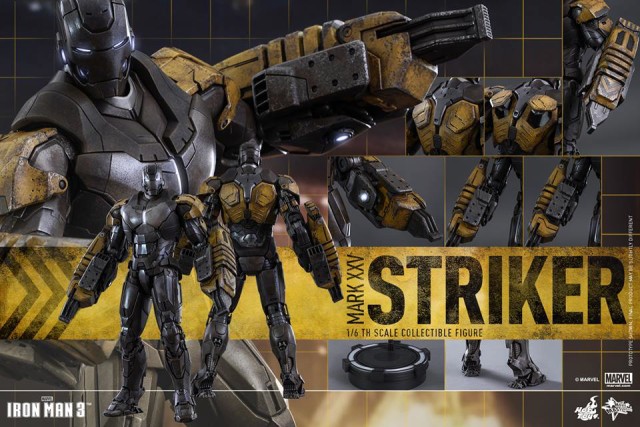 Whereas Striker Iron Man is decorated with gritty "construction zone"-like colors, Gamma eschews that in favor of a very unique green and grey color scheme.
The colors on the Hot Toys Mark 26 are totally different from those of any other House Party Protocol armor released, and as a result this figure really pops on the shelf in a display amongst the more commonly-colored armors.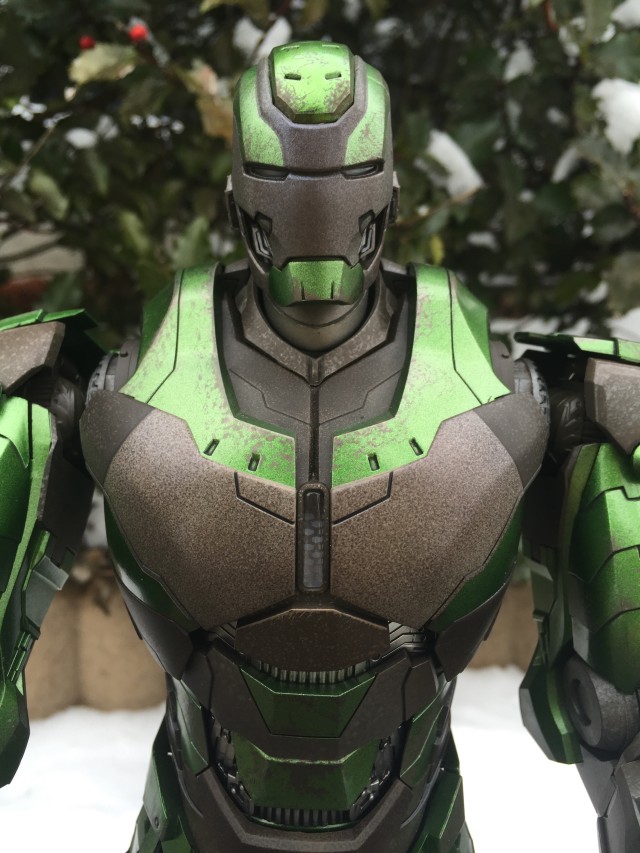 And the paints used on the Gamma Iron Man Movie Masterpiece figure are just terrific. These aren't flat, cheap paints used here–both the green and grey portions of this figure have weathering deco and shiny little flecks in them that really flaunt the fact that this is a premium figure. In short, Gamma Iron Man is really pretty.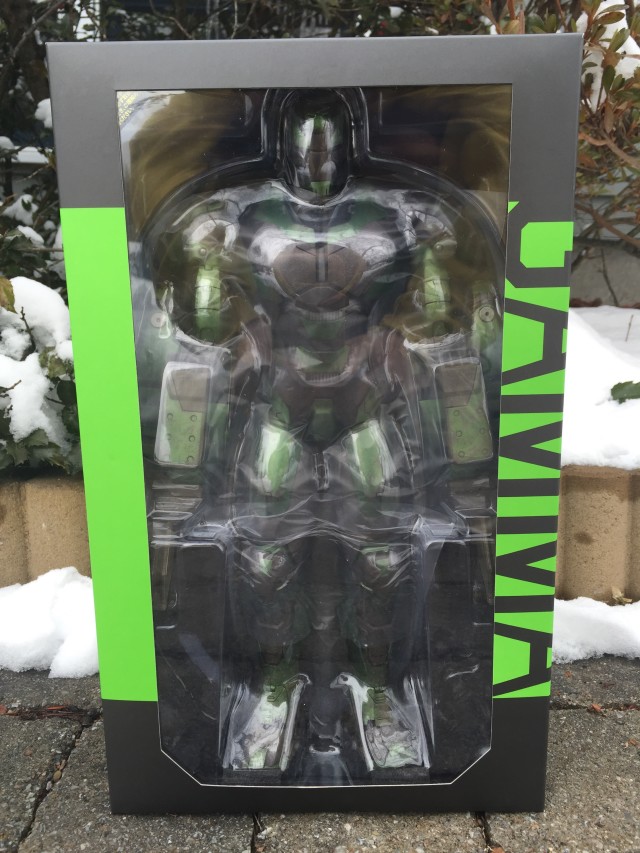 Also unlike the majority of the armor permutations, 12″ isn't the proper scale for a sixth scale Iron Man Gamma figure. Instead, Hot Toys has accurately recreated Gamma Iron Man at over 13″ tall, just the way it should be. It may just be a bit more than an inch, but Mark 26 Gamma feels big and impressive.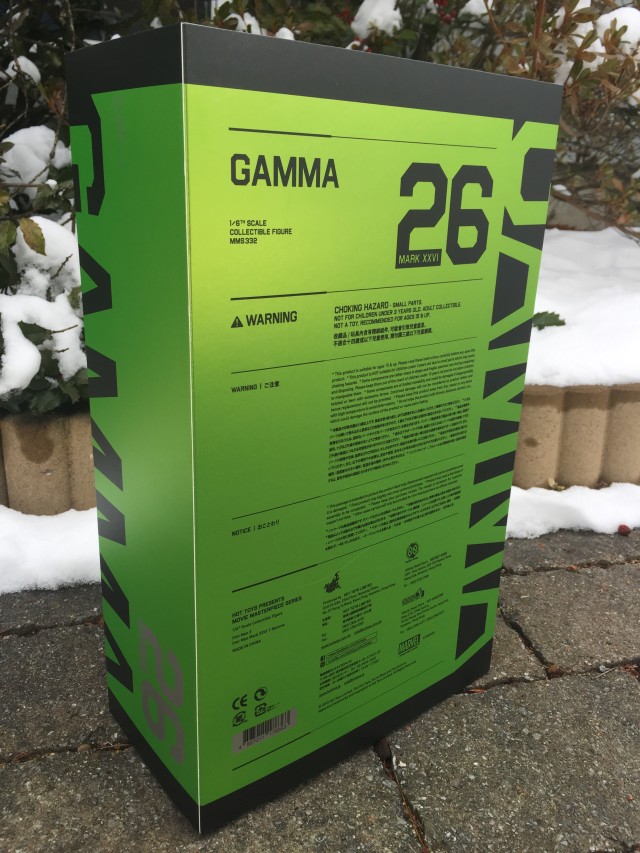 Scale is crucial to differentiating between 40+ Iron Man armors, and I appreciate Hot Toys' commitment to producing all of the armors in the appropriate scale.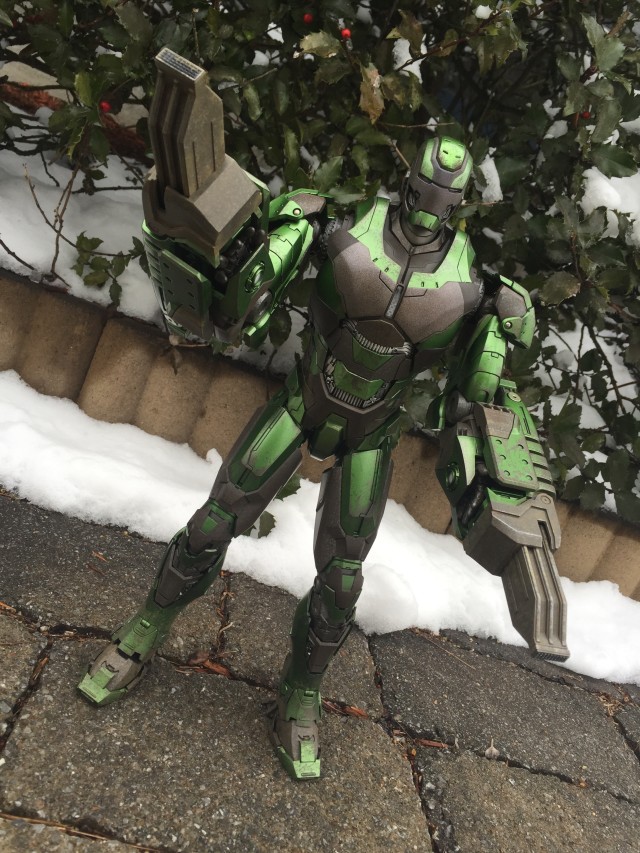 Another major difference between this and most other armors is the rectangular chest reactor, a trait that's almost totally unique among the MCU Iron Man armors.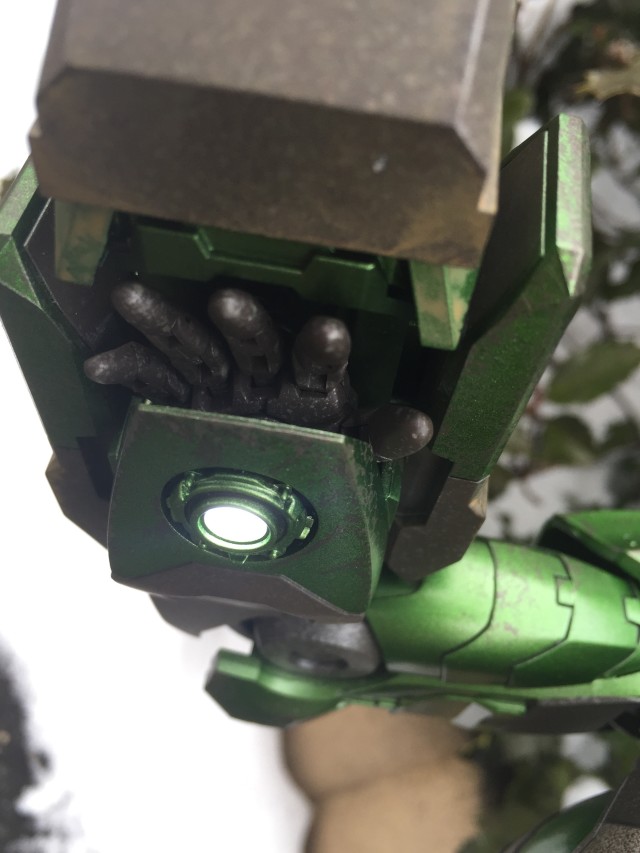 The 1/6 Gamma Iron Man Hot Toys figure lights up in four places: his eyes, forearms and chest. All four lights have their own switch, which are easy and convenient to get at. The lights themselves are very bright (maybe a little too bright in some places–more on that later).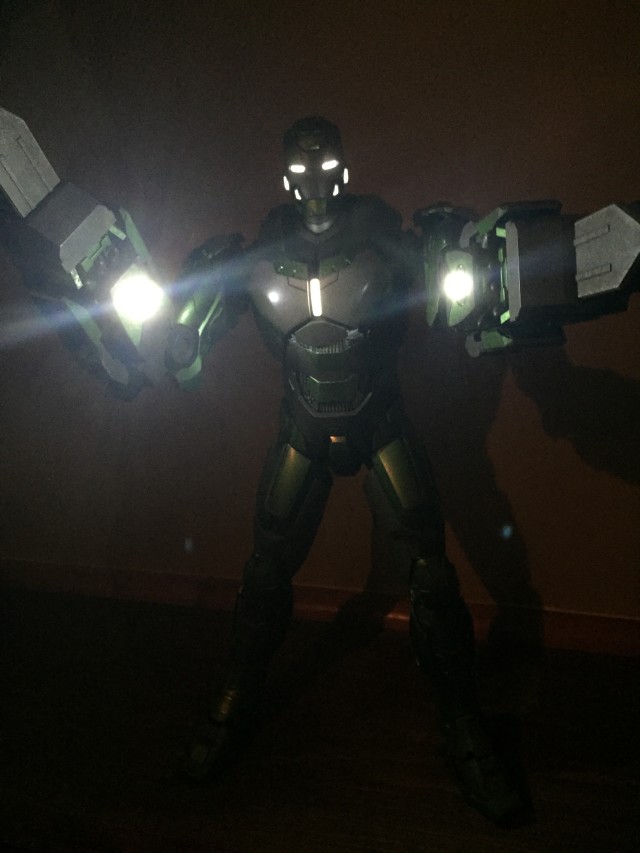 And frankly, the lined pattern inside the rectangular chest reactor looks mesmerizing and the coolest of all the ARC reactors on any Iron Man released thus far. It's next to impossible to capture the lining on the chest light in photos, but trust me–it looks terrific in-person.
While it's not the most articulated of the HPP armors, Gamma is still super-articulated and has plenty of flexibility. All of the joints are tight and work well, making the articulation scheme here silky-smooth and all-around excellent.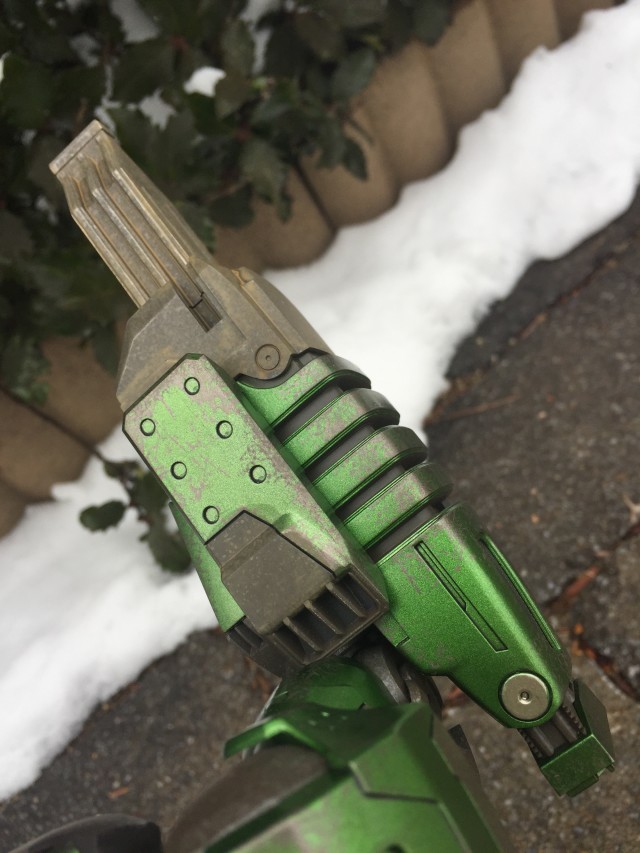 And of course, Mark 26 Iron Man shares one more unique feature with Striker: a pair of large pneumatic hammers attached to its forearms. These jackhammer-like appendages can be locked into place in two positions, and definitely look capable of causing plenty of destruction.
Price-wise, I legitimately thought the Hot Toys Gamma Iron Man MMS would retail for $300+ because of its size and exclusivity. So with that in mind, I was thrilled that this Iron Man figure is priced very fairly at $264.99. Limited to one-per-person, Sideshow Collectibles still has some of this figure left (for now).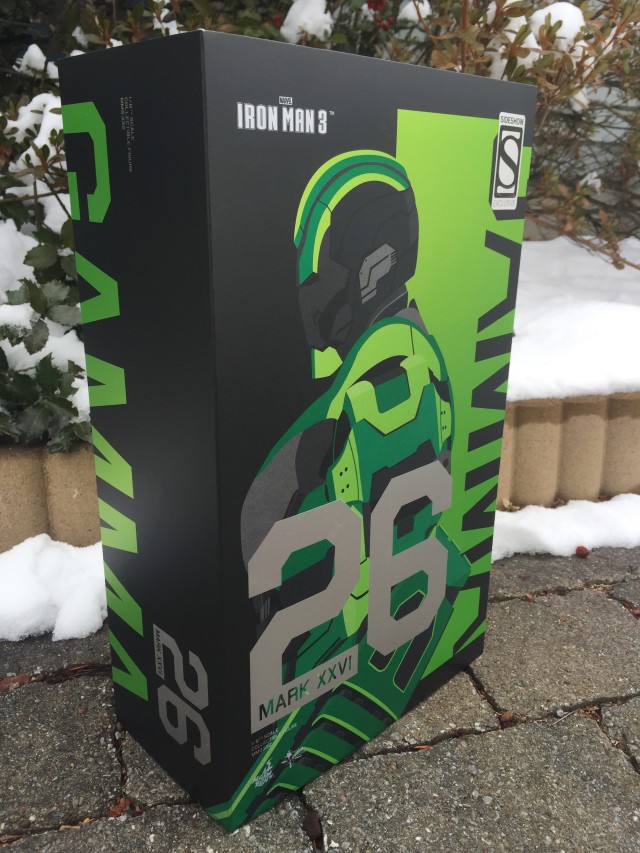 Lastly, I don't typically include packaging in my reviews, but I think it's worth mentioning that the bright green-toned graphics on the box slipcover are absolutely gorgeous. Most boxes go straight into storage, but I just can't bring myself to put this beauty out of sight just yet.
The Wrong:
This is going to sound like the nittiest of nitpicks, but here goes: the LED lights in the Gamma Iron Man sixth scale figure's forearms are
way
too bright.
No, really–the lights are far brighter than those in the helmet and chest reactor, and they legitimately hurt my eyes. As sharp as this armor looks with all its LED lights lit, I can't bring myself to activate the arm lights because they're too bright.
With the exception of this overpowered lighting issue, Iron Man Mark XXVI is practically perfect in every other way. If you can deal with the powerful lights, there's really nothing else to complain about here.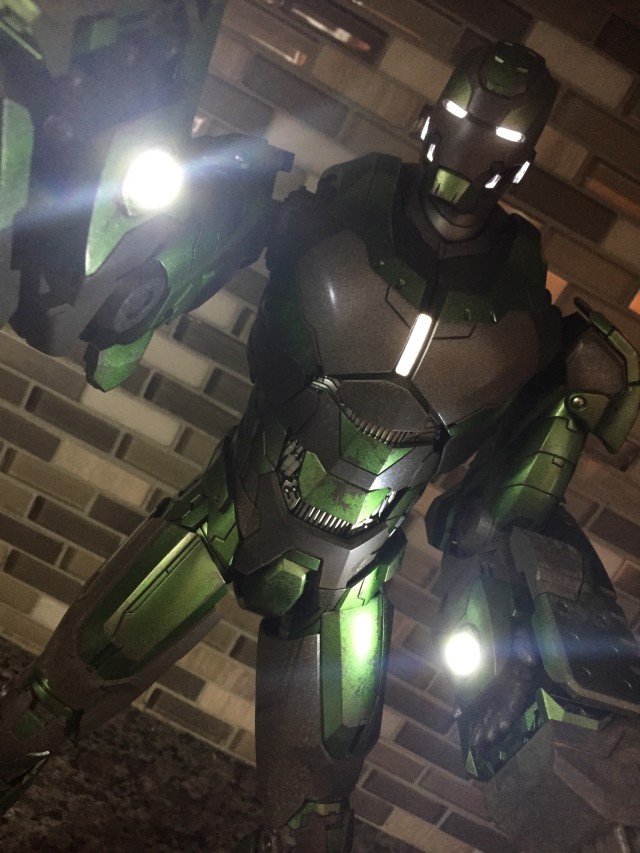 Overall: I don't review a lot of Hot Toys Iron Man figures because I don't want to sound like a broken record prattling on about how amazing they are, but it's hard not to gush about how incredible the Hot Toys House Party Protocol is. The Gamma Iron Man Hot Toys figure stands out from the pack of most armors with a larger size, uncommon colors and a fun gimmick. Gamma is a limited exclusive at a fair price that's still available (for now), and is absolutely a necessity for those building an extensive Hall of Armor. Highly recommended.
GRADE: A