While I talk an awful lot about Hot Toys Marvel figures on this blog (and I'm legitimately somewhat embarrassed about how much I spend on Hot Toys each year), I tend to not review many of the sixth scale figures I buy. why? Well, frankly, it's almost tedious having to prattle on about toys that are virtually perfection. but seeing as how Sideshow Collectibles' Black Friday sale has the Hot Toys Heartbreaker Iron Man available for 30% Off and free shipping with code "BF3015" this week, I figure now is a good time to gush about how amazing this figure is….
The Right:
When the three dozen-plus new Iron Man armor permutations were first being revealed, the Mark XVII Heartbreaker was easily one of the most popular and acclaimed new designs from the movie. And so, Hot Toys justifiably chose the Heartbreaker as the very first House Party Protocol armor to be immortalized in the Iron Man 3 Movie Masterpiece Series line.
Originally, Hot Toys announced that the Heartbreaker armor would be a die-cast figure, but they silently changed the figure to plastic when it went up for sale. Given how downright incredible the die-cast Iron Man MMS figures are, I was legit worried that the Heartbreaker wouldn't be able to stack up.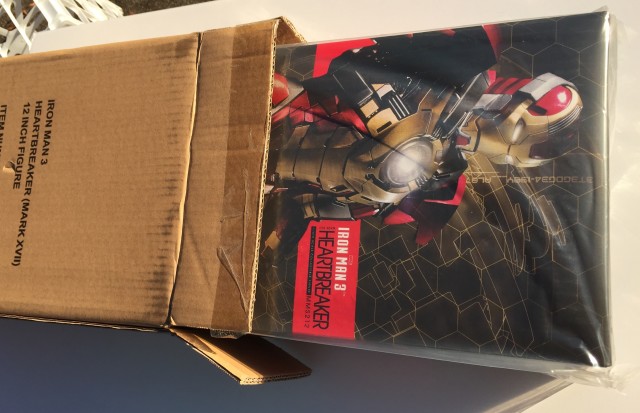 As fate would have it, though, my worry was totally unfounded. Once I removed the Heartbreaker MMS212 figure from its nicely-decorated shoebox-style packaging, I was instantly in love.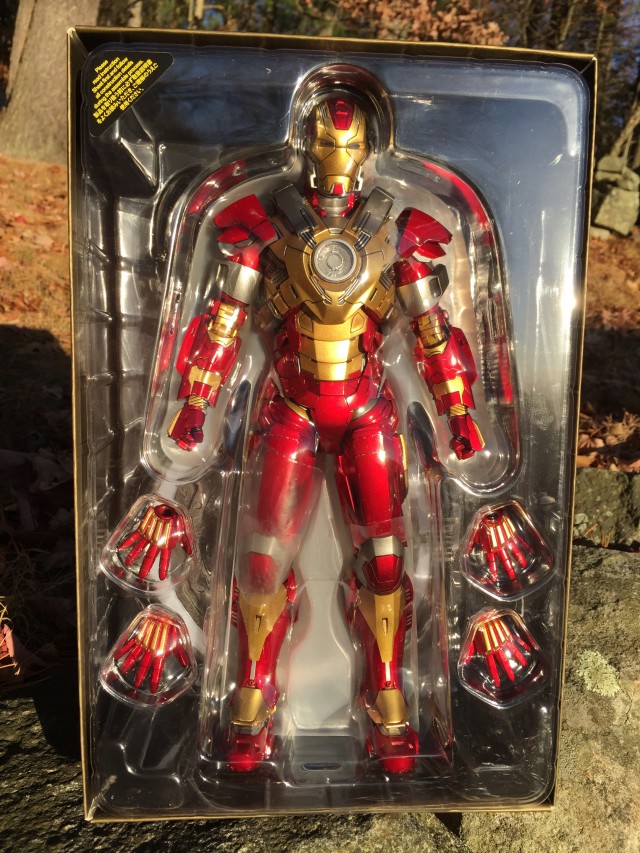 Simply put, this 12″ Iron Man action figure is jaw-droppingly gorgeous. I've had it out of the package and on a shelf in my living room for about a week now, and I find myself stopping to appreciate Heartbreaker's top-notch aesthetics numerous times throughout the day.
Any concerns I had about this toy not looking as good as the die-cast Iron Men vanished in an instant once I got this out of its packaging.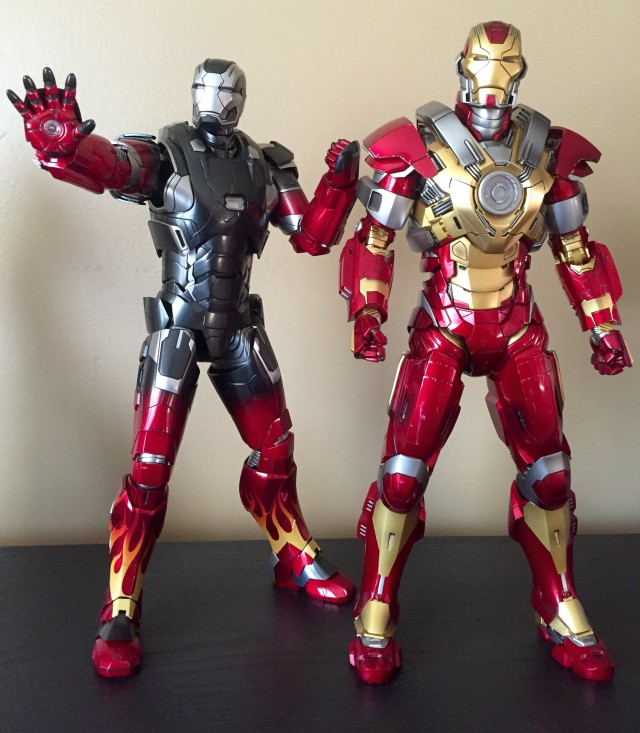 In fact, I pulled out my die-cast Hot Rod Iron Man to do a side-to-side comparison, and I simply could not tell the difference between the painted metallic red on Heartbreaker and the actual red metal on Hot Rod. The paint on this figure is just that good.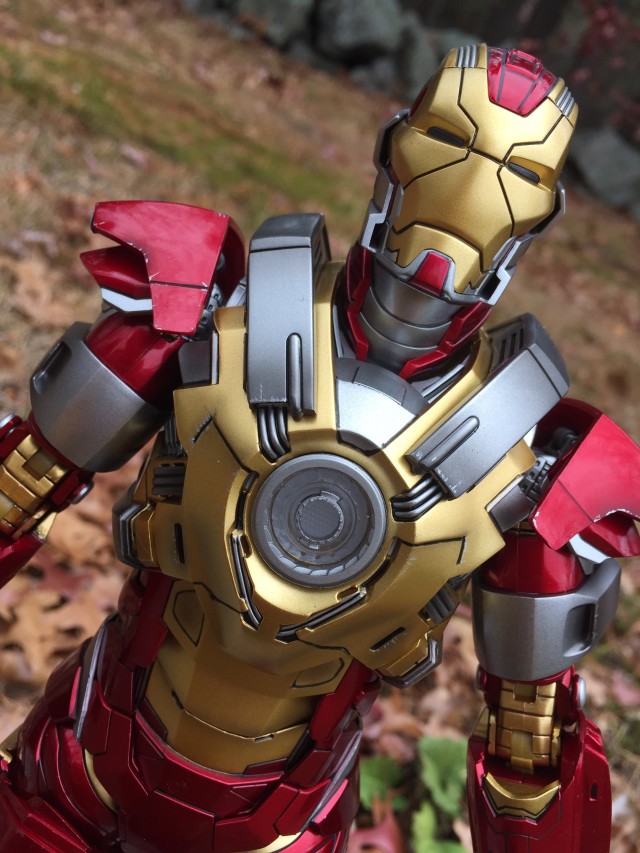 While the Heavy Artillery Heartbreaker armor is another red and gold Iron Man armor permutation, don't ever mistake it for just another red and gold Iron Man. This armor has a very unique design–particularly the chest area–that Hot Toys' sculpting has done a magnificent job of capturing.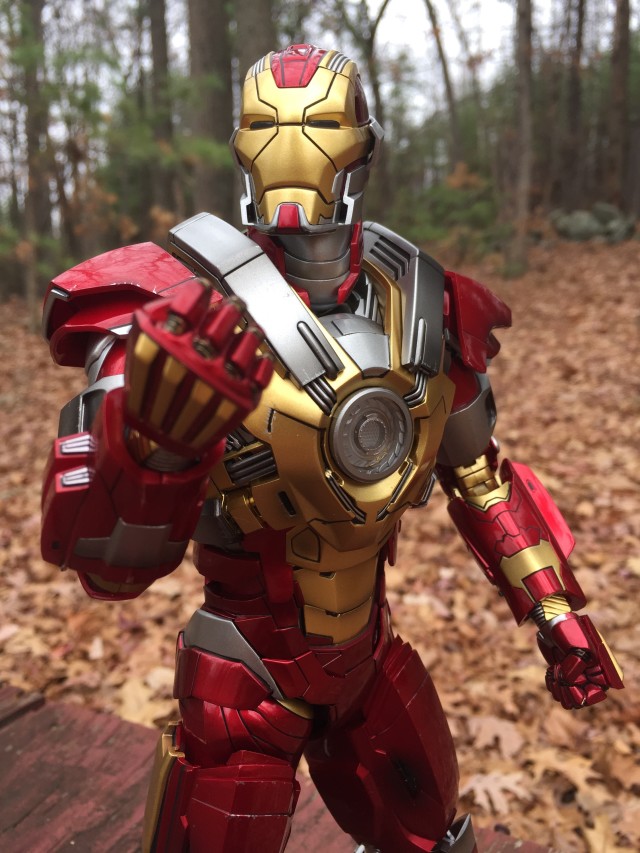 Up until I opened this MMS 212 Heartbreaker toy, I didn't fully understand the sizable fan base for this armor. Now that I've had a chance to enjoy staring at this figure for the past week? I'm a believer–this is absolutely one of the best-looking Iron Man armies ever designed.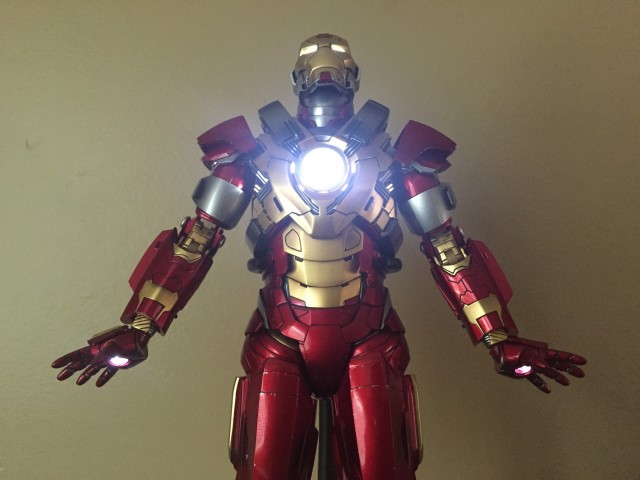 I don't typically bother putting the batteries in my Hot Toys, as I rarely activate them, but for the sake of this review, I decided to install all the batteries in the Mark XVII and power it up. And man… am I ever glad that I did!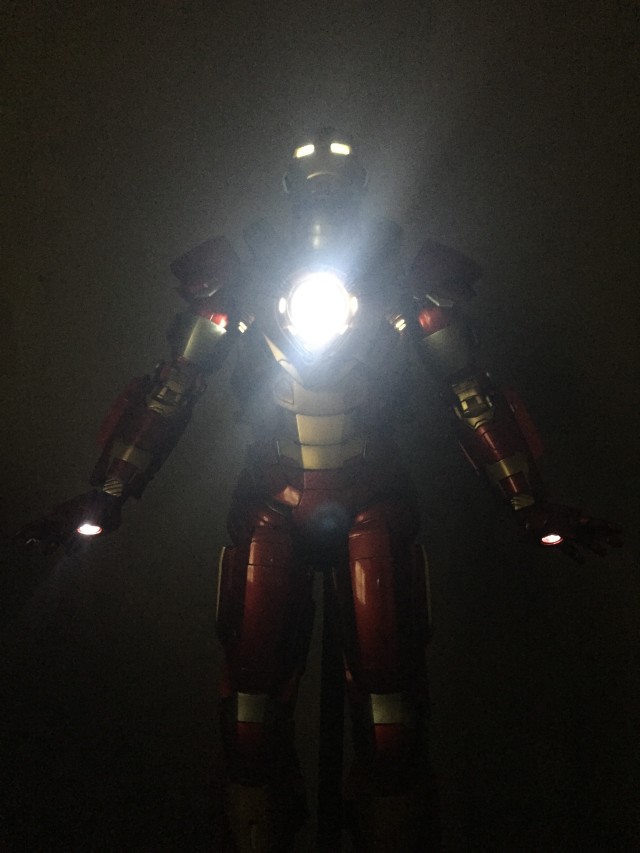 The light-up LED electronics on this sixth scale Iron Man are downright phenomenal. They light up with a powerful intensity, and staring at the LEDs in different lighting conditions is mesmerizing. This figure may have made a battery-installing convert out of me.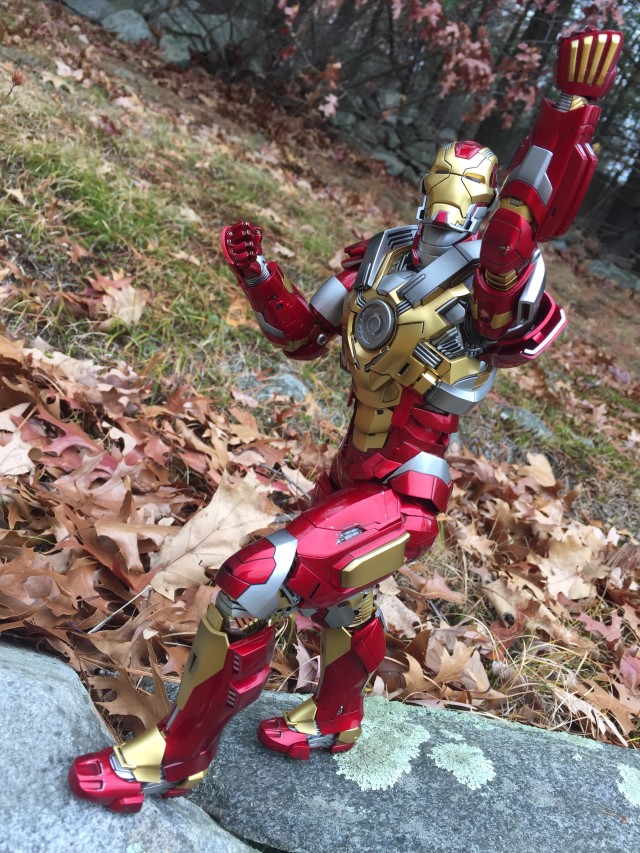 Articulation-wise, Mark 17 is equally spectacular. Not only are all of the finest types of modern articulation present–from ankle rockers to double-jointed knees and elbows–but Hot Toys has also implemented extendable torso and limb joints, allowing this Iron Man to take on poses that require otherwise impossible flexibility.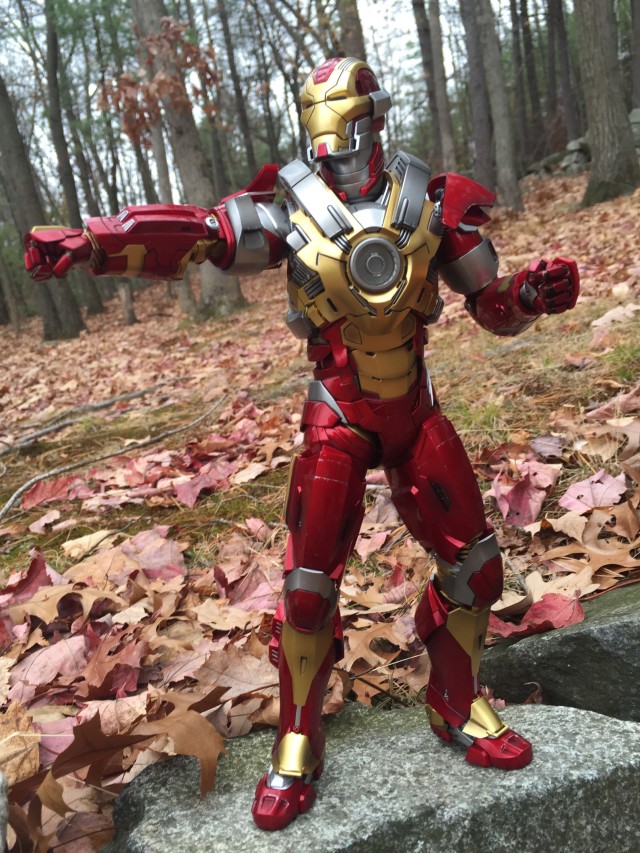 I've only seen this type of articulation integrated on import toys such as Gundam models and high-end action figures, but it is really impressive. Hopefully someday Hasbro and Mattel and other domestic companies are able to implement articulation this fine.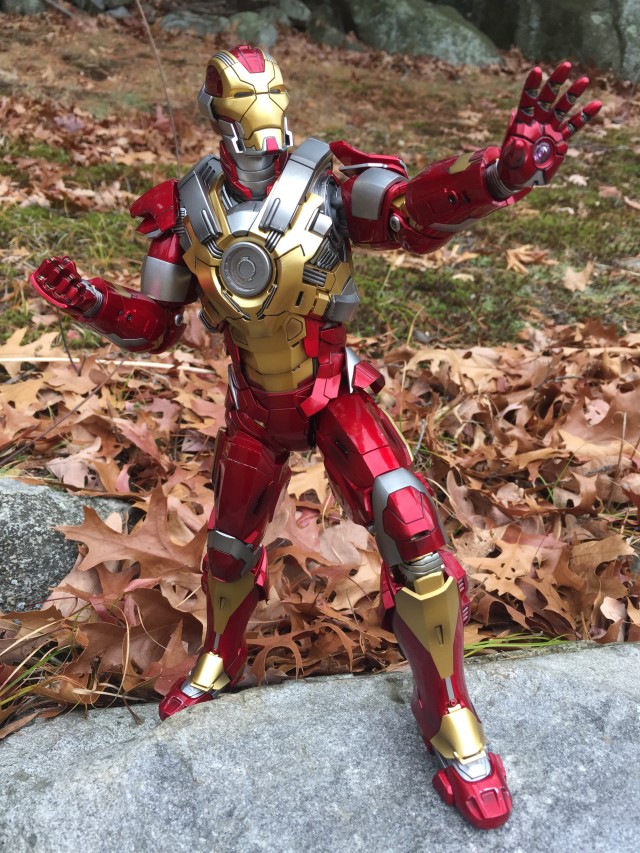 The figure includes three pairs of interchangeable hands: closed fists, articulated open palms, and pre-posed repulsor-firing palms. The latter two pairs feature LED lights, whereas the closed fists (obviously) do not. The lights are activated via an easily-accessible switch on the size of each forearm.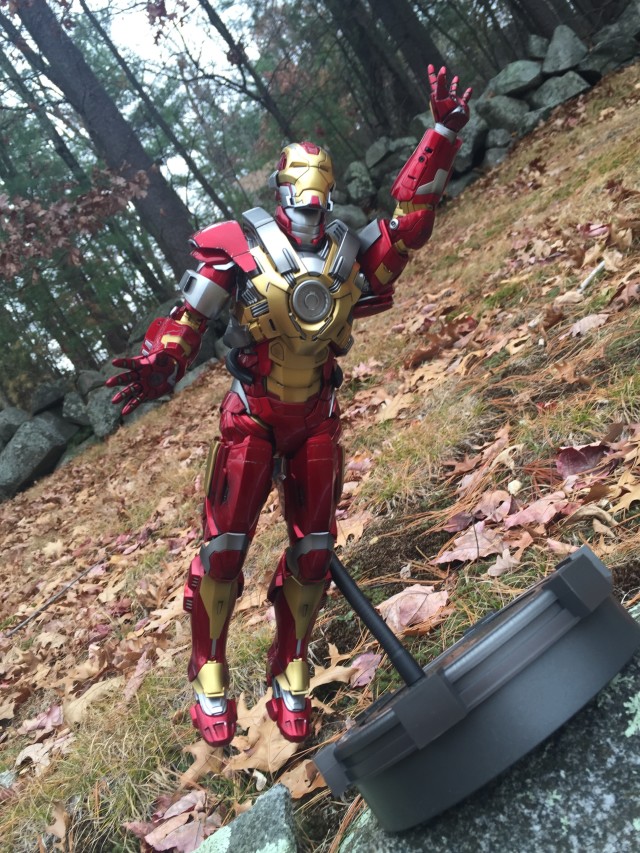 Finally, a display base with an articulated stand is also included as the icing on the cake. I don't feel especially comfortable posing my ~$250 action figure floating horizontally on a rubber pole, but I have to admit that you can get some cool flying poses out of it using the stand.
My preferred display pose for this Heartbreaker Iron Man Hot Toys figure is to have him gently hovering an inch over the base with his repulsor hands "lifting" him off the ground, but I imagine many collectors will be more adventurous (and inventive) than I am.
The Wrong:
The primary reason I don't frequently write Hot Toys figure reviews is that there's usually barely anything to complain about, and I loathe sounding like a sycophant. So yes, I will be discussing the cons of this figure now, but am I just nitpicking for the sake of it? I'll let you decide that for yourselves.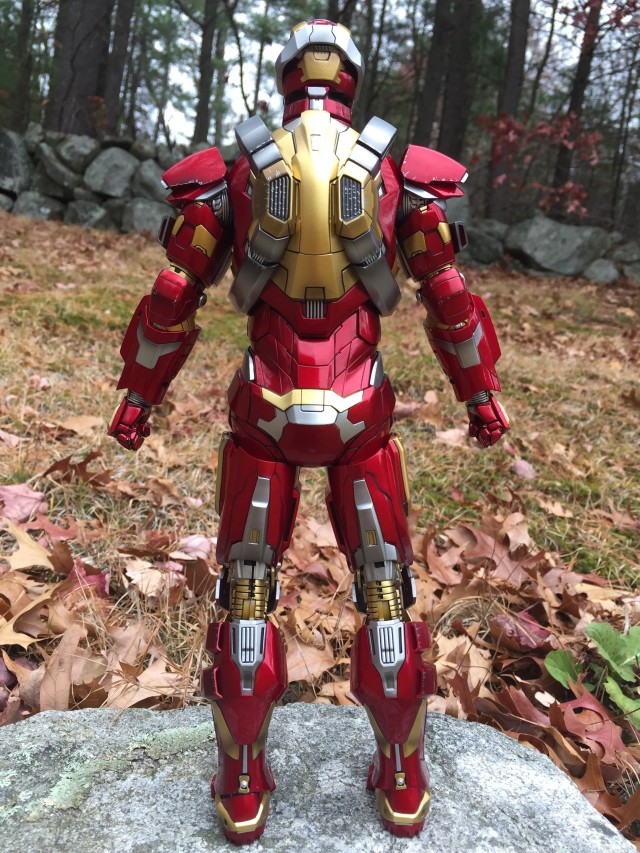 The sole aesthetic flaw that I find with this Iron Man Mark 17 is the uncovered switches on the forearms that activate the electronic LED lights on its palms. While the lowers arms are red and gold, the thin little switches are
black
. It's not a huge deal, but it does stand out to me and seems like a baffling choice on an otherwise flawless-looking armor.
In addition, Heartbreaker Iron Man is a bit sparse on accessories. The figures comes with a display stand, three total pairs of interchangeable hands, and… well, actually, that's it! That's not exactly a cornucopia of extras for a figure with a regular price tag of 250 smackers.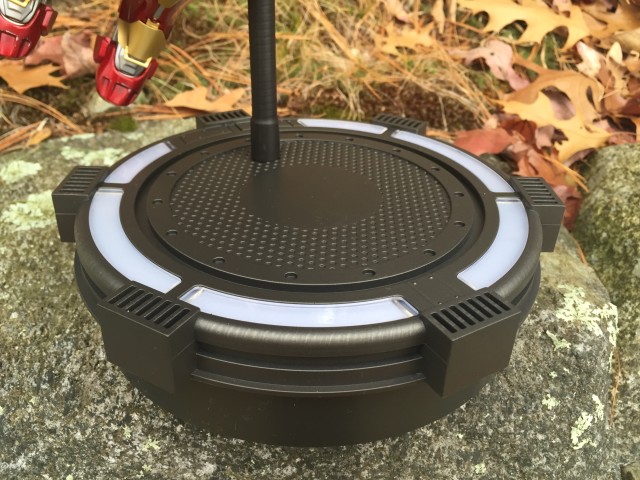 Furthermore, while this display base previously featured integrated electronic lights, Hot Toys gutted the base and removed the electronics for this release. With this toy being on the expensive side and coming with as little as it does, removing the electronics from the base in this manner feels a little, well… cheap. I can live with the decision, but it does feel like a real head-scratcher of a decision.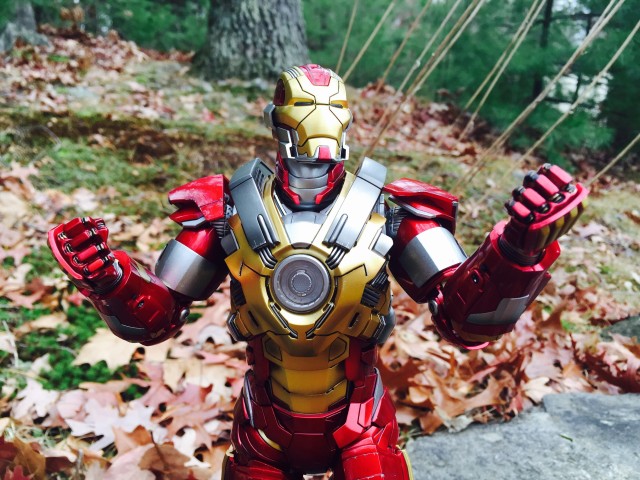 Overall: The Hot Toys Iron Man Heartbreaker sixth scale figure is, plain and simple, one of the absolute best non-diecast Iron Man figures ever made. Period. From stupendous articulation to incredible sculpting and superb articulation, this figure is worth every penny of its $250 MSRP (and is an even better value when you can get it for a deal). While I can find trifling things to nitpick such as the lack of electronics in the base and the color of the power switch, those are trivialities. The Iron Man Heartbreaker Hot Toys figure is a joy to look at, to display, and to play with. If you like this design and can afford it, this Hot Toys Heartbreaker Iron Man figure earns my highest possible recommendation.
GRADE: A