Seeing as how the calendar claims that today is the first day of December 2015, it's probably about time that we heard something about the Winter 2016 LEGO Marvel sets, right…? Well, yes and no. While most of LEGO themes' sets for the new year roll out January 1st, the LEGO Marvel 2016 sets are not among them. We'll have to wait a while longer for those. Even so, at least we now know a few sets we can look forward to this winter–including the first-ever LEGO Thanos and Captain Marvel minifigures!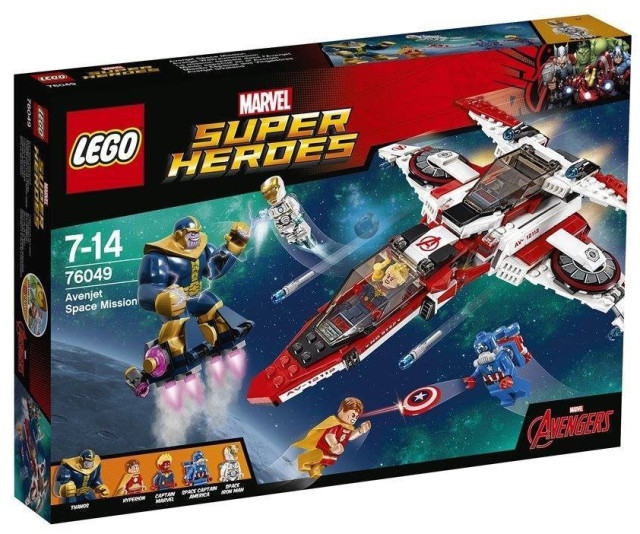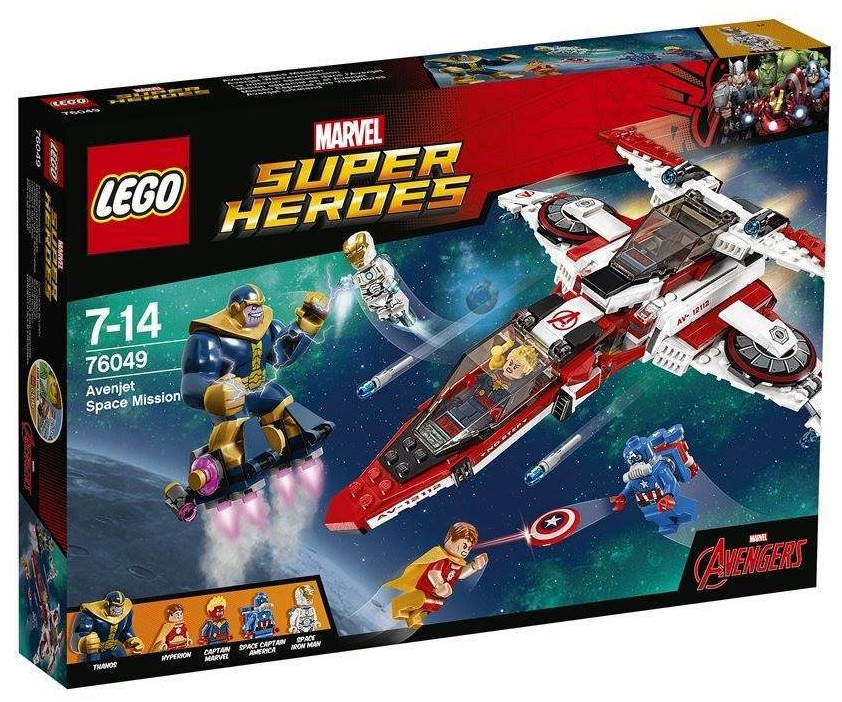 While the bulk of the new year's LEGO sets are coming out January 1st 2016 (and
I've been talking about the LEGO Star Wars 2016 sets on my LEGO blog for the past week
), the Marvel Superheroes (and DC Superheroes) sets are not–those will follow in February/March 2016. But while we're going to have a bit of a wait on our hands for the new sets to arrive, the first official photos of this winter's brick-built Marvel LEGO sets have now appeared online!
First up is the set that I imagine will be of primary interest to most folks: the LEGO Avenjet Space Mission 76049! This will be the larger/more expensive of the winter Marvel sets, but it looks so, so worth it…

Not only is the 76049 Avenjet Space Mission going to feature a totally new white and red Avengers Jet, but it comes with five minifigures of which four are actually desirable: an oversized LEGO Thanos minifigure (about the size of the Hulk and Green Goblin minifigs), a Carol Danvers Captain Marvel minifigure, a Space Captain America, a Hyperion minifigure (!!!), and a Space Iron Man (Starboost armor) minifig.
As far as character selection goes, this set is absolutely outstanding. Who would have ever thought that we'd get a LEGO Hyperion figure? Meanwhile, I'm psyched to get that beautiful Starboost Iron Man figure, and I have a hunch plenty of collectors will be buying this set solely for the Thanos and/or Captain Marvel figures.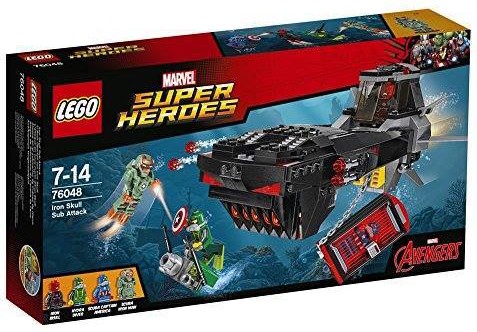 Meanwhile, the evil Red Skull–or should I say
Iron Skull
–is at it again in the 76048 Iron Skull Sub Attack set! This set is a, uh, "little" less desirable than the Thanos set. Whereas that set had three all-new characters included, the LEGO Iron Skull Sub Attack set has zero (unless we're counting "Iron Skull" as a different character from "Red Skull", which I am not).
I am pleased about the Scuba Iron Man minifigure in this set–which looks way cool–but that's about it. The underwater Captain America and Hydra Soldier minifigures are boring to me, and as menacing as that Iron Skull Submarine is, I just can't get into it. Maybe I'll change my tune when this set actually hits stores, but at the moment LEGO 76048 is looking like a rare "pass" for me.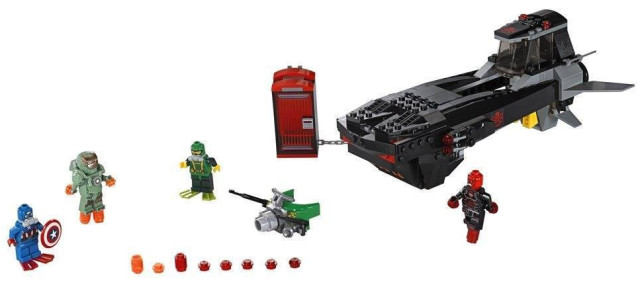 The LEGO 2016 Marvel Super Heroes sets will be released online and in stores in February/March 2016, although it's very likely that Toys R Us and the LEGO Stores will get early shipments of both new sets. I'll update this site and the Marvel Toy News Facebook and Twitter Pages once specific price/release details on these sets are revealed, as well as when they're actually sighted in the wild.
What are your thoughts on the first two Marvel LEGO 2016 sets? Will you be picking up either (or both!) of these new sets, or are you holding out for the LEGO Civil War sets that are scheduled to arrive in Spring 2016 instead?