Slowly but surely we've learned the early 2014 plans for Marvel toys from Hasbro, Hot Toys, Diamond Select and so on, and now it's LEGO's turn! LEGO is ready to capitalize on the blockbuster sales of the LEGO Marvel video game by rolling out five new LEGO Marvel 2014 sets this winter to ring in the new year! I'll begin by looking at the set most likely to be the favorite of collectors everywhere–the 2014 LEGO Marvel Hulk Lab Smash 76018 set with LEGO MODOK and Falcon minifigures and more!
UPDATE: The LEGO Hulk Lab Smash set has now been released and I have posted my review of the set's figures.
While there will be five LEGO Marvel winter 2014 sets, only one will be an Avengers-themed set (the other four will be composed of two LEGO Spider-Man set and a LEGO Captain America set). While I would have liked a bit more diversity in the lineup, there's no faulting LEGO for loading up the 76018 LEGO Hulk Smash set with an outstanding selection of minifigures!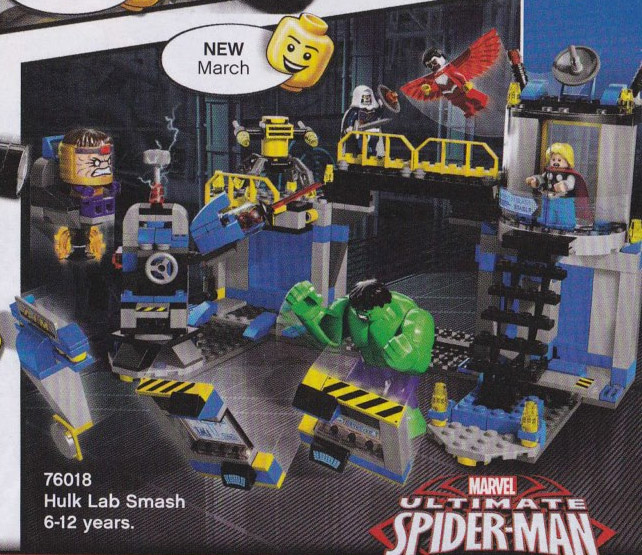 LEGO Hulk Lab Smash 76018 will include five minifigures, and three of them are all new characters. The figures included with LEGO 76018 will be an oversized LEGO Hulk minifigure, another LEGO Thor minifigure, the first-ever LEGO Falcon minifigure, the all-new LEGO Taskmaster minifigure, and a new LEGO MODOK minifigure (with hover-chair)!
We've seen this LEGO Hulk figure mold released before, but the only mass-market release of the large LEGO Hulk minifigure previously had tan pants and was in the LEGO Avengers Hulk's Helicarrier Breakout 6868 set. This time out, we're getting the Hulk LEGO minifigure in his classic purple pants, which is the iconic look that most collectors will prefer.

The 2014 LEGO Thor minifigure is pretty similar to his LEGO Avengers movie release, but this time he's a bit more comic book inspired and has lighter blue pants. The LEGO The Falcon minifigure looks awesome, and is likewise in his comics-inspired red and white costume. I believe his wings may be an all-new LEGO mold, as I can't recall seeing those used elsewhere before in the LEGO universe.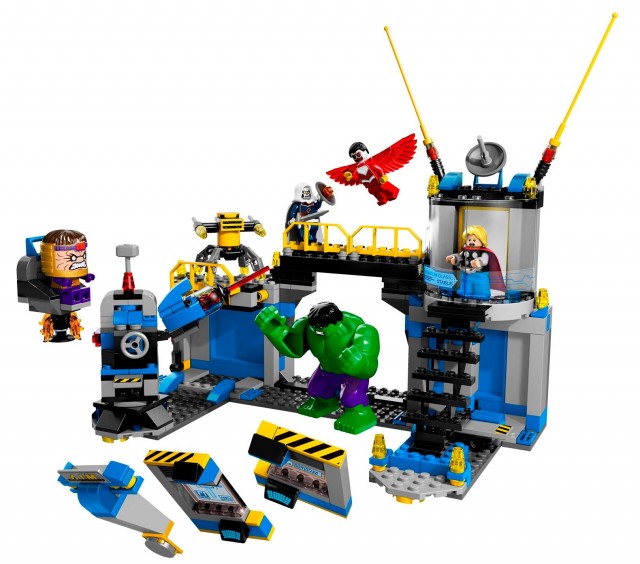 On the villains' side, we're getting two characters I never in a million years would have expected to get LEGO figures of: Taskmaster and M.O.D.O.K.! The LEGO Taskmaster minifigure looks to be made in repainted minifigure pieces commonly used, but he looks dead-on accurate to the Taskmaster's character design. LEGO MODOK has an oversized head on a regular minifigure body, which looks a bit strange on its own but fantastic when placed into the brick-build MODOK hoverchair.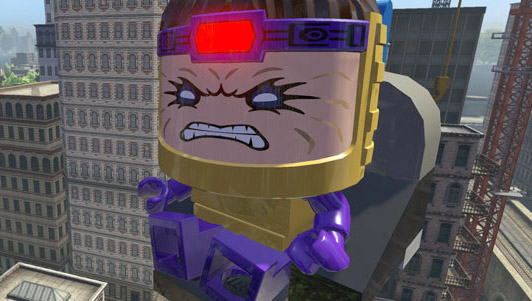 The LEGO 76018 Hulk Lab Smash lab playset itself is definitely the low point of the set, unfortunately. The "lab" is essentially just some little walkways, a ladder and a containment cell. It's adequate to create the facade of a lab, but certainly not anything inspiring as far as LEGO buildings/play sets go.
Will the Hulk Lab Smash LEGO 2014 set be smashing its way into your collections next year, LEGO fans, or are some really cool new LEGO Marvel minifigures not enough to secure your purchase?