Even though I run both a LEGO blog and a Marvel blog, I don't buy every LEGO Marvel set–and almost never the most expensive sets. With LEGO there are just so many high-priced items each year, and usually they're better than the Marvel LEGO ones. That said, as soon as I saw the LEGO Marvel Hulk Lab Smash 76018 set, I knew it would be coming home. And sure enough, I walked into the LEGO Store Tuesday, saw LEGO 76018, bought it on sight, and built it immediately when I got home. I'll review the playset portion of this LEGO Hulk Lab Smash set later, and discuss what everyone really wants to hear about first: the minifigures!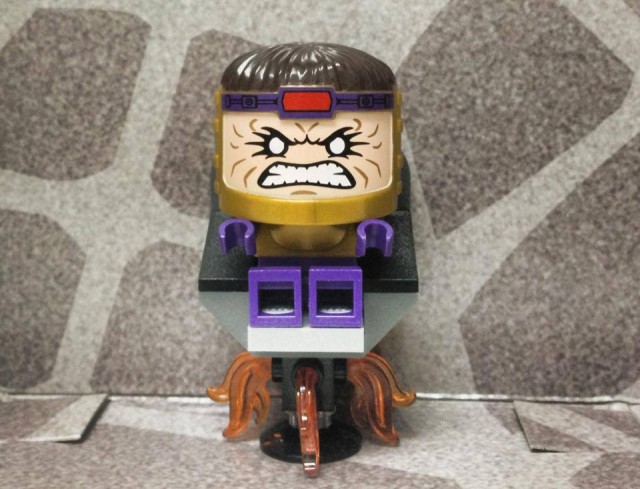 Ordinarily it makes sense to discuss the merits of a LEGO set and then move on to talking about its included minifigures, but the big attraction in 76018 LEGO Marvel Superheroes Hulk Lab Smash is obviously not the set itself.
No, this time out, the highlight is the jam-packed, all-star assortment of five minifigures that you get with the set, with three of the five figures being all-new entries in the line. The minifigures are what jumped out at me when I first saw the leaked photos of the set, and they're also what I'll be covering in the first part of this review. Watch for the review of the actual LEGO AIM Lab soon.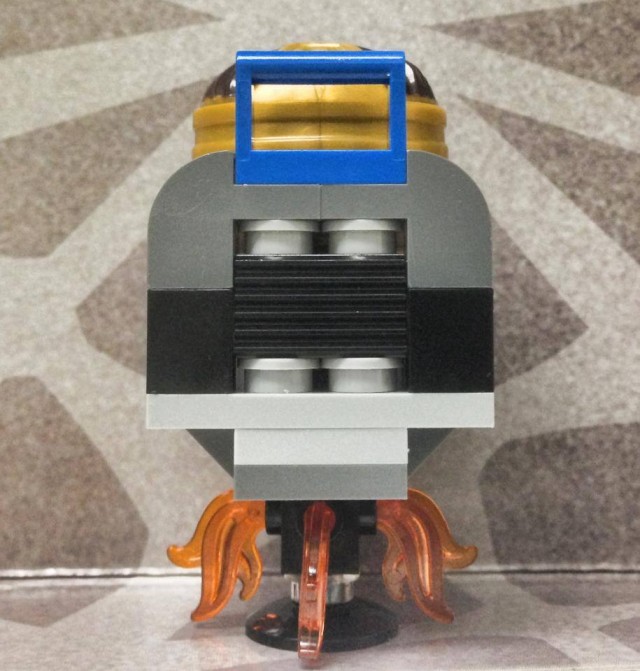 First up, the headliner: the first-ever LEGO MODOK minifigure. I can honestly say that I don't think anyone ever thought that the day would come when we'd be able to purchase an authentic, non-custom LEGO M.O.D.O.K. figure. One of the most grotesque (yet lovable) characters in the Marvel Universe, MODOK's popularity has skyrocketed in recent years, resulting in him appearing in LEGO form and even Micro Muggs form this year.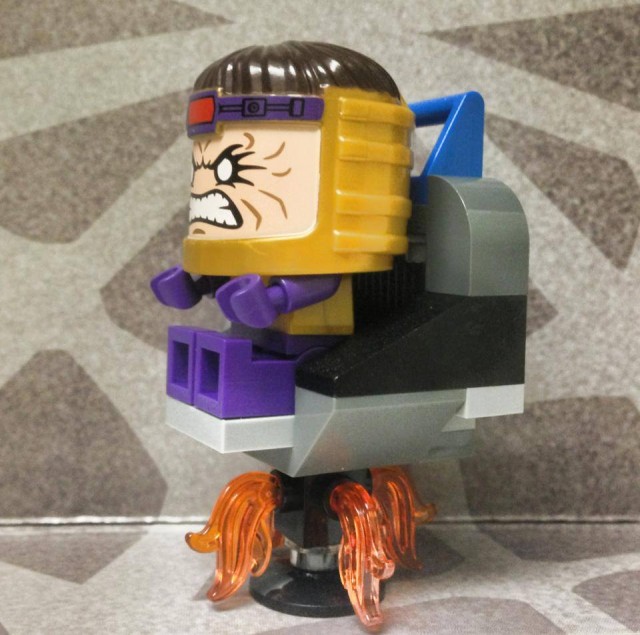 Obviously an impractical design to capture as a minifigure, LEGO has managed to pull off the MODOK minifig by utilizing a regular LEGO minifigure torso and legs, and putting an oversized giant plastic head atop the figure. This sounds like it shouldn't work, but when you place the figure atop the brick-built flying hover chair (complete with little LEGO flames coming out of the bottom!), the total package looks fantastic. The MODOK LEGO minifigure is an indisputable success.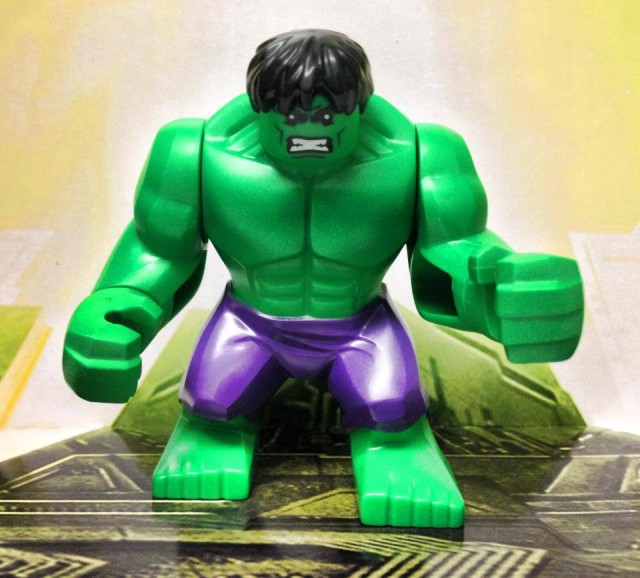 The other abnormal figure in LEGO 76018 Hulk Lab Smash is the titular character, the LEGO Hulk Big Figure. We've seen this exact mold released before in the LEGO 6868 Avengers Hulk's Helicarrier Breakout set (which, coincidentally enough, also featured a lab-like set).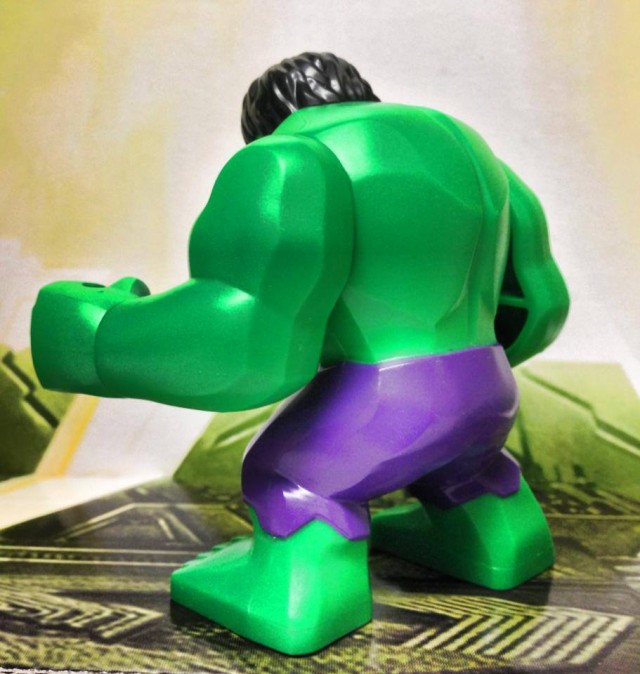 I much, much preview the purple paints on this LEGO Hulk figure to the tan pants on the Avengers LEGO Hulk figure, so this is automatically a rousing victory in my eyes. A much-needed official repaint of the Hulk LEGO Big Fig.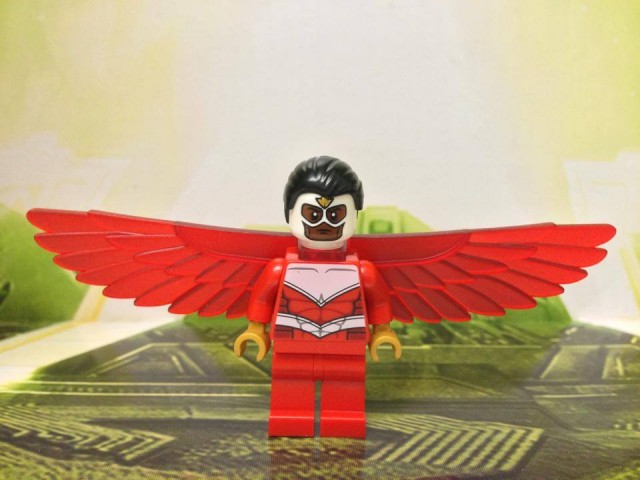 Next, we have the Falcon. This is the only figure in the set I'm not totally enamored with. This set is allegedly based on the Avengers Assemble cartoon, but LEGO went for the video game look for Falcon's head instead. As a result, he has the white mask framing his whole head, and I feel like it makes Falcon's head look fat and awkward as a result. I'm also not a fan of the Falcon minifigure's hairpiece at all, which doesn't look quite right to me.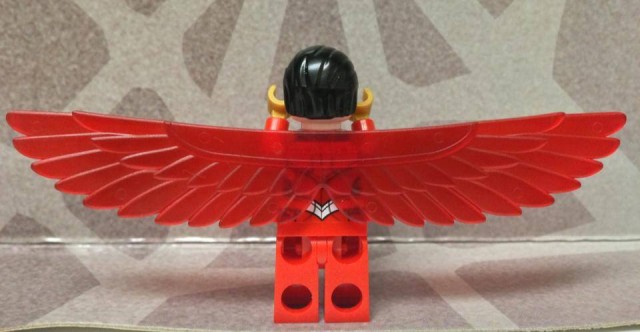 The 76018 LEGO Falcon figure also includes the requisite wings, which are a solid translucent red piece of plastic. It's cumbersome trying to position Falcon near other figures thanks to the huge red wings. I wish that LEGO has found a way to make the wings articulated so that they could be folded down, but these LEGO Falcon wings look pretty cool nonetheless.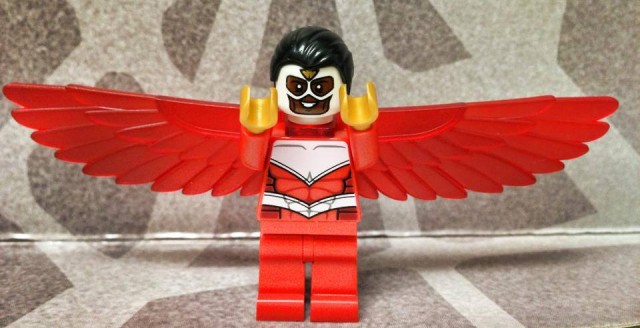 The LEGO Falcon minifigure features a reversible head with an open-mouthed smiling face on one side and a serious face on the other.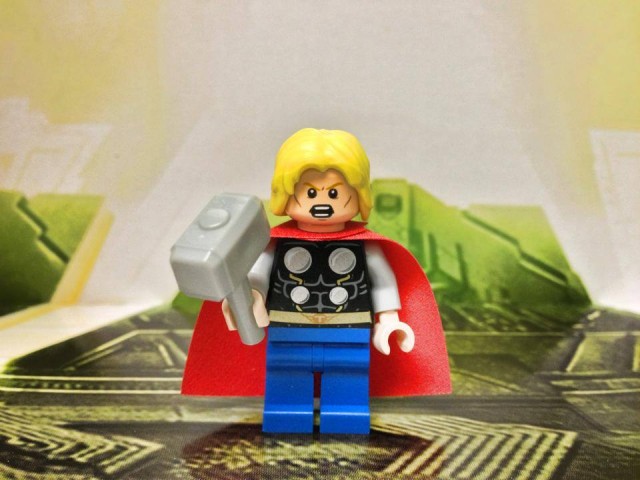 LEGO Thor is the fourth figure in this set, and a drastically different Thor minifigure than the previous release. While we got movie Chris Hemsworth LEGO Thor in the Avengers line, this is the clean-shaven, all-classic version of Thor (though helmet-free). Thor comes with his red cape and Mjolnir hammer (of course).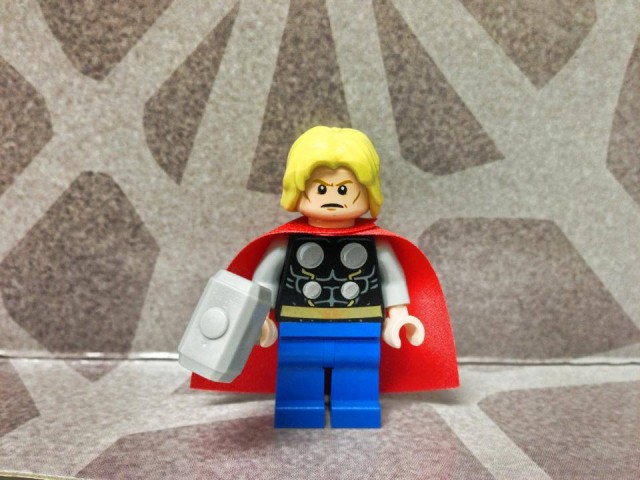 The new LEGO Thor minifigure also features a reversible head, with a scowling expression on one side and a yelling face on the other. I like both expressions, and think they're both suitable for Thor's character.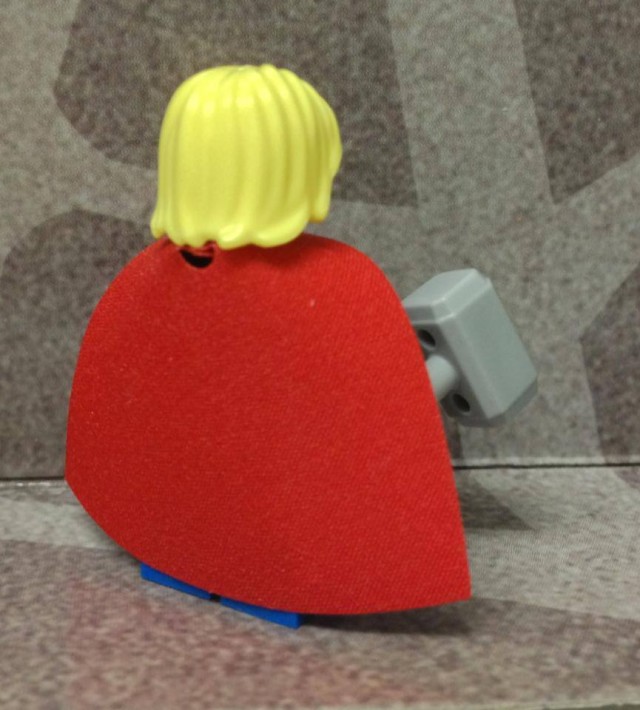 I'm not used to seeing Thor without his beard anymore, but I welcome a classic, comic-inspired Thor LEGO figure into my collection.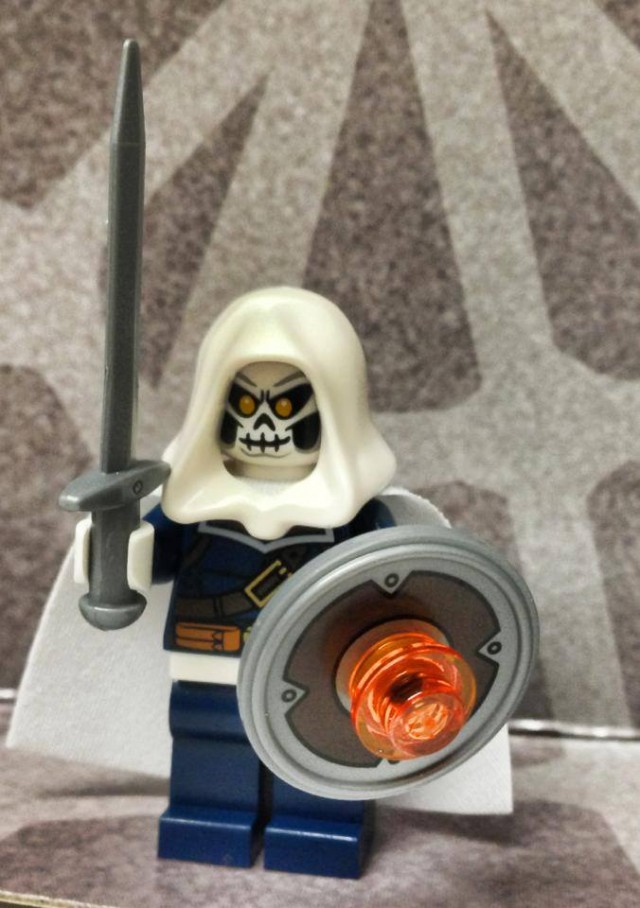 Finally, the Hulk Lab Smash LEGO set is rounded out by the debut of the LEGO Taskmaster minifigure. Taskmaster is another one of those guys who I never thought would make it to LEGO form, so bravo to LEGO for doing something unexpected and different.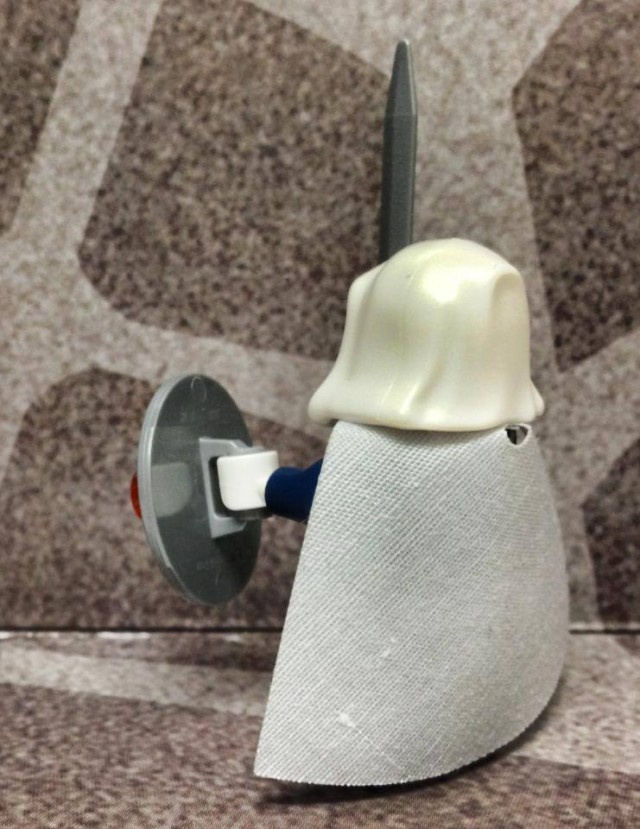 Taskmaster has a reversible head as well, with a choice of a smiling or frowning expression. As Taskmaster's head is essentially a skeleton, both faces are rather cute in LEGO form.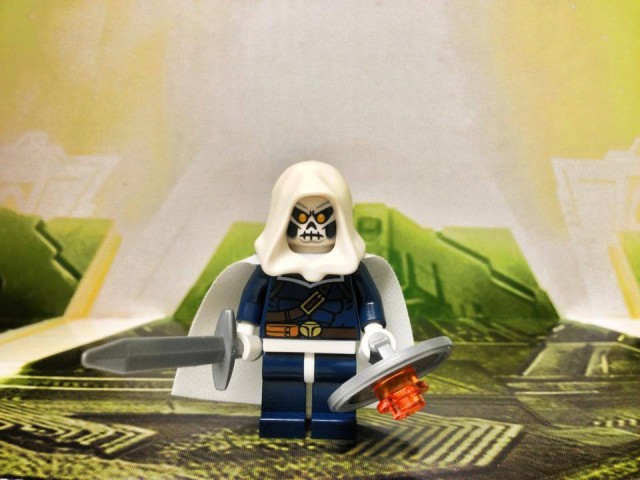 The stud added to LEGO Taskmaster's shield makes a huge difference and makes it obviously Taskmaster's signature shield, and the soft goods white cape works well with the white plastic hood. Another excellent minifigure.
"Where Can I Buy It?!"
The 76018 LEGO Hulk Lab Smash set is one of the five LEGO Marvel Superheroes 2014 winter sets. The set is hitting LEGO Stores now, and should hit Toys R Us and other retailers within a few weeks. You can get the exclusive minifigures like MODOK and Falcon individually without the rest of the set from online sellers if you want as well, but they're definitely not cheap.
Overall: The 2014 LEGO Marvel Hulk Lab Smash 76018 set is an all-around superb addition to the LEGO Marvel Super Heroes theme. The LEGO MODOK minifigure and his hoverchair are absolutely perfect, and easily one of the most geek-out figures released by LEGO for Marvel fans. The LEGO Taskmaster and Falcon minifigures are also terrific characters to add to the line, and the new LEGO Hulk is my favorite version released. The only real flawed minifigure in this set is Falcon, in my opinion. While accurate to the LEGO Marvel video game, I don't like the choice of mask style, hairpiece, or the unposeable wings. Other than that, this set is a monumental success as far as LEGO Marvel minifigures are concerned, and an easy top recommendation.
GRADE: A