Hot Toys has managed to take us totally off-guard with many surprise announcements over the course of this year. But their latest product reveal has been, well… not exactly a closely-guarded secret. Starting at San Diego Comic Con 2014 and continuing throughout the summer and fall, Hot Toys has been "sneakily" leaving an Iron Man 3 Hot Rod Iron Man Hot Toys figure in the display cases at most of the events that they've exhibited at. I guess there was always the slight possibility that this figure was just on display to taunt us with what we cannot have–but no more: The exclusive Hot Toys Hot Rod Iron Man Die-Cast figure is now up for order!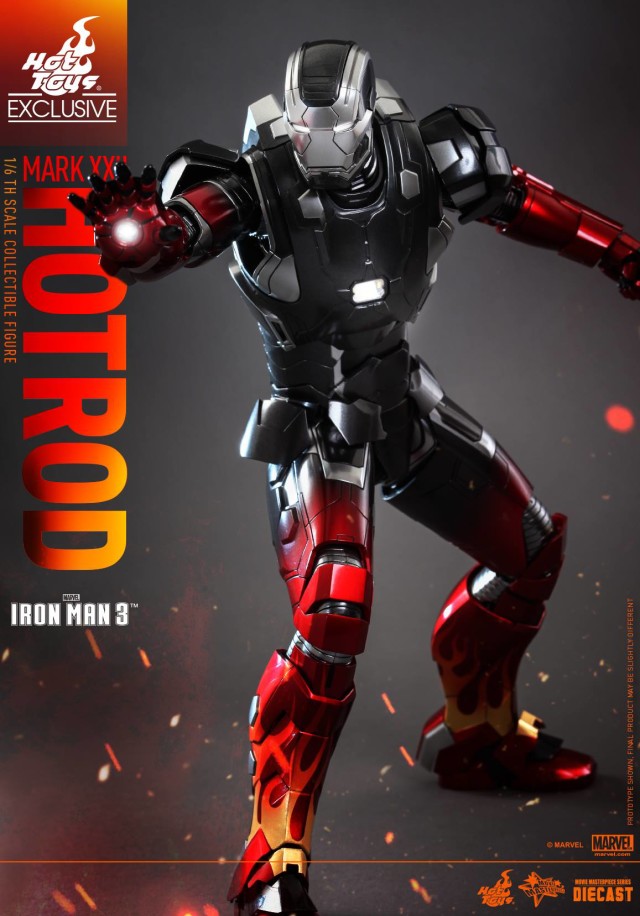 When I first saw all of the designs that make up the Iron Man 3 Iron Legion, I instantly loved the Disco Iron Man, Bones Iron Man and Hot Rod Iron Man armors most. Once I saw the movie and discovered that those three armors had about five total seconds of screen-time, my hopes were dashed that high-end Hot Toys MMS figures of these armors would ever be produced.
Fast-forward a year and a half, and two of the three are currently up for pre-order. Thanks, Hot Toys!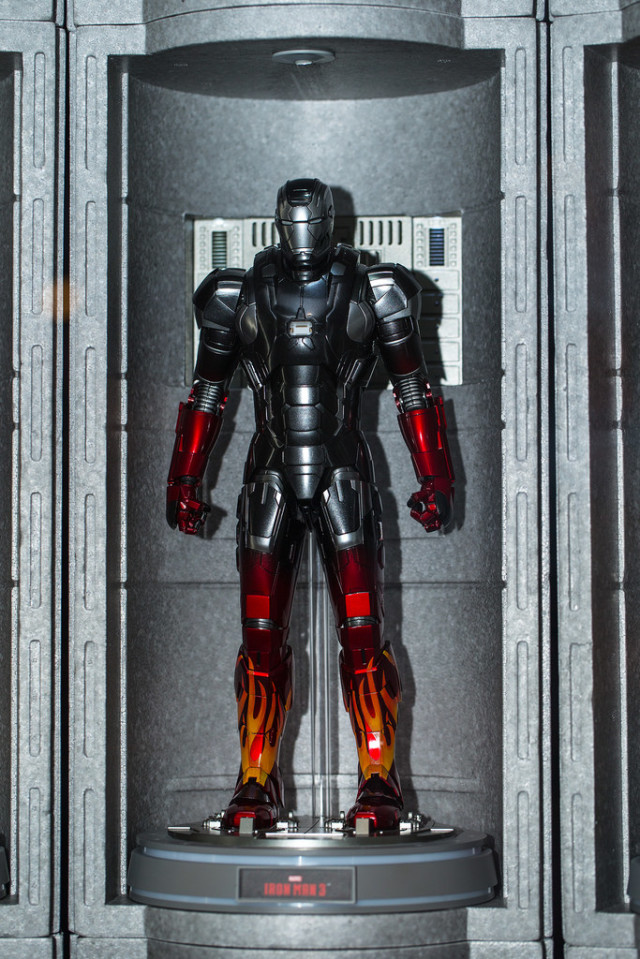 The Iron Man Hot Rod Mark 22 armor is essentially just the Iron Patriot armor in War Machine colors, but with red arms and red boots with flames decorating them. Some folks find this particular colorway to be a bit garish, but I outright loved it from the moment I saw it. I was disappointed when I realized that Play Imaginative would probably never fulfill their promise of releasing a Hot Rod Iron Man action figure, but now Hot Toys has stepped up with a gorgeous, superior product!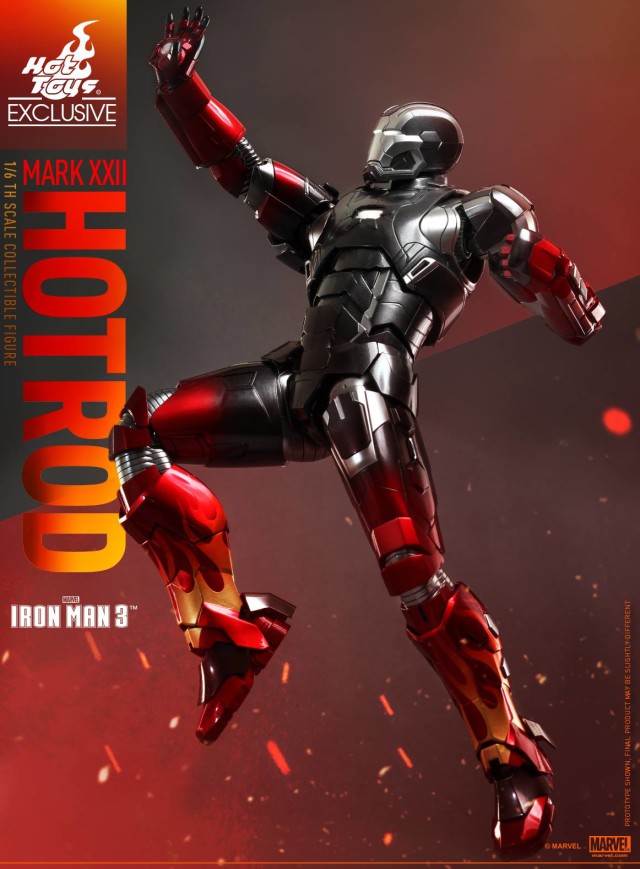 Perhaps more shocking that the official announcement of the Iron Man 3 Hot Toys Hot Rod Iron Man figure itself is the fact that this is the first new Hot Toys Marvel figure to be revealed in over two months, as we first saw the Hot Toys Days of Future Past Wolverine figure back in September 2014. A lot of fans were hoping that Hot Toys would slow down–just a bit–with their huge slate of Marvel Movie Masterpiece Series figures, so hopefully those collectors appreciated this brief respite.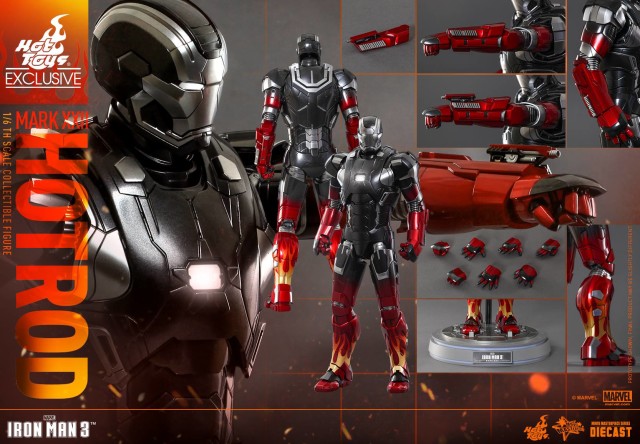 It's worth noting that the Iron Man Hot Rod Hot Toys sixth scale figure is a repaint of the Iron Patriot figure–not the War Machine. This is movie-accurate, as the Hot Rod does have the star on its chest, despite the fact that its primary coloration is that of the War Machine Mark II armor.
As far as accessories go, the Hot Toys Mark XXII Iron Man 1/6th scale figure isn't packing all that much. There's no shoulder-mounted cannon (nor should there be, in keeping Hot Rod accurate to the movie), so this figure basically only includes a display stand, a bunch of alternate hands, and the forearm attachment, and the usual LED light-up functions.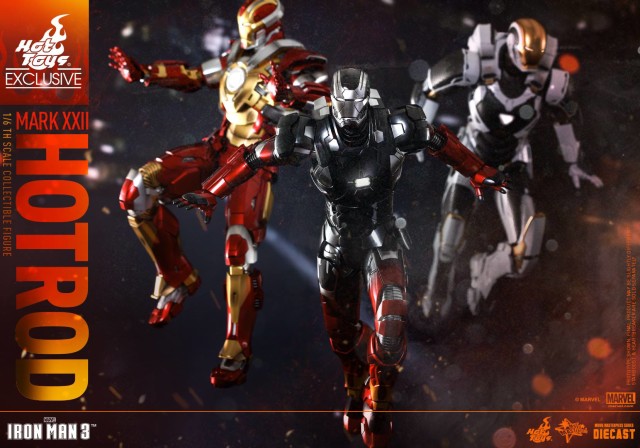 It will be very interesting to see what kind of price-tag gets slapped onto the die-cast Hot Toys Hot Rod Iron Man sixth scale figure. While this figure is a repaint of the Iron Patriot die-cast figure that carried a $310 price-point, the Hot Rod is
far
less popular and prominent and shouldn't include the extra James Rhodes portrait that Iron Patriot came with.
On the other hand, rarely (if ever) does Hot Toys price an exclusive version of a Movie Masterpiece Series figure at less than the cost of a regular figure, so I'm not totally convinced yet that the Hot Toys Iron Man Mark XXII Hot Rod won't cost more than Iron Patriot. I guess we'll just have to wait and see.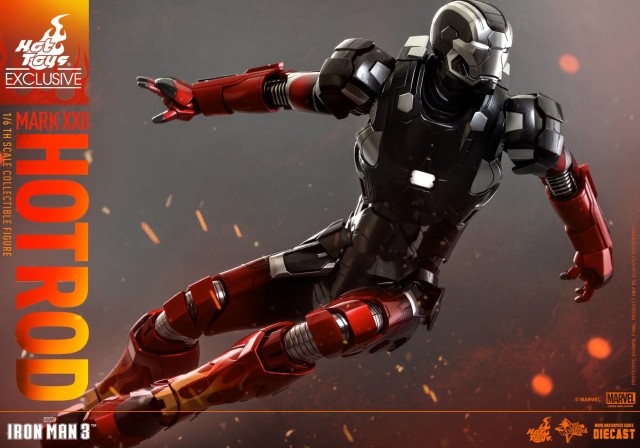 The limited, exclusive Hot Rod Iron Man Hot Toys 1/6th scale figure is now up for order. Considering that the Python Iron Man Hot Toys figure that sold out over the summer is selling for $400-$500 now, I've no doubt that the equally awesome Hot Rod Iron Man will be another "hot" (couldn't help myself) seller. Hopefully the Hot Rod Iron Man figure lasts a little longer online than the Python armor did!
Are you psyched for Hot Toys to further expand the House Party Protocol, Marvel collectors, or are you satisfied with the multitude of Iron Man armors that have already been put up for sale?