Once upon a time, I had a dream that Hot Toys would produce sixth scale figures of all 43 armors that appear in the Iron Man 3 movie. For a while it looked like they might actually pull it off, but sadly, it looks like that dream may be going unfulfilled. Hot Toys has now put their limited 2015 Toy Fair Summer Exclusive Tank Iron Man up for order–and it actually comes with two more new Iron Man armors! But there's a plot twist even more expected than the Mandarin: while the Hot Toys Tank Iron Man looks outstanding, the Disco Iron Man & Mark 9 are a little, uh… little…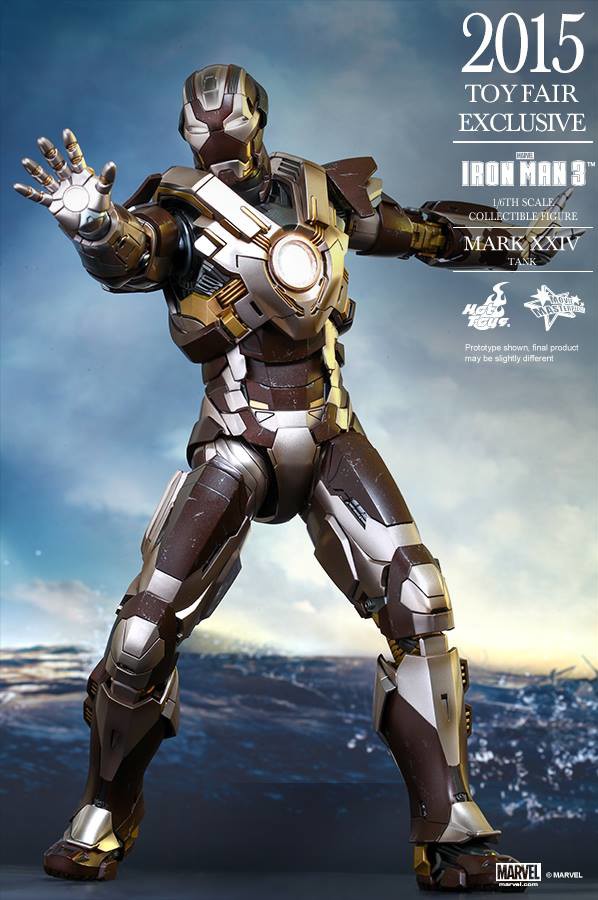 I'm a bit of an anomaly in that Iron Man 3 is by far my favorite Iron Man movie. I know the movie isn't exactly everyone's favorite Marvel movie (to say the least), but I think it's the best character study movie that we've gotten in the Marvel Cinematic Universe thus far. And so, while a vocal number of collectors decry Hot Toys every time a new Iron Man 3 Hot Toys figure is announced, almost every single armor that they've revealed has gotten me excited and been an instant pre-order for me.
This Iron Man Mark XXV Tank Hot Toys sixth scale figure will be another insta-buy for me, but there's something about this figure that's really crushed my hopes and dreams for the line…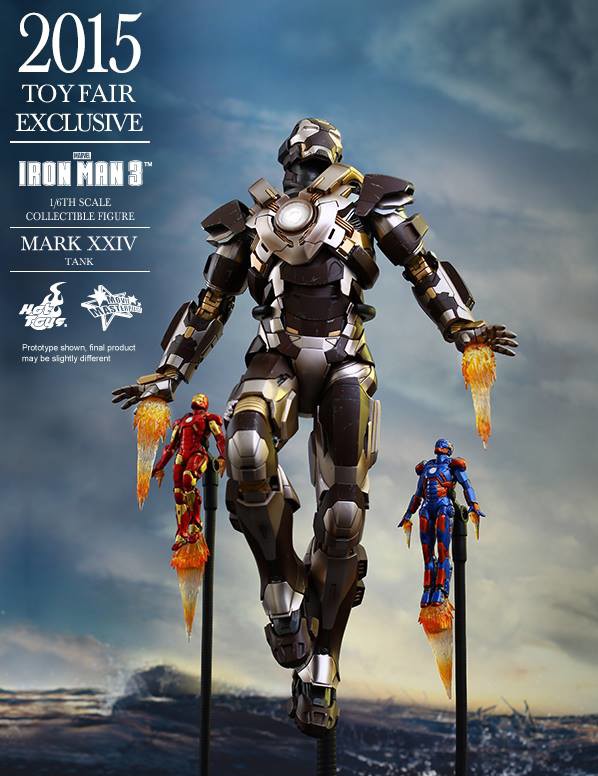 As soon as I saw the official photos of the Mark 24 Tank Iron Man Hot Toys sixth scale figure, my heart sank. Not because of the Tank Iron Man 1/6th figure itself–it looks great (and more on that in a moment)–but because of what he comes with: miniature versions of Disco Iron Man and Iron Man Mark 9 figures (AKA two armors Hot Toys hasn't gotten to yet).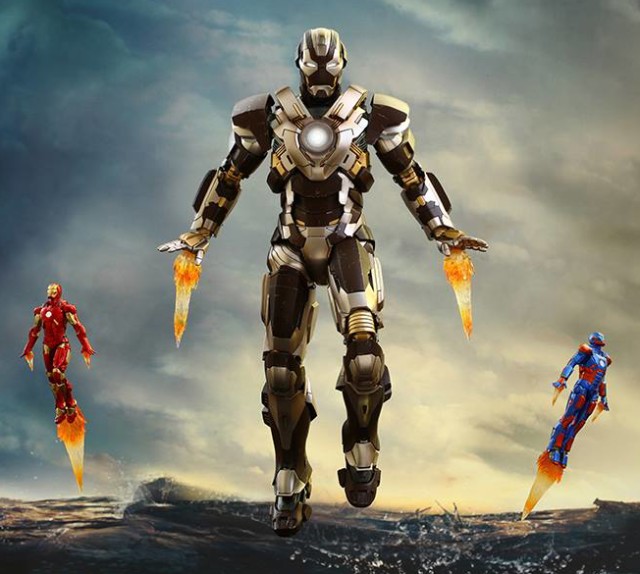 I think the writing is on the proverbial wall here: Hot Toys isn't planning on releasing true sixth scale Disco Iron Man and Mark IX Iron Man figures any time soon (if ever). This is a pretty scary development for those who've been planning to purchase all 43 Iron Man armors, and particularly heartbreaking for me, as the Iron Man Disco armor is my favorite remaining armor. But speaking of heartbreaking…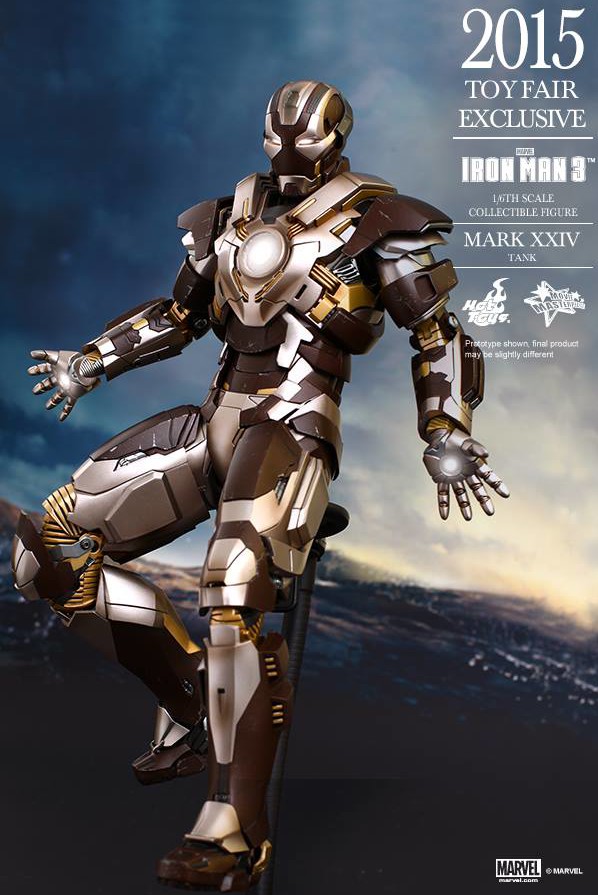 Heartbreaker Iron Man was one of the first Hot Toys Iron Man figures that went up for sale, way back in summer 2013! It's taken quite a while, but finally Hot Toys is ready to tackle a full-on repaint of the Mark XVII Heartbreaker armor in the form of this gorgeous chocolate brown and gold Tank Mark XXIV armor!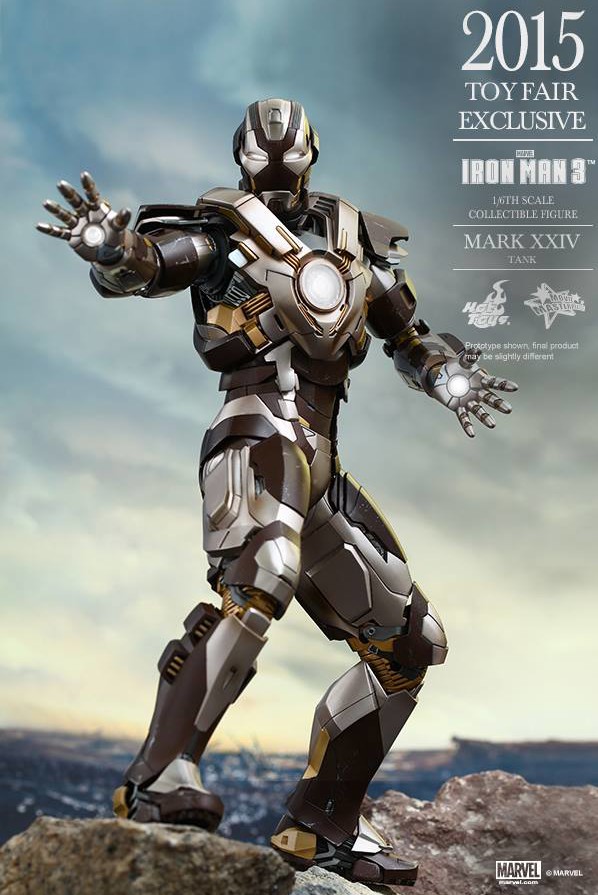 If you own the Iron Man Heartbreaker sixth scale figure, you might not be expecting this Tank figure to hold many surprises for you. But surprisingly–it does! Not only are you getting the (depression-inducing) Iron Man Mark 27 and Mark 9 mini collectible figures, but you're also getting a very cool uni-beam effects piece that attaches to this figure's chest!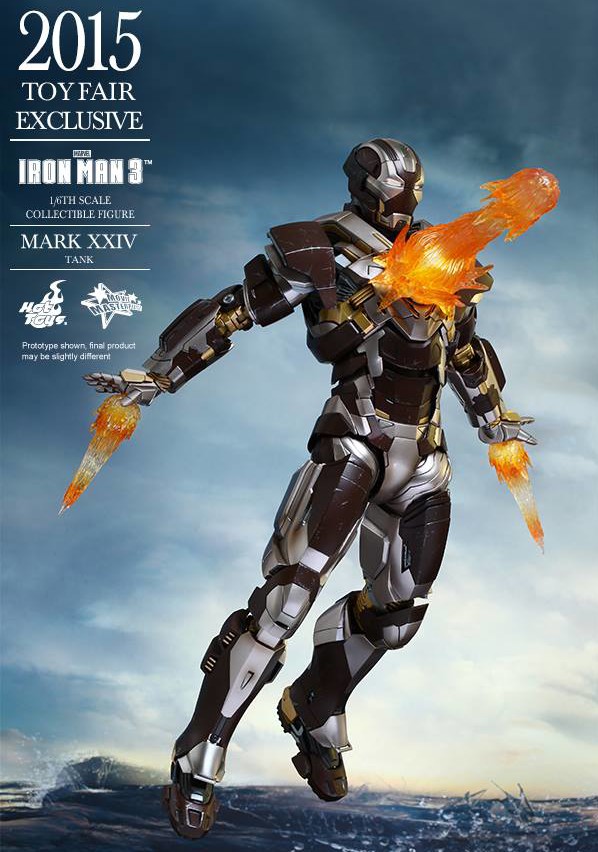 This is the first time that we've seen the Uni-Beam effects piece pop up in the Movie Masterpiece Series, and it definitely adds a bit of oomph" to what could have otherwise been a very boring repaint release.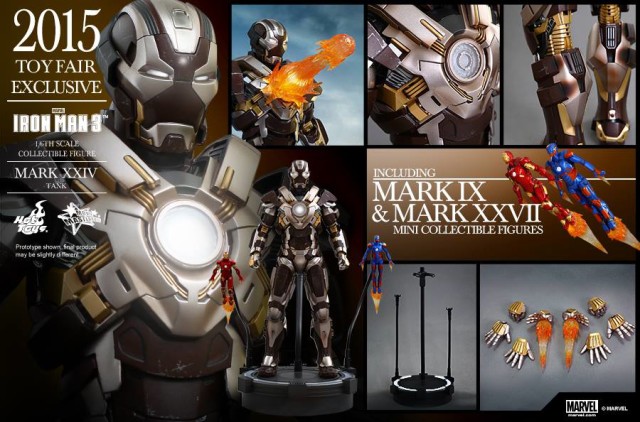 In addition to the mini Disco Iron Man and mini Mark 9 figures and the Uni-Beam effects piece, Tank Iron Man will include two hand repulsor effects pieces, four pairs of interchangeable hands and a figure stand display base that has poles to hold up all three included armors.
The US price-point for this Hot Toys Movie Masterpiece Series Tank Iron Man figure is not yet known, but given that this figure is a limited-edition Toy Fair 2015 exclusive and includes several new accessories that its predecessor did not, I expect we'll be paying at least 50 bucks more than what Heartbreaker Iron Man sold for two years ago ($250). Let's hope I'm wrong.
UPDATE: Sideshow has priced the Exclusive Iron Man Tank MMS at $299.99. Not a terrible price at all for being limited and having several new extras.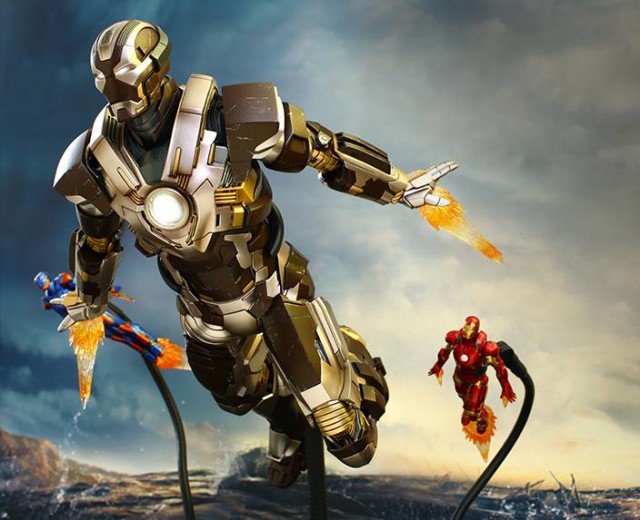 The exclusive Hot Toys Iron Man Mark XXV Tank sixth scale figure is now up for order on the Sideshow Collectibles website, and is expected to ship out in the United States this fall (September to November 2015). This set is available exclusively from Sideshow, and it is anticipated to sell out within a few days, so if you want this release, absolutely place your order as soon as you possibly can.
How do you feel about the latest additions to the Hot Toys Iron Man House Party Protocol, Iron Man fans? Will you be buying the Hot Toys Tank Iron Man, and are you excited or disgusted about the notion of miniature versions of some of the more obscure HPP armors being used to complete the series?