Our new house is roasting at 90 degrees without functional cooling, we just got the internet up and running an hour ago, I don't have a desk yet in the house so I'm working on the floor, and my mousepad is a piece of paper. But hey–it's all good times, as San Diego Comic-Con 2015 has finally arrived! And while Hasbro won't be showing off many previously unseen products until a few days into the con, we've already gotten two big (but expected) reveals: the Walgreens Exclusive Marvel Legends Yellow Daredevil and Eric O' Grady Ant-Man figures have now been confirmed!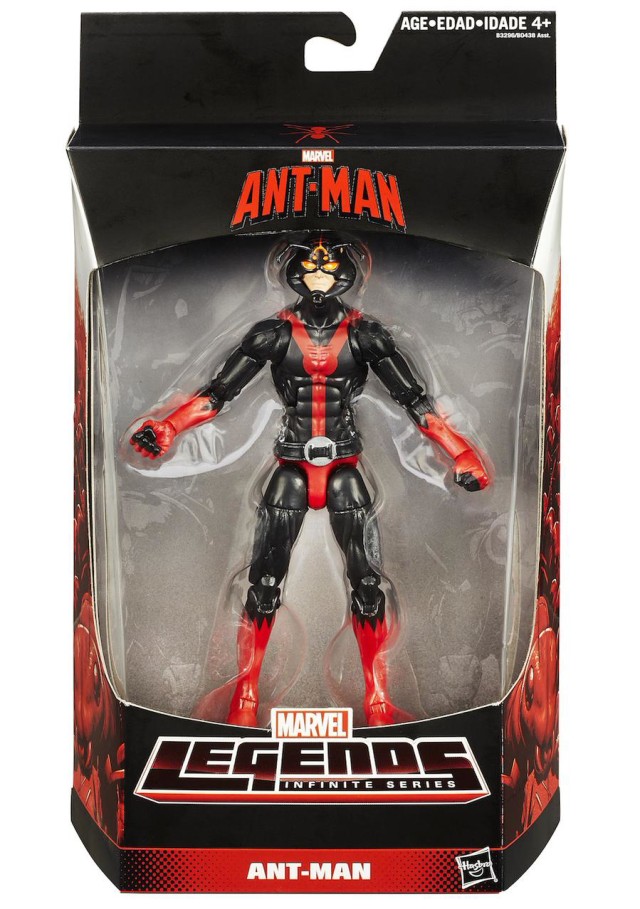 For months now, folks have been reporting in that they've found listings in the Walgreens computer systems for an exclusive Walgreens Marvel Legends Ant-Man figure and a Marvel Legends Daredevil figure. Based on the tooling that was available to work with and the characters already being released as part of the Marvel Legends 2015 lineup, it didn't take much brainpower to deduce the identities of these mystery figures.
And while everyone loves a big surprise, it turns out that this duo of upcoming Marvel Legends Walgreens exclusives are exactly what we all thought they would be: an Eric O' Grady Ant-Man and a First Appearance Daredevil in Yellow Costume.
First up, let's tackle Ant-Man. This figure is a representation of the (sort of) last costume of the last new character to take on the mantle of Ant-Man: Eric O' Grady. Specifically, this is the Black Ant costume worn by a life-model decoy after O' Grady was already dead, unfortunately.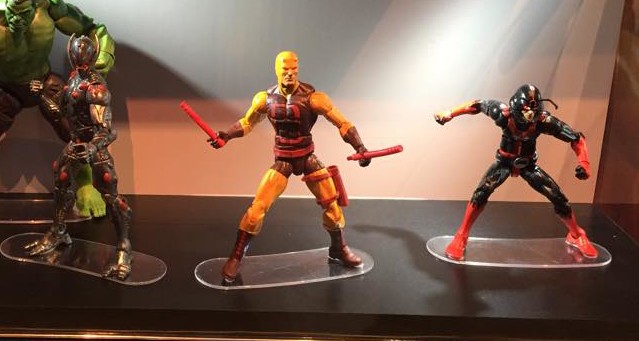 Personally, I would have preferred the more commonly-seen Irredeemable Ant-Man costume, but alas, Hasbro opted for the more recent costume instead. I can't see this particular exclusive being anywhere near as in-demand and talked-about as last year's Marvel Legends Agent Venom figure, but maybe the hype from the Ant-Man movie will rub off on this figure?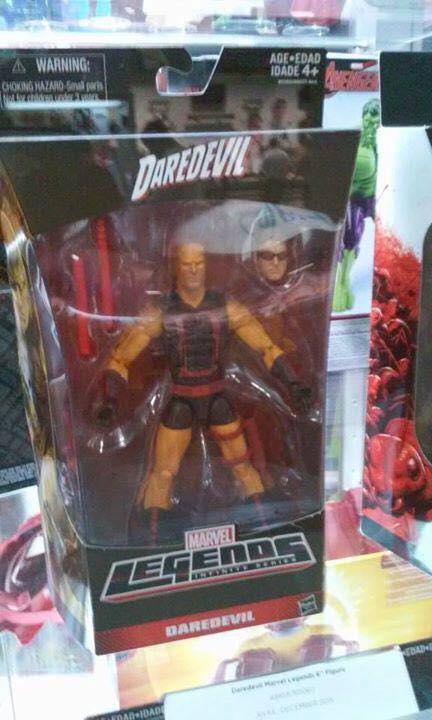 Meanwhile, we get what looks to be a straight-up repaint of
the Spider-Man Legends Daredevil I reviewed earlier this year
into a Yellow Daredevil Marvel Legends action figure, based off of Matt Murdock's first appearance as Daredevil from way back when. It's been ages since we got a Marvel Legends First Appearance Daredevil figure, and the character is certainly hot at the moment, so why not, right?
This figure will include the same (rubbery) two-piece billy club as the previously-released red version of Daredevil, although this time the billy club will be painted red (as it should be) for this costume.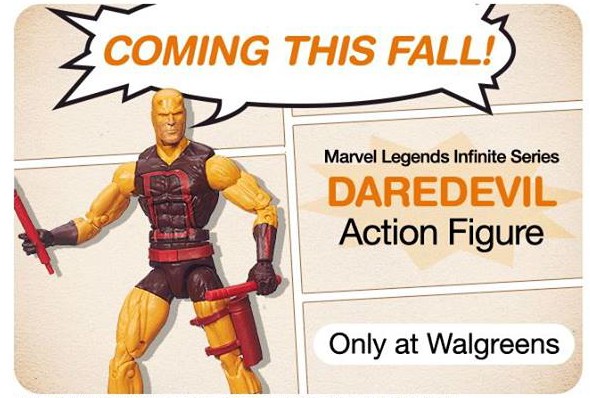 The Irredeemable Ant-Man/Black Ant Marvel Legends figure will go on sale online on the Walgreens website on July 20th 2015, while the Marvel Legends Yellow Daredevil figure will be available later on in the fall. Both figures are on display in San Diego as part of SDCC 2015, and a big 'Thank you!' to Greg G. of Vinylmation World for sending in his photo of this pair from the show floor!
What do you think of this year's Walgreens Exclusives, Marvel collectors? Are you up for figures of Daredevil's first costume or one of the most recent Ant-Man looks? Or are these characters/costumes a bit too niche to get you out actively hunting at Walgreens stores?