We knew–without question–that a Marvel Legends Lady Thor figure was on the way after Hasbro teased us with a photo of her at the 2017 Toy Fair. We just didn't know when or where… until photos of the SDCC 2017 Exclusive Marvel Legends Battle for Asgard set popped up online a few weeks back. But hey, while it's far too late to act genuinely surprised now, at least we can legit ogle these hi-res photos of Marvel Legends Malekith, Ulik, Bor, Odinson and Jane Foster Thor, right?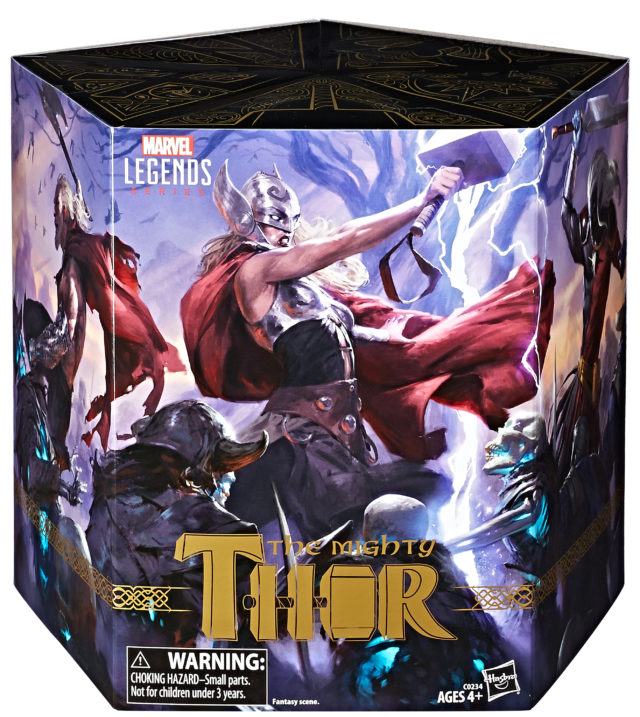 I'm always a bit sad when a major item that a toy company is trying to keep secret leaks out before it can be officially announced. Not just because the company misses out on choosing when to reveal their big surprise, but also because the leaked photos tend to be low-quality and not showing off new toys at their best.
Such is the case with this year's San Diego Comic Con 2017 Exclusive Marvel Legends Thor Battle for Asgard 6″ figures set, which the grainy photos of a production sample set simply did not do credit to.

Thankfully, Hasbro has now given the set a second chance to make a good first impression with some glorious hi-res images of the box set!

I'm not an in-box collector (how much space do you guys think I have?!), but the all-new artwork adorning the pentagonal box for this set is simply gorgeous. Seriously, this is some frame-worthy work. Beautiful.
There's even an Asgardian poem across the back of the box, which I also think adds a little bit more artistry to the set. As far as packaging goes, this set is an A++.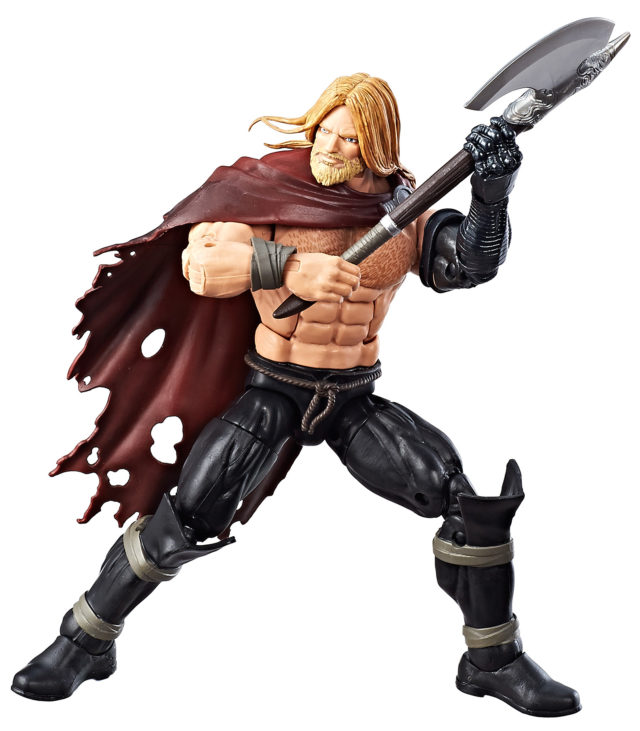 Of course, the figures are no slouch either! In fact, all five look downright fantastic, with wonderful sculpting and paint detailing (who knew Thor had such a hairy chest?!).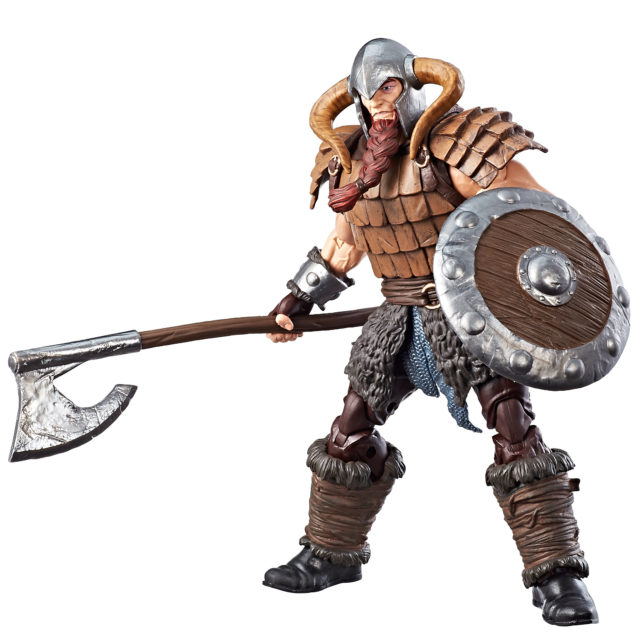 While I don't believe I've ever heard anyone ask for a Bor action figure, the other four figures in sets are all high on the list of characters Asgardian fans have been asking for.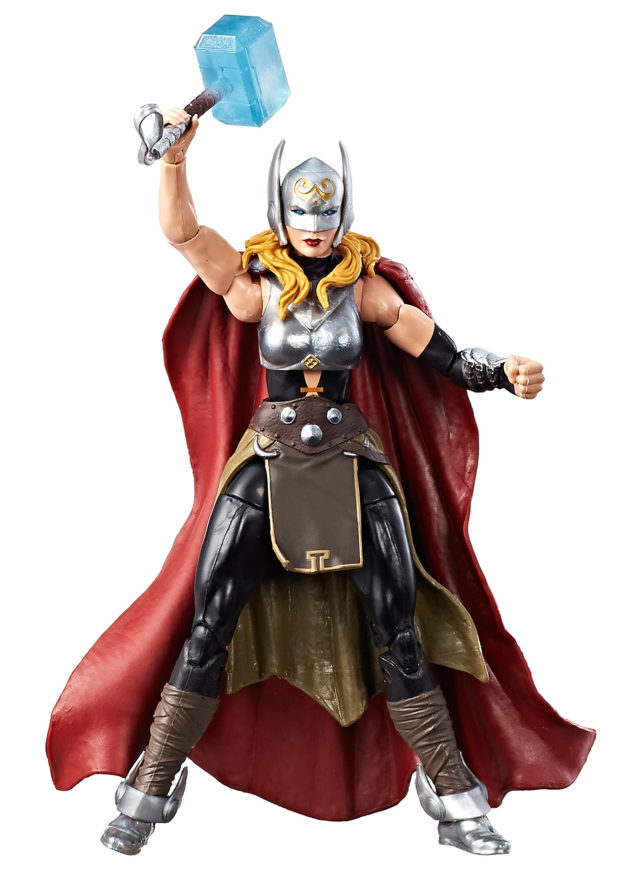 Notice that the 6″ Lady Thor figure in this set comes with a translucent blue energized hammer like the upcoming 12″ Thor figure–I'd bet dollars to doughnuts (whatever that means) that the mass retail version of Jane Foster will just come with a regular Mjolnir. And speaking of mass retail…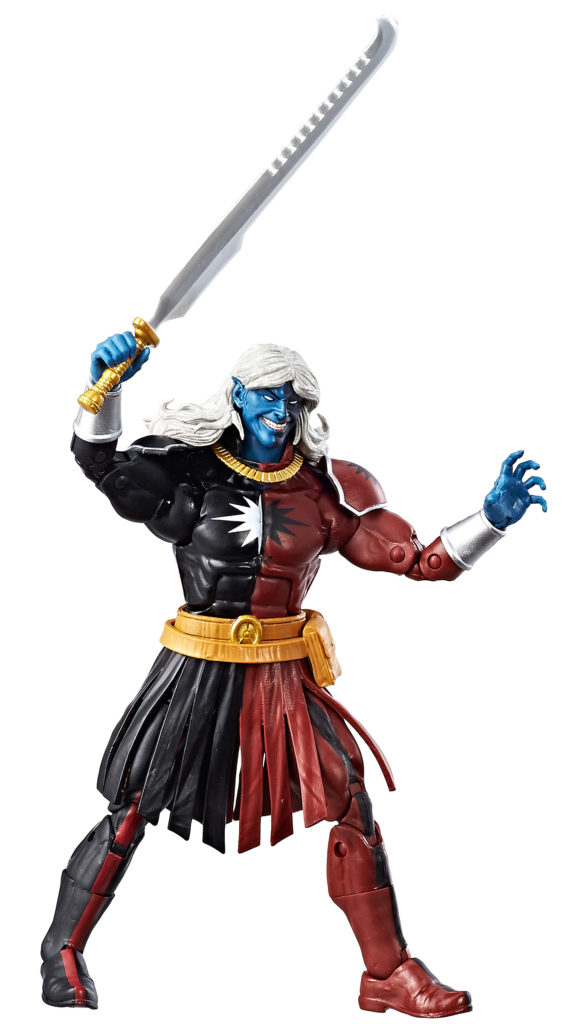 While we know that both the Marvel Legends Odinson and Jane Foster Thor figures will be available individually as part of the Thor Marvel Legends series, there's no word on a mass release of the remaining three at all yet.
I think it would be a real pity if Marvel Legends Ulik and Malekith never see the light of day at mass retail, but it definitely seems likely that they will not at the point. Bor… well, I suspect not too many collectors are going to miss sleep if they're not able to have a Marvel Legends Bor figure of their very own (although he does look like he might be popular with fans of the Four Horsemen Mythic Legions line…).
The 2017 SDCC Marvel Legends Battle for Asgard set will retail for $99.99, which is totally fair for five new Marvel Legends (with five total accessories), especially considering the heft of Ulik.
The set will be available at San Diego Comic-Con 2017 in July and then in limited quantities on Hasbro Toy Shop online after the event. I'll send out alerts via the Marvel Toy News Twitter and Facebook Pages when they're posted for sale online, so stay tuned to those if you're not attending SDCC and want these for retail price.
Now that you've seen the ultra-huge hi-res images of the whole set, what are your thoughts on the Battle for Asgard, Marvel collectors? Will you be staking out SDCC (or, you know–the internet) to snag this set for your very own, or does this year's exclusive fail to wow your dollars away from you?