Daredevil has had his own Marvel comic book series for over 50 years now, but it's in 2015 that he'll finally hit the big-time! Not only is the live-action Daredevil Netflix series coming out in just a few weeks, but Hasbro is releasing the first Marvel Legends Daredevil figure in quite a few years! The Amazon orders for those who pre-ordered Daredevil are shipping this week, And thankfully, this long-awaited Daredevil figure really is all it's cracked up to be…
The Right:
I took my future wife to see the Daredevil movie for our first-ever Valentine's Day date (and she still married me, believe it or not!), so that movie (and Ben Affleck) will always own a special corner of my heart.
Even so, there's no question that the 2003 Daredevil movie is almost universally ridiculed. Hopefully the 2015 Netflix Daredevil series will be better-received–but even if it isn't, at least Daredevil is finally getting a healthy amount of toys and collectible released this year to coincide with the series' release!
Along with the new Sideshow Premium Format Daredevil Statue and the long-delayed Gentle Giant Daredevil mini-bust, Double-D is getting a pair of Funko Daredevil POP Vinyls, a repacked Hasbro Marvel Infinite Series figure and a well-deserved, brand new 6″ Spider-Man Marvel Legends Daredevil figure!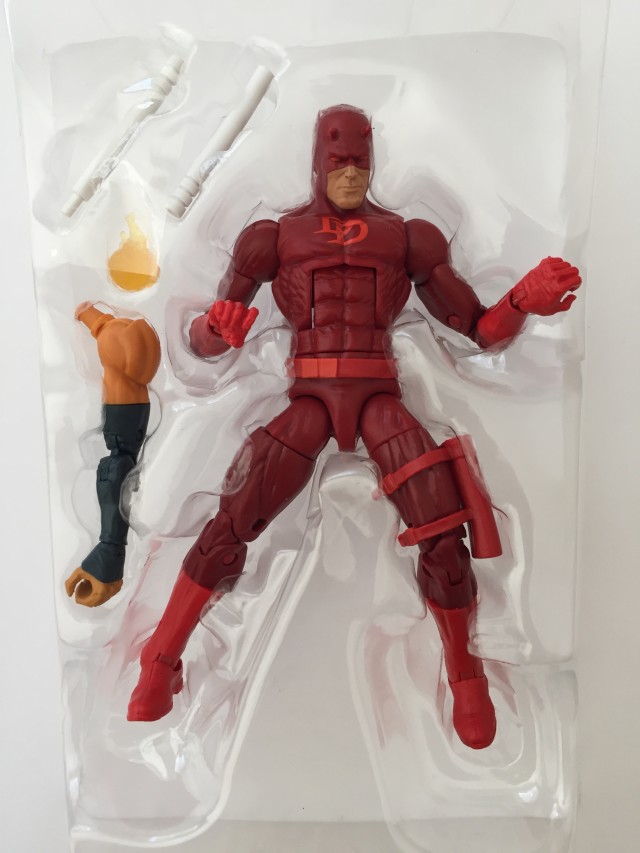 The way that Hasbro posed Daredevil in the bubble for packaging, he looked a little, well… weird. Luckily, you'll discover that all awkwardness fades away once you free Matt Murdock from his plastic prison!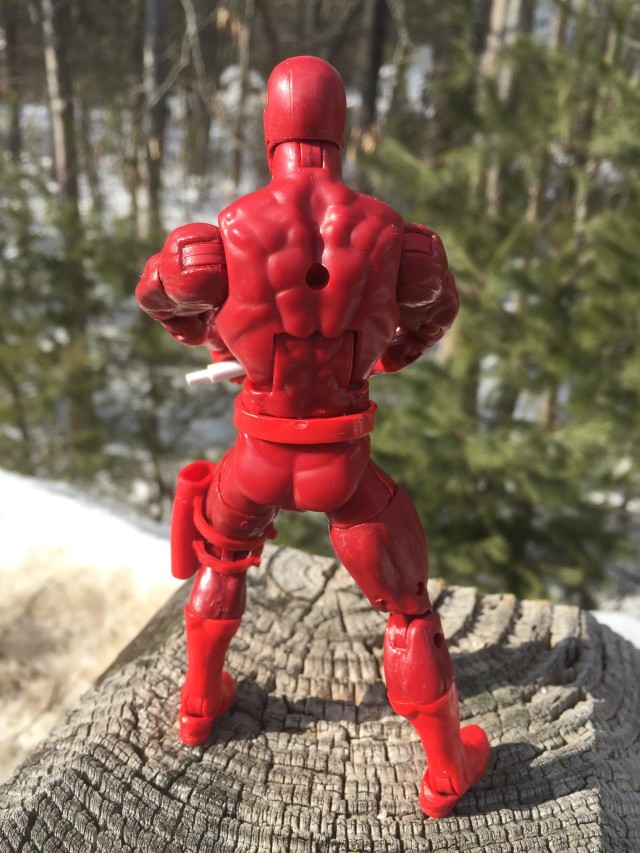 The Marvel Legends Infinite Series Daredevil 6″ figure utilizes the body mold from the Bucky Captain America Marvel Legends figure, which turns out to be the ideal choice. Daredevil's physique and proportions look pretty close to common depictions of him in the Daredevil comic books, and Daredevil is loaded with articulation.
From ankle rockers to double-jointed knees and elbows to a waist swivel and upper torso ab crunch, there's not a single point of articulation that I'd want on a Daredevil action figure that isn't present here.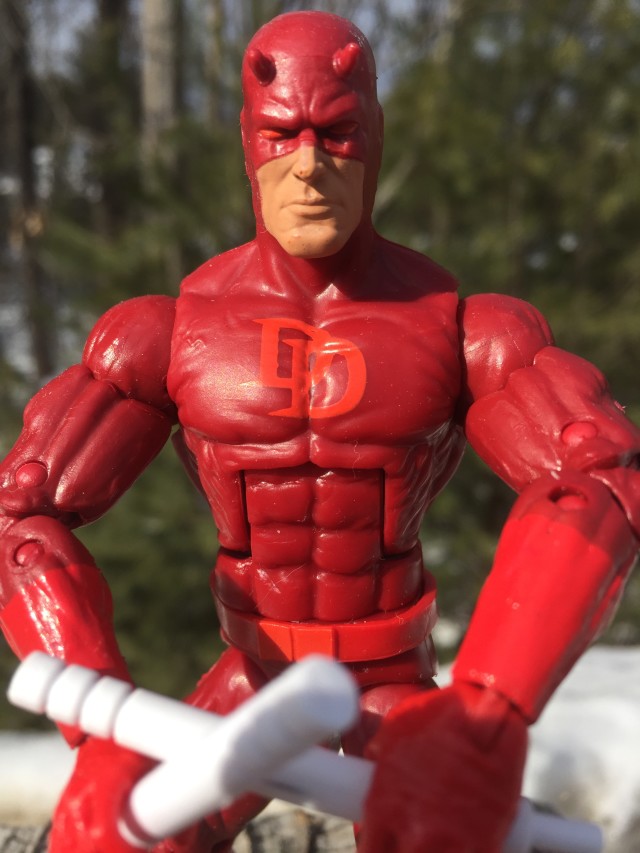 Daredevil's head sculpt has a Daredevil face with a stern, emotionless look on it–exactly the way that Daredevil ought to look. And unlike other figures in this wave, my Spider-Man Marvel Legends Daredevil figure is devoid of any kind of glaring paint flaws (the bane of my existence).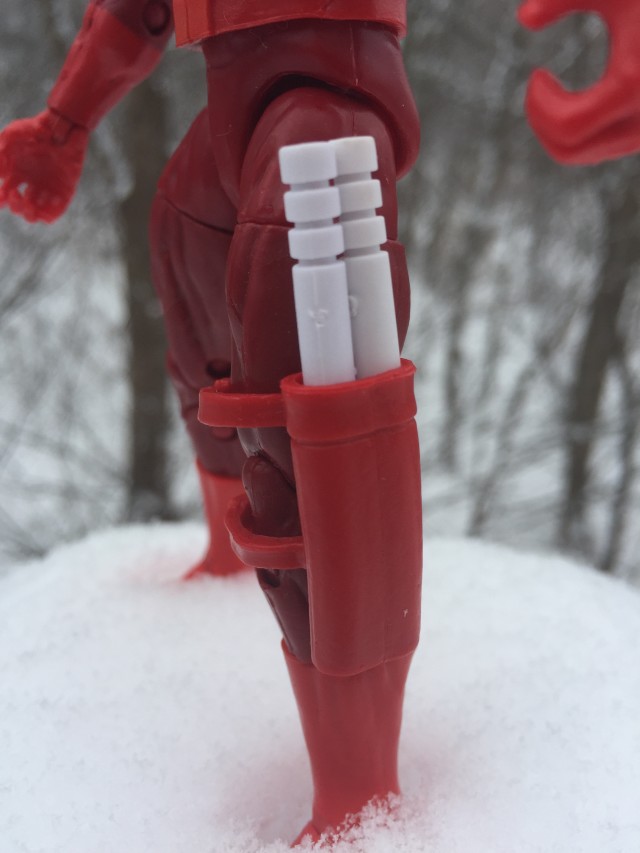 The Daredevil six inch figure features two costume additions over the actual figure mold: a belt and a holster attached to his left leg. The belt is nice and tight, just the way I like it–no floppy belt syndrome here to drive me mad like there was on the Captain Marvel figure. And the holster can hold the two separated halves of Daredevil's billy club brilliantly–although I do have issues with the billy club itself…
The Wrong:
My only true complaint about the 2015 Spider-Man Legends Daredevil figure is definitely his billy club. While Hasbro gets props for including DD's iconic weapon of choice, I can't help but feel that they really cheaped out on it.
First of all, Daredevil's billy club should be red. I'm not going to say it's never been white–because it has–but most of the time it's red. Yes, I can paint it myself–but I shouldn't have to do so. The white billy club is an odd choice.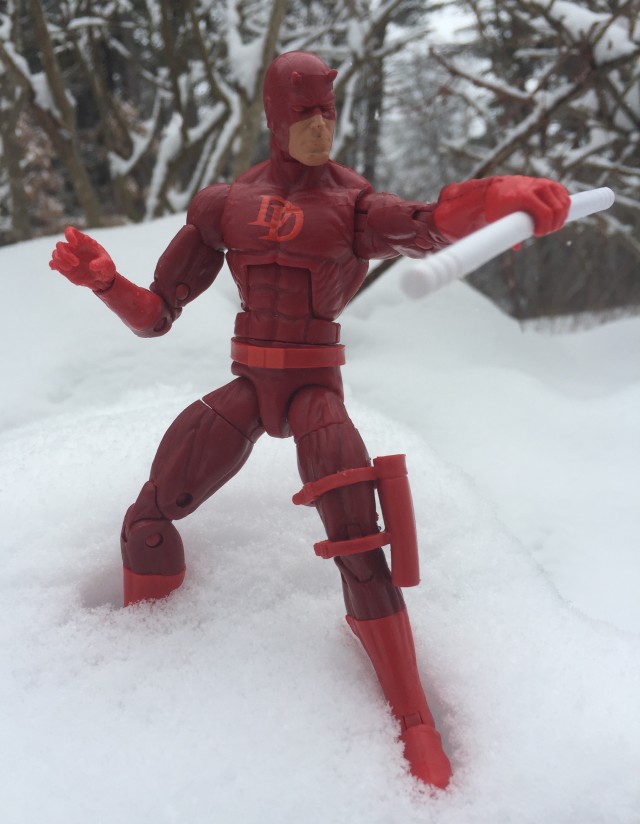 Also, the billy club is made of a really cheap-feeling, rubbery plastic. When separated it's not very apparent, but when you link the two halves of the club together it tends to look, well… droopy. Matt Murdock probably ought to sue his weapons supplier for shoddy craftsmanship, because the billy club looks silly and can't be very effective in combat.
It makes me not want to display Daredevil with the billy club combined, which is unfortunate, as it really cuts down on the number of cool possible poses Daredevil can strike.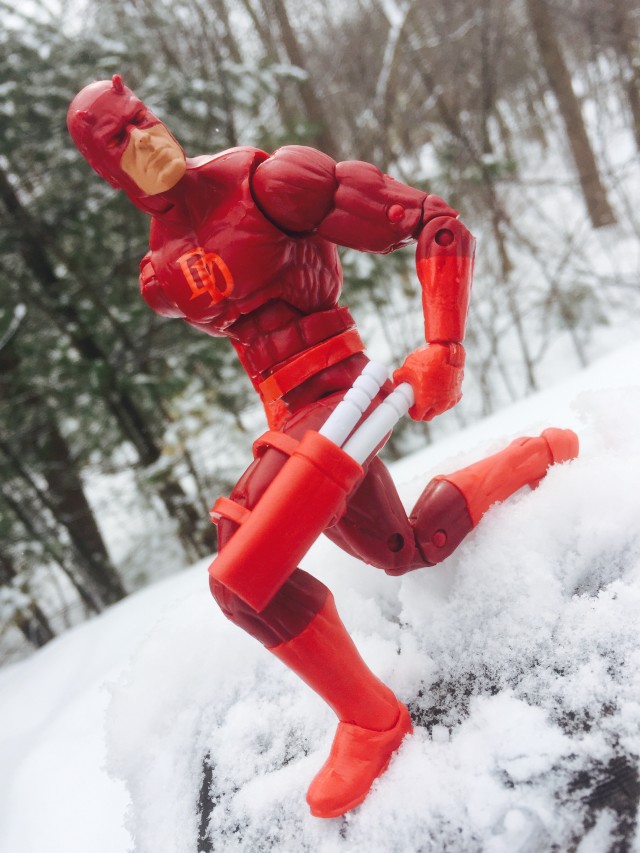 Overall: I'm not the biggest Daredevil fan out there, but I do respect the chaarcter, and this is the outstanding Marvel Legends 6″ Daredevil action figure that DD deserves. With a terrific choice of body mold, virtually every point of articulation anybody could ask for, a spot-on head sculpt and a working billy club holster, this is the definitive Daredevil action figure. Other than my issues with the billy club, this 6″ Daredevil Marvel Legends 2015 action figure is absolute aces. Highly recommended.
GRADE: A