When I first saw the unannounced Funko Hikari Groot variants debut five months ago at New York Comic Con 2015, I knew I was destined to one day have a green Groot Hikari vinyl Sofubi figure of my very own. It's been a reasonably long wait, but the Hot Topic Exclusive Funko Regeneration Groot Hikari finally turned up for sale online this month! Now that I've got him in my hands, is this very unique Hikari Groot Vinyl figure everything I dreamed he would be…?
The Right:
Funko Hikari Sofubi vinyl figures are a tough thing to review, because they're not your traditional action figures, statues, or even cheap vinyl figures (like POP Vinyls and what-not). Instead,  they're closer to a high-priced mixture of all of the above.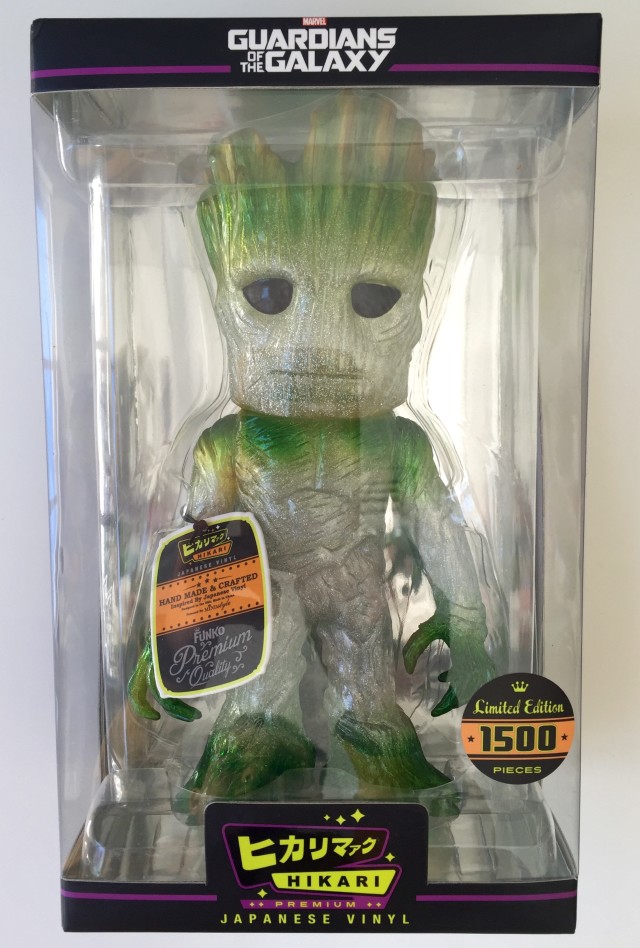 What sets Hikari apart from Funko POP Vinyls, however, is that they are often absolutely beautiful. The Life Force Groot Hikari falls into this category.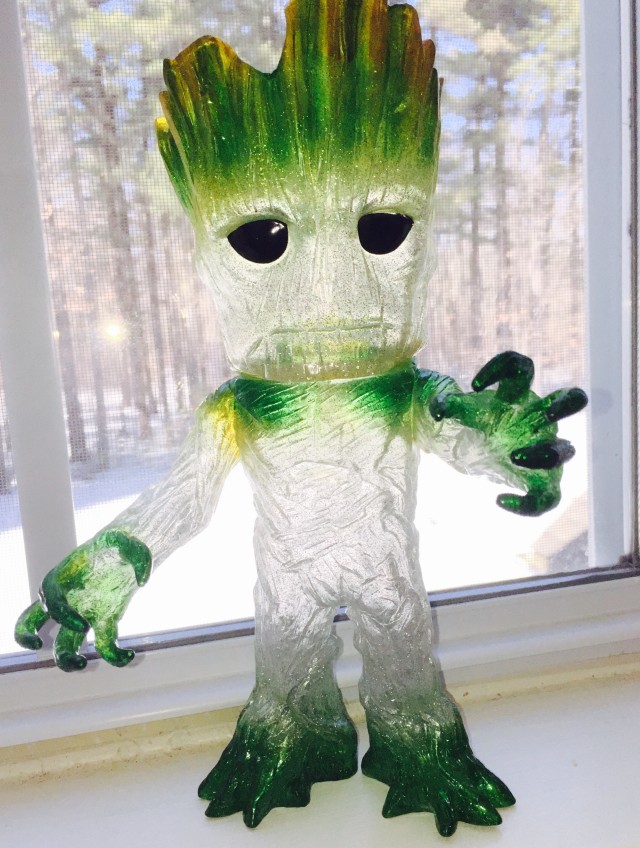 Unlike every other version of the Funko Hikari Groot vinyl out there is it's usage of a clear glitter body with a colorful green gradient on top of several areas on Groot: his head, hands, feet and shoulders.
The color gradient on Groot looks fantastic, and when you put him in front of some sunlight to light him up, he looks positively breathtaking. As none of the other Groot Hikaris feature these clear elements, the Green Groot Hikari is by far my favorite of the Hikari Groot variants that have been released so far.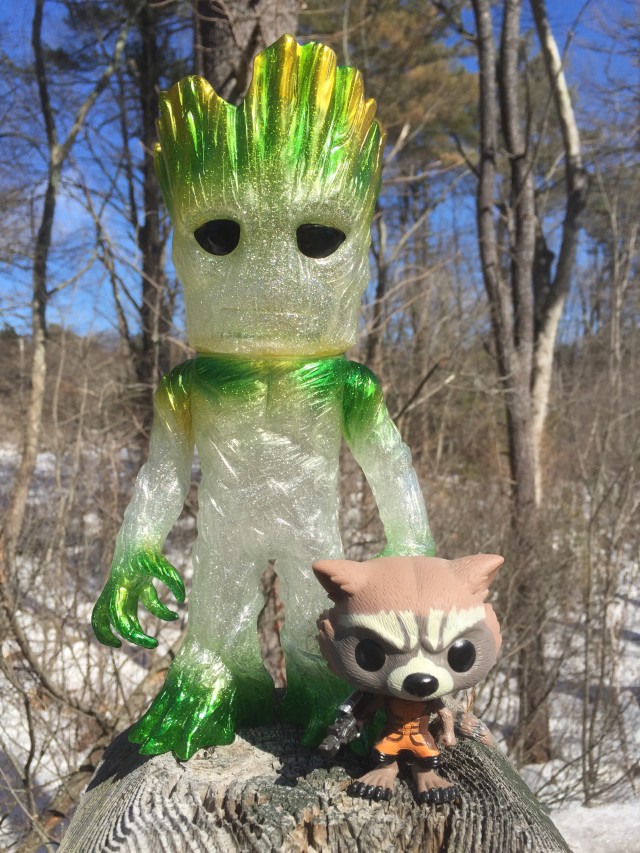 Standing over 8″ tall, you also are getting more for your buck with Groot than any other Hikari (other than the Spider-Man ones). It doesn't take the sting out of the $79.99 price-tag, exactly, but at least Groot doesn't feel as overpriced as the 6″ Star Wars Hikari vinyl figures do.
Also, this Green Groot Hikari is large enough to look almost perfect next to the 3 3/4″ Funko POP Vinyls Rocket Raccoon!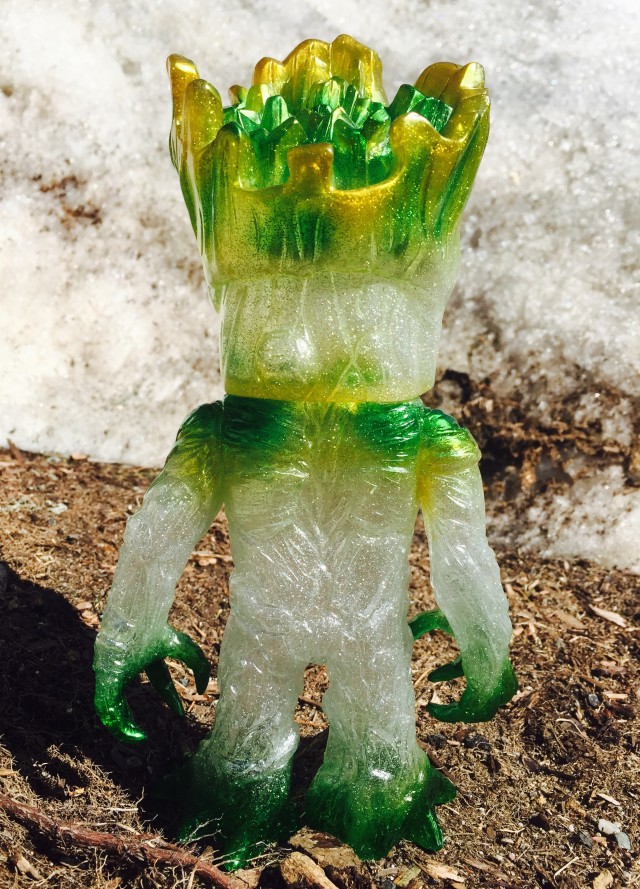 And for those who hate bobble-heads but want to love Funko–this Hikari is for you. Groot is a true poseable figure, and while no one will ever call him super-articulated, he does have a movable neck and arms.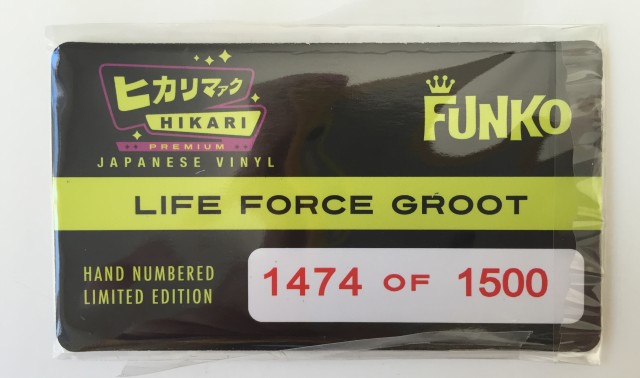 I was also happy to see that Funko is limiting the Hikari Life Force Groot to just 1500 pieces–just a quarter of the number produced of the regular version of Groot. That's still probably double the number that was necessary, but it's a step in the right direction.
The Wrong:
When you're paying $80 retail for a vinyl figure, I don't think it's being overly critical to expect the (limited) paint apps to be absolutely 100%
perfect
. Ordinarily I do have zero complaints about Hikari paint apps, but the factory messed up the left eye on my Regeneration Groot, making him look like he has a lazy eye as a result.
Some folks probably would say I'm being anal, but it bothers me enough that I ordered a second Hikari Regeneration Groot from Hot Topic online to replace this one.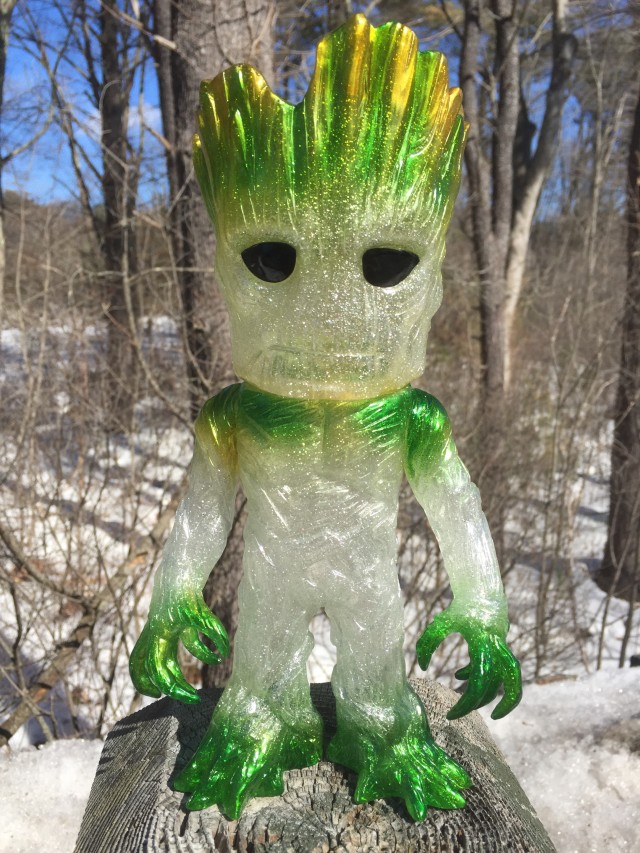 Overall: Am I glad to finally own the Hikari Groot I've been pining away for (no 'pine tree' pun intended)? Absolutely. Does he blow me away as much as I had hoped? Close–but not quite. This is a beautiful Funko Groot vinyl figure, but the decreased amount of green compared to the prototype and the slightly imperfect eye paint on an $80 figure knocks this figure's grade down ever-so-slightly. I've got zero regrets about buying him, and still give him a solid recommendation for anyone else who feels they need a glittery green Groot toy in their lives.
GRADE: B+