There are certain characters that fans have been asking Hot Toys for for so long now that many collectors started assuming that these niche characters were simply never going to be produced. In the case of Pepper Potts and maybe even Quicksilver, those fans may be right. But this week, Hot Toys proved all those who said Cobie Smulders was never going to appear in sixth scale form wrong: the limited 2015 Toy Fair Exclusive Hot Toys Maria Hill figure is now up for order!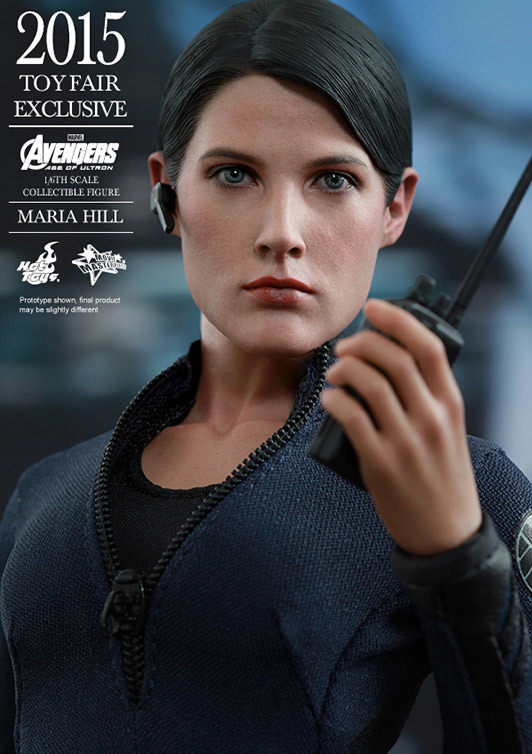 Ever since the Avengers movie hit theaters over three years ago, collectors have been begging Hot Toys to create a 1/6 Maria Hill figure to complete the Agents of S.H.I.E.L.D. trio of Hot Toys Nick Fury, Agent Coulson and Maria Hill. While Fury and Coulson got their due years ago, poor Maria Hill has been twiddling her thumbs in limbo, wondering if she would ever see the light of day in incomparable Hot Toys Movie Masterpiece Series figure form.
Considering we'd heard absolutely nothing about a potential Maria Hill movie up until this week, I really thought that a Maria Hill sixth scale figure was nothing but a pipe dream. But I was wrong in a big way–she debuted this week for San Diego Comic-Con 2015, and is astonishingly already available for pre-order!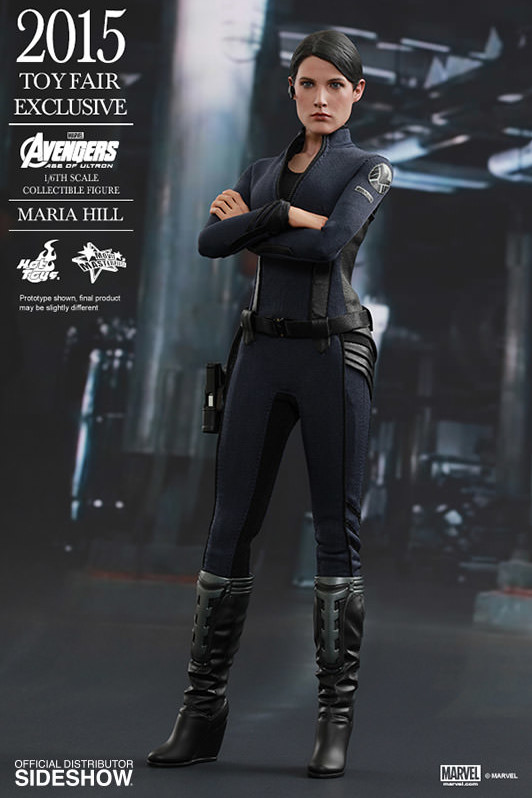 When Hot Toys inadvertently revealed a previously-unmentioned Maria Hill 1:6 figure just prior to the opening of SDCC 2015, I was pretty stunned–but I had to almost physically scrape my jaw off the floor when I logged on earlier today and saw that not only was the Hot Toys Maria Hill figure a limited exclusive, but she was actually already up for order!
The 28.5 cm (11.2″) MMS Maria Hill figure is clad in her S.H.I.E.L.D. uniform, as seen in the original Avengers movie and also in Avengers: Age of Ultron. This outfit is slightly different than the one that Hill wears in Captain America: The Winter Soldier, however.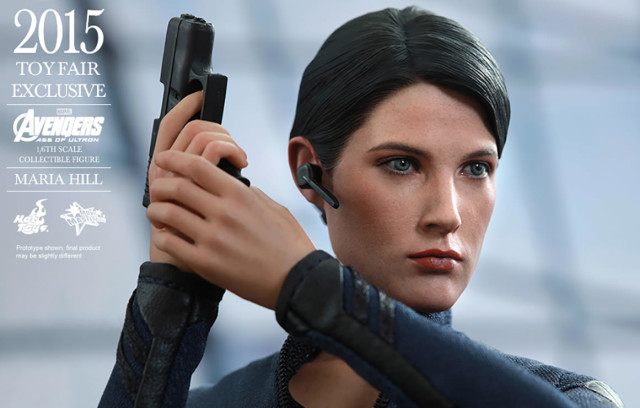 Considering how many tries it took Hot Toys to perfect a Robert Downey Jr. portrait, I think that they did pretty smashingly with the very first (and likely only ever) Hot Toys Cobie Smulders head. The likeness isn't quite in the uncanny valley, but I can absolutely see Smulders in this Maria Hill head sculpt. Bravo, Hot Toys!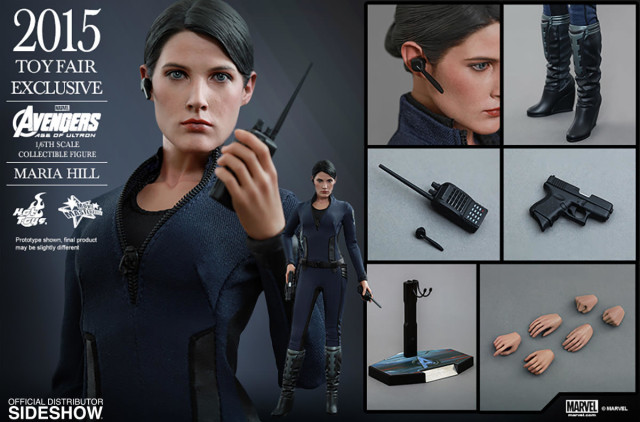 Maria Hill won't come totally loaded with accessories as some Hot Toys figure (such as The Winter Soldier and the AOU Black Widow) do, but I'm okay with that if it keeps the price on Hill down. Taking into consideration that Maria Hill is a limited-run figure that requires a 100% newly-tooled head, I'm A-OK with her having less accessories and a reasonable price-point of $219.99.
That said, Maria Hill will still include six interchangeable hands, a pistol, a headset, a handheld transceiver, and a customized figure stand. Really, what other accessories would anyone want from an MCU Maria Hill figure…?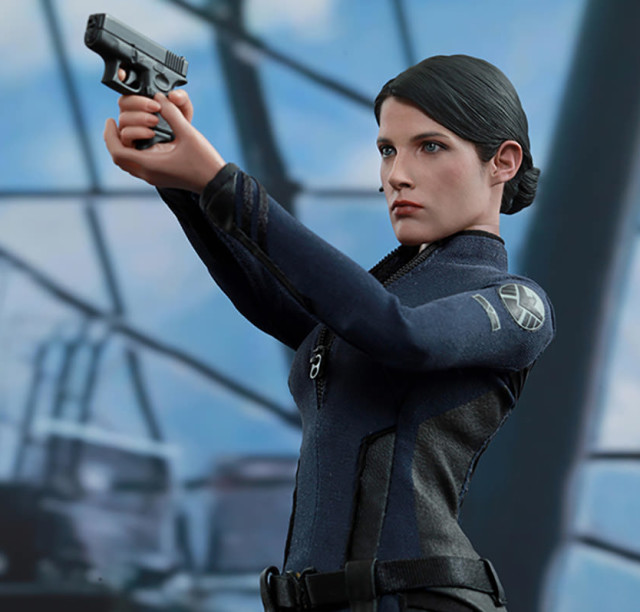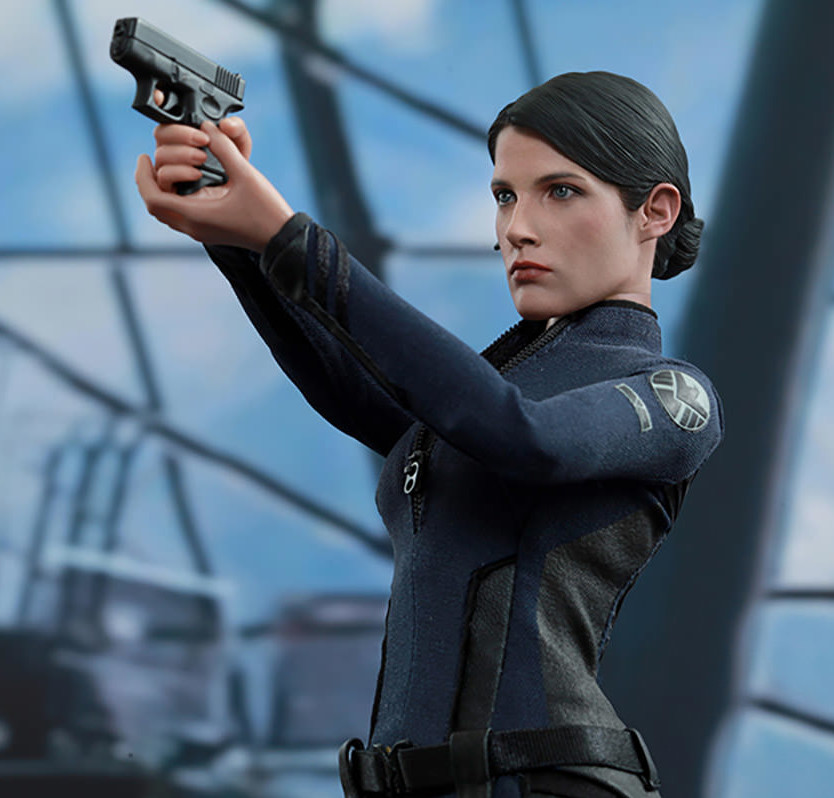 The Sideshow Exclusive Maria Hill Hot Toys Figure is now available for pre-order, and is scheduled to ship out in fall 2015. As this is a limited-edition event-exclusive figure–and a unique character that fans have been demanding for quite a while–I'd anticipate that Maria Hill will be selling out long before she actually ships. If you're one of the many collectors who have been pining away for a Cobie Smulders doll, don't miss your chance–it's basically a certainty that Hot Toys will never produce a Maria Hill again.
What do you think of the Hot Toys Avengers Maria Hill MMS figure, Marvel collectors? Does this sort of supporting character as a limited exclusive get you more excited than variants like the various House Party Protocol Iron Man figures, or are you bored by the notion of owning a sixth scale figure of a non-powered SHIELD agent?