Here's a factoid to give Marvel Hot Toys collectors nightmares: Hot Toys has already posted a double-digit number of Avengers Age of Ultron Hot Toys sixth scale figures for sale this year, with a total cost of over four thousand dollars–and the team isn't even complete yet! But after today, the roster will have just one empty spot remaining–the MMS 306 Hot Toys Thor Age of Ultron figure is now up for order! And to my surprise, this Thor is a lot cooler than I expected…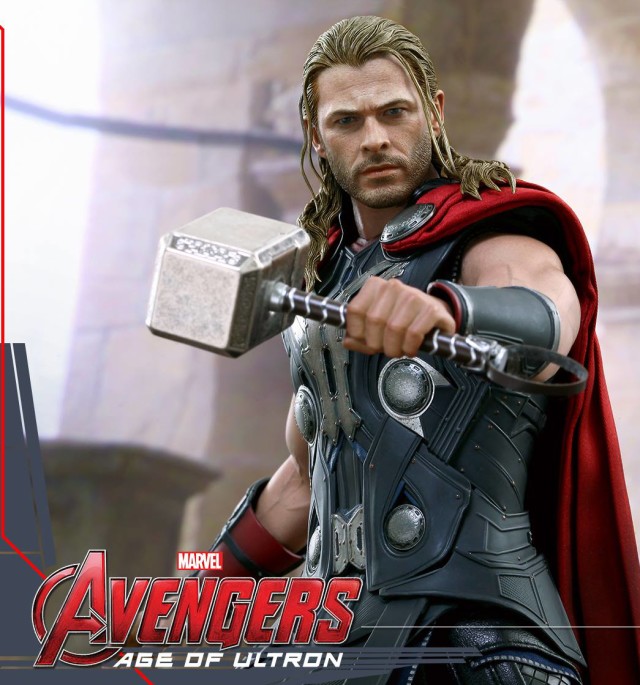 One of the big mysteries surrounding the release of the Hot Toys Avengers Age of Ultron figures has been the whereabouts of Thor. While the new AOU Captain America, Iron Man and Hulk 1/6 figures went up for sale long before the movie came out, the God of Thunder has been MIA.
But the most godlike Avenger has finally been fully-revealed today, and now we can see what the holdup was–Hot Toys was making lots of new additions to a figure many feared would be a straight repaint!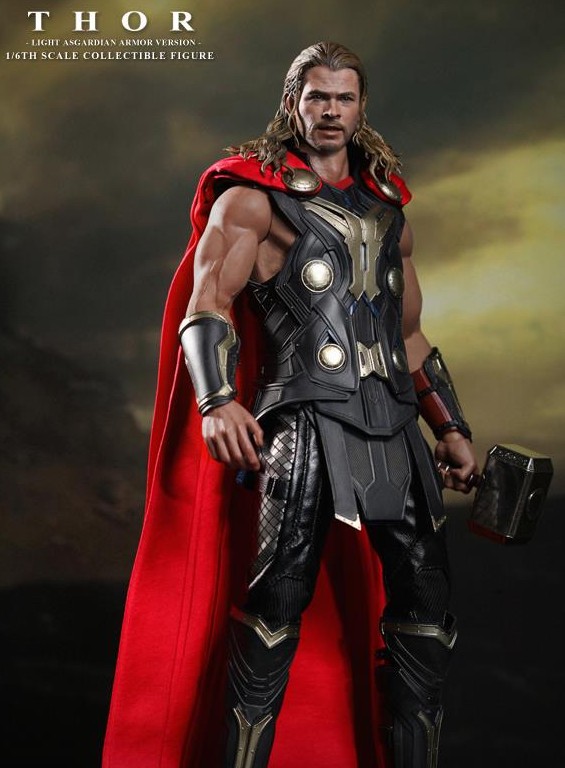 See, way back in fall 2013, Hot Toys released a sleeveless Light Armor Thor 1/6th scale figure as a limited exclusive release. I made fun of the existence of two $200+ Thor figures with the only difference being his costume being with and without sleeves at that time, and I didn't see a whole lot of use for a figure of a costume that Thor never actually wore in Thor: The Dark World (it was Loki hi-jinx).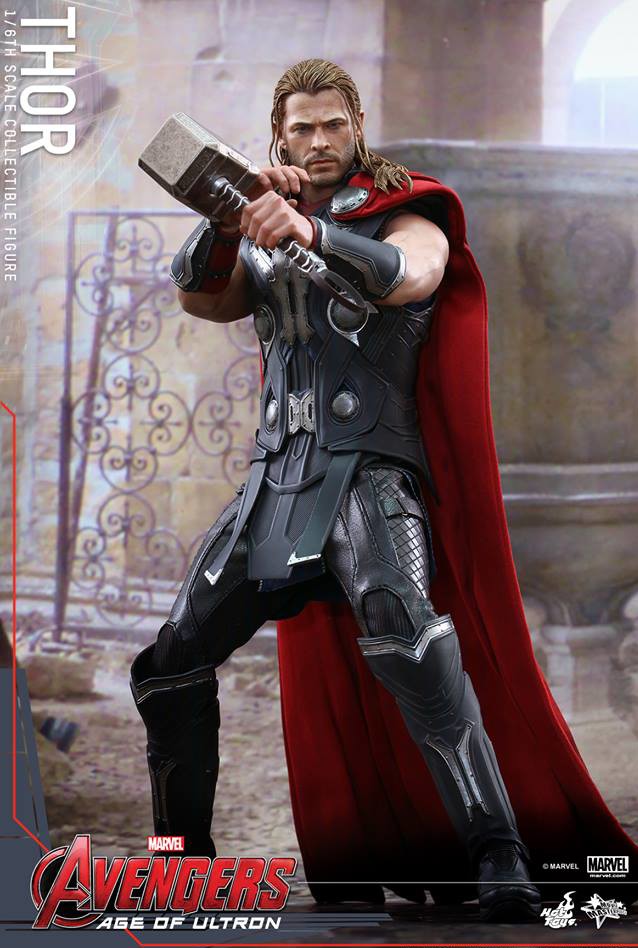 But as things turned out, the sleeveless look ended up being the primary costume that Thor wore in Avengers: Age of Ultron, creating a whole new legion of collectors who prefer their Gods of Thunder sans sleeves. And now those sleeve-haters can have the Thor of their dreams at an affordable price, as Hot Toys is reissuing the Light Armor Thor body (with seamless rubber arms!) in the revised colors from the Avengers Age of Ultron movie!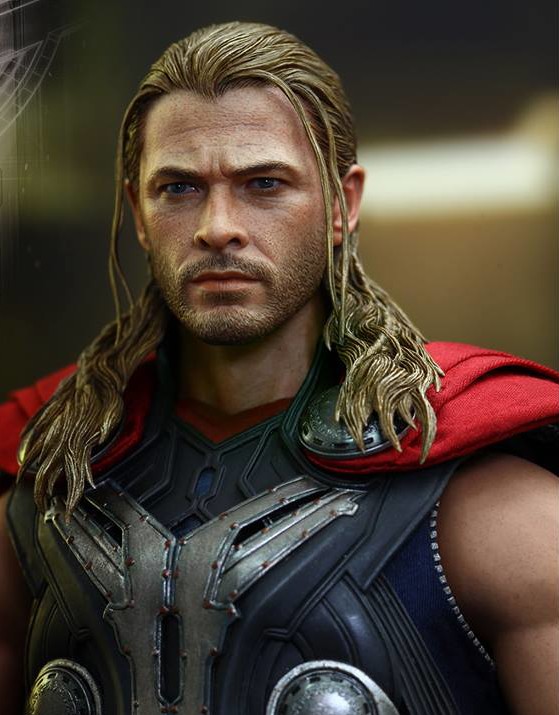 And while virtually everyone was anticipating that Hot Toys would simply reuse the Thor The Dark World head for this figure, Hot Toys decided to pull the rug out from under those folks by giving us an all-new Thor head.
I've heard some early criticism of this Chris Hemsworth portrait, such as the opinion that it looks like Thor is pondering the mysteries of the universe, and that the head looks more like Paul Walker than Chris Hemsworth (it really does), but I think Hot Toys is 95% of the way to an authentic head sculpt here for Thor. With the minor tweaks and revisions that regularly happen during production, I'm expecting this to be a top-notch head sculpt once it's actually released.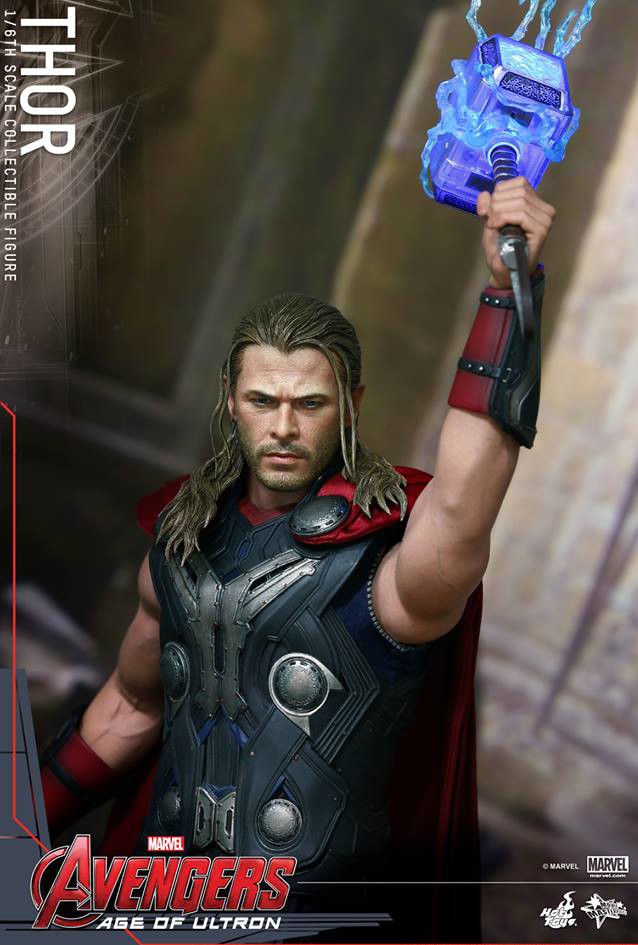 The high point of this Thor figure's release for me isn't the figure itself at all, though–it's his hammer! I'm a total mark for effects pieces, so I was psyched to see a lightning effects piece was included for Mjolnir this time. But then I realized Hot Toys had actually one-upped my expectations: this time, the Mjolnir hammer has an LED light-up function!
Even though I own a couple of Thor Hot Toys figures already, there's just no way I can live without the coolness that is a glowing blue chared-up Mjolnir hammer, surrounded by translucent effects pieces! Nice work, Hot Toys!
While the MMS306 Thor Hot Toys figure contains unquestionably the best Mjolnir we've ever seen with an action figure, the figure is also coming with what is almost indisputably the
dumbest
"feature" ever: an "Avengers Age of Ultron AR Experience" Augmented Reality app. Really, Hot Toys?
Really?!
Marvel started putting these AR experiences into their comic books a few years ago, and I can count on zero fingers the number of times that I've bothered to utilize one. Now, I don't have a degree in business or anything, but I have an amateur hunch that the target demographic for a $200+ Thor sixth scale figure is not the audience that will be enticed by an Augment Reality app. Just call it intuition.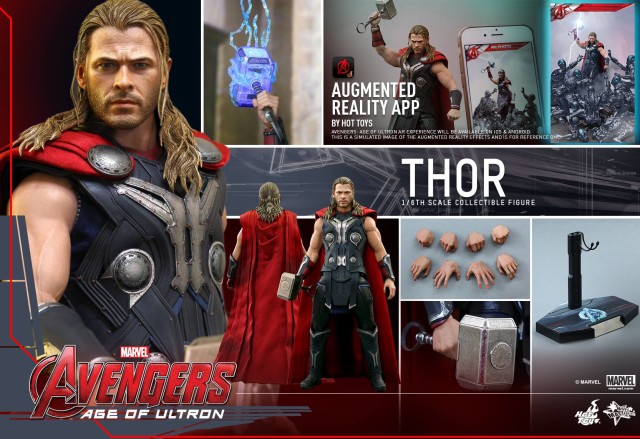 The Hot Toys Avengers Age of Ultron Thor figure will go up for order later today, and is expected to be released in fall 2016. With Thor now solicited, that leaves just one Avenger to be put up for pre-order that we haven't seen yet: Quicksilver. We know that Pietro was planned for this line at one time, but with no updates in many months, will Hot Toys Quicksilver ever see the light of day…? We'll see…
Are you planning on picking up the newest sixth scale Thor figure, Hot Toys collectors? Or are you satisfied with one of the earlier iterations of Hot Toys Thor that have been released?