Some characters get more merch than others, whereas some characters only get merch on a cold day in Hel. And no, that's not a type-o, as today I'm referring to the Asgardian ruler of Niffleheim and Hel itself: Hela! I've been both anticipating and dreading the release of the Bowen Designs Hela statue, as its arrival would mean that there was only one more Bowen Marvel statue on the way (perhaps forever). The day has come, though, and while the potential end of the Marvel Bowen Designs line still makes me nervous, the Bowen Hela statue is one glorious piece…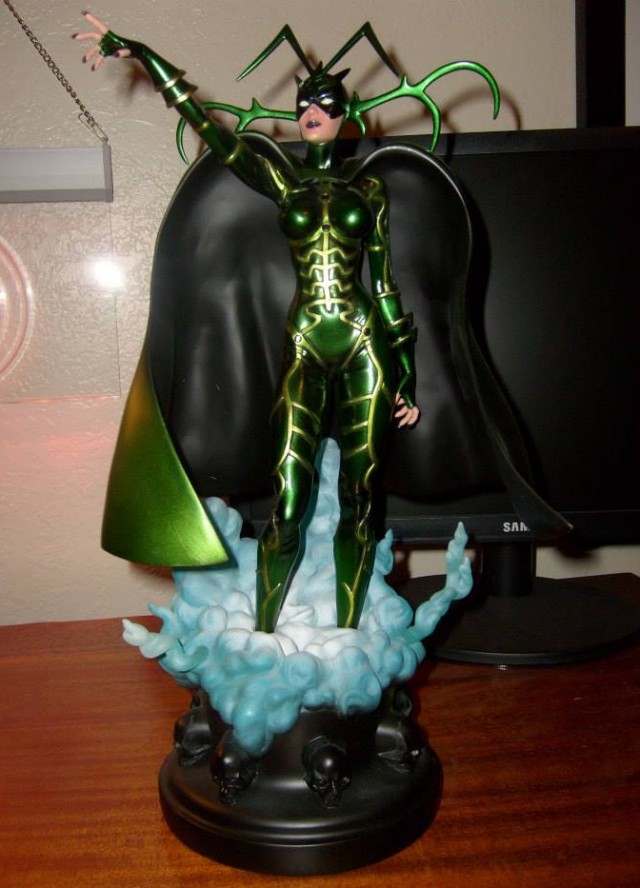 If you don't read Thor comic books (and didn't see that riveting Hulk vs Thor animated cartoon), you may not have a clue who Hela is. But for those who read a lot of Marvel comics and are familiar with the Asgardian mythos, Hela is a character on par in notoriety with Mephisto himself. Created by Stan Lee and Jack Kirby in 1964, Hela is about as "classic" as it gets–which is just what Bowen Designs has always specialized in!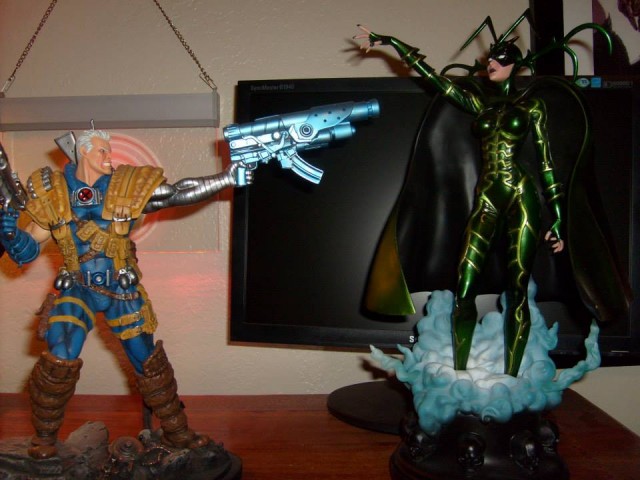 The Bowen Designs Hela full-size statue has a stature befitting a ruler goddess of the underworld, as this Hela statue positively
towers
over most other Bowen Designs statues–the statue stands over 16″ tall!
Part of this is due to her raised base, but if you look carefully, you can see that Hela is definitely in a larger and more godly scale than your typical, everyday superheroes.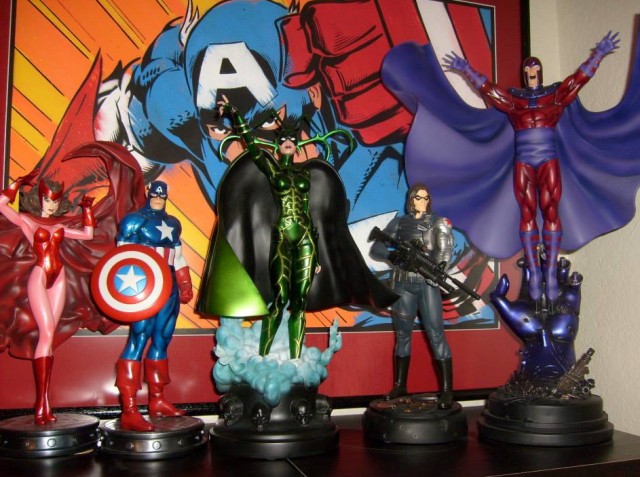 The Bowen Designs Hela statue was a Rocky's Vault exclusive release, meaning that it ended up having a shorter ordering period and consequently a much lower run size than an ordinary Bowen Designs Marvel statue. As a result, the Hela Bowen statue is limited to just 366 pieces produced–one of the lowest run sizes ever for a Bowen Designs statue (particularly one of a unique character!).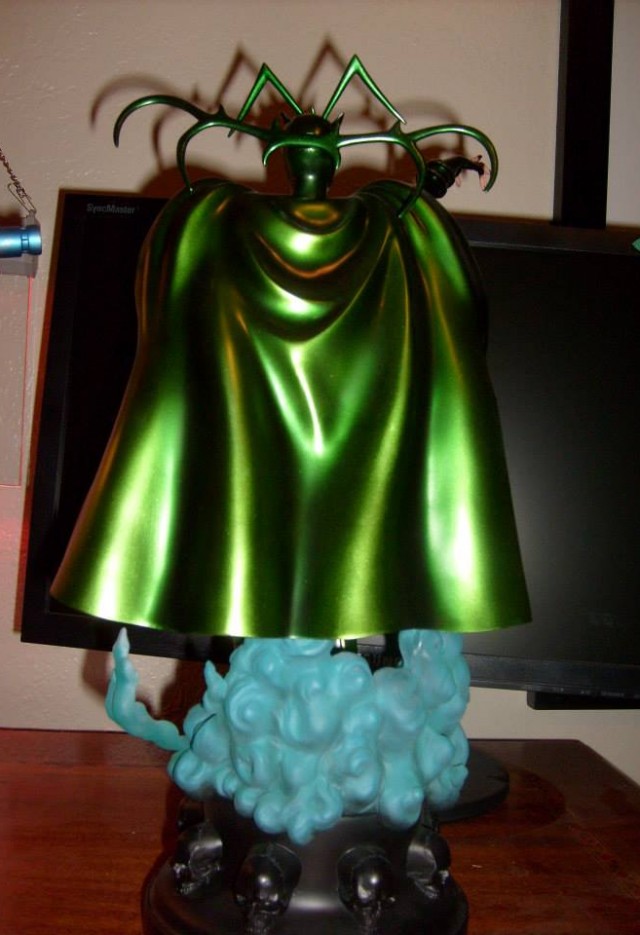 While the box states the run is 416 for this statue, the actual statue is marked as an edition of 366, so I have a hunch that Bowen Designs must have ended up less than they expected to of this piece (since obviously no one is going to get Hela #400/366).
I know Hela isn't a character every Marvel fan out there is chomping at the bit for, but I love how powerful and striking Bowen Designs has made her full-size statue. The frosted mist base surrounded by skulls gives this statue an intimidating feel, and the 16″+ height puts it almost on par vertically with a Sideshow Premium Format Figure!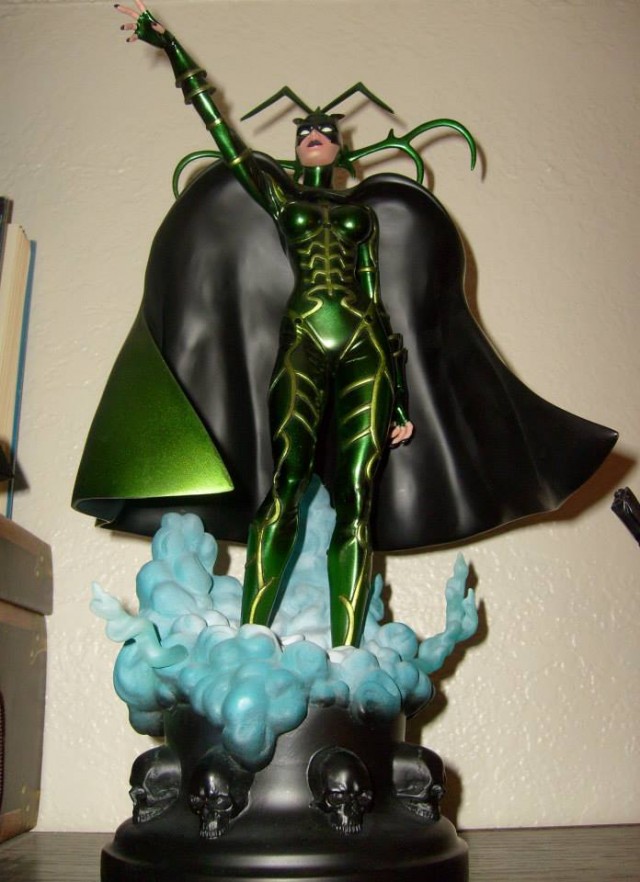 As far as I can tell, every online store that was carrying Hela is sold out, so you'll have to buy the Bowen Hela statue off the secondary market now if you want one. As the edition size on Hela is a devilishly low LE 366, I'd jump on this statue ASAP if you want one. This is going to be a $400+ statue on the aftermarket in no time flat.
Though she's a bit on the obscure side for some Marvel fans, what do you think of the Hela Bowen statue, Marvel collectors? Is this beautiful piece a sculpture you're eying for your collection, or is this Goddess of Death just not for you?
Huge thanks to REL for giving me permission to run his early photos of the Hela statue, as mine won't arrive for another week.